Wood jigs help you work smarter instead of harder. A jig is a purpose-built tool accessory that makes it easier to perform a certain woodworking application, from cutting dowels to mitering crown molding, and everything in between. Here's a look at some handy tool jigs to facilitate your next woodworking project.
Kreg Tool Adaptive Cutting System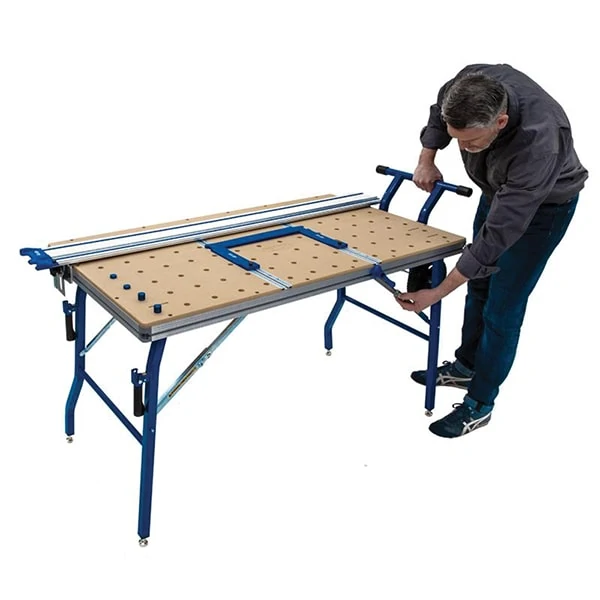 When building wood projects, you're tasked with making a wide range of cuts, whether you're crosscutting boards to length, ripping them to width, cutting mitered angles, or even cutting sheet goods down to size. Kreg Tools' new Adaptive Cutting System combines guided cutting with the versatility of a project table that precisely supports and positions the work materials.
The basis of the Adaptive Cutting System is the Kreg Plunge Saw and 62″ Guide Track. The track guides the saw precisely on your cutline and protects against splintering to ensure straight, smooth cuts. Parallel Guides and Rip Guides allow you to lock in repeatable measurements when using the track, so you can take precision cutting anywhere.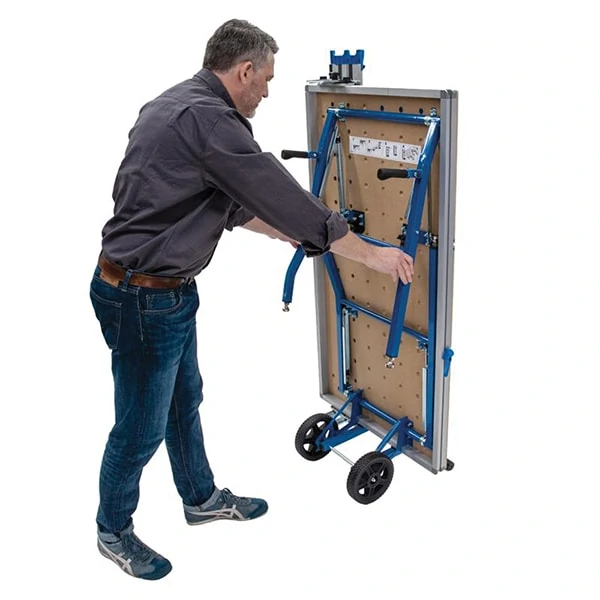 Expand the Adaptive Cutting System by adding the Project Table to create a portable cutting system. Mounting the Guide Track to the table allows you to crosscut and rip solid wood boards, cut mitered angles, bevel edges, plus support and precisely cut plywood and large panels to size. The Project table includes multiple guides, stops, and integrated measuring systems. It folds to store vertically, easily rolls out and sets up quickly for use, then stows away compactly. You can also enhance your system with available accessories, such as another Guide Track and Track Connectors to double your cutting capacity. Visit www.kregtool.com.
Bora WTX Rip Guide and Saw Plate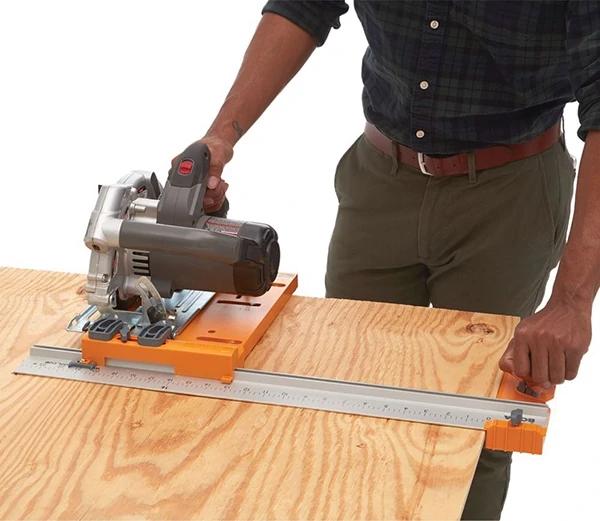 When you need to rip plywood or sheet material down to size, the Bora WTX Rip Guide makes it fast, accurate and easy. Use it with the Bora WTX Saw Plate to make precise, straight cuts up to 24 inches. This two-part tool allows you to use two hands to keep your circular saw straight and true when ripping sheet material. Simply attach the extruded aluminum rail to your saw plate and rip handle, and then walk the rip guide along the edge of your plywood. The extruded aluminum rail attaches securely for confident cuts, and the comfortable, adjustable rip handle ensures a solid grip. The jig is lightweight, easily portable to the jobsite, and backed by a lifetime warranty.
Veritas Clamp Rails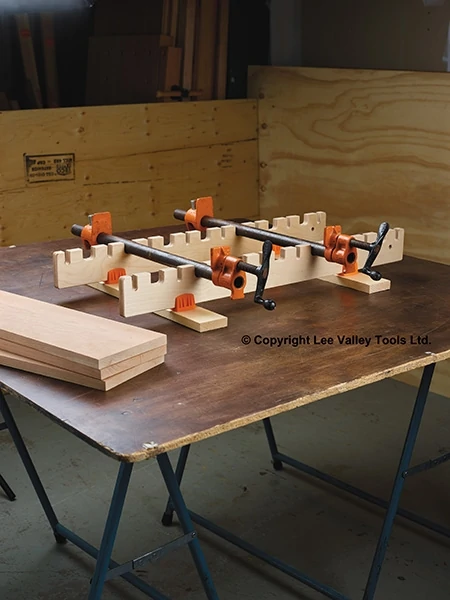 Making sure all the clamps and pieces of a large project are correctly aligned for glue-up can be a challenge, especially for adhesives with short open times. Veritas Clamp Rails simplify the process by converting a table or bench top into a clamping station, holding clamps upright and in position so you only have to worry about assembling the parts.
Each Baltic birch plywood rail is machined with alternating 3/8-in. wide slots for parallel-jaw bar clamps and 1-3/32-in. wide slots for 3/4-in. pipe clamps. The 30-in. long rails provide a stable base for clamping wide projects, and the only limit on how far apart you place them is the reach of your clamps. The 11/16-in. thick rails can be used freestanding on any tabletop or, for improved stability, mounted in 3/4-in. dog holes using the four included platform saddles. Visit www.leevalley.com.
WoodRiver Deluxe Dovetail Jig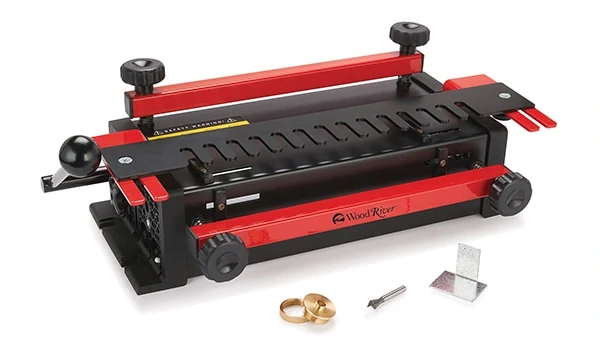 Dovetail joints are a mark of craftsmanship that sets a fine woodworking project apart. The two-part joint requires no mechanical fastener but is tight-fitting and attractive, making it a favorite for building furniture, cabinets, boxes and much more. However, precise alignment of the pins and mating tails is the key to beautiful dovetail joint construction.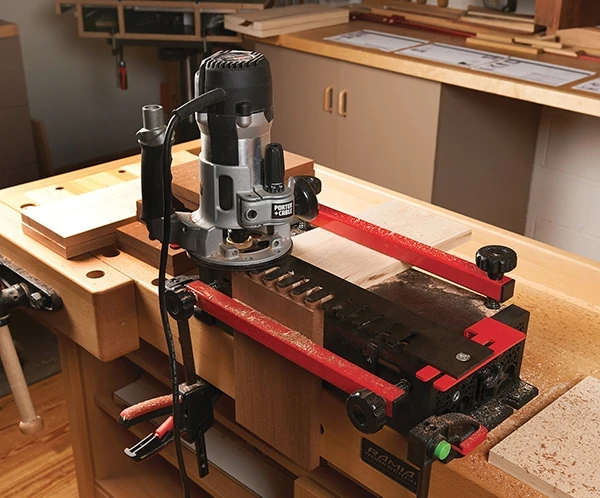 Now this joint can be achieved more easily with the WoodRiver Deluxe Dovetail Jig from Woodcraft. The jig makes it a simple process to align the dovetail pins for center, align the tails to the pins, and then rout both sides of the half-blind dovetail joint at the same time for a precise match. Everything is included to start creating beautiful dovetail joints right away. The jig has a rigid steel body with molded resin end caps that feature accessory storage. Tubular steel clamping bars hold the workpiece in position while a CNC-machined steel template guides your router to make beautiful dovetail joints. Also included is a 1/2 x 14° router bit with 1/4-in. shank, 7/16-in. template guide bushing, lock nut, setup gauge and easy-to-follow instructions. Visit www.woodcraft.com.
Adjustable Pocket Hole Jig Kit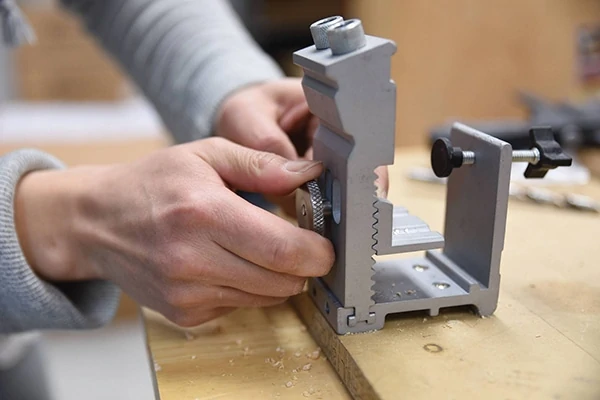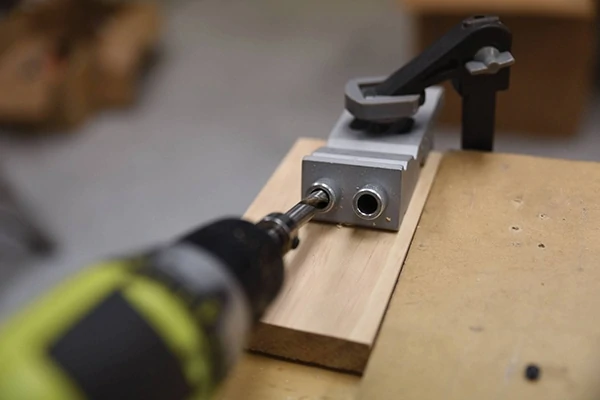 The #854 Adjustable Pocket Hole Jig from General Tools & Instruments enables you to produce strong and professional flush, corner and angle pocket-hole joints. Easily adjustable for wood thicknesses up to 1-1/2 inches. This pocket-hole jig kit can accommodate stock sizes from 1/2 in. To 1-1/2 in. The all-in-one system includes the jig, 3/8-in. step drill bit, stop collar, hex wrench, square drive bit and 48 fine- and coarse-thread pocket-hole screws. The jig can also be separated from the base to create horizontal and hard-to-reach joints (such as in corners). It's an ideal jig for building face-frame cabinets, sneaking screws into tight spots, and fastening picture frames. Visit www.generaltools.com.
Milescraft SignPro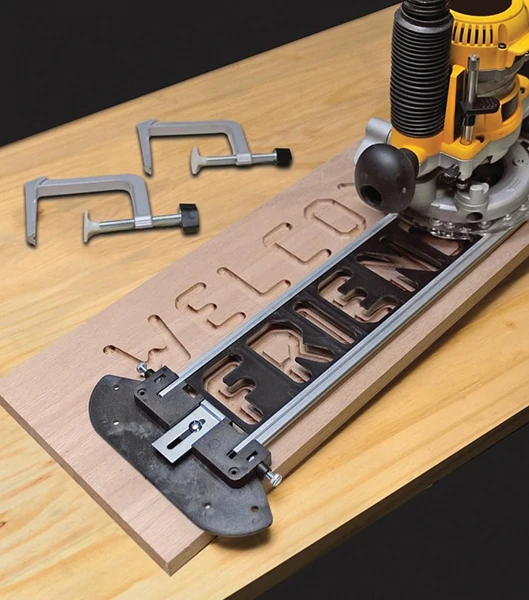 Make professional-quality engraved wooden signs with the Milescraft SignPro sign-making kit for routers. This jig gives you the speed and convenience you need and is compatible with your existing router. It features TurnLock technology for mounting and dismounting your router in seconds (without tools) and includes two sizes of self-spacing letter and number template sets. Features include tungsten carbide-tipped core-box router bits, low-profile C-clamps, and end frames for a stable routing surface. Included in the kit are the base plate, metal-nose bushings and durable self-spacing polymer-blend 1-1/2 in. and 2-1/2 in. letter and number templates. The metal nose bushing guides you through the router stencils to create great-looking signs. Visit www.milescraft.com.
Rockler Corner Key Doweling Jig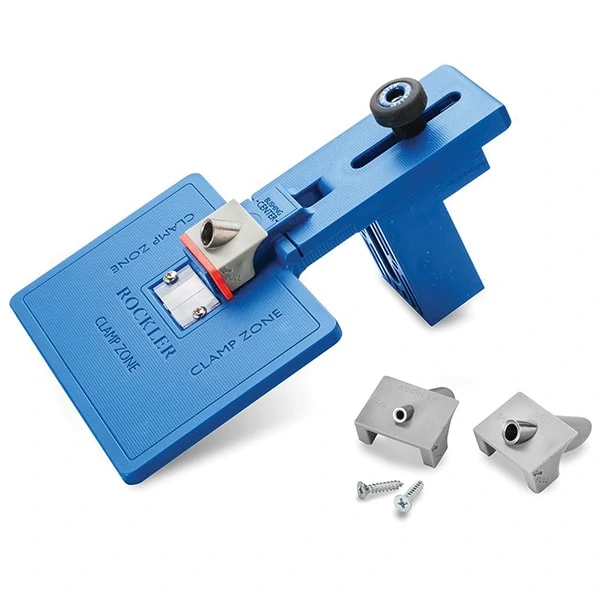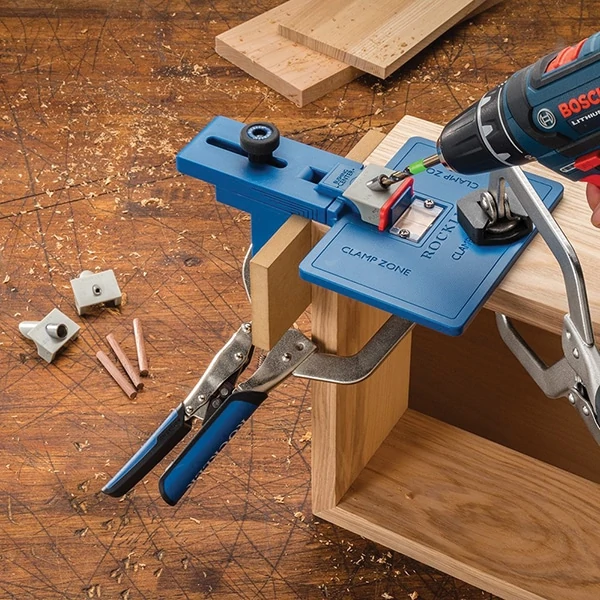 The Rockler Corner Key Doweling Jig clamps to the corner of a box and guides an extended-length bit through the joint at a perfect 45° angle to the sides. The resulting holes allow users to add visual interest with contrasting wooden dowels, non-ferrous metal rods, tubes or even leather cord. The jig includes interchangeable 1/8-, 1/4- and 3/8-in. diameter drilling guides, and because the dowels or rods are oriented across the joint, they increase its strength, much like splines. The jig is adjustable to work with different thicknesses of stock and to allow fine-tuning of the hole position. Once set, the jig can be moved and simply re-clamped to drill a series of matching holes. Large clamping areas make it easy to secure the jig to the workpiece, and a clear hairline indicator window enables precise positioning. Visit www.rockler.com or call 1-877-ROCKLER.
GRR-Ripper Complete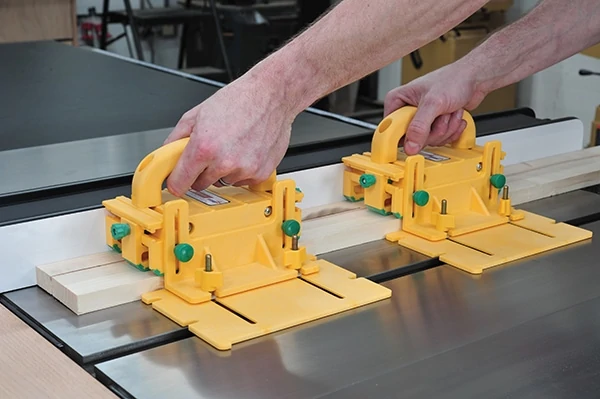 MicroJig offers a complete solution aimed at halting table saw injuries, from kickback to finger amputation. GRR-Ripper Complete is a kit with everything a woodworker needs to create projects with top-to-the-line precision, safety and control. The GRR-Ripper Complete includes the GRR-Ripper 3D Push block, the Upgrade kit (for large or irregularly shaped material), 1/8-in. leg (for rip cuts), Handle Bridge Kit, Deflector/Connector, and the Gravity Heel Kit, which automatically drops to catch the tail end of a workpiece to provide leverage. Visit www.microjig.com.
E-Z Pro Crown King Molding  Jig with Protractor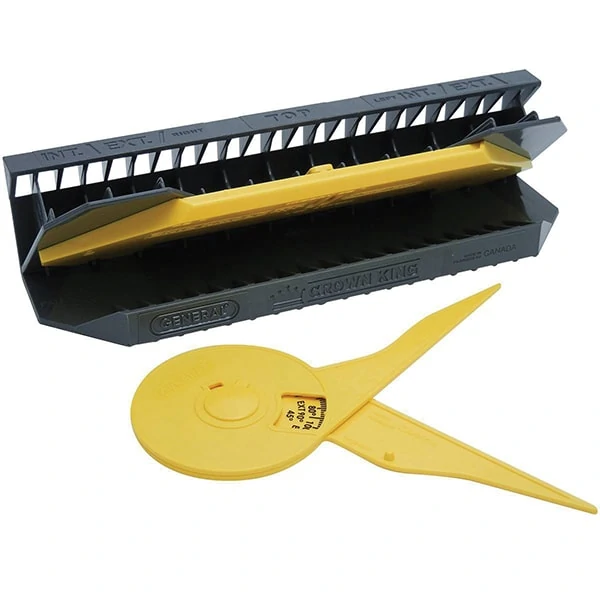 General Tools & Instruments offers the #881 E-Z Pro Crown King Molding Jig with Protractor to  produce perfectly mitered interior and exterior crown molding joints. The jig helps you make perfectly mitered corner joints in four easy steps. It comes with an adjustable Angle Finder that easily shows you the exact angle of inside and outside corner. Also included are simple instructions to show you how to get the right cut every time.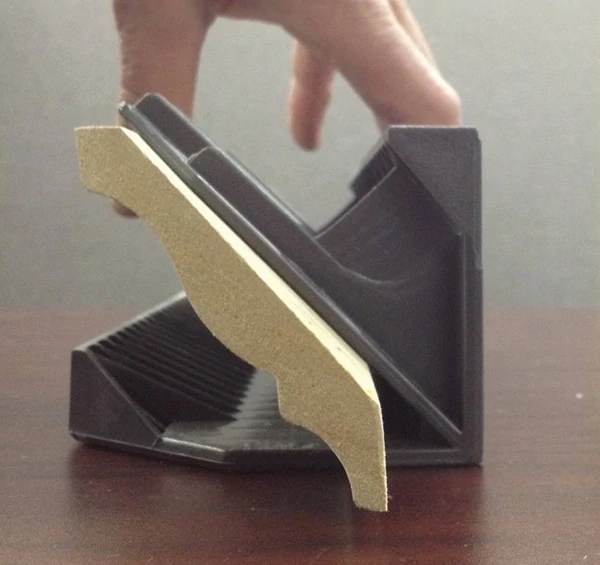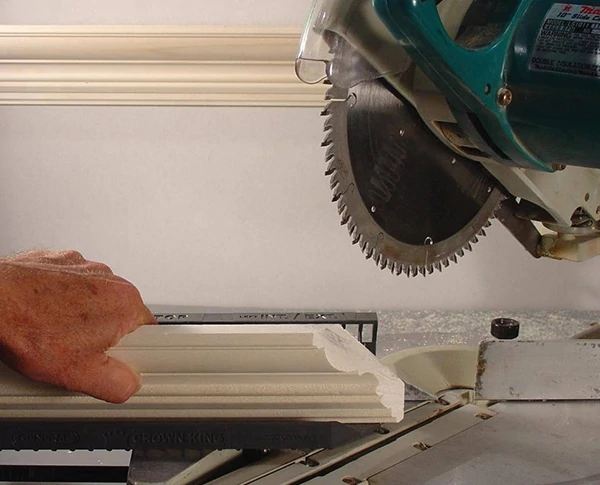 Make accurate cuts quickly, eliminating trial and error and saving time and material. The 45° spring angle crown molding jig also includes an adapter for 52° and 38° angles. Visit generaltools.com.
MatchFit Dovetail Clamps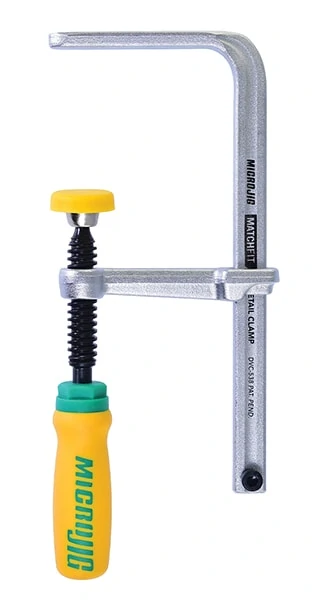 This is the first clamping system that lets users groove their own dovetail clamp tracks to clamp almost anywhere. In fact, the MatchFit Dovetail Clamps are the No. 1 best-selling horizontal hold own clamps on Amazon Canada. These popular new woodworking accessories allow users to quickly and easily attach fences, outfeed tables, cutting guides and more, with just a dovetail groove and the Dovetail Clamps. Designed in the USA, the clamps are manufactured with a forged head compatible with a 1/2-in. wide, 14-degree dovetail groove. The unique shape of the MatchFit clamp head allows it to be securely inserted into a dovetail slot and slide along the groove to the desired clamping position. Because the clamp head is enclosed within the dovetail groove, it stays clear of work surfaces, blades and bits, allowing woodworkers to perform shop operations smarter and safer. Visit microjig.com.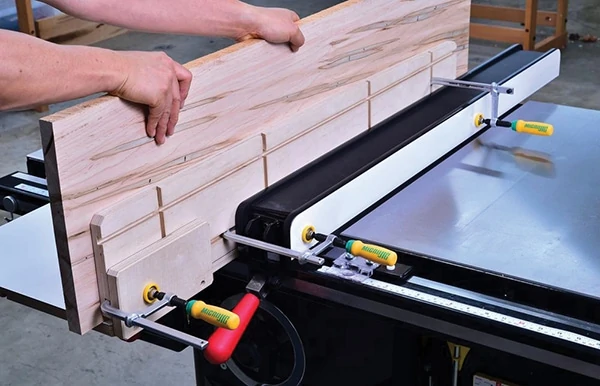 Side Note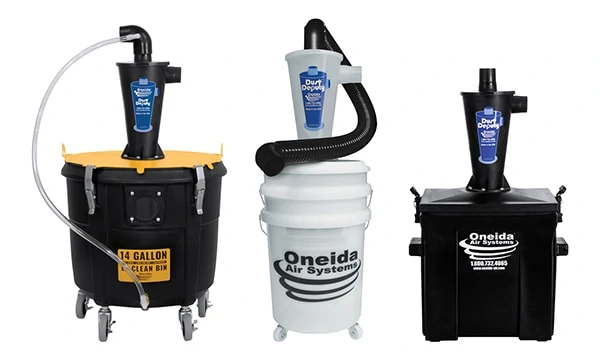 Woodworkers can breathe easier with the Dust Deputy Cyclone Pre-Separators. Compatible with any wet/dry vacuum, the Oneida Air Systems' Dust Deputy product family separates over 99 percent of dust and debris from the incoming airstream, virtually eliminating filter clogging and suction loss, and significantly prolonging the lifespan of the vacuum's filter. Patented and made in the USA, the Dust Deputy cyclone has been praised for more than a decade by customers who have called it "the best tool I've ever purchased!" Available in a clear anti-static resin, industrial-grade static-conductive resin, or cold-rolled steel, the Dust Deputy is a must-have for anyone who frequently uses a wet/dry vacuum for collecting dust, dirt and debris.