By Matt Weber
Pliers, wrenches, screwdivers and more … You own them, you rely on them, and you know how to use them. And tool-makers are always striving to make them just a little bit better. Here's some of the latest advancements in hand tools for the DIY'er.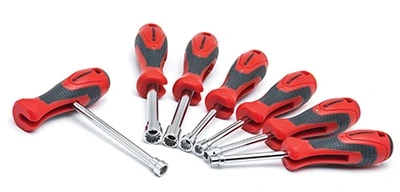 Crescent Quick Convert Nut Driver Set
Crescent recently introduced its Quick Convert Nut Driver Set, which provides the speed of a straight handle driver with the torque of a T-handle driver, all in one tool. Users can easily convert the Quick Convert Nut Drivers by pulling on the shaft, rotating the handle, and pushing it to lock in place. The set includes seven drivers, color-coded for easy identification. The universal socket design fits six fastener types (hex, square, 12-point, E-Torx, partially rounded hex, and spline) in both SAE and metric sizes. The hollow shaft works over long threaded rod where standard nut drivers won't fit. The comfortable, dual-material cushioned handle provides a non-slip grip and resists oil and grease. Visit www.crescenttool.com.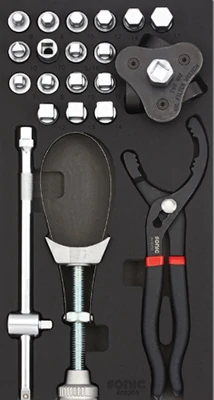 Design Your Own Sonic Tools Toolbox
Sonic Tools offers professional-grade tools placed neatly within the unique Sonic Foam System. The laser-engraved, chemical-resistant foam is placed within each Sonic toolbox drawer where each tool is accurately labeled and fits precisely to provide better organization and quicker accessibility. The 1/3 setup, which separates each drawer into three sections, is the most versatile configuration available, with the ability to combine different tools (screwdrivers and wrenches, pliers and screwdrivers, etc.) into one drawer. Sonic Tools has a vast productline with thousands of individual hand tools for any and all possible uses, including specialty applications. Sonic Tools carries seven different sizes of toolboxes, all available empty or filled, and the company provides four different guarantees, including a lifetime warranty on all individual hand tools and toolboxes. In the event a tool does get damaged, the owner simply needs to upload an image and a replacement will be shipped within 24 hours. Visit www.sonictoolsusa.com.

Channellock E388 Bent Long Nose Plier
The Channellock E388 E Series 8-in. Bent Long Nose Plier has an angled nose designed to gain access in unique work situations. Channellock's E Series line of combination, long-nose and diagonal cutting pliers have a sleeker design than the manufacturer's traditional pliers. Manufactured to the same quality standards as all Channellock pliers in Meadville, Pa., from North American high-carbon C1080 steel, the E Series presents a more of a stylistic option to the company's traditional pliers. Each of the 18 pliers in the E Series also feature Xtreme Leverage Technology (XLT), which positions the plier rivet closer to the plier head so that considerably less force is required to make clean, accurate cuts. Visit www.channellock.com.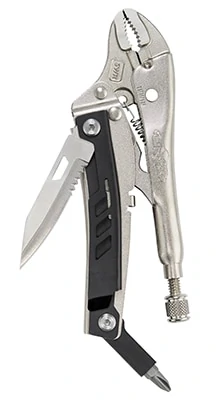 Vise-Grip Locking Multi-Pliers
Irwin Tools' new Vise-Grip Locking Multi-Pliers offer three additional tools integrated into the lower handle of the pliers.
The four-tools-in-one multi-pliers design features a stainless steel serrated fold-out knife blade and a fold-out screwdriver that includes a 1/4-in. bit holder with #2 Phillips and 6-8 slotted bits, allowing users to get more done while carrying fewer tools on the job. Available in 5WR, 5CR and 6LN jaw types, the Multi-Pliers are backed by the Irwin Vise-Grip Lifetime Guarantee. The Vise-Grip 5CR features a self-energizing lower jaw that provides 3X more gripping power than traditional locking pliers. The Vise-Grip 5WR features a built-in wire cutter, and the jaw shape puts tremendous pressure on four points of any style nut or bolt head. The Vise-Grip 6LN is a 6-in. long nose multi-pliers featuring a long straight nose, ideal for precision work. The entire range of Multi-Pliers are constructed of high-grade, heat treated alloy steel and feature Fast Release Technology, a one-handed triggerless release that is easier to open than traditional locking pliers. Visit www.irwin.com.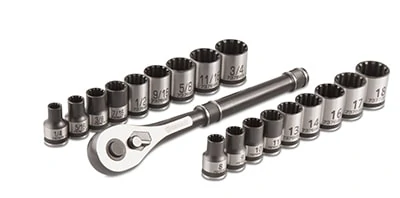 Kobalt Universal 19-piece Socket Set
The Kobalt Universal 19-piece Socket Set (#737615) includes wrenches and sockets that work on six different fastener types:
6-point, 12-point, square, star, spline and most rounded. The ratchet features a fine 72-tooth gear, providing a 5-degree arc swing, along with a quick-release button and a forward/reverse switch. Available in 1/4- and 3/8-in. drive sizes, the set includes standard and deep well sockets. Features include a dedicated spline drive broach in both the wrenches and sockets, separate standard (SAE) and metric (MM) sizes, and natural surface grind with a matte black finish. All Kobalt hand tools are backed by a Lifetime Hassle-Free Guarantee.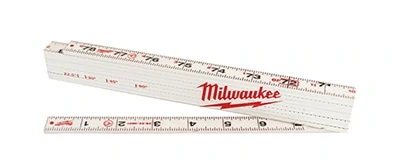 Milwaukee 6-1/2' Composite Folding Rule
Designed especially for mechanical and electrical applications, Milwaukee Tool's new 6-1/2-ft. Composite Folding Rule offers best-in-class durability. It comes with a composite laminate finish for water and scratch resistance, as well as heat-stamped markings to resist wear and abrasion. Corrosion-free embedded joints also lock at 0, 90 and 180 degrees for added utility. This rigid folding rule not only has "inside read" measurements marked on both sides and both edges, it also features time-saving reference angles for common conduit bends.
The new ruler is available in both a standard (48-22-3801) and engineering (48-22-3802) scale. Visit www.milwaukeetool.com.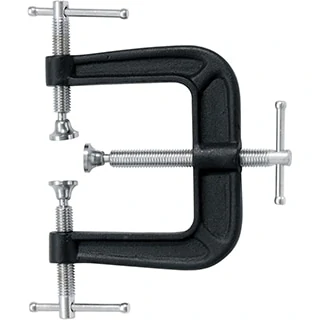 Bessey B-EC3 3-Way Edge Clamp
Bessey has grown to be the largest clamp manufacturer in the world, distributing some 1300 different clamping tools in 90 countries worldwide. The company's B-EC3 3-Way Edge Clamp features general duty three-way edge clamping for basic edging projects. It works to hold down nosing, veneer tape and other edge treatments on furniture and woodworking projects, and the swiveling clamp feet make it suitable for use on corners and irregular angles.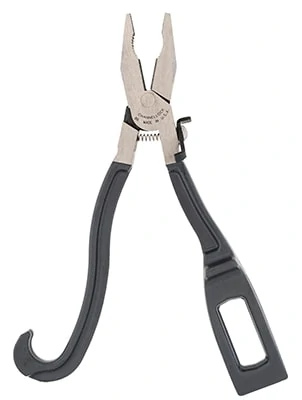 CHANNELLOCK 86
9″ Rescue Tool Based on real-world feedback from first responders, the new 86 Rescue Tool is designed for easy, intuitive, one-handed operation in high-stress situations. The new 86 Rescue Tool is American-made and combines the versatile linemen's head with more than five other tools into one so that first responders only have to carry one piece of equipment to accomplish multiple tasks. But first responders aren't the only ones who get to have all the fun. Contactors and serious DIY'ers can use the versatility of five tools, including a spanner wrench to tighten and loosen hose couplings, a prying tip that can open a stuck window, and cutting edges that can snip wire. Visit www.channellock.com.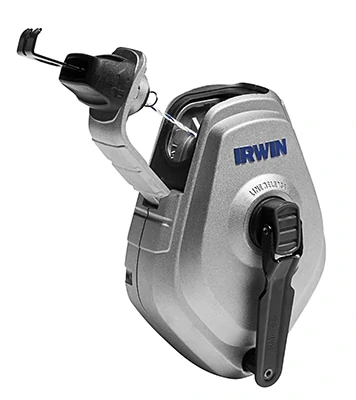 Irwin Strait-Line Mach6 Chalk & Reel
Irwin Tools' new Strait-Line Mach6 Chalk & Reel Line includes larger chalk reel openings for increased speed and visibility, best-in-class line strength for fewer breaks, and enhanced usability and ergo-nomics. The new Easy Fill & Lock Top innovation is a large, 1/4-turn locking top available on the Mach6, which provides a wide opening for convenience when filling the reel and locks securely to prevent spills. The wide openings give added visibility into the reels, reducing user frustration and downtime by providing faster line priming while minimizing overfilling—a primary cause of reel jams. The improved internal access allows users to work out line tangles or retrieve broken lines without taking the reel apart. The Mach6 also has an open-access back panel for quick line changes and cleaning. The aluminum bodied Mach6 has a 6:1 gear ratio, making it 6X faster than traditional reels, and is powered by a heavy-duty metal drive gear. Visit www.irwin.com.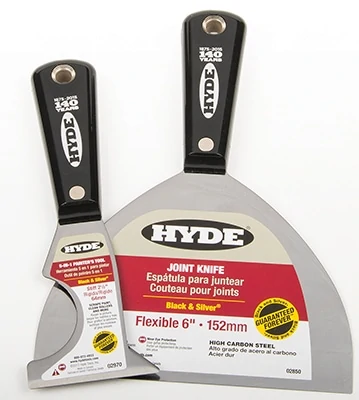 Hyde Commemorative Hand Tools
In 1875 Isaac P. Hyde founded Hyde Manufacturing Company. Today, that company is Hyde Tools, maker of trademark putty and joint knives known for outlasting their owners. It was Hyde that worked with US Gypsum to develop the first drywall taping knife for professionals, and Hyde that mass-produced the industry's first painter's multi-tool. In celebration of the 140th year, Hyde issued a 2015 commemorative version of its classic Black & Silver putty knife for home and hardware stores throughout the country. Visit www.hydetools.com.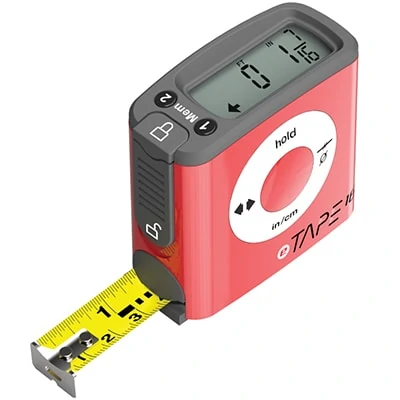 eTape16 Digital Tape Measure
eTape16's easy-to-read digital readout is accurate to 1/16 inch or 1 millimeter. You can read the measurement in inches, feet, fractions and decimals, and it converts to metric, too. Another feature is inside/outside measurement; which toggles between outside measurement of the blade length alone and inside measurement, which automatically adds the 3-in. width of the case to the readout—ideal for situations where the case runs into a wall and you have to mentally add its width to the length of the exposed blade. eTape16 has three built-in memories that retain readings even after the tape shuts off. For specialized functions like hanging a picture, the push of a button automatically calculates the center point of a measurement. Plus, the re-zero function lets you measure from a previously measured point without withdrawing the blade. Visit www.etape16.com.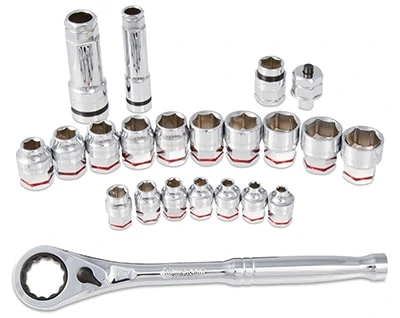 Kobalt Xtreme Access 22-piece Socket Set
The Xtreme Access program features a "pass-thru" design in which sockets and ratchets fit over bolts that extend beyond the height of a normal socket, thereby eliminating the need for deep well sockets. The ratchet features a 72-tooth gear and shallow design, creating a slim profile. Available in 1/4- and 3/8-in. drive sizes with 6-point sockets in both SAE and MM sizes, all Kobalt hand tools are backed by a lifetime guarantee and are designed to exceed American National Standards Institute's specifications.
Side Note
4 Overlooked Features of your Tape Measure
Tape measures are the unsung heroes of the toolbox that we use every day and often take for granted. These tools have a number of handy features that are often overlooked even by regular users.

Inside Measurements: For example, on the base of every tape measure is a number that corresponds to the width of the base. This prevents having to bend the tape at a 90-deg. angle against the wall, which distorts the tape and can result in an inaccurate measurement. To take an inside measurement of an enclosed space, you can butt the base against one wall and measure to the other wall, while adding the width of the base to the reading on the tape.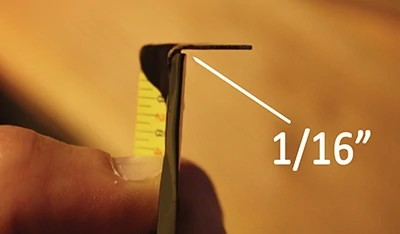 End-of-tape Accuracy: Ever noticed how the metal hook on the end of a tape measure jiggles loosely? The first "one-inch" measurement on the tape actually measures 1/16 inch less than one inch, so the hook moves exactly 1/16 inch to accommodate. This is because the thickness of the metal hook is 1/16 inch, so when pushed against an object the hook slides into the tape to measure a full inch on the end, and when hooked over an object the hook slides outward to measure a full inch and still ensure accuracy.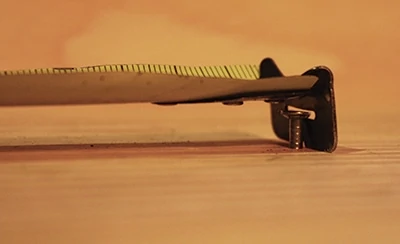 Fastener Hook: The hook also has a slot on the end. The slot is just the right size to grab the head of a nail or screw, so you can drive a fastener and anchor the tape anywhere you need to measure from.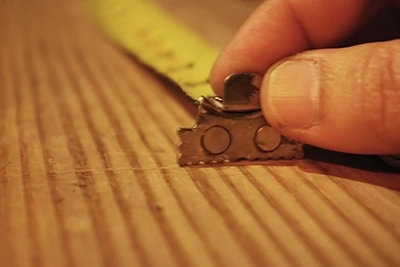 Scribing Tool: The serrated teeth on the bottom of the hook can be used for scribing a measurement. Just strike your measurement, press down on the hook and move it side to side to scratch a line.