By Matt Weber
The garage: built to shelter vehicles but used for a little of everything. Whether your garage serves as a mechanic's workshop, a storage shed, or your home-improvement headquarters, there is plenty of equipment to help you decorate the place, organize the area, and work more efficiently. Check out all the new products we've come across.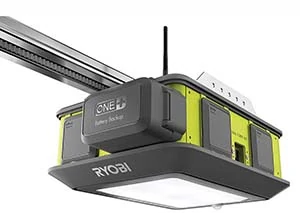 Ultra-Quiet Garage Door Opener GD200
The Ryobi Ultra-Quiet Garage Door Opener has a powerful 2HP motor that will quietly open and close large doors with ease due to faster openings. With a motion-controlled overhead LED light, the opener has a selectable duration control so you are never left in the dark. Even in power outages, this unit is compatible with the Ryoby ONE+ system, and is battery-backup ready for over 100 openings using a Ryobi ONE+ 4Ah Battery (sold separately). For added control, the Ryobi opener is compatible with HomeLink and is Wi-Fi connectable. It comes with a multifunctional wall control, wireless keypad, two remotes, safety sensor and a downloadable app to control and monitor you garage door remotely. You can also optimize the Ryobi Garage Door Opener Module System. Add any of the great plug and play modules to power, cool, alert, park assist and rock out. Visit www.homedepot.com.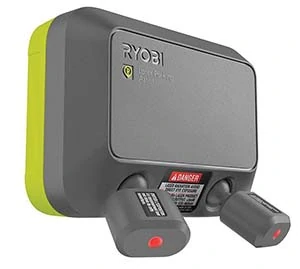 Garage Laser Park Assist Module GDM222
Building upon the company's Garage Door Opener Module System, Ryobi introduces the Park Assist Module compatible with the Ryobi Ultra-Quiet Garage Door Opener (GD200). Two ultra-bright, Class Two lasers activate when your garage door opens to help guide you to park the right distance from the wall or other amenities in your garage. Get more control over your unit by downloading the Ryobi Garage Door Opener App to program personalized settings. The module is easy to install to the GD200 Ryobi garage door opener. Visit www.homedepot.com.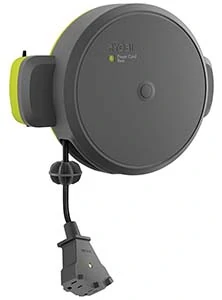 Garage 16Ga 30ft. Retractable Cord Reel GDM330
Another option of Ryobi's GD200 Garage Door Opener Module System is the Garage Retractable Cord Reel Module. Tired of your extension cords getting stuck under your tires? This cord hangs overhead from the Garage Door Opener (GD200) and extends up to 30 ft. with 3 outlets. When you are finished using it, the cord reel retracts back into the unit. Features include an adjustable auto-stop for varying height and a downloadable app to make personalized settings. Visit www.homedepot.com.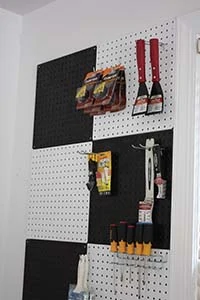 AlligatorBoard
AlligatorBoard from Syr-Tech is a unique metal pegboard manufactured to the highest standards from heavy-duty, 20-gauge steel. Stronger and more durable than ordinary pegboard, it comes in multiple sizes of panels, strips and shelves. It's compatible with standard pegboard hardware and quickly and efficiently organizes garages, workshops, utility rooms and more. Backed by a 5-year limited warranty, the metal pegboard won't rust, and the galvanized line is magnetic. AlligatorBoard has special reinforced dimpled holes, and will hold up to 90 lbs. when mounted on studs. The built-in 5/8-in. flanges let you mount directly to any wall with clearance for tool hooks. Plus, open corners make it easy to run speaker wire or extension cords behind mounted panels. AlligatorBoard is available in several finishes—galvanized steel, eight powder-coated steel colors and stainless steel, and the finish even includes such details as color-coordinated mounting screws to match the paint finish. Visit alligatorboard.com.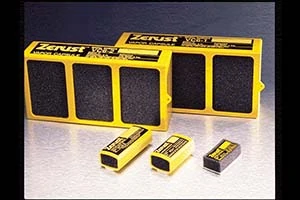 Zerust Consumer Products
All Zerust products operate on the same basic principle: to create an invisible barrier of corrosion-blocking molecules around your valuable metal items. Exposed metal surfaces protected with Zerust benefit from a long-lasting shield against rust, tarnish and corrosion. The patented technology is odorless, non-toxic, eco-friendly, and lasts up to five years. When your tools are protected with the best rust prevention products, you can mold, shape, and create the projects of your dreams. The Zerust Drawer Liners, which combine the corrosion-inhibiting formula with a heavy-duty non-slip PVC rubber, save you time and money by sparing you from having to apply costly oils and WD-40 to the contents of your toolbox. And the Zerust Table Saw Covers are uniquely designed to guard your most expensive investment from rust, electrochemical reactions, dust and moisture. Visit zerustproducts.com.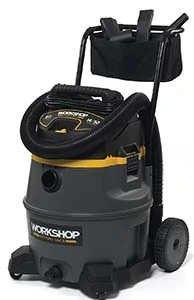 WorkShop WS1400CA
It's the middle of summer and your projects are in full swing. It is times like this that you need a shop vacuum that works as hard as you do. This 14-gallon unit from WorkShop Vacuum does just that. The WS1400CA is built to tackle large messes. The unique cart design creates a stable platform for easy maneuverability even when full. The large rear wheels provide mobility up the steps and over thresholds and rough terrain. The ergonomic carry handle allows for easy transportation, and the robust cart handle allows easy steering. The extra-large 14-gallon drum has enough capacity to accommodate all kinds of cleaning tasks. Once you have finished tackling a large wet mess, you can use the drainage port at the bottom of the vacuum to empty out any liquids. This powerful vacuum comes with all the tools you will need, and it's one of the quietest in its class. Visit http://BestVacs.WS/1400CA.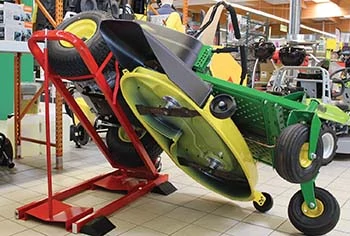 Cliplift Magnum Mower Lift
The low clearance beneath a mower deck can make maintenance a real headache, but Bradley mowers offers the MJ4000 Cliplift Magnum Mower Lift to easily lift your mower and make life a little easier. Have effortless lifting with a simple foot pedal. Easily lower the mower with the twist of a knob. It features a heavy-duty steel frame with a powerful hydraulic lift. Two separate security features guarantee the safety of the user. Also included are two steel ramps and a strap to provide more safety. Rated to raise 1,100 lbs, the mower lift stores upright with included hardware, and it's portable for use in the field. Visit bradleymowers.com.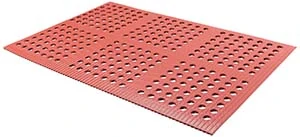 ES Robbins Drain Mat
ES Robbins Lightweight Drain Mat is easy to handle and drains much better than other mats on the market. Keep the walking surface dry, safe and slip-free with the unique four-way drainage cleat system that offers efficient multi-directional flow while providing anti-fatigue support. Available in black and terracotta, the mats are manufactured with high-quality materials and are designed for industrial, institutional, food service, or wet or dry environments.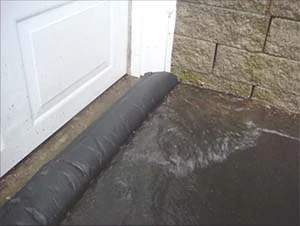 Quick Dam
Quick Dam flood-control products provide a compact, quick and easy solution for flood concerns. Just one inch of water can cause significant property damage and with limited flood insurance options, flooding is a growing concern. Recommended for fresh water applications, Quick Dam Flood Barriers and Sandless Sandbags weigh less than one pound each, making it easy to carry several at a time. Activate the super-absorbent contents with water, and in just minutes they will swell and create a barrier to contain or divert floodwater. They are designed for indoor or outdoor use against nuisance rainwater and moderate flooding. Quick Dam Water-Gates are ideal for salt or fresh water applications. These self-rising barriers activated by water, with wall heights from 6 inches to 5 feet and connectable lengths of 25 to 50 feet, are ideal for responding to all types of flooding. Visit www.absorbsp.com.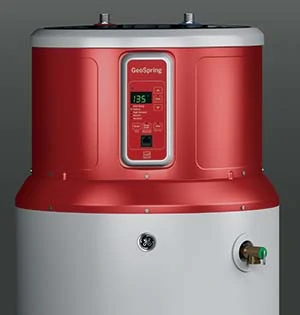 GE GeoSpring Water Heater
Many modern garages are also home to the water heater. The GE GeoSpring Hybrid Electric Water Heater is one of America's most efficient 50-gallon and 80-gallon water heaters —performing 70-percent more efficiently than a standard electric water heater.
It delivers all the hot water you need and because it uses the same water and electric connections, installation is fast and easy. Plus, you can get a $300 Federal Tax Credit for any GeoSpring installed until December 31, 2016. File IRS forms 5695 line 22a with your 2016 tax filings along with the product purchase receipt and a copy of the GeoSpring Manufacturer's Certification Statement.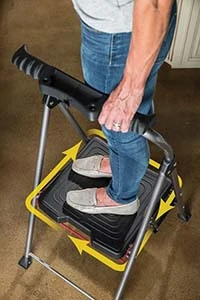 Werner Podium Step Stool
Designed for helping consumers with home related tasks, the 8- and 9-ft. reach Podium Step Stools (models SP322 and SP323) offer super-sized platforms for maximum stability, comfort and safety when working off the ground. Extended guardrails provide extra comfort and security while standing on the platforms. Werner's introduction of the Podium Step Stools make everyday tasks and home projects easy and safe. These lightweight and easy-to-store step stools can be used anywhere around a home or business. Because the top rails are curved with a wrap-around tray to hold small tools and hardware, it makes DIY and home improvement projects easier than ever. Visit wernerco.com.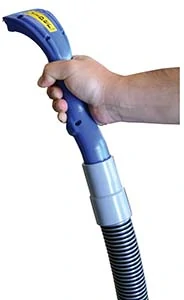 OAS Viper Scraper
The Oneida Air Systems Viper Scraper is ideal for paint scraping, stucco/textured surface removal, hardwood floor installation and refinishing, lead abatement, and boat refinishing and repair. The Viper Scraper is a lightweight hand scraping tool that conveniently attaches to the hose of standard wet/dry vacuums, allowing the user to collect waste right from the source.
When the wet/dry vacuum is in operation, its suction captures debris from the Viper Scraper's blade, carrying it through its hollowed-out handle and onward into the shop vacuum's canister, significantly reducing downtime for cleanup while keeping the work environment safe and clean. The Viper Scraper is injection-molded from fiberglass-reinforced nylon with a high-grip textured finish. Its unique design features a reversible tungsten carbide blade for long-lasting durability.
When the Viper Scraper is used in conjunction with Oneida Air's Dust Deputy, 99 percent of the scraped debris is captured inside the Dust Deputy's easy-empty bucket instead of the vacuum's canister, preventing vacuum filter wear and keeping the vacuum's suction strong and even.