Wagner Introduces the FLEXiO 590 Sprayer
The FLEXiO 590 Sprayer is an indoor/outdoor hand-held sprayer for all projects. It combines the iSpray nozzle, detail finish nozzle and the X-Boost turbine to provide the most flexible and powerful painting solution offered. The X-Boost turbine delivers 3X more power (at 65,000 RPM's) to spray most coatings with maximum control, full coverage and low overspray.
Not only is it more powerful, it is also 50 percent quieter and 20 percent lighter than traditional airless sprayers. The iSpray nozzle sprays un-thinned residential paints for broad surfaces both indoors and out. The detail finish nozzle is ideal for small projects and fine finishing. The FLEXiO 590 Sprayer produces a slightly stippled, roller-like finish, perfect for interior walls. Edges, corners and broad interior surfaces can now be sprayed faster for better coverage, and with some basic masking, you're spared the tedious efforts of a brush, saving time for other projects. Learn more at www.wagnerflexio.com.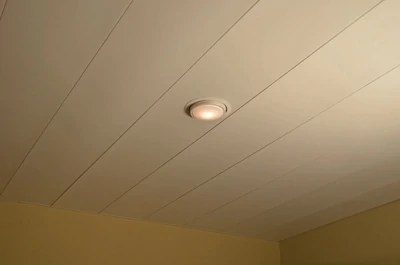 Zip-Up Ceiling
Zip-Up Ceiling is a smart alternative to drop ceiling tile systems in basements and other residential and commercial spaces. The system provides a quick, easy way to finish open ceilings while saving headroom and maintaining accessibility to overhead plumbing and wiring. An economical and aesthetically pleasing alternative to traditional drop ceilings, Zip-Up Ceiling is comprised of durable interlocking PVC panels and rails and meets Class-A Fire Rating. It is impervious to water, can be cleaned with water, and is mold and mildew resistant.  The system, which provides a flat, grid-free, non-corrugated washable surface, assembles in six easy steps with just a few components and tools. The E-shaped wall trim attaches to walls around the entire periphery. The main rail runs the length of the room and attaches to the joists. The panels, which are the visible surface of the system, zip into the rails and unzip for access and cleaning. The ceiling drops down only two inches, saving headroom. Zip-UP Ceiling comes in two finishes and colors. These are smooth and serrated, and white and beige. The panels are also paintable with latex paint. Visit www.zipupceiling.com.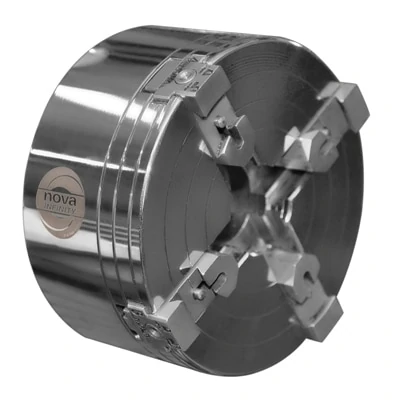 Infinity Quick Change
Woodturning Chuck Nova's R&D Department has spent the last three years developing the Nova Infinity Quick Change Chuck System. It is billed as the "ultimate woodturning chuck system" that, whether you're a hobbyist or a professional, will speed up your productivity. The system is a sophisticated range of high-technology chucks, upgrades and accessories that delivers amazingly fast change-outs of jaws—from six minutes under conventional technology, to less than 30 seconds with the Infinity System. It solves the major problem of sticking screws or heads snapping off when changing jaws on conventional woodturning chucks, which often turns into a lengthy, frustrating process for wood-turners. The Infinity Quick Change System also provides a much stronger grip, an uninterrupted range of compression and expansion sizes and enhanced work holding capacities. Visit www.teknatool.com.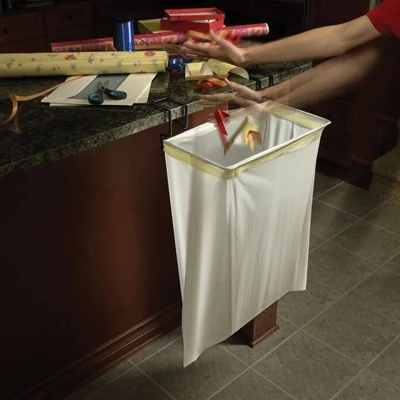 Trash-Ease
Trash-Ease is a conveniently portable trash bag holder that attaches to any table-like flat surface, allowing users to have a stable, large trash receptacle anywhere they happen to be. Simply attach it to a surface, attach any standard trash bag to it and it's ready to use (13-gal. or 33-gal. size, depending on version of Trash-Ease). Made in the USA, the sturdy design of the Trash-Ease makes it durable enough to be used everywhere on a daily basis. Its slim, lightweight and one-piece design allows it to be transported and stored easily in a closet, shelf, trunk, camper cubby or nearly any other similar storage location without the need for tools. Each Trash-Ease comes packaged with two standard drawstring garbage bags in the same size as the model of Trash-Ease. The powder-coated and rubber-dipped exterior protects against dam-age to surfaces where the Trash-Ease is attached. Learn more at www.trash-ease.com.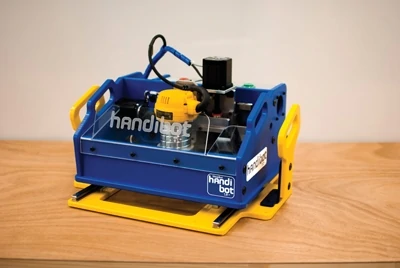 ShopBot Opens "Handibot App HQ"
ShopBot Tools has opened up Handibot App HQ, an online forum to submit ideas for software applications for ShopBot's revolutionary power tool, the Handibot Smart Tool. The Handibot is a portable robotic power tool designed to enhance creativity and productivity at construction and remodeling jobsites, in rapid prototyping, and in countless DIY projects. The tool features an App-Driven, one-button "Start"; it can be run from a smartphone or tablet, as well as from PC's. According to ShopBot President Ted Hall: "Handibot Smart Tools have amazing cutting and machining capabilities, yet their potential to empower the widest utilization will depend on the availability and convenience of a range of software apps. This summer we crowd-sourced funding via Kickstarter to develop the tool, and on the heels of that success we're now crowdsourcing ideas for apps to help grow its potential." As a simple example, imagine an app for cutting holes of any size. You might need to cut a specific size hole in a board, the floor, or the wall: (1) open the app on your phone; (2) enter settings for diameter and depth; (3) select whether you want to "pocket-out" the area of the hole (rather than cutting through the material); (4) click the "Load" button to send the cutting information to your Handibot; and (5) position the smart tool and squeeze the "Start" button. The Handibot App HQ gallery makes it inviting and easy for you to put up your ideas. Learn more at www.handibot.com.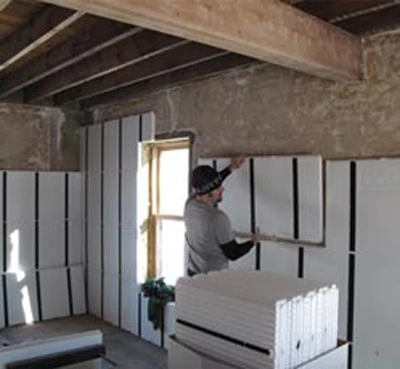 InSoFast UX 2.0 and EX 2.5 Panels
InSoFast UX 2.0 and EX 2.5 panels comprise a complete wall solution that eliminates the need for 2×4 framed walls with cavity insulation. The panels are designed for use in the challenging, moisture-laden basement environment. I-beam style plastic studs are injection-molded in place with closed-cell polystyrene foam. The studs have a heavy front face that's rated for attaching anything from 1/2-in. drywall to 2-1/2-in. thick stone facing. The InSoFast panels are installed by applying adhesive on the back face of the stud. This stud is engineered with hundreds of interlocks that fill with adhesive and mechanically lock the stud in place with a strength that can outperform concrete screws spaced 4-in. apart. (The panel can also be fastened with concrete nails and screws.) The panels also feature continuous foam insulation with built-in multi-directional electrical raceways for easy wiring. Built–in alignment notches ensure the studs are always straight, true and exactly 16 in. apart. Even a novice DIY'er can get superior professional results. Learn more at www.InSoFast.com.