By Matt Weber
Over the past year I've found a few tools and devices that have made life on the jobsite a little easier or more convenient. I thought you might like to see them as well.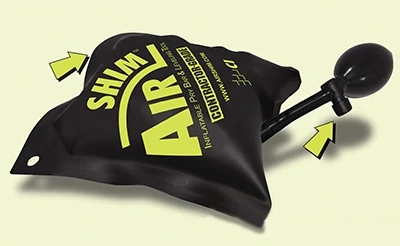 AirShim
The AirShim is a shim that blows up like a balloon. This flat, inflatable air wedge helps to level and square windows, doors and cabinets for installation. Made of contractor-grade materials, it's designed to have a 300-lb. load rating and can be used to replace wood shims and pry bars. It gives you infinite adjusting possibilities when squaring windows, positioning heavy doors or hanging kitchen cabinets. Simply slip the deflated AirShim into position, then pump the bladder to blow up the cushion and move the object that is pressed against it. The AirShim can fit into 3/32-in. gaps, has an internal stiffener that won't fold under pressure, and its rounded corner won't leave unsightly marks. Visit www.airshim.com.

Gorilla Gripper
American-engineered and made in the USA, the Gorilla Gripper from Landon Innovations makes it easy for a single person to carry large sheet goods such as plywood and drywall. The Gorilla Gripper clamps at the top of the panel so the user can carry it comfortably at shoulder height. Also handy for ladder work, the gripper takes the hassle out of schlepping sheet material around the work site (especially in windy conditions). It comes highly recommended for pros and DIY'ers who often work without a helper.
The version I've been using for years is constructed of aircraft-grade aluminum plates with special rubber gripping pads and a cushioned handle. I recently discovered that the manufacturer now offers a less expensive model, called the Gorilla Gripper Advantage, made of high-strength glass-filled nylon polymer gripper plates complete with a cushion-handle for all day comfort.

Skilsaw 10-1/4″ Worm-drive Saw
A bigger saw cuts bigger things. The new Skilsaw model SPT70WM-22 is the only 10-1/4-in. worm-drive saw designed to cut 4x material smoothly and cleanly in a single pass. Cross-cutting a 6x with a standard 7-1/4-in. saw usually requires five cuts–one on each side of the post, then a center cut with a reciprocating saw to finish the core. With the new 10-1/4-in. Skilsaw, two matching cuts are all that's required for a 6×6. Plus, the new saw offers the same powerful performance and hardworking character that has made Skil worm-drives a jobsite standard. The new model is powered by a large Dual-Field motor that uses a unique copper winding pattern resulting in increased surface area that keeps the motor cooler and increases the durability of the saw. The new Skilsaw is ideal for all sorts of heavy-duty jobs from trimming fence posts to framing houses. Visit www.skilsaw.com.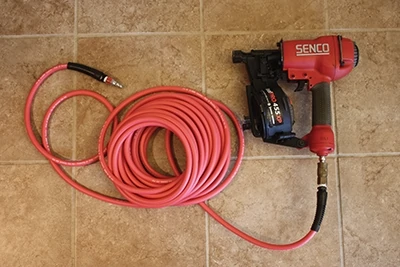 Senco Hybrid Hose
There are some things you shouldn't take for granted, such as the design of your compressor's air hose. That's an easy mistake to make because the hose is essentially a simple device, just a tube that conveys air from the tank to your pneumatic tool. However, its material and manufacture determine how easy it is to use and store. Rubber air hoses are most flexible but the rubber breaks down and will eventually crack and split. In contrast, the stiffer PVC air hoses are more durable, but the material is less flexible and tends to retain the coiled shape especially in cold temperatures, which makes them easy to tangle and difficult to roll up and store.
Senco now offers a hybrid polymer air hose that combines the flexibility of rubber but the long life of a PVC air hose. The new hose stays flexible even in extreme temperatures (-40 to 150 deg.), it lays flat and won't kink when under pressure. Most important (to me): It's easy to roll up and store. It weighs forty percent less than most rubber hoses, has reinforced bend restrictors, and offers a maximum working pressure of 300 PSI. Plus, the smooth non-marring finish makes it ideal for indoor trim work where scratching surfaces could be a problem. Available in 50- or 100-ft. lengths these 1/4-in. hoses have field-repairable ends made with aircraft-grade aluminum for easy on-site fixes without hose clamps. Visit www.senco.com.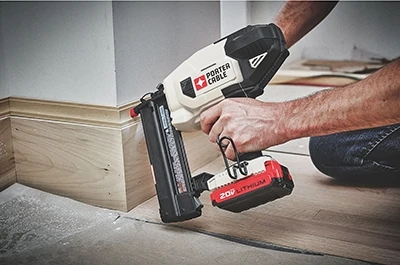 Porter Cable 20V Max Cordless Brad Nailer
As much as I love air tools, sometimes I don't want to drag out a compressor and hose, and it's nice to have a cordless option that's ready to grab and go. And, sometimes I have so many different air tools hooked up to a compressor that I run out of available hose outlets, making a cordless tool a handy addition to the jobsite.
Porter-Cable now offers its first line of 20V Max Lithium Ion cordless finish tools, which includes an 18-gauge Brad Nailer and an 18-gauge Narrow Crown Stapler. I've recently been using the brad nailer for trim jobs and furniture assembly, and it's a lightweight (5.1 lbs), well-balanced and solidly constructed nail gun. It has a fastener-length capacity of 5/8 to 2 inches and a magazine capacity of 100 nails. The nailer is capable of driving up to 450 nails per charge using a 1.5Ah battery (included in the kit) and up to 1,300 nails per charge using a 4.0Ah battery (sold separately).
It has several tool-free features including a tool-free jam release, tool-free depth adjustment wheel, and a tool-free "stall release lever." The stall release lever resets the driver blade after a nail jam to reduce downtime on the job.
Plus, two LEDs light up the work surface as well as blink to let you know when the battery is low or if the gun has jammed. Visit www.portercable.com.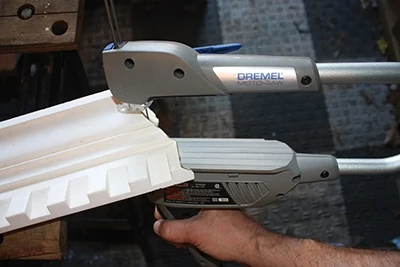 Dremel Moto-Saw
Trim installations such as crown and base molding require a lot of coped joints to join intersecting corners. Making the joint with a coping saw can be a fairly slow and arduous process, but Dremel found a way to speed things up by motorizing the coping saw. The Dremel Moto-Saw is a portable, precision-sawing tool for making detailed cuts in a variety of materials including wood, plastic, laminates and metal. An auto-tensioning feature keeps the blade tight and ready to cut so you don't have to make blade adjustments, and its slim, comfortable handle provides easy control in any cutting position. Plus, it's essentially two tools in one: The Moto-Saw can be used as a handheld coping saw or used with a table base as a stationary scroll saw. It's easy to store, set up and operate and features a tool-free mechanism for quick blade changes. Visit www.dremel.com.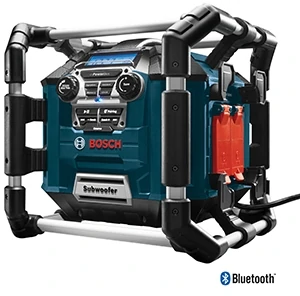 Bosch Power Box
When I'm working I've got to have some tunes, a news station, or some kind of radio in the background to keep me going. The Bosch Power Box has been a popular construction-zone radio since its introduction in 2004, but the new model PB360C has a number of notable high-tech upgrades. First and foremost is the Bluetooth connectivity. Now you can ditch the radio stations that barely come in over the airwaves for internet radio or music stored on your smart device (such as Spotify, Pandora and Apple Music). Sound comes from the Power Box's signature 360-degree speakers, plus the unit can run on batteries, charge batteries, charge devices via a USB port, or be used as a power strip for more cables. Visit www.boschtools.com.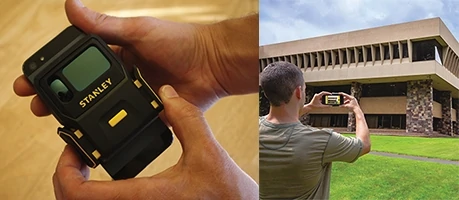 Stanley Smart Measure Pro
Here's a new estimating device for pro contractors that combines smartphones and laser technology. Attach the Smart Measure Pro to your mobile device, sync it with the app and use it to capture height, width and area of targeted locations just by taking pictures.
It has a working range of 450 feet and the manufacturer claims+/-3-percent accuracy to easily measure the square footage of workable areas while subtracting areas for doors and windows. I'm still getting the hang of it, but it seems like a handy way to estimate materials needed to plan for siding, painting, drywall and outdoor projects. The Bluetooth connected laser measurer wirelessly syncs with the app and is compatible with most smart phones and tablets with cameras. It saves and transfers files in today's most popular formats (PDF, JPG and upload to the Cloud). Visit www.stanleytools.com.
Side Note
Sawstop Jobsite Table Saw
The SawStop Jobsite Saw combines SawStop's high-tech safety device with compact portability. You're probably familiar with company's patented aluminum safety brake that stops and drops the blade on contact with skin 10 times faster than a car's airbag. (To cut conductive materials, the unit features a bypass to the safety system.) One surprising feature of the SawStop saw is how smoothly the engine runs and the blade cuts. The new jobsite model comes with an easy-to-use mobile cart that extends for use and collapses for transport, and the large solid wheels and comfort-grip handles make it easy to navigate rough terrain.
The Sawstop Jobsite Saw also offers a handy blade-elevation system that raises or lowers the blade in just a single turn of the handwheel. With the Quicktilt feature, simply compress the tilt paddle and tilt the blade to the desired angle. When fine-tuning is required, you can adjust the angle in 1-degree increments with the infinitely-adjustable tilt mechanism. The saw comes with a solid T-Style rip fence with ErgoLock, which slides easily, locks firmly and offers a 25-1/2-in. rip capacity. The T-style design minimizes deflection for better accuracy and also provides an extendable support shelf at the fence face to support a workpiece; simply extend the on-demand shelf with a turn of a knob when needed and turn it back when done. Visit www.sawstop.com.