Gypsum wallboard, usually called drywall, is absolutely everywhere. In the early 1930's United States Gypsum Company (USG) developed gypsum panels to simplify the cumbersome process of constructing lath and plaster walls. Those panels evolved into today's paper-coated Sheetrock-brand drywall. Now drywall is the most commonly used building material for interior walls, and with the right techniques and a little practice, you can install it yourself without contracting the work. Using new tools, materials and professional insight can pave the way for a smooth, flat finish like never before.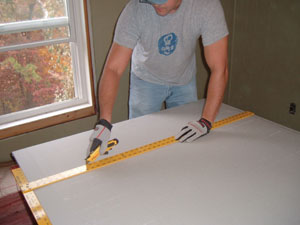 Tools of the Trade
Using the right equipment for the job often means the difference between working smart and working hard. Here's a look at some handy tools to pick up for your next "rocking" project.
4-foot T-square — A large T-square (shown at top) is a great way to make quick, clean cuts in drywall. Just position the T-bar on the edge of a panel and use the long arm as a guide for a utility knife. This eliminates the need to make a separate cut line. A combination square will also help for making shorter square cuts.

Utility Knife — A good, sharp utility knife is your number one tool for cutting drywall. Some new models offer a handy quick-change blade feature. A new knife from Lenox allows you to simply pop the blade in and out of the handle without unscrewing the knife.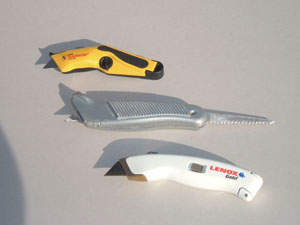 C.H. Hanson offers a unique 4-in-one drywall knife called the SpeedRocker. It features a retractable razor, a fold-out drywall saw, a rasp built into the handle, and a special tape-measure slot above the blade for professional "rockers" to thumb-hold the end of a tape while making quick, measured cuts.

Spirit Level — A 4-foot spirit level is an essential tool to make sure panels are even and plumb during installation.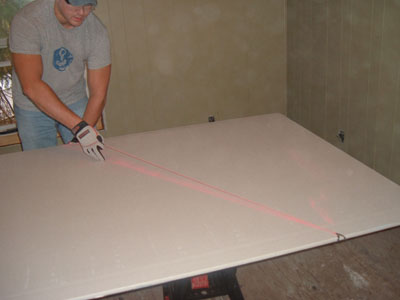 Chalk Line Box — Snap a chalk line to mark the panel when making long, straight cuts in drywall. A line affixed to a swiveling hook makes it easy to fasten the end of the line securely on the edge of a panel for marking diagonal cuts. Many chalk line boxes can also serve double-duty as a plumb bob.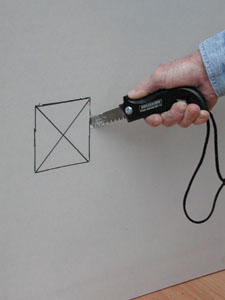 Drywall and Keyhole Saw — A drywall saw is a simple hand saw great for making cutouts, such as door and window openings. For small cuts, such as those for electrical boxes, you can use a keyhole saw. Just mark the location of the electrical box and pierce the paper face of the drywall with the saw and cut out.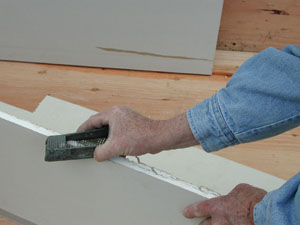 Rasp — A rasp is a surface-forming hand tool used to shave off rough drywall edges for a smooth, easy-to-fit joint.

Measuring Tape — This is an essential tool for measuring long distances of wall space and sections of drywall. 

Tin Snips — You'll need a pair of high-quality aviation snips for cutting various corner beads to size.

Tool Belt — A basic tool belt will be handy for keeping miscellaneous items close at hand. Such items include drywall screws, screwdrivers for electrical repairs, pencils for marking cut lines, or a hammer for a quick framing alteration.
Panel-Lifter — A panel-lifter is a lever that fits beneath a drywall panel edge; the installer steps on the rear end of the lever to raise the panel into position. You can also use a pry bar and a block of wood as a panel-lifter.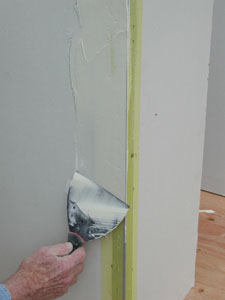 Drywall Taping Knives — These are essential tools for applying tape and joint compound. You'll need a 4-, 6- and 10-inch knife. A 14-inch finishing trowel also helps to smooth the joints. Another handy item for the mudding phase is a "hawk," which is a flat, handheld pan for carrying joint compound.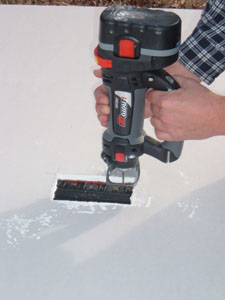 Spiral Saw — Equipped with a blade guide, spiral saws are great for making cutouts in drywall, such as for outlets and fixtures. Some of these tools can also be fitted with a circle-cutting attachment, which guides the saw around an axis to cut round holes of various diameters.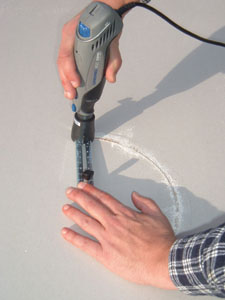 For the fine woodworker who occasionally doubles as a DIY drywaller, a Dremel tool can handle delicate detail work as well as do a fine job of making small drywall cutouts. Or, for more heavy-duty tasks, a RotoZip will make short work of drywall cutouts while also serving as a reliable tool for several other construction-grade projects.

Power Driver — Some cordless drills can be fitted with a special clutch for driving drywall screws. Some screw guns are tools that are specially designed with an adjustable bit for driving drywall screws just below the surface of the drywall face.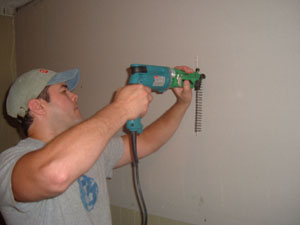 If you really want to speed up the fastening process, you can fit a drywall screw gun with an attachment that feeds a plastic strip of collated screws into the drill bit. Companies such as Muro offer these attachments, and they fly through drywall screws like a belt of ammunition on a machine gun, driving each screw to an adjustable, precision depth.

Tape and Dispenser — Paper tape, fiberglass mesh tape, corner bead tape … You'll be doing a lot of taping on a drywall job—everywhere you find a joint. You'll need plenty of tape on hand, and a belt-mounted dispenser makes life easier when sticking it onto the drywall. 

Caulking Gun — The best way to install the panels is to fit one of these applicators with a tube of high-quality construction adhesive. Use the adhesive in conjunction with standard drywall fasteners.
Guidelines for a Slick Finish
Panel Size for Walls and Ceilings:  Drywall panels come in a variety of sizes. The most commonly used are 4-by-8- and 4-by-12-foot sheets. The sheets are generally available in 1/2- and 5/8-inch thicknesses. The 1/2-inch panels are ideal for most wall applications. Ceilings generally require a 5/8-inch thickness to prevent sagging. However, USG, maker of the popular Sheetrock brand of drywall, now offers a 1/2-inch-thick, sag-resistant panel that is specially designed for ceiling applications.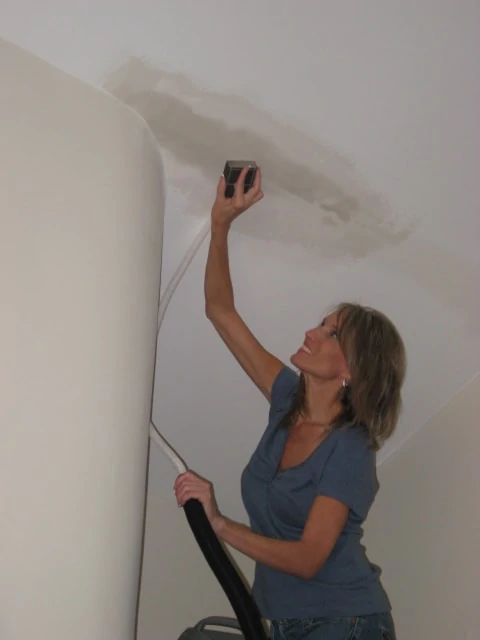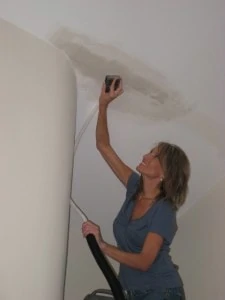 Hang it Smart: Always hang drywall on a flat, stable surface. Adjust any framing problems prior to installation. And cut panels about 1/4-inch short when joining them together. This eliminates breaking the panels when forcing a tight fit. The gaps can be filled in the "mudding" phase.
Sometimes a drywall panel may meet a corner stud that can only support an adjacent panel. In this case, use a metal drywall corner clip to support the panel edge. One side of the clip holds the panel, and the other has a tab that is fastened to the adjacent stud.
When hanging drywall, you'll need to work with a partner to hoist the large, heavy sheets in place. And, using a stepladder, scaffold or a "deadman" will make hanging ceiling panels a lot easier. A deadman is a temporary brace in the shape of a "T," built from 2-by-3 or 2-by-4 stock. Build the brace as high as the ceiling and wedge it in place, using the top "T" bar to hold panels in place until they can be fastened securely.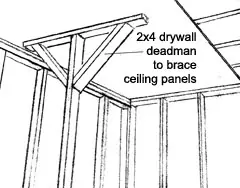 Disguising the Joints: Installation techniques for drywall are fairly standard. The key to success lies in how well the panels are finished. A poorly finished wall surface with high crowns of accumulated compound may show visible joints where the compound telegraphs out from the wall plane. The eye tends to notice vertical joints easier than horizontal joints, so plan your installation to minimize the number of vertical joints by installing the panels horizontally.
When mudding, use a 4-inch knife for the first coat to bed the joint tape and cover fastener heads. Then use a 10-inch knife held almost flat against the wall to smooth out the mud at the flat seams. Don't worry about achieving a perfect finish; just try to fill the seam while minimizing the need to sand. Allow this coat to dry, then remove any ridges or chunks before applying the second coat.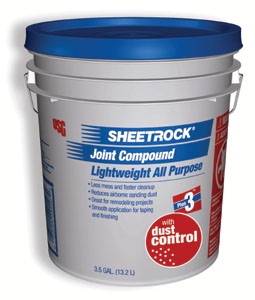 For the second coat, use a 6-inch knife to cover the tape and/or a 10-inch knife or 14-inch finishing trowel to smooth it out. Aim for a flat and smooth application, but keep in mind that you can sand away imperfections once the second coat has dried. Corner tip: On the second coat, mud over only one side of the inside corner tape at a time, allowing the first side to harden before covering the second side.
Ideally, you'll only need one last coat to complete the mudding phase. For the final coat use a wide drywall knife and trowel to feather-out the compound as smooth as possible, allow to dry and sand well.

Uniformity: Texture and porosity differences between mudded joints and paper-faced sheetrock can lead to an unsightly finish. This can be especially noticeable in areas exposed to a lot of light. To eliminate this problem, many professionals give the entire wall surface a skim coat. This is a thin coat of joint compound that leaves a film thick enough to fill imperfections in the wall and provide a uniform surface for priming. The result is greater uniformity of the finish coat and a beautifully finished wall or ceiling.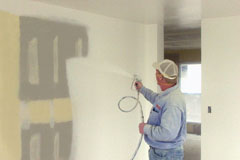 As a shortcut to skimming and priming, USG offers a new product called Tuff-Hide. In just one application, this latex-based, spray-on material generates the same results produced by using a typical two-step process of skim coating the entire drywall surface with joint compound followed by the application of a coat of drywall primer.
Or, homeowners without access to spray equipment can try USG's Sheetrock First Coat. First Coat is a white, flat, latex-based coat designed to minimize problems by equalizing both the surface absorption and texture differences between drywall face paper and finished joint compound. First Coat can be applied with a brush or roller and dries to a hard, white finish in less than 30 minutes, ready to decorate within an hour.
Crash Course on Drywall
The best way to master the art of drywall installation is just like anything else—practice, practice, practice. The bright side is that drywall panels are fairly inexpensive, and any errors in the work—if detected before painting—can be corrected without much fuss.
Of course, there are plenty of tricks of the trade that make life easier for professional "rockers." You can learn a lot of these techniques by visiting USG's website at www.usg.com, where you'll find loads of installation guides and technical articles on Sheetrock. Or, buy a book. "The Ultimate Guide to Drywall: Pro Tips for Hanging and Finishing" is an excellent, easy-to-read resource for the DIY'er to learn everything from basic repairs to more advanced topics, such as applying drywall to curved walls.
The more you learn and the more you practice, the more expertise you'll develop in the field of do-it-yourself drywall.
Ten Tips for Great Finishes
The drywall experts at USG offer the following professional steps for achieving a smooth finish.
Keep tools and mixing containers clean at all times.
Use only clean water for mixing.
Add powder compounds to water when mixing – not water to powder.
Don't over-thin compounds with water.
Use setting-type compounds when time is short and job schedules are critical.
Never use drill-type mixers with speeds higher than 600 rpm.
Don't mix different types of joint compound.
Don't build high crowns over the joints.
Make sure joints are thoroughly dry before priming and painting.
Remove all sanding dust from surfaces prior to decorating.
Drywall Reading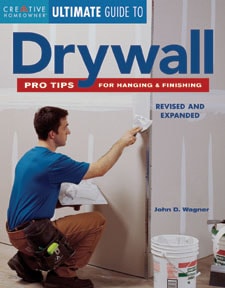 Do you want to learn more about drywall? Check out "The Ultimate Guide to Drywall: Pro Tips for Hanging and Finishing" by John D. Wagner. The paperback is a great resource for the DIY'er and can be purchased at your favorite retail book store, super center retail store, or online book store.