By Matt Weber
Crown Dentil Moulding adds depth and character to a room.
Dentil moulding can make your millwork smile. Like a row of perfectly spaced pearly whites, dentil moulding is a series of repeating rectangular blocks that adds depth and character to millwork such as fascia trim and crown profiles. This style of moulding has been popular for centuries, and traditional installation was a time-consuming and labor-intensive process that required combining all the individual pieces.
Today, homeowners have a few different options when considering dentil moulding (also spelled dentil molding). For a custom look, ambitious installers can still combine various moulding profiles with a strip of dentil trim to create elaborate built-up cornice moulding. With this type of multi-layered trim, the various profiles are installed in laps around the room until all the pieces are in place.
The second and more common option is to purchase the trim with the dentil moulding preattached to the profile. In other words, the manufacturer is assembling the pieces, but you'll be expected to pay for the service. Crown dentil moulding made from wood is commonly available at most home stores, and for stain-grade profiles where the woodgrain will be visible, this is the most user-friendly option although great skill is still required to achieve perfectly mitered and coped corner joints.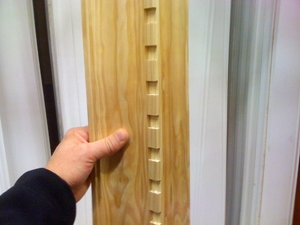 For paint-grade projects, we suggest a third option—synthetic moulding. You can purchase single-piece polyurethane foam or vinyl moulding, which are less expensive, weigh less and resist shrinkage, peeling and other problems associated with built-up moulding. Urethane trim manufacturers offer a variety of sizes and styles of dentil moulding. Plus, with paint-grade projects, minor errors in the installation can be repaired with caulk and painted over. This article details a crown dentil moulding installation using urethane trim manufactured by Fypon.
Tools Required
Safety Glasses
Tape Measure
Hammer or Pneumatic Nailer
Nail Countersink
Corrosion-resistant Finishing Nails
Caulk Gun
Polyurethane Construction Adhesive
Caulk or Wood Filler
Sandpaper
Pencil
Latex or Oil Base Paint
Miter Saw or Hand Saw and Miter Box
Prep Steps
As with any crown moulding installation, measure the perimeter of each room and determine how many linear feet of moulding you will need. When ordering, specify a few extra inches of moulding for each corner to compensate for any errors as well as the waste pieces left from the miter cuts. Fypon's moulding strips are available in lengths up to 16 feet, which, for most applications, allows you to run a single, uninterrupted strip from one corner of the room to the other.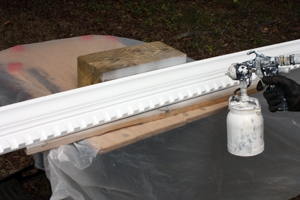 Rather than painting the moulding after installation, which requires carefully masking off the wall and brushing each little "tooth" of the dentil while standing on a stepladder, I recommend spray-painting the moulding prior to hanging it with a HVLP sprayer. Plus, the urethane material comes double-primed from the factory, so you can start with a latex or oil-based finish coat in your choice of color.
Use a stud finder to mark the framing locations behind the wallboard, as well as any plumbing, electrical or other obstructions that might affect the installation.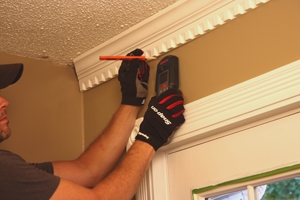 To create a solid nailing surface on which to hang the moulding, I installed wood blocks along the perimeter of the ceiling. To do this, I measured the angle of the moulding profile using a combination square, and then cut triangular blocks from scrap wood on my table saw to fit behind the moulding. I nailed these blocks every 16 inches onto the wall studs.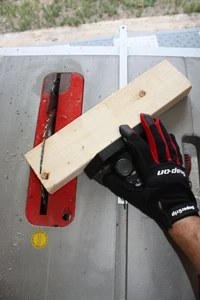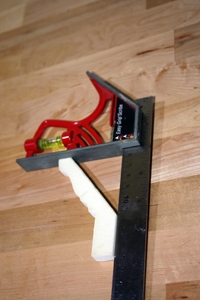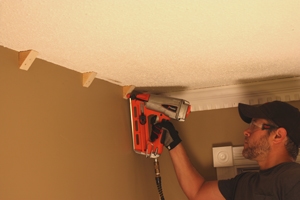 Careful Corners
The room featured in this project had four inside corners and no outside corners. With inside corners on paint-grade projects, minor imperfections in the joints are fairly easy to conceal with caulk. Whereas skilled trim carpenters usually cope the inside corners of wood crown moulding, Fypon actually discourages coping in favor of cutting a matching miter cut. The miter is then fastened with a combination of non-corrosive finish nails and polyurethane construction adhesive.
The miter joints of outside corners are more noticeable, so careful attention must be given to achieve a matching cut. Remember that walls are not always square and true. If you just assume the room has a square corner and you cut two 45-degree miters, you may be disappointed to find out the cuts don't match and the result is an unsightly gap at the corner. To avoid this, each outside corner requires you to measure the wall angle with a protractor and figure out the angles necessary to achieve the proper miter cut. For a table of corner angles and their corresponding miter cuts, check out the article "DIY Crown Molding & Trim."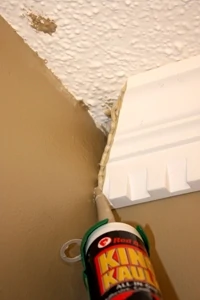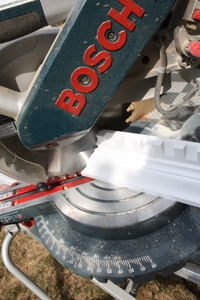 A powered miter saw is the best tool for cutting joints in crown moulding. When cutting the corners, position the moulding against the miter saw fence upside-down and facing upward. You should place the moulding so its ceiling-side will be flat against the bottom of the saw base, and the wall-side will be flat against the vertical back fence. Set the miter saw to the appropriate angle and hold the moulding securely during cutting so it does not flex and affect the angle. To avoid nicking the moulding, allow the saw blade to stop spinning completely before carefully lifting it from the work piece.
Installation
When installing synthetic trim, bear in mind that the urethane foam used in Fypon products will expand during hot temperatures and contract during cold temperatures. To minimize the expansion and contraction it is important to install the moulding as tightly as possible. Measure the length of the wall and cut the moulding 1/4 inch longer for each 10 feet of length to ensure a snug fit.
Raising and fastening long strips of moulding along a ceiling typically requires an assistant. However, I generally work alone, so I use Crown Hangers to help support the trim while I nail it in place (www.crownhanger.com). When you have no extra hands to hold the moulding, simply tack a couple of nails about 6 feet apart just below the ceiling. Hook the Crown Hangers on the nails (they're sold two per set). Then, hang the stick of molding on the brackets of the Crown Hangers. You can then adjust the hangers by sliding the brackets upward and finger-tightening with a lock nut. This holds the trim in position while you nail it in place.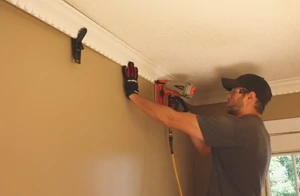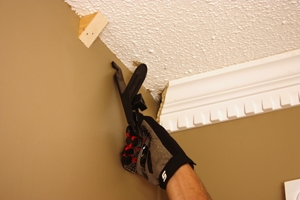 Once in position, I use an air nailer to drive finish nails through the moulding and into the triangular mounting blocks that line the wall. I also tack nails through the upper edge of the moulding and into the ceiling joists.
Each corner joint should be fastened with a combination of finish nails and a strong adhesive that is specified to work with urethane products. In fact, for "the highest quality installation," Fypon's product literature suggests using this adhesive along the back of the moulding where it contacts the wall.
Another difference in the installation method between wood and synthetic moulding is the technique used to splice two strips of moulding in the middle of a long wall. For wood moulding, this is done by making an angled scarf joint. A scarf joint consists of two 45-degree cuts made in opposite directions so they fit together flush. The scarf joint is located over a wall stud for secure fastening.
Synthetic trim is a different story; all seams should be straight 90-degree butt joints rather than scarf joints. The butt joints are secured with nails and joined with the urethane construction adhesive. Butt joints are much easier to make than scarf joints. However, you'll notice in the photo that I made a scarf joint in the Fypon rather than a butt joint. That was a mistake because I'm a slave to habit and am accustomed to scarfing the seams of wood moulding. In other words, do as I say, not as I did.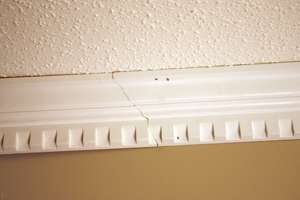 Fine Finish
If you've pre-painted the moulding before installation, then the job is almost finished. You'll need to wipe off any grime or fingerprints and fill all the nails holes with a plastic wood filler. I recommend using a color-matched wood filler, which will save time and labor when concealing the nail holes with touch-up paint. Allow to dry, sand the hardened filler and then paint it to match. Finally, seal all seams with a quality caulk, wiping away any excess to ensure a smooth, crisp joint.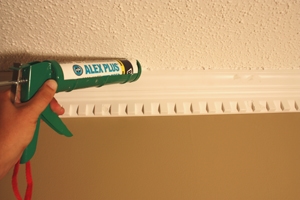 SIDE NOTE
Repair Tip for Synthetic Moulding
To repair a butt joint that has separated due to insufficient or NO adhesive applied, drive wood shims into the joint and below the surface of the millwork. This will open up the separation and stabilize it. Leaving shims in place, fill the gap with PL Premium
Adhesive as a filler. Then, sand the joint and touch up with paint. Note: The best time of year to repair separated joints is during cold temperatures when the moulding is fully contracted.