Jake Gillikin took the remodeling of his Auburn University college dorm room into his own hands. Fraternity dorm rooms typically see a lot of mistreatment by college students, sometimes to the point of toxic atrocity. So, when a new student inherits a room from someone else, scouring the place clean makes a lot of sense. Gillikin took that idea even further.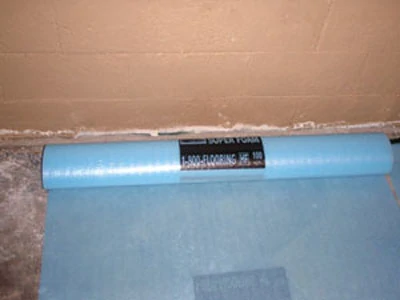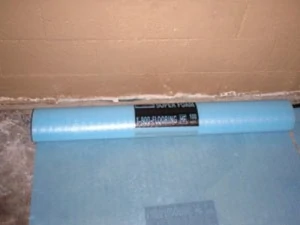 Tore up, from the Floor up
"Initially I tore down the room to a bare concrete wall, bare concrete floor, and exposed ceiling," says Gillikin. His plan was to completely reconstruct the covering of the walls and floor, and reduce sound transmission in the process. "First, I laid down Dream Home flooring underlayment over the subfloor." Available from Lumber Liquidators, this foam underlayment is 1/8-inch thick and installs beneath floating laminate and engineered wood floors to muffle sound and even-out minor imperfections in the subfloor.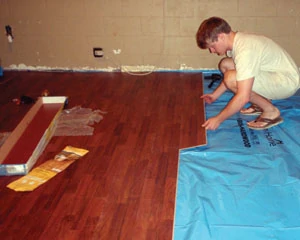 "Second, I laid down the Dream Home water-resistant liner," says Gillikin. "I taped all of the sound absorber and liner sections together with Gorilla Tape." Butting the seams of the underlayment together, rather than overlapping, ensures a flat, even surface for the flooring installation. The 6-mil poly liner protects the floor from damaging moisture that can transfer through the concrete subfloor to the new finished floor.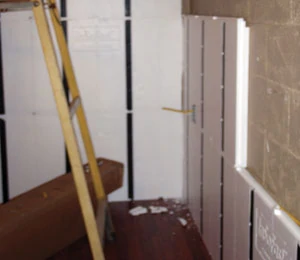 "Next I installed the snap-lock laminate flooring from Lumber Liquidators, using a basic laminate floor-install kit," says Gillikin. "The kit consists of a rubber mallet, a metal Z-bracket for hammering the floor pieces together, and plastic spacers to correctly align the pieces of flooring against the wall."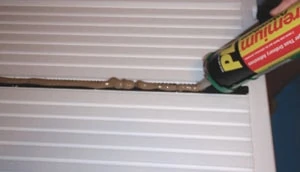 Time came to focus on the walls, but this was no standard drywall job. Gillkin opted for insulated wall panels. InSoFast, LLC provides a way to frame and insulate concrete walls, ceilings and floors in a single simple step. These easy-to-install InSoFast panels are 4-by-2 feet and 2 inches thick, which lock together to create an R-10 system. Comprised of closed-cell expanded polystyrene and embedded studs, InSoFast provides a secure attachment for drywall. Drainage channels on the back side of the panel keep moisture away from the drywall, and an integrated network of chases allow for the easy installation of wiring after the panels are set in place.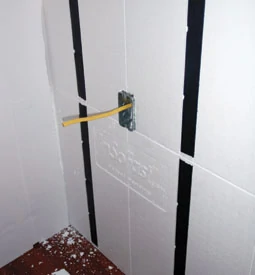 "For the InsoFast, I used PL Premium Construction Adhesive to stick the panels to the wall," says Gillkin. "Once the boards were installed entirely on all four walls, I re-wired the outlets and coaxial cable using the built-in wiring chases on the InSoFast panels. Using standard drywall screws, I hung regular 1/2-inch drywall on the InsoFast built-in studs."
Because InSoFast is made of vapor semi-permeable EPS foam, the wall system is allowed to dry, making it a logical mold-resistant choice for concrete insulation.
To learn more about these products, visit www.lumberliquidators.com and www.insofast.com.