New Tools for the Tear-Down
It's generally easier and more exhilarating to tear something apart than to build it up. Demolition is often the first step of a remodeling project, the phase when you're bringing the worksite back to a blank canvas. With a little elbow grease, a big sledge hammer and a crow bar, you can really do some damage. Of course, there are some power tools and purpose-built implements that help bridge the gap between hard work and smart work. Here's a look at some new demo tools for your next foray into destruction.
Ripping with Manpower
For a demolition job, the first category to consider is manual hand tools. Although a sledge hammer can dismantle a brick wall, even a heavy framing hammer can make some serious holes in masonry or wood, and do so with a more measured and targeted strike. Both heavy sledges and large framers can be used as basic demolition tools, as well as to drive ripping bars.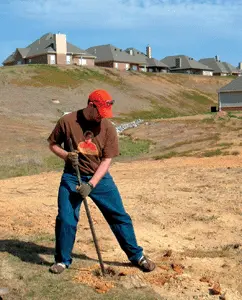 Pry bars, crow bars, rippers, etc. provide the necessary leverage to pull nails and rip up siding, decking, flooring or virtually any other material you need to pry away from a structure. When selecting a demo bar, pay attention to the bar's length (thus leverage), weight and quality of construction. The bigger the bar, the more destructive power it will brandish, but the big ones are usually heavier and can fatigue the user more quickly.
For example, we recently put to use a 5-foot breaker bar to demolish the rock bed beneath the topsoil in a co-worker's yard. We were building a fence, and the rock was so solid that it stalled the rented gas-powered auger we were using to dig the post holes. The large, pointed bar worked well at splitting the rock, but pistoning the heavy iron rod up and down tired us quickly. If you've got lot rock-crushing in your future, then consider forgoing the bar for a powered breaker hammer that you can find at most rental yards. (More on that later).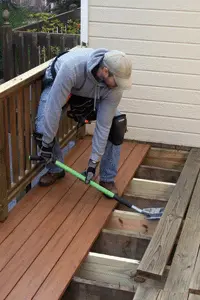 As far as recommended demolition bars, the EHT staff recently used the Gutster demolition bar on a deck-board replacement job and loved it. The hollow handle cuts down on the weight of the 48-inch bar while retaining excellent balance and lifting power. The angled head with chiseled points can get into small crevices, and the head features prongs spaced to straddle 2-by beams and joists. We used the Gutster Series 2 but recently discovered the manufacturer offers a newly upgraded model, available in two different lengths and with an even slimmer handle.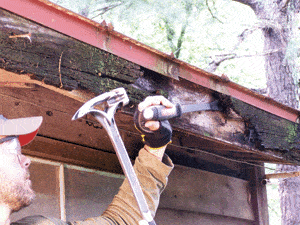 Another keeper comes from Mayhew Tools. The heavy-duty Dominator Ripping Chisel is constructed of heavy-duty 3/4-inch steel. Great for removing floor tile, wall paneling or plywood, or for use on any overhead demolition where you need a medium-sized wrecker for easy maneuverability, but one that can really handle tough ripping action. The business end features a two-prong chisel with a couple of nail pullers, and the shaft goes all the way through the handle to the end cap. The patented two-composite handle really shines on this tool, because demo bars aren't usually this comfortable to hold. I also like that the end of the handle is capped, which let's you strike the bar with a hammer without damaging the handle.
Electrical Breakthrough
For a powered approach to demolition, we'll make our entry point with electric rotary hammers. These tools have an electro-hammer system with a free-floating percussion piston. The impact force of the tool is much greater than that of a standard hammer drill. With rotary hammers, the tool supplies all the impact without any additional pressure from the operator. The impaction ramps up the breaking power while cutting down on user fatigue.
In fact, applying pressure can reduce the impact of the breaker. These tools are an excellent choice for boring strategic holes in concrete or masonry to weaken the structure. Rotary hammers are sold as dedicated units, but also as combination tools that offer "rotary hammer" plus "hammer only" action—an excellent feature for chiseling away tile and mortar. Rotary hammers provide lots of breaking power in a portable package that can be used horizontally or vertically. Most models are corded, but some are available as cordless units with 36-volt lithium-ion batteries. They also vary greatly in size and weight.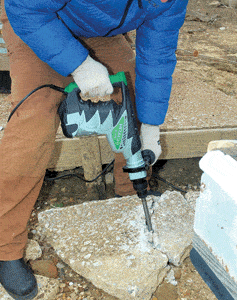 The chucks in modern rotary hammers are designed to accept special bits for additional strength. The most common chuck systems were actually designed by Bosch, dubbed the SDS-Plus and SDX-Max Systems. The breaker points, commonly referred to as "tools" or "steel," usually range in size from 5/8 to 1-3/4 inch.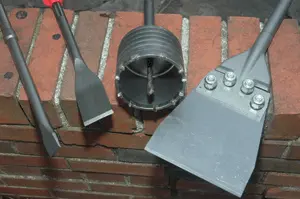 The next step up in the size of destruction tools are dedicated portable demolition hammers. Although rotary hammers provide drilling action, demolition hammers provide only hammering action, designed specifically for breaking up concrete, masonry and stone. Although not as versatile as rotary hammers, the dedicated demolishers are better engineered to withstand the heat and wear of breaking rock, day in and day out. Like rotary hammers, portable demo hammers can be used for vertical or horizontal work. However, these tools can cost more than $500, so if you only need it once, then it would be wisest to rent. The same goes for any larger pieces of demolition equipment you might need.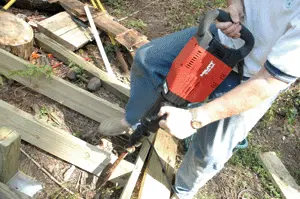 New Destroyers
Over the past two months the EHT staff tested a few new electric hammers on a couple of different projects. These included the Hitachi DH45MR, Bosch 11316EVS, Hilti TE 905 AVR, Metabo's Porsche P9711, as well as rental yard favorite, the Bosch Brute. Here's what we thought: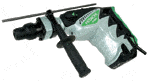 Hitachi DH45MR
In the realm of rotary hammers, we tested Hitachi's new DH45MR. According to Hitachi, the DH45MR offers the fastest drilling and chiseling speeds on the market. Although our staff isn't privy to all the tool specs on the market, we can say with confidence that it's a real beast of a rotary hammer. It boasts a 1-3/4-inch SDS Max breaker capacity and a "best-in-class" impact energy of 11.4 foot-pounds. The control dial offers two modes of operation: hammer-drilling and hammer only. A 12-Position lock mechanism lets the user select chisel position. Constant speed control delivers efficient performance even under stressful loads. And, variable speed control gives the DH45MR a full-load RPM from 120-240 and an impact rate of 1,200-2,500 BPM.
The DH45MR also comes with Hitachi's patented IDI technology that enables the aluminum housing to be integrated with an injection molded inner nylon core. This technology combines the durability of a metal bodied tool with the double insulation advantages of today's plastic housings. This allows the tool bearing to sit in die-cast aluminum instead of plastic to extend the life of the tool. A quick online check found a new DH45MR selling for $568.  —MW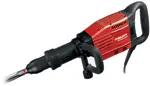 Hilti TE 905 AVR
Hilti's 905 breaker provided the serious performance we have come to expect from Hilti's line of tools. The tool's design lends itself to vertical applications where it excelled at chipping and breaking apart concrete footings. Lighter than the larger Bosch Brute, the 905 sprinted through
4 inches of concrete so effectively that it became the tool of choice when we needed more power than the lighter units, but did not need the largest tool in our test group. The 905 uses 1,600 watts of power, so don't skimp on the extension cord or you will end up with a 75-foot light bulb filament. Hilti's 905 uses AVR technology to reduce vibration and also incorporates a soft-start feature that we found very helpful when driving Oz-Post pilings and needed to cease pounding while we checked levels. The feature allowed us not only to check levels without turning the switch off, but allowed us to also drive in the posts at a very controllable speed.
For concrete demolition to remove decking support posts, we used Hilti's self-sharpening line of chisels and bits. We will be using the Hilti bits in upcoming projects to get a better understanding of the self-sharpening feature's effectiveness. With limited use the bits have performed well.
Hilti offers a full line of bits for the 905 Series, ranging from roughing bits, chisels and ground-rod installers, Hilti has the bits to meet the demands of its professional customers. The DIY crowd will like the 905 if they can rent it instead of the larger jackhammers, as its lighter weight is much easier to work with. For simple demolition the 905 would be an excellent choice. The Hilti sells for less than $1,500 online. —HJ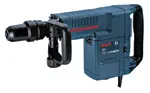 Bosch 11316 EVS & the Brute
In terms of power-to-weight ratio, the Bosch 11316 demolition hammer outclassed the other units. While it may have lacked the power of the Hilti 905 or the behemoth Brute jackhammer, for all-around demolition the 11316 is hard to beat. On horizontal applications the Bosch broke through brick and concrete block walls with ease, whereas the two larger units, the Brute and the Hilti 905 were too heavy for any extended horizontal use.
Bosch offers a complete line of bits and chisels for the 11316, and the unit will accept SDS-Max bits of any make. The variable speed allows the user to control the speed of the tool, allowing slower speed for tile-removal work and other light demolition and higher speeds for tackling tough concrete removal projects.
Another use for the 11316 was the spade bit that made digging footings in heavy clay soil a quick task. Usually this chore is back-breaking and time-consuming, but both the Bosch and the Hilti spades saw a lot of use during several deck-building projects. The biggest obstacle was keeping the spade from burying itself too deep, too fast. The Bosch 11316 also has a multitude of tasks it can perform not associated with demolition, such as ground rod driving, (or rebar driving for landscape lumber), core drilling and it was even used to drive galvanized posts into the ground.
For the professional, this tool is a winner for its flexibility. With a weight of approximately 23 pounds, it is no lightweight, but compared to comparable units this is a good choice if you expect to be using the drill in horizontal fashion. A range of 4.4 to 18.4 foot-pounds per blow and a BPM of up to 1,890 ensure versatility for a multitude of tasks. The online price of the unit is a bargain at less than $800. For the advanced do-it-yourself person, this tool's flexibility and lower costs make it a reasonable choice if you have lots of demolition work ahead and want to work at your own pace without regard to rental fees. —HJ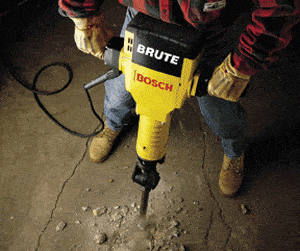 The Brute
The Bosch Brute is a huge commercial-grade jackhammer we borrowed from a local rental yard. It's very heavy and very expensive and only makes sense to own if demolition (or renting equipment) is your stock and trade. However, if you've got an immovable object, the Brute will probably move it. It's a cannon.
SIDE NOTE
Metabo Porsche P7911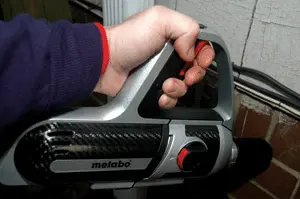 In my younger days I dreamed of owning a Porsche 911. Well, finally I got my hands on one. No, not the rear-wheel drive sports car that dominated auto racing like no other make has. Instead, this is the Porche P7911 Multihammer, a joint project of Metabo Tools and Porsche Design. The outside of the drill says Porsche Design, the inside says Metabo quality.
The design of this drill is what sets it apart. The traditional pistol grip and D Handle are replaced by what appears to be an upside-down configuration with the handle mounted to the top. This feature is actually an asset when drilling in close quarters, keeping your hands away from the dirt when drilling near the ground, but it's also cumbersome in overhead use. The weight hanging underneath the handle takes getting used to, and it will take more time to determine whether this is a better way of gripping a drill.
The sleek outward appearance of the Metabo P7911 belies Porsche Design's influence; carbon fibers and aluminum give the 7911 an air of a tool designed for use on the International Space Station. If a drill could be considered sexy, then the Metabo-Porsche design 7911 is Marilyn Monroe.
Power and size, the 7911 is the smallest of the hammers tested. The P7911 is equipped with a two-speed 6.5 amp motor that can deliver up to 2,800 RPM and 4,600 hammer blows per minute. If you just go by the numbers, it's a little better than the popular DeWalt D25203K, whose single-speed 7.5-amp motor delivers a maximum 1,100 RPM and 4,100 BPM. But it also costs three times as much and isn't (yet) available in the USA. The P7911 is compatible with a wide variety of existing SDS Plus bits. —HJ