Tools & Materials for the Outdoor Retreat
Spring will be here before we know it, making late winter an ideal time to get a head start on that backyard deck project. Knock out some work while the weather is still cool, and you'll be having fun in the sun by the time summer rolls around. Here's a roundup of new—and tried and true—deck tools and materials for the family's favorite outdoor living area.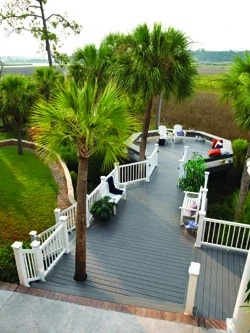 New Colors for TimbertechEarthwood Evolutions Decking
In 2011, Timbertech introduced their first capped composite decking product, Earthwood Evolutions, with their Tropical Collection. Now, they've added three new colors—Brick, Slate and Brownstone—as part of their Earthwood Evolutions Natural Collection, which mirrors colors found in nature. Earthwood Evolutions is the industry's only fully capped plank that features a proprietary HydroLock technology, creating striking aesthetics, rugged durability and superior moisture resistance. Equipped with a 25-year stain and fade warranty, the deck boards only require soap and water to clean up the most common spills. Earthwood Evolutions Natural Collection is available in 12-, 16- and 20-foot lengths as well as matching 12-in. fascia and 7-1/4-in. stair risers in 12-ft. lengths. Visit www.timbertech.com.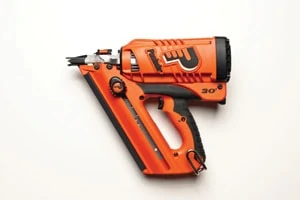 Paslode Fuel-powered Framer with Lithium-ion Battery
Take it from tool-hounds at EHT, everyone in the construction trade either wants or has a cordless Paslode framing nailer, and the new Cordless Framing System, Model CF325Li, is sure to shoot to the top of the wish list. It combines Paslode's most advanced fuel-powered cordless framing nailer with a Lithium-ion battery. The CF325Li drives 50 percent more nails per charge (up to 6,000) and holds a charge five times longer than the Ni-Cad battery. It charges in just one hour, and features a two-minute quick charge that will drive up to 200 nails when you really need to complete a project. It weighs less than the Ni-Cad version and is better balanced to reduce arm fatigue. It also includes a new depth-of-drive feature that quickly adjusts on the fly. The CF325Li was designed and assembled in the USA and works with Paslode's Fuel and Nail Combo Packs with PowerBoost Black Tip Coating. The PowerBoost Black Tip Coating is a proprietary coating that allows the CF325Li to drive the nail flush into the hardest engineered lumber, such as LVL—something many competing  nailers can't do.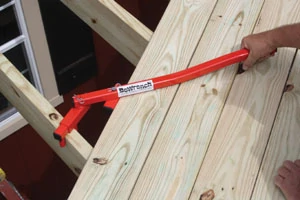 CepcoBoWrench
The BoWrench decking tool is a time-saver for both professional deck builders and do-it-yourselfers. Made with heavy-gauge steel, the BoWrench provides a fast, one-person method to straighten deck boards, which are often warped. To operate the BoWrench, simply fit the tool on a joist and swing the lever arm to pull or push the boards into alignment. When the handle is perpendicular, the tool locks in place, holding the board securely and leaving your hands free to drive in nails or screws. With the BoWrench, you'll save time, create a long-lasting surface and maximize your materials.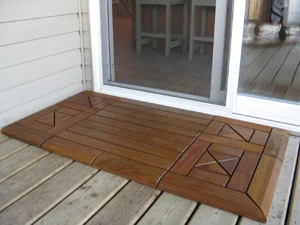 Diamond Essence Outdoor Wood Flooring
Diamond Essence is a high-quality hardwood flooring product designed to cover any exterior hard surface, transforming it into an outdoor wood floor. With an easy-to-install interlocking system, the carriage that supports the tropical hardwoods is made from weatherproof recycled products, designed to withstand extreme weather conditions. It's a perfect for patios, walkways, pools, decking refurbishments and entrances. Diamond Essence is ideal for use where conventional decking would not be suitable, such as balconies and rooftops. Diamond Essence outdoor flooring is made from the superior tropical hardwood species, Ipe (Brazilian Walnut), with ecologically sustainable forestry and recycled materials. This tropical hardwood is simply an ideal wood for exteriors due to its natural beauty, strength and durability to the outdoor environment. Visit www.ottercreekforestproducts.com.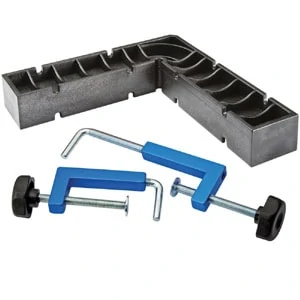 Rockler Clamp-It Square
Rockler's patented Clamp-It Square makes clamping a 90-degree a simple task, and now a pair of Universal Fence Clamps are included as part of an all-in-one package. Now you can align it, clamp it, and fasten it to get perfect 90 degree angles every time. The Clamp-It Square replaces custom clamping jigs, acts as a third hand and eliminates the need for long clamps. Used with the included Universal Fence Clamps, you can assemble any two pieces at 90 degrees, or even a cabinet one corner at a time. The clamp works with any joinery technique, from nails to hand cut dovetails. Ideal for every stage of wood construction, from assembling plywood cabinets to face frames and drawers, Clamp-It is also perfect for framing decks and installing rails and balusters. Visit www.rockler.com.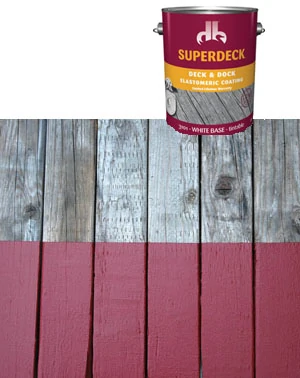 Superdeck Deck & Dock
Boat docks and decks are favorite outdoor living areas, but wood that remains outdoors is constantly exposed to nature's elements and can become cracked and damaged over time. Superdeck Deck & Dock can save these old surfaces by filling in the cracks, so you can revive your decks and docks without the cost of total replacement. Best of all Deck & Dock is a low-VOC product and perfectly safe for use near water. Its high-build, flexible elastomeric formula fills dimensionally unstable cracks up to 1/4 in. on extremely damaged surfaces. "Splinterlock" technology locks down wood splinters, with long-lasting protection and color retention. The flexible formula withstands temperature changes and expands and contracts with the surface instead of peeling or cracking. Superdeck Deck & Dock contains powerful mildewcides and UV protection, and is easy to apply with soap and water cleanup. Visit www.superdeck.com.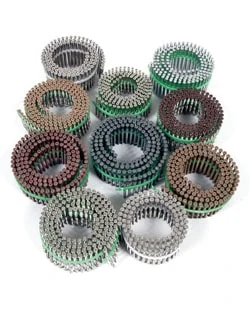 Muro Collated Screws
Deck fastening has come a long way since the hammer and nail. Muro introduced collated screw and tool technology to the industry in the early 1990s, and the company's Auto Feed Systems have since improved job quality with consistently driven screws that provide superior holding power at high-production speed. Muro continues to introduce new collated fasteners for deck builders, including a screw that eliminates the need for any pre-drilling in exotic hardwoods. The Muro Ejector Series range in size from No.10 x 1-1/2-in. all the way to No. 14 x 4in. The company's ShieldGuard screw coating for ACQ wood installations provides superior corrosion resistance, and Muro's Color Headed stainless steel screws match all of today's vinyl lumbers. Plus, the MuroShroomless Screws are an updated line of non-mushrooming fasteners for composite lumbers. Visit www.muro.com.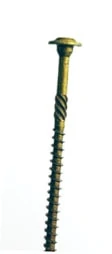 GRK Deck Fasteners
GRK Deck Fasteners lead the pack when it comes to quality fasteners for everything inside and outside of the house. The EHT staff has used the GRK product line extensively for a wide range of projects, and we've never had a fastener break or cam-out. For wooden decks, the company's R4 Self-countersinking Screw has a new under-head with saw-blade like cutting teeth and six self-contained cutting pockets for steadfast holding power. For composite decking, the RT Composite Trim Head Screw includes reverse threading under the head to help the screw disappear beneath the surface of the wood composite material, reducing or eliminating the dimple associated with composite decking. GRK's Kameleonscrews for composite decking come in six colors to blend with the deck boards: Grey, Sage, Sand, Tan, Brown, Redwood. And for framing applications, the GRK's RSS Rugged Structural Screw made of specially hardened steel can serve as self-starting lag screw replacements that eliminate the need for a pilot hole and provide incredibly high tensile, torque and shear strength.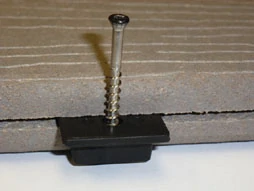 Ty-Lan Hidden Fastener for Choicedek
Ty-Lan Enterprises Inc. has manufactured a new hidden deck fastener for the Lowe's Choicedek brand of grooved composite deck boards. This concealed plastic clip has scored superior results in both uplift and lateral movement testing. Ty-Lan has partnered this clip with stainless steel screws to ensure installation in corrosive environments, such as salt water, is never an issue. What sets the clip apart from competitors is the unique resin used in the manufacturing process, ensuring unsurpassed strength while retaining the ability to repel moisture. Other plastic clips tend to absorb moisture and can fracture during a freeze cycle, which places a deck's structure and safety in jeopardy.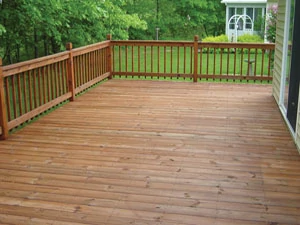 Armstrong-Clark Wood Coatings
The Armstrong-Clark line of wood coatings combines the effectiveness of the drying concentrate of a typical stain with two non-drying oils, which soak into the wood and actually improve the condition of the wood. Plus, the preservative formula meets some of the most stringent VOC standards in the country. The EHT staff has used Armstrong-Clark extensively over the last several years on decks and fences, and we keep coming back for a reason—good looks and lasting performance. The formula is also the only oil-based coating that can be applied in direct sunlight. Choose from a broad selection of transparent colors, semi-transparent colors and semi-solid colors. Visit www.armclark.com.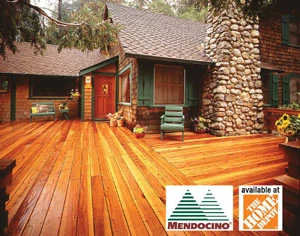 FSC-certified Mendocino Redwood & Douglas-fir
Mendocino redwood and Douglas-fir lumber products, available exclusively at The Home Depot, are an environ-mental choice for outdoor living and home-improvement projects. For over 10 years, Mendocino products have been certified to the standards of the Forest Stewardship Council (FSC), a non-profit organization that promotes the responsible management of the world's forests. When you purchase beautiful Mendocino redwood decking, fencing and landscaping products or the company's durable Douglas-fir framing lumber, you can be certain you are supporting environmentally responsible products. Visit www.mendoco.com.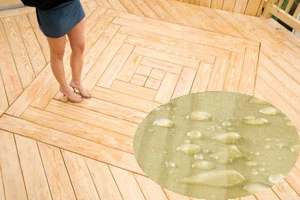 Ecolife Preservative for Treated Wood
Viance offers the Ecolife brand of stabilized weather-resistant wood. Ideal for decks and other above-ground outdoor projects, Ecolifeis comprised of a non-metallic, carbon-based preservative plus wood-stabilizing polymer system that offers the natural beauty of real wood combined with advanced weather protection and fastener performance. The Ecolife treatment also provides protection against decay and termites. Results from accelerated weathering tests simulating two years of Florida weather show that the stabilizer in Ecolife reduces cracking and splitting by approximately 90 percent compared to traditional ACQ or C-A treated wood. Visit www.treatedwood.com.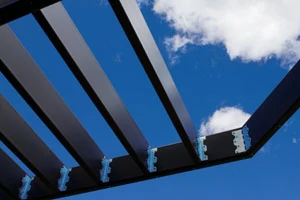 Trex Elevations Steel Deck Framing
Trex Company has acquired the Iron Deck Corporation, a manufacturer of steel deck framing systems and will now manufacture Trex Elevations Steel Deck Framing. Trex Elevations will be manufactured of dual-coated, galvanized steel, which offers superior aesthetics, durability, longevity and stability when compared to traditional wood substructures. In addition, the product will not warp, twist, split or decay. The material is easy to cut and built to provide an efficient and cost-effective alternative to pressure-treated lumber. Trex Elevations materials are composed of 25 percent recycled steel, and any excess materials from a jobsite are 100 percent recyclable. The system offers the additional guarantee of a 25-year limited warranty. Visit www.trex.com.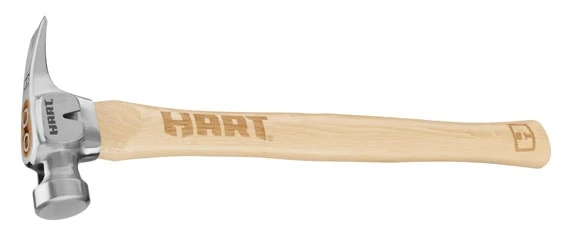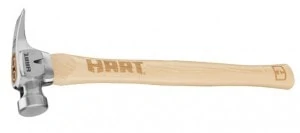 Hickory Framer from Hart Hammers
Air nailers are nice, but they'll never completely replace a quality framing hammer. Hart Hammers are built for worksite durability and loaded with features to conquer any job. The Angled Face Design drives nails more efficiently with every swing. The innovative Side Nail Strike is perfect for driving nails in tight spaces, such as between studs, and the Side Nail Pull offers enough leverage to remove 16d nails in one fluid motion. Available at The Home Depot, the 18oz. Smooth Face Hickory Framing Hammer's handle is made from "Grade-A" Hickory, giving it superior anti-vibration absorption, strength and durability. The Smooth Face is ideal for decking, moulding and other finish lumber projects where you don't want to leave a mark on your work.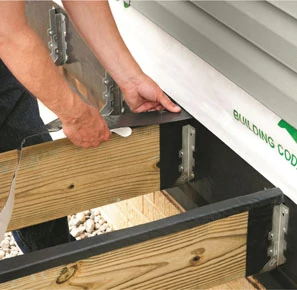 DeckWrap
MFM Building Products now offers DeckWrap, a self-adhering waterproofing membrane that protects the surface of the wood with a layer of asphalt adhesive, which is protected by a durable film. The membrane aggressively bonds to the wood surface and self-seals around nails, screws, punctures and other fasteners. This self-sealing property prevents water penetration to protect the structural elements and extend the life of the deck. DeckWrap is suitable for use with treated, untreated and synthetic woods and stops corrosion of metal components that come in contact with ACQ-treated lumber. It is ideal for ledgers, joists, top edges and post applications to protect against premature rot and degradation. The "self-stick" property allows for quick and easy installation. The only tools required are a sharp utility knife. Visit www.mfmbp.com.

Timbertech End-Cut Paint
When putting the finishing touches on a deck, there are a number of options to create an appealing look. A popular option is to frame the planks up with the fascia running flush so that the fascia covers the ends of the planks. Another style is to have the planks overhang the fascia where the end cuts are left exposed. With some synthetic decking products, the core of the board looks different than the top surface. To provide a more consistent look throughout; Timbertech has introduced an end-cut paint. This latex-based paint is available in five colors that will match the entire line of Timbertech decking options. Colors include: Cedar, Grey, Rosewood, Teak and Walnut. The paint comes in an 8oz. package that should coat approximately 250 end cuts when applied with a foam brush or bristle paint brush.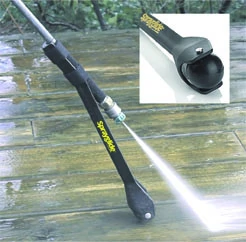 Sprayglide Deck & Back Saver
The Sprayglide Deck & Back Saver is the world's first tool designed to solve common problems associated with power washing exterior surfaces such as decks, docks, patios and siding. A pressure washer is a great tool to break the bond of dirt, but inconsistent water pressure can result in a streaky mess—even expensive repairs—from the nozzle getting too close with the powerful spray, which can scar the work surface. The Sprayglide maintains the ideal nozzle height from the surface, which keeps the water stream at a consistent pressure. It gives the user complete control while pivoting on a spherical wheel for a more uniform "streak free" result. The elevated nozzle can also be adjusted for height, reducing the need for the user to bend over and relieving back stress. The Sprayglide is a patent-pending product with a universal attachment system to fit the spray wand of any pressure washer. Visit www.sprayglide.com.