ShopBot Desktop CNC Tool
The ShopBot Desktop is a small-footprint CNC machine for hobbyists, educators, and small and mid-size business owners. It serves as a platform for all kinds of digital fabrication capabilities. Measuring just 3-by-3 ft., the affordable, home-sized ShopBot Desktop delivers power, precision and reliability on the order of ShopBot's full-size digital fabrication tools. Perform a wide range of workbench, prototyping and production projects in wood, plastic, foam, soft metals and more. Its platform design allows you to choose add-ons such as a drag knife, rotary indexing head and diamond engraving bit. Coming soon: 3D printing and laser printing capability. The ShopBot Desktop comes in either one of two basic platforms: the Desktop Package with Router (Porter Cable 2-1/4-hp Router) or the Desktop Package with Industrial Spindle (HSD 1-hp spindle/VFD). Visit http://www.shopbottools.com.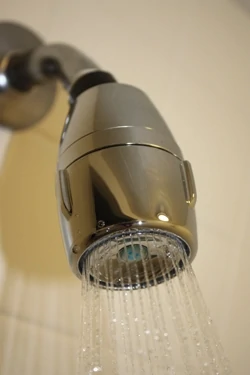 Niagara BiMax Showerhead
The Niagara high-efficiency, high-power BiMax Showerhead is a unique, two flow-rate showerhead, allowing you to match the flow rate to your task and save more while you shower. Choose from two pressure-compensated flow rate options: 1.0 and 1.5 gallon per minute. This enables you to instantly dial back the water flow to conserve water as you lather up, then increase the flow to rinse yourself clean. The patented non-removable pressure compensator provides a constant output of water regardless of pressure. Select the flow rate with an easy-to-grip turn dial. The showerhead has a corrosion-resistant ABS thermoplastic body and has a large swivel adjustment for directional control. The Niagara BiMax comes with a 10-year warranty. Visit http://www.niagaraconservation.com.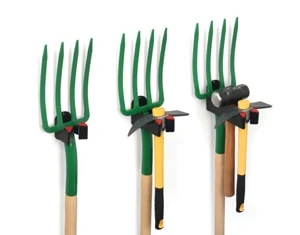 Racor SecureHold
Most homeowners have a collection of long-handled tools, including brooms, two or three different shovels and rakes. Add a sledge hammer and ax, and you've got a lot of long-handled tools in need of safe storage in your garage or shed. The new Racor SecureHold storage solution is better than a traditonal hook and is the perfect solution to store long handled tools, offering safe storage that protects children, cars and other valuable items. SecureHold is made of rugged steel construction and comes in three different versions: A single tool holder, a double tool holder, and a triple tool holder.  It also has a patented retention feature in which the tool handle passes through the steel "spring" opening and then sits in a deep V-groove that holds the tool securely. Both the spring opening and V-groove help prevent the tool from accidently being dislodged from the tool holder. Visit http://www.RacorStorageSolutions.com.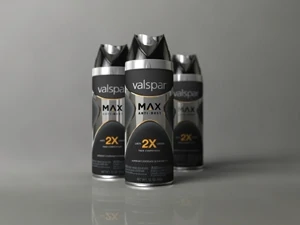 Valspar MAX Anti-Rust
Valspar MAX Anti-Rust aerosol paint was independently tested against the competition using the industry's ASTM B117 process. After 240 hours of salt-fog exposure, Valspar MAX Anti-Rust was found to provide two times greater corrosion protection than the leading competitor's product. The cans feature a new twist-and-lock cap design, which makes spray painting easier, faster and cleaner. Valspar MAX Anti-Rust is a high-quality enamel for interior and exterior applications. It dries to a rust-resistant finish that withstands moisture, chemicals and abrasion. The fast-drying, smooth finish is excellent for use on vehicles, appliances, piping, wrought iron railings, mailboxes, etc. Visit http://www.valsparpaint.com.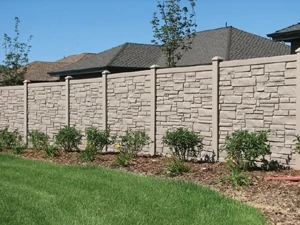 SimTek Fence
SimTek Fence provides a durable, attractive alternative to standard commercial or residential fencing. Made with proprietary Linear Low Density Polyethylene (LLDPE) and reinforced with galvanized steel, this sturdy commercial-strength fence offers the look and feel of stone and will stand up against the toughest abuse. When compared against vinyl fencing, SimTek walls have a much higher level of impact resistance. Unlike a typical fence, SimTek is also graffiti-resistant. Most paint applied to the walls can be easily removed with a citrus-based cleaner and pressure washer. Additionally, this fence is virtually maintenance-free, requiring no sanding or painting like other residential fencing often does.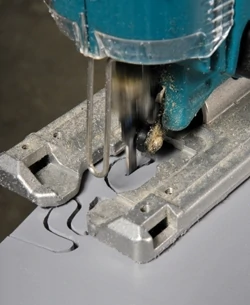 Spyder Products Introduces
Double-Sided Jig Saw Blade Spyder Products' new Double-Sided Jigsaw Blade features durable, steel construction and allows for more extreme, clean cuts on a variety of surfaces. The innovative double-sided blade features cross-ground teeth that create a slimmer design, providing cleaner and more versatile cutting capabilities. Its unique, narrow shaft permits tight radius cuts and 90-degree turns. The double-sided blade comes in two forms: a woodworking blade and a multi-surface blade. The woodworking blade is perfect for use on all hardwood, softwood and wood-based products. With its longer teeth on both sides of the blade, users can turn the blade without limitations as it is cutting. The multi-surface blade is designed for use on laminates, fiberboard, plastics and softwood. The blade's smaller back teeth sand and clean for a smoother look. Visit http://www.spyderproducts.com.