Duck Tape Products
The original Duck Tape brand adhesive tape has long been used for its quality adhesion and ability to conform to uneven surfaces. For everyday repairs, use All-Purpose Duck Tape to assist you at home, at school and at the office. Recommended for everyday household repairs, it tears easily by hand without curling. Advanced Duck Tape is recommended for contractors and do-it-yourself users. The Advanced version offers more aggressive adhesion characteristics, constructed with thick cloth with more fibers for increased strength. Its improved durability makes it suitable for indoor and outdoor use. Max Strength Duck Tape is designed for heavy-duty and industrial applications, and is even thicker and stronger than Advanced Duck Tape. For the creative user, Color Duck Tape is up to 50-percent thicker and 70-percent heavier than competitive tape and is available in more than 140 colors and prints. All products are made in the USA. Visit www.ducktape.com.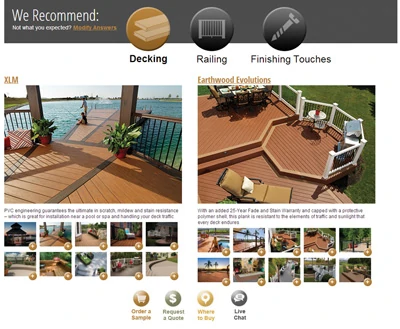 TimberTech Online Product Selector
Imagine an easy-to-use website tool that considers your outdoor living style and recommends decking products that are a perfect fit. TimberTech has enhanced and completely redesigned its popular Product Selector website tool to make it even more user-friendly. This tool allows consumers to take a short lifestyle quiz to find which TimberTech decking, railing, lighting, and finishing touches are right for them. The tool analyzes the answers and provides recommendations to help get them started on their deck and rail buying journey. Some of the lifestyle questions include deck location, how much traffic the deck endures, sun exposure, style preferences, nighttime use and more. The tool is also set up to recommend railings and amenities such as lighting. Visit www.timbertech.com.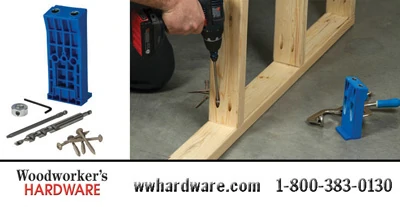 Kreg Jig HD   
Bigger bit, bigger holes, bigger screws, and of course bigger projects. The all-new Kreg Jig HD (Heavy Duty) delivers the strength and confidence you need to build big. Designed with the same tried-and-true efficient design and hardened steel drill guides as the original Kreg Jig, the all-new Kreg Jig HD lets you drills holes which are 25 percent larger, and joints that are 50 percent stronger than traditional Kreg Joints. If you are framing walls, building deck railings, backyard furniture, fences, benches or any other large project, you always want the strongest joint possible; and this is where the Kreg Jig HD excels—strength. The Kreg Jig HD is optimized for working with 2x4s and larger stock.
It utilizes #14 industrial-quality, heavy-duty, hardened-steel screws that provide incredible shear resistance as well as 3 anti-corrosion layers for incredible long-term moisture resistance. The kit includes the HD Drill Guide, Stop Block, 1/2-in. Diameter HD Stepped Drill Bit, HD Stop Collar and Allen wrench, 6-in. HD Driver Bit and a starter screw set. Visit www.wwhardware.com.