DeWalt 18V XRP Combo Drill
If you're looking for a top-of-the-line drill, you'll find it with the new DeWalt DCD970KL, which is the heavyweight of the company's new XRP line. DeWalt manufactures heavy-duty drills with solid construction to withstand the rigors of everyday usage on the professional job site. The new 18-volt hammerdrill/drill/driver (DCD970KL) features a Nano-Phosphate Lithium-Ion battery that is backwards compatible with more than 40 tools in the DeWalt 18-volt system. It also boasts the smallest length and height in its tool class, which is great for work in tight spaces.
One of the DCD970KL's patented features is a three-speed transmission to match power and speed to the application at hand. The first speed is ideal for drilling large holes in wood with large-diameter hole saws and self-feed bits. The second speed is ideal for use with auger bits and step bits, while the third speed is used for fastening and hammer drilling into concrete. The speed shifting control is now positioned front to back and has positive detent stops for easy shifting between various speeds. All XRP drills are built with a brand new high-efficiency frameless motor that delivers increased performance for drilling and fastening applications. The combination of the new motor and patented three-speed transmission provides 30 percent more run time than previous XRP drills. Plus, the hammerdrills are equipped with an exclusive chuck that self-tightens to prevent bits from slipping, providing twice the bit-holding strength of a traditional ratcheting chuck. (www.dewalt.com)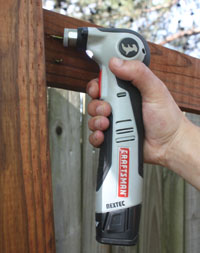 Craftsman Hammerhead Auto Hammer
Craftsman offers a cordless innovation on what has traditionally been a pneumatic tool—the automatic hammer. The new Hammerhead Auto Hammer is a compact, 12-volt automatic hammer powered by a rechargeable lithium-ion battery. The first tool of its kind on the market, it offers trigger-activated hammering action to drive nails up to 3-1/2 inches long. Will this tool ever replace the hammer? No, and that's not its purpose, unless the user has some sort of physical malady to prevent normal swinging of a standard hammer. Rather, it's small size and weight of less than 2 pounds best suits it for those tricky jobs in tight places, where confined work areas leave no clearance for a normal hammer strike. The Hammerhead's high speed/high torque design drives nails quickly and with little effort in lumber to finished wood. You can, however, expect a good bit of noise from the tool's 3,600 impacts per minute.
The EHT staff tested this tool on a recent fence construction project. We were toe-nailing the fence rails, and whenever a nail gun left those toe-nails proud, the Hammerhead easily knocked them down flush with the framing without marring the wood surface from wayward hammer blows. Additionally, the fence we were erecting stood less than a foot away from the next-door neighbor's preexisting fence. When there was no room for swinging a hammer or using a nail gun to nail up the boards, the compact Hammerhead did the trick. It features a magnetic head to hold nails while you drive them, and the tool's retractable nail sleeve keeps the nail pointed straight to eliminate bends. Although the Hammerhead is somewhat of a niche-oriented tool, it's nice to have when you're in that niche.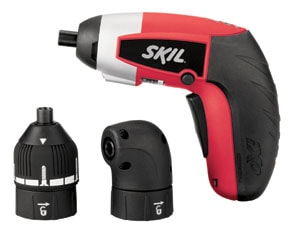 Skil iXO3
After the stunning success of Skil's first-generation iXO palm-sized screwdriver, which sold more than a million units in its first year on the market, you can expect the company to continue upgrading a good thing. The new iXO3 cordless screwdriver is more versatile thanks to the addition of two new attachments. Sold in a kit, the new iXO3 contains a right-angle attachment, allowing users to get into even more tight spaces and awkward angles. The right-angle feature is ideal for assembling cabinets, minor plumbing repairs, or anywhere else that requires you to work in hard-to-reach places.
Also available is the precision clutch attachment, designed to make stripping screws and driving too deep a thing of the past. Sold separately as an accessory, the clutch attachment delivers more control when driving into softer woods or metals, which is perfect for such tasks as assembling electronics or building models. A great tool for light-duty chores around the house, the iXO3 includes a built-in work light to illuminate project areas, a fully removable 10-piece bit set and a magnetized 1/4-inch hex chuck. With its lithium-ion technology, the tool's integrated battery can hold its charge for up to 18 months so it's always ready for an unexpected repair. (www.skil.com)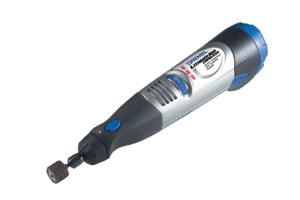 Dremel 10.8V Lithium-ion
Every Christmas my extended family plays a "takeaway gift" game in which someone brings a Dremel, and it invariably becomes a hot item to "steal" from a family member. Dremel rotary tools are exceptionally versatile for home-improvement work, woodworking, metalwork, crafts, model making and more. The new lithium-ion, 10.8-volt Dremel Model 800 now cuts the cord while retaining the power of a corded tool (variable speed of 5,000 to 35,000 rpm—the same as a corded Dremel). The kit comes with a hard case, charger and 40 accessories, although there are plenty more for a vast array of applications.
In addition to the new 10.8-volt battery pack, the tool also keeps many of the popular features as its predecessor, including a soft grip handle, battery release button, collet, collet lock button and a power switch/speed control dial. Without the cord, the new Dremel can be used in remote places away from an outlet, and its compact, ergonomic design makes it nearly as easy to hold and use as a large Sharpie. A Dremel is an ideal gift or purchase for the do-it-yourselfer who tackles projects ranging from removing grout and cutting through drywall to detailed sanding and tool sharpening. (www.dremel.com)

Bosch PS50 Multi-X
The Bosch PS50 Multi-X has made several jobs easier for me over the last couple of months. Regular readers may have seen this new 12-volt lithium-ion oscillating tool pop up in some recent stories where our staff used its jab-saw attachment to notch a countertop, and used the same blade to notch out some door casing to install transition molding from one floor surface to another. In the past I used a hammer and chisel for such operations, and it took me a heck of a lot longer to accomplish the same cuts. I've also used the flush-cut attachment of the Multi-X to cut a few door jambs to make room for new flooring—a great feature that eliminated the need to purchase or rent a dedicated jamb saw.
I love this tool, but some of my home-improvement colleagues have voiced complaint that the battery runtime is too short to optimize the tool's accessory sanding attachments. This may be the case, but with such a small abrasive footprint I wouldn't grab this tool for anything other than occasional light-duty detail sanding, otherwise I'm grabbing a dedicated corded sander. For my money, the advantages of the PS50 Multi-X lies in its cordless cutting versatility, which saves time, hassle and the need to invest in multiple tools since this one will do multiple jobs. The new line of Bosch accessories for the PS50 includes blades for plunge cutting in wood or metal, flush-cut blades, grout removal wheels, and pads for sanding or polishing applications. Remove tile mortar, remove caulk, cut nails, cut pipe—you name it, the Multi-X will probably do it. (www.boschtools.com)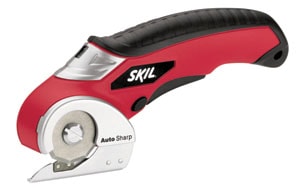 Skil Rotary Cutter
From cutting the ubiquitous plastic that is used to package every product from Barbie dolls to drill bit indexes, to cutting materials as thick as carpet, the Skil Rotary Cutter takes frustrating tasks and makes them a cinch. The EHT staff has used the Rotary Cutter since its release and found it to be one of the most useful tools around the house.
Although a 3.6-volt tool doesn't sound impressive, the Power Cutter handles jobs much larger than we expected. While removing water-damaged carpet, we used the cutter to remove a section of the molded material without removing the king size bed that covered the carpet seam. In a kitchen makeover, the Rotary Cutter cut through sheets of Plexiglas without tearing the fragile material.
However, a favorite use is cutting through the plastic packaging during holidays and birthdays. Have you ever used a knife to try and open those clamshell toy packages only to end up donating blood, or cutting a wire that was hidden by the cardboard? With the Skil Rotary Cutter, you simply feed the plastic into the self-sharpening blade that is protected by a metal guard and cut the edges off, clean and simple. (www.skil.com)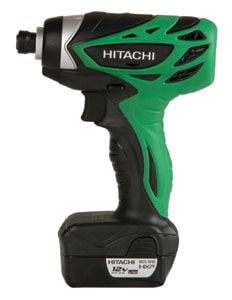 Hitachi Micro Impact Driver
Hitachi's new WH10DFL 12-volt peak lithium-ion Micro Impact Driver weighs a mere 2.2 pounds, is less than 6 inches long and fits easily into a pants pocket. But don't let its small size fool you. With 840 inch-pounds of turning torque (more than any cordless drill/driver), this little beast can sink fasteners in a world of applications. Since receiving a test model a few months ago, the EHT staff has used it to assemble cabinets, construct furniture, frame decks and install gutters (see gutter story, page 48). In fact, while building a fence gate the day before typing this review, I used the WH10DFL to sink a 5-inch LedgerLok lag screw into 6 inches of treated Southern Pine without predrilling. Talk about a lot of power in a tiny package. As the resistance of the load increases, the impact action engages to greatly increase torque to power through the toughest jobs. The Micro Impact Driver includes a quick-change, 1⁄4-inch hex chuck for simple bit replacements, as well as a handy LED work light.
Additionally, Hitachi now backs up the WH10DFL as well as the rest of the HXP lithium-ion line with an exclusive 10-year warranty to the original purchaser. This industry-leading warranty is retroactive and applies to Hitachi's lithium-ion tools purchased since their initial launch back in August of 2006. Hitachi customers who purchased applicable cordless lithium-ion tools before this warranty announcement will automatically be covered. (www.hitachipowertools.com)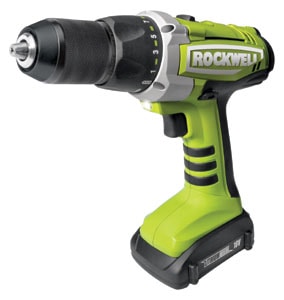 Rockwell Cordless Drills
Rockwell Power Tools offers a new line of 18-volt lithium-ion portable power tools to balance compact design, light weight, high torque, fast charge time—and something unprecedented with cordless tools: free battery replacement for life. The free battery-replacement program corresponds to the new Rockwell product lines, including the LithiumTech 18-volt lithium-ion tools and Rockwells' ComPack NiCad product Line. (www.rockwelltools.com)
No Skating!

During the course of this cordless tool review, we also tested a new drill bit design from Century Drill & Tool Corp. The new 13-piece Charger bit set features advanced helix geometry. Manufactured from high-speed steel, the new design begins with a 135-degree Quick-cut Point. Whereas the most common point angle for drill bits is 118 degrees, that shallow angle too often means the user must first dimple the work surface in tough materials such as metal, so the bit doesn't "skate" or "wander" during drilling. That's an extra step that the Quick-cut Point eliminates with its sharp, self-feeding tip. Additionally, the deep flute design allows fast chip removal, which reduces heat and wearing of the bit for longer life. Plus, the heavy-duty, industrial webbing adds extra stability and strength for precise holes in even the hardest materials. Ranging in size from 1/16 to 1/4 inches, the new Charger bit set from Century Drill provides high-quality drilling in wood, plastic and metal. Visit www.centurydrill.com.