Spring and fall are two good times of the year to clean up the yard. Leaves are raked, shrubs are pruned and trees are ignored, except for dropped limbs and other debris.
Some tree species need more pruning than others, while a number of species demand more pruning. For example, my yard has many self-pruning trees such as silver and other soft maples, tulip poplars and some willows. These trees leave limbs on the ground throughout the year, but the build up is most noticeable in spring, after a long winter.
Then there are those trees, like the pin oak I planted at the end of my shop 20 years ago, that grows in such a way that it demands pruning annually for many years. The lowest limbs grow towards the ground, creating a nice, cool spot for summer reading, but making lawn care a real nuisance.
When you include trees in your shrub-pruning chores, the need for trimming and cleanup is glaring. Pruning shears are wonderful for light brush and small limbs no larger than 1 inch in diameter. Larger limbs can require a great deal of effort. For years, most people in my neighborhood used small chainsaws for trimming limbs that were over 3 inches in diameter, but that "tweenie" size, from 1 to 3 inches, required handsaws or pruning shears with handles the length of a rake.
Recips to the Rescue
Tool companies are ever innovating. Some innovations, such as reciprocating saws, are solidly worthwhile. I had a small Ryobi cordless reciprocating saw floating around my shop, but no time to help my wife Frances with pruning. I took 10 minutes to show her how to use the recip saw, and it revolutionized her pruning chores. That small, low-cost recip saw did the work with ease, eliminated the tweenie-sized tools, and kept on buzzing. Felco's F-21 pruning shears are as good as it gets (about $100); the Ryobi recip, with battery and charger, runs about the same price. The newer lime green Ryobi li-ion saw is a few bucks more, but with more features and superb battery technology for longer lasting charges.
Frances's cleanup of our yard with the reciprocating saw was just the beginning. I managed to collect several recips, ranging from several of the best NiCad and Li-ion 18-volt tools. One saw is a real fire breather, the Bosch 36-volt behemoth. Swapping saws as I went, I trimmed a number of trees around the yard with limbs ranging in size from 1 inch to just shy of 6 inches in diameter.
Advantages
My conclusions help to cut the effort of pruning and yard junk cut-up. The cordless 18-volt reciprocating saw is a prime tool for yard work and cutting up smaller branches. It reduces effort and skill needs tremendously, while speeding the work. In the case of mid-range work, cordless recip saws replace the chainsaw as a homeowner's tool, cutting up to about 5-or 6-inch diameter wood. The cut is slower, but safety is much enhanced.
Recip saws do not kick back. A chainsaw does. A speeding chain jumps back at the operator the first time it makes solid contact in the curved nose area. Chainsaw kickback is very dangerous. Chainsaws are usually the most dangerous tools a homeowner is ever likely to use. Recip saws can bite you, but you have to almost insist on getting hurt with them.
Fresh, sharp edges are cheap. Tap a nail with a chainsaw: If luck holds, about 15 to 20 minutes is needed to sharpen the chain and get back to work. However, hit a nail with a pruning blade on a reciprocating saw, and it takes 30 to 60 seconds to remove the old blade and stick in a new one. The blades cost a shade over two bucks each, in 6-inch lengths, and just over three for 12 inches. Chainsaw chains range in price—for a 16-inch, from $13 to about $40. Mess up a chainsaw bar, and prices can double or almost triple.
Lower blade prices are a major plus when cutting roots for stump removal. Dirt, sand and grit will ruin a chain in short order, and the bar also gets beat up. Ruin a pruning blade on your recip saw, and cost is about two bucks, with a 15-30 second replacement time. Root removal is probably best left to professionals, but if the work is needed, chainsaws require extra care, clearing and cleaning, and remain locked into their fragile chains. Recip saws just need a clear spot to get started.
Overhead work with reciprocating saws works for anyone with normal hand and shoulder strength and an eye for caution. Recip saws should always be used with eye protection; protection is essential when working overhead. All kinds of debris drop into the sawyer's face. Chainsaws used overhead are extremely dangerous. Recip saws are not.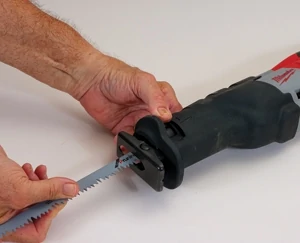 Tool Highlights
For this article, I used a Milwaukee2620-20, an 18-volt lithium-ion powered saw, along with Milwaukee's Hackzall, an 18-volt one-hand compact version of the cordless recip saw.
I also used a Rockwell 18-volt NiCad saw that was surprisingly powerful and well designed. Then, the Bosch versions arrived. The Milwaukee and Bosch models, which I used around the yard as extensively as a spring and fall mess allowed, were pro models. Bosch, Milwaukee and the Ridgid are more heavily built than the Rockwell and the Ryobi tools. They also take a bit more hand strength to change blades, unlike the quick-flick changeover in lighter saws. The cast metal chucks in the pro saws are more durable than in lighter versions. Prices vary accordingly; these saws' retail price (not list, but real retail) start about $125 for the Ryobi through$500 for the Bosch 36-volt. The Bosch saw is a flat-out wonder—not truly a homeowner's tool, but it's definitely powerful and easy to use.
Bosch has long been an innovator in tools. Most of the signs are internal, involving comfort in use—lower vibration—and greater efficiency of operation. Both the 18- and 36-volt li-ion Bosch tools present clean exteriors, with simple flick-and-slide switches to change speeds. The batteries slide in, as do those on Ridgid and Milwaukee.Rubber is used on the foregrip, as it is on all of these saws, and at the back of the handle. It keeps the tool from getting slippery in hot weather when hands get sweaty, yet remains comfortable in cold weather.
Milwaukee tools are well thought out, and quality is excellent. The compact Hackzall sells around $150-$185 in most areas I checked. Milwaukee's Sawzall 2620 kit comes with a single battery, for around $215, or two batteries for about $270. Both tools have excellent handling qualities, ergonomics inmore modern terms. They're easy to use. The Sawzall's Quick-Lok blade insertion and release assembly is actually the easiest of all I've found, in pro-level tools, to use. Lift the lever, slip out the old, slip in the new, release the lever, and go.
The Ridgid reciprocating saw came as part of a set that includes just about everything a homeowner wants in small power tools, from a flashlight to a circular saw, a drill and the reciprocating saw, all neatly tucked in a large Cordura bag. The Ridgid recip saw is hefty without being overly heavy. Ease of handling was very high. All of these saws were easy to use, but a few were most impressive. The Ridgid is one. Battery charge is long lasting, change is easy, and charge time is the same as most others. The set comes with two lithium-ion batteries.
Rockwell is a new iteration of an old name. The company offers a number of tools, including the reciprocating saw used to trim a number of branches. Rockwell's RK2802K, comes as a kit with a bag, a charger and a single NiCad battery. Interesting features on the saw include the ability to stop the orbital action for smoother cutting and less vibration. That feature was used when cutting some bolt heads on my old pick-up. There are three orbital action positions and one non-orbital. The saw is the lightest of those checked, except the little Ryobi, which ties it. It handles very well, even with the slightly unusual shape.
The Ryobi li-ion set comes with the recip saw, batteries, charger, drill, flashlight and circular saw, in a Cordura bag. The tools are all useful around the house. There are two batteries, one more powerful than the other included. Charge time is fairly quick at one hour, and the charges last a long, long time.
If I were buying the Ryobi li-ion recip saw, I'd jump on the set, because the package only costs a shade over 80 bucks more than the reciprocating saw by itself.
The Ryobi NiCad P510 recip saw is the least powerful of the saws used here, but is more than enough for basic homeowner needs. Home Depot has the P510 new for $50, sans battery. It is also available as a super combo tool kit at a far better value.
All saws used for this article performed satisfactorily; the more expensive ones are the obvious choice for hard use and lifetime value.Those are more expensive than an average homeowner needs. A reciprocating saw is handy for many things, from removal of screws and bolts to cutting switchbox openings in walls to cutting up wood that has nails embedded, and more. Remodelers call them demo saws. They ease the removal of old walls, railings, windows, doors and other obstructions to the job. Go for the more powerful versions if heavy work is expected. Otherwise, stick with lower and mid-range recip saws. Handle those you can find, and make your choice from the one that feels best.