By Charlie Self
Every house has its nooks and crannies where there's trouble inserting a screwdriver, or power driver, to drill holes or drive fasteners in spots where they are needed.
Driving a screw with an anvil may sound a bit off-the-wall, but that's what impact drivers do. A tiny anvil strikes, internally, to drive the screw so quickly that, much of the time it seems to melt into the work. Little pressure is needed on the head of the tool—just enough to keep it in the screwhead slots (aim for square-drive, Phillips and Torx heads to reduce cam out). Some tools offer as many as 3,200 IPM (Milwaukee's 2650-22), or impacts per minute, while Ridgid's right angle model kicks in at 3,100 IPM. Bosch's 10.8-volt PS10-2, with its articulating head (usually at a right angle), offers an impressive 3,000 IPM.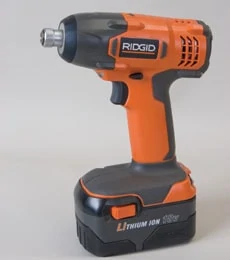 Do You Need Yet Another Tool?
Whether or not you need an impact driver depends on what kind of work you do, or intend to do, around the house, shop and elsewhere. To ease tight corner chores, there are plenty of compact impact drivers.
Impact drivers (IDs) don't work supremely well for drilling. The anvil strike at 2,000+ times a minute isn't ideal, on top of which it requires a hex head on the bits, or a hex adapter, both readily available in most hardware stores. Drilling can be done, but it's not the main aim of the tool. In tight spots, though, IDs are a wonder, drilling or driving.
Impact drivers also work well as small impact wrenches. However, use impact sockets, because regular sockets shatter.
Where impact drivers really shine is at running in long (2-1/2- to 3-inch) deck screws, and driving ledger board lag screws rapidly. (Although, the 9.6- and 10.8-volt models don't do well at this heavier work).
The powerful torque means slotted screws are best avoided. Generally, only light pressure is used on the driver, just enough to keep it firmly in the screwhead opening without cam (torque) out. Slotted screws don't have enough gripping surface to handle the torque.
Impact drivers work exceptionally well on any screw that gives a good friction fit. With pilot holes, they drive Tapcon anchor screws in concrete quite well.
IDs are not a substitute for a standard drill/driver or hammer-drill. They are drivers, and very effective at what they do—the younger siblings of impact wrenches. Contractors love them; heavy duty DIYers love 'em, too. The better ones are pricey. Lithium-ion is available for most and is a touch more costly, but is well worth it. Lithium-ion batteries are often backward compatible with NiCads.
Impact drivers are many times noisier than drill/drivers. I strongly suggest you try a couple to see if the chattering ratchet noise is too great, before deciding to buy any model.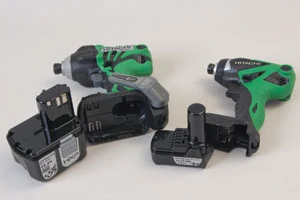 What's Out There
Prices range from a low of about $129 for the Ridgid right angle to more than $300. More costly versions are often better handling, more durable, more powerful, less likely to spit and sputter along the way. The Ridgid, though, is not a low-end tool.
A plain ol' clutched cordless drill is fine for turning the few screws most of us need. What changes the equation is a need for resurfacing a deck, building a deck, hanging ledger boards, installing doors, or installing anything that uses a fair amount of screws.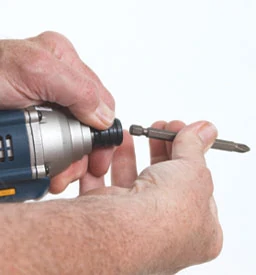 Though the cordless ID is heavy compared to a screwdriver, and only a bit lighter than a cordless drill of the same voltage, there the comparison ends. Place the bit in the driver, then put the bit into a 3-inch screw head, hold firmly and squeeze the trigger. Seconds later, repeat the process with the next screw, and move on down the line. Pushing the head of the impact driver into the screwhead with more pressure doesn't do anything but tire out the user.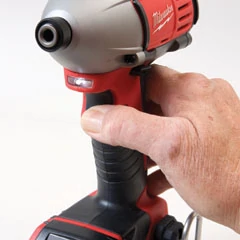 The small 10.8-volt models from Bosch and Hitachi, the 9.6-volt from DeWalt and the 12-volt right angle from Ridgid, can get into some unbelievable tight spots, but all have compact heads just a few inches long. They're useful for hanging cabinets in tight areas when there's little internal room in the cabinet. Think of a 12-inch deep cabinet going in a corner where a screw needs to go in at a slight angle to make sure you hit a stud. The fact that no extra pressure is needed to drive screws makes IDs nearly ideal, easing some jobs that can make you crazy with hand screwdrivers, or that can't be done with a drill/driver. As an example, the Hitachi head is only 5-3/4-inch deep. Add a 3-inch long screw, and you can still easily fit the unit into a standard 12-inch deep cabinet (more like 10-1/2 inches of actual inside depth).
These tools are not wrenches, but drivers meant for installing and removing small fasteners easily as when building a deck, fence, or installing cabinetry. Impact wrenches are their big brothers, and run larger fasteners in and out, such as vehicle lug nuts. But the impact drivers are powerful enough to drive almost any screw, lag screw or nut within a reasonable size range. I've been told by deck builders that they're fantastic for running nuts onto carriage bolts when building decks, saving an incredible amount of time and energy. They also speed up lag screw installation appreciably.
We looked at a number of cordless types, from 9.6 volts to 18 volts, with and without the newest lithium-ion (li-ion) technology.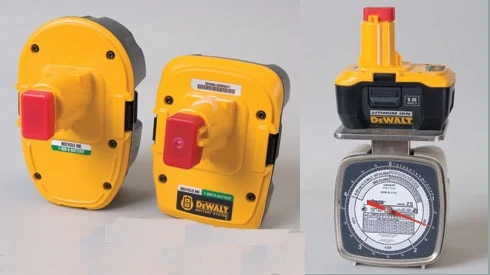 Cordless Wins At Home
For this review we looked at a bunch of fastening tools, including a cordless drill or two in the mix (see sidebar).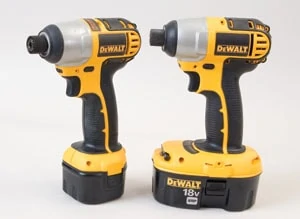 DeWalt's drivers are single speed. The Milwaukee has one speed listed in RPM (2,200), and the other in impacts per minute (IPM) at 3,200. Bosch offers a similar listing on both its PS10-2 and its PS40-2, with 1,800 RPM and 3,000 IPM (Bosch calls it BPM, or blows per minute).
Milwaukee's 2650-22 is a lithium-ion powered tool, very comfortable to hold and use, even in an 18-volt version. Lithium-ion batteries are a great change for the handyman or handywoman, offering more power in a small, lighter battery. The battery may be as much as 40-percent lighter than comparable NiCad batteries, has more amp hours and more endurance. We weighed the 18-volt DeWalt batteries. The lithium-ion battery is a full pound less than the NiCad. It is considerably smaller as well. Plus, run time is considerably longer than did the NiCad. Recent claims for similar top-of-the-line batteries include 2,000 recharges.
Ryobi's P230 offers one speed range, as does the Craftsman 11483, while Hitachi has two speed ranges in the 14.4-volt, along with an LED light and a belt hook. The 10.8-volt Hitachi offers a single speed, 2,300 impacts per minute and maximum torque of 930 inch-pounds, making it suitable for tightening bolts from 3/16 to 15/32 inch. It does fine with 3-inch screws, but is not as fast as the more powerful drivers, nor does it drive nearly as many screws.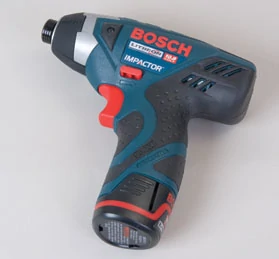 Bosch works its way in with two small models, both 10.8-volt lithium-ions. The PS40-2 is a standard T grip, while the PS10-2 has a head that articulates to five different points, from right angle to straight out. It is the handiest of all for those who consistently work in confined spaces. As a bonus, the PS10-2 offers a seven position clutch to prevent overtightening.
Ridgid's well made right angle ID has a fixed head, comes with NiCad batteries, handles quite well and, overall, is excellent in tight spaces. It is heavier than the Bosch 10.8 articulating head ID, as well as considerably larger overall, though only fractionally larger at the head where it counts. Some people will find the larger tool more comfortable. It is the lowest cost ID here.
Every tool works well within a fairly tight space. The Ryobi head is the longest at 7-1/8 inches, while the Ridgid right angle, at 3-1/8-inch is the smallest, with the Bosch PS10-2 striking along behind the Ridgid at 3-5/8 inches. The others all drop somewhere in that area, with most right around 5-1/2 inches, slightly above, or slightly below.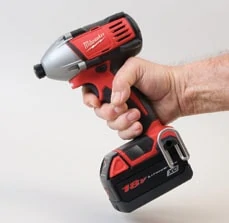 Which One Is Best?
Our series of impressions was gained in short bursts of use; it's not really sensible to compare DeWalt's 9.6-volt model or Bosch's 10.8-volt to Milwaukee's (or DeWalt's or Ridgid's) lithium ion 18-volt models, or, in fact, with the Hitachi 14.4-volt li-ion.
For heavy-duty fastening of screws in deck or fence building, or lag screwing, or carriage bolts on ledger boards, any of the 18-volt impact drivers with lithium-ion technology serve well. Lithium-ion is a bonus, as NiCad does fine. All the 18-volt tools we looked at came with a charger and two batteries (except the Craftsman, Ryobi and Ridgid—more on this in a bit). All will serve a homeowner for years, working well and effectively.
All of the tools handled easily, and were controllable when running in 1-inch screws, as well as 3-inch. Weight varied between tools. The right angle heads were slightly more difficult to control with very long screws.
Craftsman has a system similar to Ridgid and Ryobi, using either NiCad or li-ion batteries (19.2 volt), one battery for use in several tools. The battery is sold with the charger for the Craftsman C3 system. The tool has the usual LED, 1/4-inch quick change hex chuck, turns out 0-3000 IPM, and produces 900 inch-pounds of torque.

Hitachi provides the only 14.4-volt tool, another lithium-ion model, and a tool that does everything the 18-volt tools do, though not as long. I liked the handling on the Hitachi a great deal, with its lighter weight. I'm not dead sure about the placement, or control, for the LED. It's on the tip of the resin belt hook, with its own off/on buttons—something that might create a problem for forgetful types. Leave the LED on when you stick the driver in its case, and the battery may run down before you open the case again. Otherwise, the tool was an exceptional handler, with the most easily selected two-speed range—a switch on the side of the tool.
Hitachi's 10.8-volt was a surprising performer. It was light, with a li-ion battery, a 5-5/8-inch long head, an LED set under the chuck, and a single speed range, controlled by the trigger.
DeWalt's two models provide a widely varying look at needs. The DeWalt 9.6-volt ID is lightweight, very small, easy to handle, and well made. It lacks all excess weight, but ranks at the bottom regarding the number of possible screws or bolts driven, because of the 9.6-volt battery.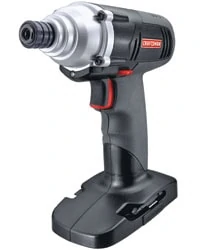 Milwaukee's lithium-ion 18-volt vies with the DeWalt 18-volt for power, is light and handles beautifully for all its power. Milwaukee claims a 2,000-charge capacity for its lithium ion batteries, a factor in its favor if you're using the tool heavily, daily. Batteries have run-time gauges. Milwaukee claims torque of 1,400 inch-pounds.
Ridgid's full-size ID offers a choice similar to Ryobi's, a single battery for several tools, but it adds one point: a 24-volt battery also works in the R8823. The 18-volt is available as lithium-ion and in NiCad. The 24-volt is lithium-ion only. The tool has the standard LED, a variable speed switch, the usual 1/4-inch hex chuck, and excellent handling. The 12-volt right angle is not lithium ion, but is powerful enough for its chosen chores.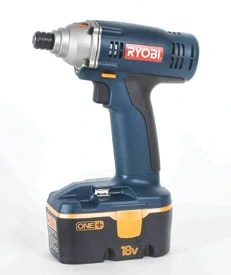 Earlier, we mentioned Ryobi's battery/tool set up. A few years ago, Ryobi set up their ONE+ system. One battery can be used in many tools, thus freeing the purchaser from buying a battery or two, and a charger at every cordless tool purchase. Ryobi's lithium-ion and NiCad batteries are interchangeable, from tool to tool and charger to charger. During checks, I found the li-ion claims to be solid, so Ryobi's 2X performance claims are probably low. Certainly the claim of 20-percent less weight is true. Ryobi's tools are low cost, on the edge of high performance and quality, so often they're bargains for those trying to keep from being nibbled to death by the tool ducks of the world.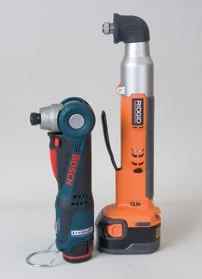 Comfort Grip
A great feature of newer tools, corded and cordless, is the soft cover. In the good old days, you gripped bare aluminum (or steel if you're older than I am), with a two-wire system that had iffy insulation on the wires. On very cold and very hot days, handling tools was torture. Today, we've advanced into plastic bodies, blow-molded accurately. Improvement continued so that in the past decade or so, a soft-touch plastic coating that feels much like soft rubber is used on most tools. On cordless impact drivers, you'll find it on every tool. The tools are more comfortable in the hand because of it (and some further research into ergonomic design), and less likely to spin or slip in the hand.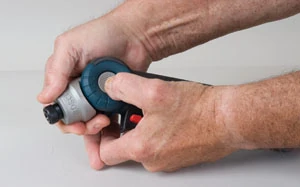 How To Buy
Start with a work check. Do you have a few dozen long screws to drive each month? Each week? Each day? Do you see yourself driving lag screws? Do you do a lot of heavy work around the house? Are you likely to install your own cabinetry? Will you be building a deck, a porch, a workshop, anything major in the next short period of time?
The more you have to do, over a long or short period of time, the more it makes sense to spend for the more power of a professional-grade tool. If you're looking for short term use, heavy but only for a week or two, or light to medium over a course of years, then go for the mid-range tools described here.
If you've just got a couple dozen screws to drive, forget about an impact driver, and stick with your drill/driver. Even consumer models cost over $100, and the best models punch the lights out of three $100 bills.
Compact, Versatile Cordless Screwdrivers
For anyone who decides either the cost or the noise of an impact driver is too great, there are three excellent choices for drills or screwdrivers to work in those tight corners.
The smallest, Skil's little iXO is a 3.6-volt lithium-ion screwdriver is one of the best selling power tools of all time. It, comes with a set of 10 driver bits, will also drill with the proper bits, and a includes a right-angle attachment. Performance is impressive when compared to size, offering a speed of 200 RPM.
Ryobi and Craftsman offer right angle drills in full size, with many similar features. They're about the same height and weight, both have large easy-to-use switches, and both are easily reversible. Both use speed-control triggers and have 3/8-inch chucks. The Craftsman has a built-in LED for those tight niches, while the Ryobi doesn't. But the Ryobi has a rotating foot to allow easier clearance in odd-shaped spaces. Both come without batteries, accepting their own brands of lithium ion batteries. Look for top speeds of 1,050 RPM with the Craftsman and 1,000 with the Ryobi, which make them very versatile. Craftsman gets $64.99, minus battery and charger, for its right angle, while the Ryobi goes for $64.97 at Home Depot, without battery and charger.