Are there any better mental images than a warm summer's day spent basking in the sun next to the cool blue water of your own swimming pool or watching your children splash and frolic about in the refreshing waters that make the summer heat tolerable? Before that daydream can become a reality, you will have to select the best spot to build your pool, taking into account landscaping, terrain and the surrounding hardscape. The following excerpt from Sunset Books, Swimming Pools and Spas addresses these and other issues you should consider before building your own personal oasis.
 Editor's Note: The following article is an excerpt from Pools and Spas. This book  from Sunset Books helps you navigate the many choices and steps involved in making your dream pool or spa a reality, from exploring gorgeous design and landscape options, to estimating costs and working with contractors.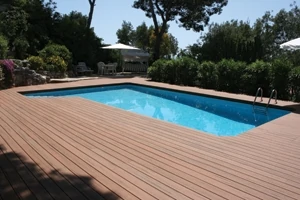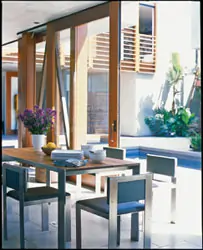 When you're considering where to place a pool, think about how you'll see it from inside the house. The owners of this pool can open their floor-to-ceiling glass doors and enjoy the water view while they eat. (Photo courtesy of Lisa Romerein)
Thinking About Logistics
Pay attention to privacy when you think about where to locate your pool. Placing the pool along the street or right next to the neighbor's yard may not make the most sense—although any area can be screened with clever use of plantings and fencing.
Also consider the position of the pool with respect to your house. Even if you intend to build a pool house for changing, easy access to your home is a plus. A pool far from the house, or near an inconvenient entrance, such as the front door, can complicate matters.
Another point to consider is access for large construction equipment. While this is not a factor in planning an above-ground pool or portable spa, it becomes essential in helping to determine the location of an in-ground pool.
The equipment can't pass over certain obstructions, such as septic tanks, and in general demands a 10-foot-wide access route equivalent to a driveway. In cases where the rear of a lot is inaccessible, it may even require careful negotiations to obtain a construction right-of-way through a neighbor's yard.
Placing a Pool on a Standard Lot
Just because a lot is a conventional shape, such as a rectangle, doesn't mean that the pool you build has to be, although it certainly can be.
Placing a Pool on an Oddly Shaped Lot
Since an in-ground pool can be constructed in any shape, an oddly shaped lot can actually lead to the creation of a unique and beautiful pool.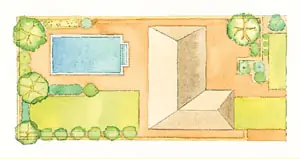 Rectangular Pool
A rectangular pool and a spacious sheltered lawn form two separate backyard recreation areas. (Illustrations courtesy of Tracy La Rue Hohn)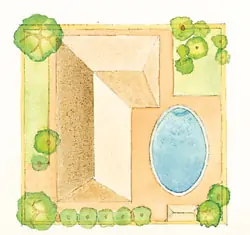 Square Lot
An elliptical pool softens this lot's severe geometry and serves as an elegant focal point in the backyard.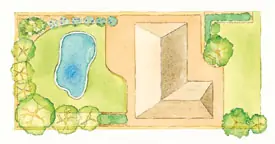 Naturalistic Pool
Ringed by a glade of trees, a naturalistic pool creates a forest setting in a small garden.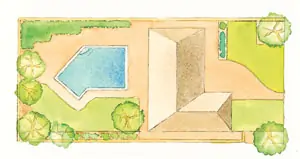 Angular Pool
With the adjacent lawn echoing its contours, this angular pool produces a strikingly contemporary environment in a conventional backyard.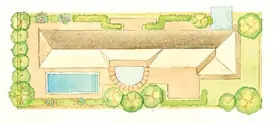 Shallow Lot
Creating a number of focal points across the width deepens an extremely shallow lot. This one has a central rounded patio ringed with trees, a rectangular pool and spa on one side, and an entertainment terrace on the other.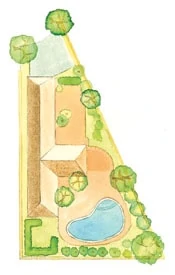 Wedge-shaped Lot
Irregular outdoor spaces lend themselves to distinct activity zones. The generous pool area in one corner provides space for a multitude of pool-related activities. A smaller patio area near the front is private and intimate.
The variety of stock models available, as well as the ability to create a free-form pool for the same price as a rectangular one, means that there is a pool for nearly every lot.
Safety Tip:
For obvious safety reasons, swimming pools and spas can't be located beneath overhead power lines. If need be, the power lines can be moved or buried underground—though doing either will add to the cost of the project.