By Matt Weber
Selecting the right generator should be a balancing act. You'll need adequate electricity to power your equipment arsenal, with greater output required to run large appliances or multiple tools simultaneously. High-power generators, however, cost more to purchase and require more room for storage due to the larger unit size, so there's no need to invest in the extra capacity if you won't need it. The following is some expert advice on matching the right size generator to your power equipment needs, provided by the technicians at Northern Tool & Equipment.
Power Load Planning & Management
One important rule of thumb is never to exceed the rated wattage capacity of your generator. Overloading may cause serious damage to the generator and attached electrical devices, and may also result in a fire. For this reason, your generator must be sized properly to provide both the running and starting (surge) wattage of the devices you will be powering.
Before using your generator, determine the running and starting wattage requirements of all the electrical devices you will be powering simultaneously.
The sum of the running and starting wattages of the devices being powered must not exceed the continuous output rating of your generator. (The continuous output rating of your generator should be listed in the "Specifications" section of your generator manual.)
Note that devices without electric motors, such as light bulbs, radios and televisions, have the same running and starting wattage. However, devices with electric motors, such as refrigerators, compressors and hand tools, typically require a starting wattage as much as 3 to 5 times greater than the running wattage.
The running and starting wattage requirements are often listed on a device's nameplate.
If wattage is not given on the device's nameplate, the wattage may be calculated by multiplying the nameplate voltage by nameplate amperage, Watts = Volts X Amps.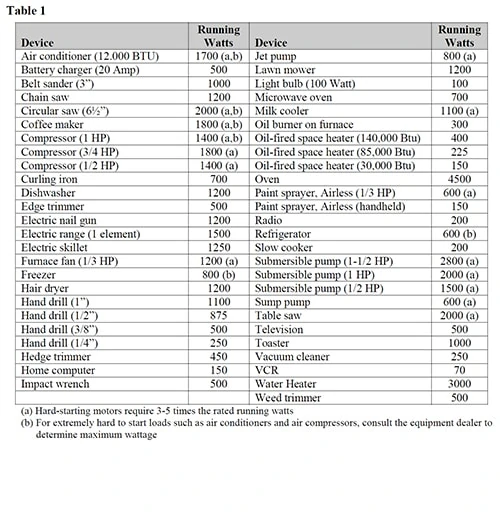 Example conversion to watts: 120 Volts X 5 Amps = 600 Watts
If only the running voltage is given on the nameplate for a device with an electric motor, the starting wattage can be approximated to be three to five times the running wattage.
Estimates for the running wattage requirements for common devices are listed in Table 1.
To calculate the running and starting wattage requirements for the devices you will be powering, follow these steps:
1. Make a list of all electrical devices you will be powering at the same time with the generator.
2. List the greater of the running or starting wattage next to each device as obtained from the devices' nameplate or Table 1. If only the running wattage for a device with an electric motor is known, the starting wattage can be estimated to be at least 3 times the running wattage.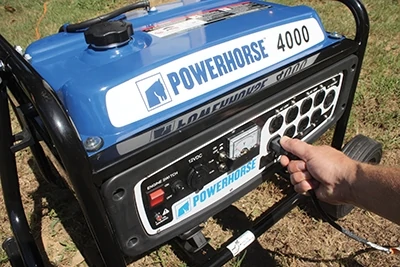 3. Add the wattages for all devices on your list. This total must be lower than the continuous output rating of your generator.
Example:
| | |
| --- | --- |
| Device to be Powered | Greater of Starting/Running Wattage |
| Light Bulb | 75W |
| Refrigerator/18 Cu. Ft. | 1600 W |
| Microwave | 700 W |
| Window AC | 1800 W |
| Sump Pump (1/3 hp) | 2100W |
| Total | 6275 W |
In this example, the generator must have a continuous output of at least 6,275 watts in order to power all of the devices simultaneously.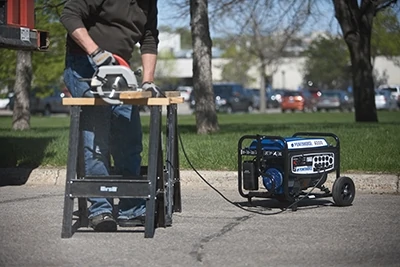 You can increase the number of devices your generator can power by staggering the load on the generator. For example, you could alternately power your refrigerator and air conditioner for limited periods of time—powering only one of the devices at a time but never powering both at the same time.
Side Note 1
New Powerhorse Generators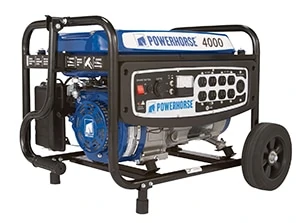 Northern Tool + Equipment's new Powerhorse product line offers portable 4,000- and 7,000-watt generators engineered for a lifespan up to eight times longer than other brands—and available with an affordable price tag. Some of the new models feature an electric start that allows users to simply press a button to get appliances and tools up and running in minutes, without having to pull-start the generator. From the industrial-strength cast iron cylinder sleeves to the dual bearing forged crankshafts, the Powerhorse OHV engines are built to last. The copper-wound heads are engineered to allow the generators to run at full load continuously for weeks without overheating.
Notably, all Powerhorse units also have a clean sine-wave power output that is stable and consistent to ensure sensitive electronics such as your computer, TV or refrigerator are protected and function properly. Each generator is also equipped with a volt meter to monitor and maintain stable power, an extended-run fuel tank to reduce the fuel refilling, and a quiet muffler to keep noise levels down.
The EHT staff recently tested the Powerhorse 4000 (M166112E) when repairing a storm-damaged fence in a remote area of property. With 4,000 surge watts/3,100 rated watts, this easy-to-transport generator comes with a fold-down handle and solid 6-in. wheels that will never go flat. It starts easily and runs smoothly and quietly. The unit has a full bank of outlets (9 outlets plus 12V DC) to power a number of appliances simultaneously. We ran an air compressor for our fence project, but the unit has enough power to keep your refrigerator, lights, TV and more running smoothly during a power outage. It comes with 4-gallon fuel tank, and the 208cc OHV engine features low-oil shutdown and recoil start. The 4000-watt Powerhorse generator is a great tool for off-site projects or emergency backup power, and Northern Tool stands behind the product with a 2-year consumer warranty. Visit www.northerntool.com.
— Matt Weber
Side Note 2
10 Tips for Generator Maintenance
1. Check the oil before each use. The oil in a brand-new generator should be changed after the first 20 hours of use to remove assembly lube and metallic particles created during the break-in period. Afterward, change the oil every 100 hours.
2. To keep fuel clean, store it in an OSHA-approved receptacle and keep out of high-traffic areas.
3. Check the condition of the air filter on each day of use. Clean the filter every 100 hours and change it monthly.
4. Use warm water at a low pressure to keep the engine clean. (Never use a pressure washer.) Dry the outside immediately afterward.
5. With the equipment clean and dry, inspect for any signs of fuel leakage. If you spot a leak, tighten the parts causing the leak or replace them immediately.
6. During inspection, take time to tighten loose parts that could vibrate noisily and potentially harm nearby components.
7. Inspect the spark plugs every 50 hours for damage, dirt and carbon buildup. Clean with a wire brush or spark plug cleaner. Replace any plugs with cracked porcelain.
8. Clean and inspect the fuel strainer and fuel filter monthly. If there is sediment in the strainer, shut off the fuel-line valve before cleaning. Then, remove and clean the sediment bowl and the filter screen. If sediment has made its way into the tank, all fuel will need to be removed. Clean the residue from the sediment reservoir (the lowest point in the tank). Use a clean rag to wipe sediment from the filter element and the sides of the tank before refilling.
9. Once a year, take the time to conduct a general inspection of the generator. Look for any dirty, broken or misaligned parts. Replace the fuel hose if cracks are present.
10. If the generator needs to be stored for an extended period of time, be sure to exercise it every two to three months. Let it run for at least 10 minutes while carrying a load.
Regular maintenance will ensure your generator is in prime condition for emergency situations or home improvements.