HAMILTON, ONTARIO – Start 2020 off the right way by saying farewell to boring walls and ugly tiles. During the dreary days of winter, tackle a DIY project that transforms your interior walls. Daich Coatings, makers of real stone finishes, offers two different ways to enhance your interior walls with a wide variety of finish options.
Rolling on Wall Finishes
VertiStone® Roll-On Wall Texture employs a unique stone coating technology that adds natural textured beauty to walls in just minutes. Without mixing, prep work or multi-step labor-intensive processes, VertiStone quickly transforms a room.
By using decorative textured brushes and the stone coating, different finishes can be achieved easily, including smooth polished marble, natural suede, parchment, dream lace and linen.
"Textured magic happens on walls so easily when using VertiStone," says Peter Daich, president of Daich Coatings. "This is a DIY dream project. Just pop the lid from the can and roll on beautiful walls."
VertiStone tints to thousands of colors and can be applied directly onto drywall, block, masonry and concrete surfaces. Designed for both interior and exterior use, the fast-drying finish features extremely low VOCs and is odorless. The breathable finish does not encourage mold and mildew, so it can be used in high humidity areas of the home, such as bathrooms and kitchens.
"One of the most unique ways to use VertiStone is to tape off different sections of a wall in a grid pattern," says Daich. "Then, once the finish is applied and dries, simply remove the tape. You'll immediately have the effect of real tile."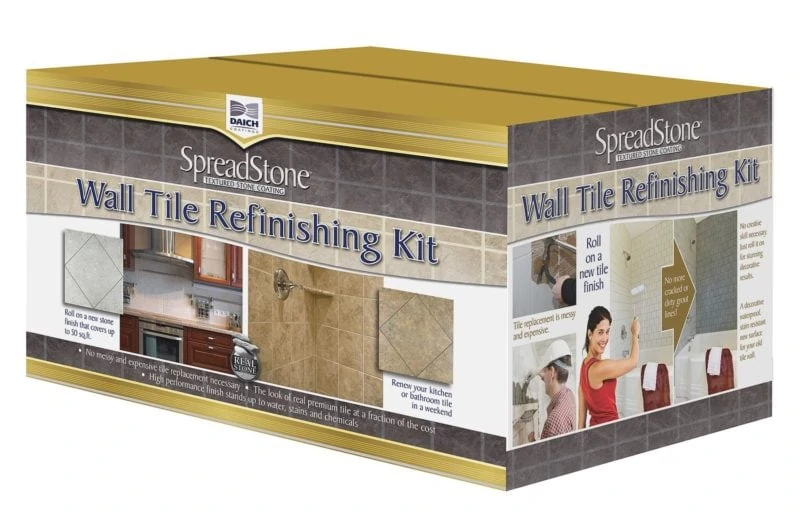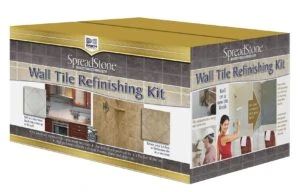 Covering Up Old Tile
If you're looking to cover up tile that's already in place, SpreadStone™ Wall Tile Refinishing Kit can handle the job.
"Sometimes the look of a tile gets old and dull," says Daich. "Other times the grout is stained or you just want a change. This DIY kit project is fast and easy, and can be done on tiles in bathrooms and shower areas, on a kitchen backsplash, as an accent wall tile or even on decorative columns."
The SpreadStone kit includes everything needed to roll on a premium stone or porcelain finish. Starting with a bond coat and stone coating, the existing tile surface is completely covered. A stone accent coat is then applied with a textured roller. Following that, a stone highlight coat is applied. Finally, a stone clear coat is added to seal the finish.
The new SpreadStone surface on the tiles is hard and durable, and provides a waterproof barrier. The coatings resist cleaning chemicals, mold and mildew for long-term beauty. All the water-based products are odorless with fast drying times and come in 20 different colors.
"The SpreadStone pre-mixed formula makes it easy to tackle this project like a professional," says Daich. "By following a few easy steps you can quickly say farewell to dirty grout lines and old-fashioned tiles in just a weekend. And, best of all, this kit is just a fraction of the price that you'd pay to replace your old tiles!"
Daich Coatings primers and decorative concrete products are available online at The Home Depot® or online at https://www.daichcoatings.com/daich-diy-homepage.html/.