When a company has been around for over 130 years, how do they stay innovative? If they're smart, they keep an eye on evolving platforms such as social media, while staying true to the quality and tradition that is their foundation. This is Channellock, Inc.
Celebrating their 131st year, Channellock, Inc. is best known for evolving and elevating their tools while remaining committed to quality. They use the best materials, invest in the latest research and rely heavily on their most loyal fans for feedback. All of the company's tools—whether it's the tried-and-true 440® or the new line of Little Champs®—are designed with extreme DIY'ers in mind. Dubbed the Channellock® Champions, these are the brand ambassadors that are bringing Channellock into the future.
"A lot has changed over the past 131 years, but one thing that will never change is our commitment to producing best-in-class tools," said Jon DeArment, president and COO of Channellock, Inc. "Our Channellock Champions want to buy American-made products that they can pass down to the next generation. We're proud to be the industry leader among the fiercest tradesmen and DIY'ers."
Channellock advertising has evolved over the years as well. While they're still embracing traditional print ads, they've bolstered their social media presence and have a dedicated following on Facebook, Twitter and Instagram. The company is not afraid to ask for feedback from their Channellock Champions and interact with them on a daily basis in real time.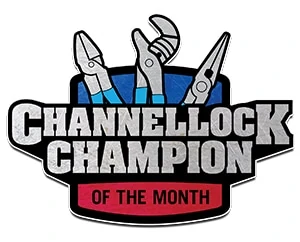 In 2016, Channellock unveiled a series of new tools at the National Hardware Show in Las Vegas, including the Little Champs pliers, which are lighter, slimmer and more balanced. The company also unveiled a line of Professional Snips, crafted from drop-forged molybdenum alloy steel for maximum strength. The snips are designed with the same commitment to quality that Channellock is known for. Finally, Channellock announced an updated version of its go-to tool, the 12″ Oil Filter/PVC Plier with Angled Head. Designed for car aficionados, the plier has all of the strength and reliability of the iconic Tongue and Groove Pliers yet addresses the special needs of large PVC and oil filters. What makes this tool special is that it has a 30-degree angled head that allows access to previously impossible to reach areas. It also features a PermaLock® fastener to eliminate nut and bolt failure and has the famous Channellock BLUE® grips for comfort.
The new tools are all designed with the Channellock Champion in mind. They offer greater precision, ultimate performance and enhanced design to make the jobs of the extreme DIY'er easier.
The next time you're on Facebook, consider this: 96 percent of people who discuss a brand, be it a complaint, engagement or review, do not follow the brand on social media. However, Channellock has a community of over 260,000 social followers, the most active being Channellock Champions.
For over 130 years, Channellock has been known for best in industry innovation, standards and high quality craftsmanship, fiercely made in Meadville, Pennsylvania. Now, as the company focuses on the next 130 years, they're looking to form partnerships with serious DIY'ers who want to get the job done. If you're reading this and think you're a Channellock Champion, be sure to visit channellock.com or follow the company on Facebook, Twitter and Instagram to join the conversation and help shape the future.