By Matt Weber
EHT takes a look at a variety of DIY-friendly garage storage products for the garage and workshop.
Over the years Extreme How-To writers have covered workbenches, tool shelves and shop-made storage cabinets of all shapes and sizes. Just check out our website at www.extremehowto.com to find all sorts of free, helpful tutorials on scratch-made projects that help organize your garage or workshop.
For this article we combined a few ideas, starting with a simple but versatile bracket system that simplifies the process of building a bench or shelves. We combined the new storage structures with a couple of wall-mounted tool organizers, and the end result was an orderly expansion of our workshop's westward wall. This kept tools and materials off the floor and created approximately 76 square feet of additional storage space, both vertical and horizontal.
Time-Saving Shortcut
I came across a bracket system called 2×4 Basics from F3 Brands at the 2012 National Hardware Show in Las Vegas. I was struck by the system's simple design and modular nature, which enabled a DIY'er to build a customized shelf system and/or workbench structure in a wide range of designs and configurations. Whether you need a broad work platform, a simple shop desk, a combination of desk and shelves, or a vertical storage rack for long-handled tools, if you can visualize your system made from standard 2×4 lumber, then you can probably build it with the brackets. The 2×4 Basics brackets are used to connect the structure's building components much like Simpson Strong-Tie products are used for building decks. The system eliminates the need for miter joints and cross-bracing and requires little more than a saw, tape measure and screwdriver for construction.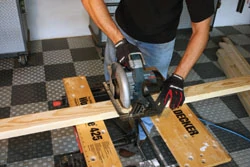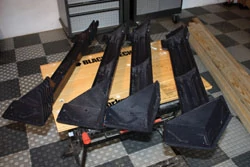 Plus, any building technique that saves time is worth a look. Working with all straight 90-degree butt-joints and prefab brackets spared me a lot of time that I'd otherwise spend measuring and fabricating shop-made brackets. I was able to assemble a triple-decker work table and a three-tiered storage shelf in just a few hours.
F3 Brands offers a variety of brackets, including shed kits, bench brackets, etc. For this project I selected the company's WorkBench Legs and ShelfLinks, and designed my shelves to provide ample storage while economizing my trip to the lumberyard (www.2x4basics.com).
Triple-Decker Workbench
I used a single 4×8 sheet of 3/4-in. plywood to make my three work table shelves, which meant I had enough material to rip three equal sections, each measuring 4 ft. by 32 inches. The design of the leg brackets requires the shelves to be mounted on top of 2×4 support rails. This told me I needed to cut three sets of 2x4s that would each assemble into a rectangular frame with an outside perimeter of 4 ft. by 32 inches.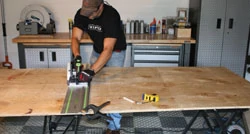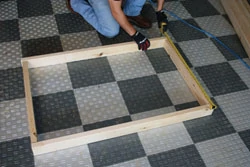 After cutting the components to size, begin assembly by fastening three of the longest 2×4 rails into the prefab legs. Each leg is made from structural foam plastic resin and includes preformed screw holes that guide 3-in. decking screws at an offset angle into the 2x4s. This toe-nailing effect creates a strong joint that cinches the corners tightly together.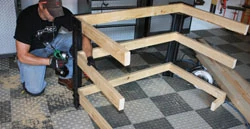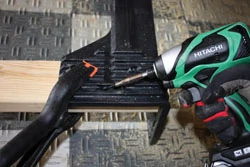 Proceed to fastening the six short rails into the leg assembly. To keep the structure level during assembly, I temporarily propped the lower short rails on a couple of vertical 2×4 blocks.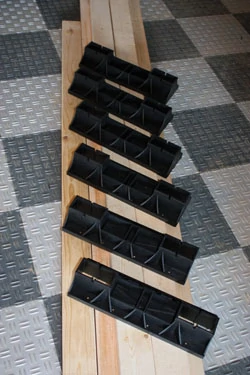 Before adding the final two legs, you'll need to slip in the lower and middle plywood shelves, which should fit flush over the tops of the rails.  Screw the plywood onto the rails with 1-1/2-in. wood screws. Once these middle shelves are in place, you can add the final long rails and the other two legs. The last step is to install the top shelf (the table top).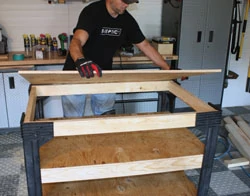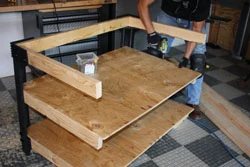 Note that I used sturdy 3/4-in. sheathing for my table shelves, which I felt would have plenty of holding capacity. If you choose to use 1/2-in. ply instead of 3/4, then I would suggest incorporating a diagonal 2×4 cross-member support below the table top, which will bear the most weight.
Three-tiered Storage Shelf
The storage shelf came together quickly and relied on six simple shelf brackets—two for the ends of each shelf. I cut the four legs of the shelves to 5-1/2 ft. each. You don't want to make it too tall, because the shelf rack can get top heavy and won't have the structural rigidity that you need for a durable storage unit. On the other hand, items such as miter saws and benchtop drill presses require significant overhead storage room, so I wanted ample room between the shelves. I settled on 5-1/2 ft. because it "felt about right"—not much science was involved.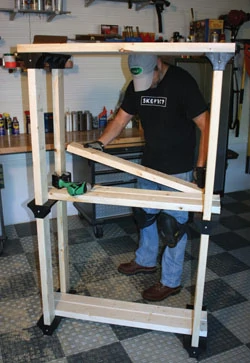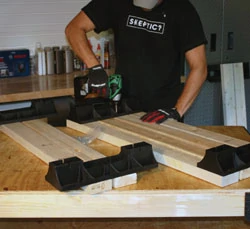 To get the most wood from an 8-ft. board, I decided to make the shelves about 32 in. long (squeezing three shelf lengths from each board with minimal waste). This meant the lumber order for the shelves was two 12-ft. 2×4's for the legs and four 8-ft. 2×4's.
When picking up your lumber, remember to inspect each board carefully and choose the straightest boards available.
First step in assembly is to screw two brackets to the underside of four 32-in. shelf boards, flush with the ends. Screw on the outer boards first, and then space the two inner boards equally (about 1/2 in. apart). This comprises the top shelf.
Next, partially assemble the middle and lower shelves by fastening the two inner 32-in. boards flush with the outer edges of the shelf brackets. Leave the outside boards off at this point.
After cutting the legs to length, simply slip the legs through the holes in the shelf brackets. Screw the bottom shelf in place first. Determine the height of your middle shelf, check with a level and fasten it securely. Predrilled holes in the brackets will indicate fastener locations. The top shelf installs last.
After each shelf is fastened, measure between the 2×4 legs to determine the length of the final outside shelf boards. Cut to fit and install, which completes the unit.
Wall-mounted Storage
Optimizing wall space for storage is an excellent way to economize space, and a wide variety of wall systems have flooded the market, offering modular hooks, straps, shelves, baskets and platforms that fit virtually any storage need faced by the DIY'er.
A few years ago we installed a full slat-wall system on the South wall of our workshop. We use it extensively and decided to expand the system onto our West wall. To avoid deflection in the slat-wall panels, we first installed 1/4-in. plywood over the studs. The plywood was installed with 1-1/4-in. drywall screws roughly every 16 inches. You can cut the plywood to size so the sheets break on stud centers, providing a solid fastening surface behind the edges. Or you can add blocking between the studs to create a solid nailing surface when the plywood edges extend beyond the studs.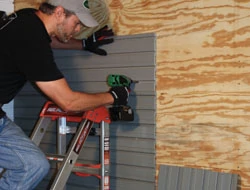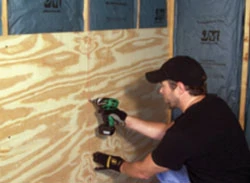 Typically available in 1-by-4- and 1-by-8-ft. sizes, the slat-wall panels are easy to install for a DIY'er. Use a stud finder to locate and mark the studs. Use a T-square to map and mark the stud locations on the panels and fasten with 2-in. decking screws. Slat-wall storage accessories include application-specific tool holders that simply "click" into the slats without tools. The mounting plates of each accessory can be moved and rearranged at any time.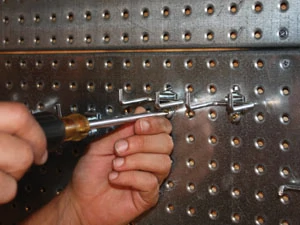 A similar concept in wall storage can be found with traditional pegboard systems. Tool holders such as hooks, screwdriver sleeves, ruler clips and more can fit into the pegboard holes to for easy access to tools and ready visibility when you need to find that one elusive item. However, the pressboard material of standard pegboards tends to warp, swell or crack when it absorbs moisture. We installed an all-steel pegboard panel with a formed flange around the perimeter, making the metal panels 10 times as strong as conventional pegboard (www.alligatorboard.com). When mounted to the wall studs, the 20-gauge steel pegboard holds up the 90 lbs. Add tool holders as you need them and rearrange at any time.
More Ideas for Updating Your Workspace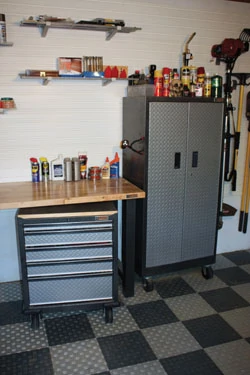 Gladiator GarageWorks. If you spend as much time in the workshop as the EHT staff, an investment in ready-made cabinetry and storage accessories is something you won't regret. We use some select Gladiator GarageWorks products, including a rock-solid workbench, versatile tool drawers and a lockable shelf case. The storage components rest on steel casters and feature top-quality materials, including heavy-gauge steel and solid bamboo or maple wood. We love the rolling cabinets, which tuck beneath the table when not in use, or they can be rolled to the center of the workshop to provide a handy new work platform. (www.gladiatorgarageworks.com)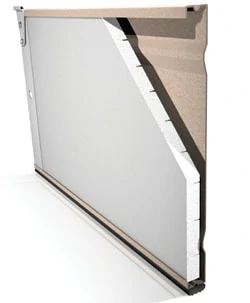 Garage Door Insulation Kits. Easily installed in metal garage doors for a more comfortable work environment in the garage, Garage Door Insulation Kits from Energy Efficient Solutions consist of foam garage-door panels that can drop garage temperatures by 15 to 20 degrees in the summer. The expanded polystyrene panels do not sag or fall out like the fiber-glass-type garage door kits, and they also come with a high-impact protective coating for a finish that is clean and aesthetically pleasing. One kit fits single-car garage doors up to 9 ft. wide, or purchase two kits for double-car garage doors up to 18 ft. wide. (www.energyefficientsolutions.com)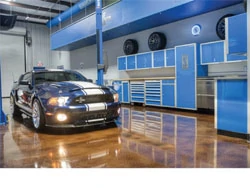 Moduline Cabinets. Originally designed for the automobile racing industry, Moduline Cabinets are top-quality modular aluminum storage and tool cabinets designed and manufactured in the United States. Featuring a sleek, modern design that will complement most any décor, they include full ball-bearing slides on the drawers, double wall door construction, and each cabinet has its own sealed and anodized frame, allowing each piece to stand alone. With almost endless configurations, Moduline cabinets are designed to adapt with your changing storage requirements. (www.modulinecabinets.com)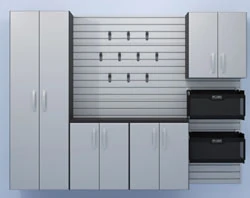 Flow Wall Cabinets. The slat-wall system installed in the EHT workshop is manufactured by Flow Wall, which has expanded its product line to include cabinet systems that snap into the wall systems like the other tool holders. The cabinets are constructed from a high-density press board with textured PVC laminate in charcoal grey. The company's designer doors are constructed from high-quality MDF with radius corners wrapped in durable thermoformed laminate. They're easy to assemble and hang directly on the panels using a patented cleat-and-bracket system. Simply attach the brackets to the wall and hang your cabinets. The cabinets are designed so the load is distributed evenly on the wall, so you can store heavy and bulky items with confidence. (www.flowwall.com)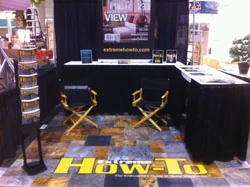 New Roll-Out Garage Flooring. The unique new roll-out garage floors from Better Life Technology, LLC, have all the attributes of BLT's traditional rolled flooring—easy installation, protection from stains and cushioned noise reduction—as well as multiple other benefits. This new concept offers a full series of designer floors to provide the look of hardwoods, granites, marble, epoxy or the classic black-and-white checkerboard. Custom looks and images are also available, as in crests, names or favorite pictures. Imagine your garage floor appearing as a golf course or tennis court; the possibilities are endless. These vinyl  floors can also be coated to resist the harshest of chemicals. (www.bltllc.com)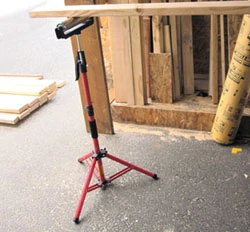 3rd Hand Work Support. Create your own freestanding conveyor system using the FastCap 3rd Hand work-support products. Great for cutting long trim pieces and 2×4's into shorter pieces with a miter saw, the 3rd Hand system also makes one-person cutting of plywood and sheet stock on a table saw much easier and safer. The unit pictured includes a 3rd Hand Tripod, an Upper Hand support and is topped with a 3rd Hand Roller Top. (www.wwhardware.com)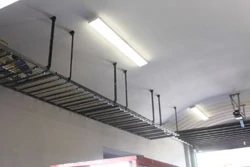 Hyloft Ceiling Units. Diamond Storage Concepts offers a wide range of Hyloft ceiling storage units designed and engineered not only to fit in any garage with any ceiling truss configuration, but also for any environment. Specifically, a limited amount of sway is engineered into the products to absorb and disperse energy from forces such as earthquakes. Extremely durable but light in weight to reduce the overall load put onto the ceiling, each product is backed by a lifetime warranty. (www.hyloft.com)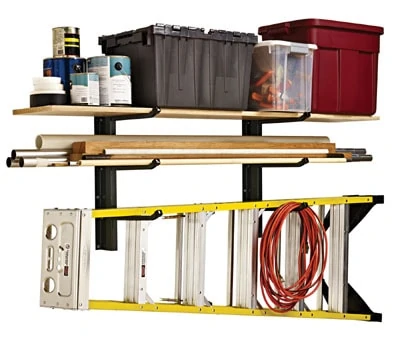 Racor 450 Rack. Racor's Model PLM-1R multi-purpose wall storage rack can hold the heaviest of items—up to 150 lbs. on each of three tiers for a total of 450 lbs. It provides a heavy-duty storage solution for the largest of ladders, metal piping and lumber. The 450 Rack is also handy for oversized items like patio umbrellas, skis, surfboards or other bulky items that get in the way. The three tiers are 16-in. deep and come pre-drilled if you want to fasten your own shelves to the rack. (www.racorstoragesolutions.com)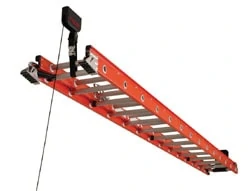 Racor Ladder Lift. The "number one" bulky storage problem in the garage is where to put the large, heavy ladder. The new Racor Ladder Lift is an easy way to store any ladder overhead and free up garage space. Ladders can weigh up to 150 lbs., so it's not easy to lift them onto wall hooks. The Ladder Lift uses a rope-and-pulley system along with a fixed hook that is mounted on the ceiling. Homeowners can easily lift and lower a 150-lb. ladder up to 12 ft. by simply lifting the ladder onto the fixed hook, attaching the strap to the bottom of the ladder and pulling on the rope with an 8:1 mechanical advantage. (www.racorstoragesolutions.com)
Other Garage Related Articles