By Monte Burch
Proper organization of a workshop is important for productivity and safety as well as ease of use and enjoyment.
Regardless of whether you have a workshop in a closet, basement, garage or a full-fledged woodworking, mechanics or metalworking shop, organization is the key to productive, safe and enjoyable work. Organization consists of three factors: having the proper tools needed for the specific chores; safe, sturdy work surfaces and areas; and proper tool placement and storage. The amount and types of these three depend on your work needs and habits.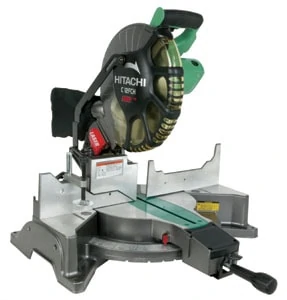 Tools of Your Trade
Basic homeowner repair tools consist of a few hand tools; a hammer, tape measure, hand saw, level, screwdrivers, pliers and a cordless drill/driver. A circular saw and carpenter's square add to the mix for basic carpentry chores. These can be stored in a garage cabinet or better yet, a portable tool box.
The advanced do-it-yourselfer and contractor will require more tools. For the DIY'er this usually means other cordless tools, such as reciprocating saws, corded tools such as sanders and either a benchtop or contractor's table saw. The latter folds up, making it easy to store in a garage, or tote to the job site. Any number of manufacturers offers these tools. One of the top models is the Bosch 4000 series. It features a very smooth folding stand and has a soft-start feature that cuts down on circuit breaker trips—important in new construction where full power may not yet be available.
The next power tool for these types of chores is a miter saw. Some new models feature LCD digital readout and/or a laser marker to indicate cut line. Miter saws are great for many types of carpenter's chore from framing to trim cutting.
Combo cordless tool kits have become increasingly popular. Some programs allow you to mix and match power tools and accessories to create custom kits, perfect for either the DIY or professional. New cordless combo kits often include a drill/driver, circ saw, recip saw and even a flashlight.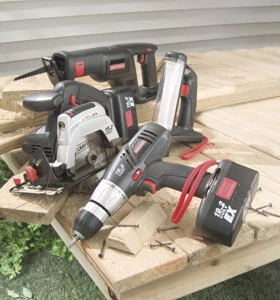 The next tool category for these chores is an air compressor and air nailer. Specialty air tools are available for plumbing, drywall, concrete and cement, tiling, electrical and paint/finishing. These are best kept in individual tote boxes that can be stored against a garage or shop wall, or on shelves.
A full-fledged woodworking shop for the advanced hobbyist, furniture or cabinet maker, or contractor who does built-ins and custom finish trim work, requires more tools and more space. Ideally, the shop should have a number of stationary power tools, each with its own work station. These include: a table saw, radial arm saw, miter saw, jointer, planer/moulder, bandsaw, shaper, belt/disc sander, spindle sander, drill press and lathe.
Additional tools include: a router with table, mortising machine, dovetail jig, air compressor and air nailers and spray finish guns.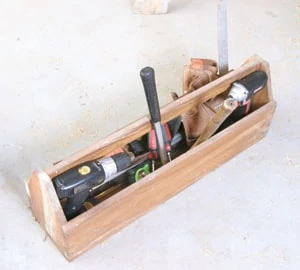 Portable power tools include sanders, routers, circular saws and drill/drivers. And, of course, a full line of hand tools is also required including hand planes, chisels, saws, clamps and measuring tools.
A metalworking shop will consist of a cut-off saw, welder, drill-press, benders and other specialty items. The home mechanic shop will include a full line of wrenches and other mechanics tools, jacks, engine hoists, air compressor and pneumatic tools, and sheet metal fabricating tools.
In most shops a sharpening/grinding station is also included.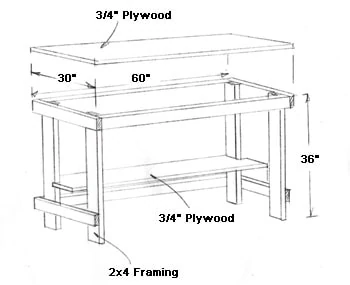 Work Surfaces and Stations
A good workbench or work surface is invaluable, even for the occasional fixer-upper. An old desk or kitchen table has sufficed more than once as a work surface, but these are often not sturdy. A simple 2-by-4 bench is better and quite simple to build, using a plywood top and bottom shelf. Or you can build as complicated a bench as desired. (Check out extremehowto.com to learn how to build your own Classic Woodworking Bench.)
An air-nailer station is a combination workbench, often designed for two working heights, that provides storage for air nailers and other tools.
Any number of workbenches may also be purchased. Woodcraft has a number of these types of benches in traditional European styling. Gladiator Garageworks offers rock-solid benches with table top options in both maple and bamboo.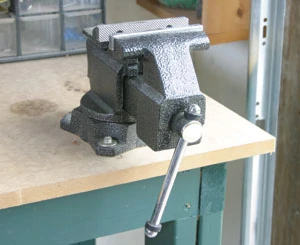 Sturdy vises mounted on the benches are also necessary. These include woodworking and bench type vises, such as those available from Columbia (WMH Tool Group).
Roll-around project centers, such as those from Craftsman and Gladiator Garageworks allow rolling tools and materials right to the job.
Similarly, Black & Decker's fold-and-store Workmate series have been affordable and portable workshop staples for decades.
Work stations are a very handy way of placing tools and necessary accessories right at hand. And, in organizing or laying out a woodworking shop with stationary tools, it's important to position the tools with the proper work space for the most productive and safest use. Different tools have different requirements. For instance, a table saw requires some distance in the front and back to move long stock over the saw, as does a jointer and planer/moulding machine. One tactic is to place these tools near a garage door. The door can be opened and long materials run through the machine. The best tactic is to sketch your workshop plan on a sheet of 1/4-inch square graph paper. Using 1/4 inch to represent 1 foot, draw in locations for the specific tools, keeping work space in mind.
Here's another tip to economize space: Radial arm saws, commonly used for precise cut-off work, have extensions on either side to allow for laying long material on the table. I actually use two of these saws in my shop, because my old DeWalt is fitted with a Freud dado head left permanently in place. The tables of the two saws are the same height, providing an extension for either saw. Or you can build an extension as shown in the diagram in this article.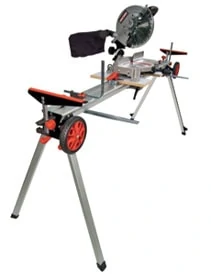 Miter saws also benefit from side extensions, but since they are often toted to the job, a miter stand with retractable extensions is the best answer. New miter stands from Ridgid and Craftsman can be folded to a compact carrying size for easy storage and portability.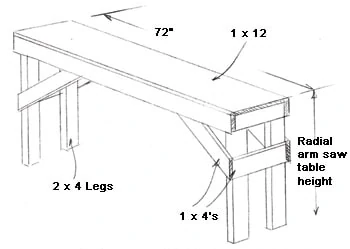 Table extensions can also be built for table saws for cutting large sheets of plywood, or for ripping longer pieces. My dad used a 4-by-8-foot table at table-saw height as an extension. He also used the same table as an assembly table. I inherited the table and used it for many years, but invariably when I needed to rip something, the table was cluttered or in use for assembly. A portable roller stand that is adjustable in height can help support off-feed materials from table saws, router tables, planer/moulders and shapers.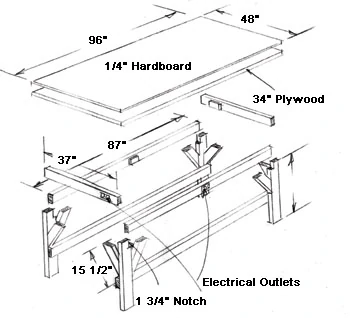 One excellent alternative for stationary tools, especially if space is at a premium, is to place them on roll-around bases. Delta offers their own version for their specific tools. Heavy power tools such as table saws, band saws and radial arm saws are easily moved with the Craftsman Universal Mobile Base. It supports up to 600 pounds and the Snap-Latch peg system conforms to the footprint of most stationary power tools. Four casters, two swivel and two fixed provide mobility, yet the unit can be locked in place. Rolling bases are especially effective for lesser used tools, such as router tables, shapers, belt and disc sanders and jig saws. And, of course, you can always build your own.
Tool and Materials Storage
Now comes the fun part, creating storage for a variety of tools. My father was a general contractor, finish carpenter and finally a cabinet/furniture maker. He amassed a variety of tools for all these chores and he delighted in creating custom tool boxes, cabinets and storage areas for his tools. Tool storage can be extremely simple, or as elegant and refined as you desire. Cabinets, wall hangings and brackets, boxes, benches and shelves can all be a part of shop organization. It's great to have a place for everything, and have everything in its place. It's also safer. And, it's a good idea to have tool accessories close at hand for their particular tools. For instance, sanding belts and disks should be stored with bench-top sanders.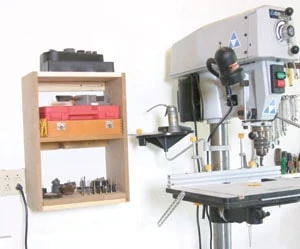 Drill Press Accessory Cabinet: A drill press can use a lot of accessories, including a variety of drill bits, sanding drums, hole cutters and plug cutters. Creating a cabinet or open shelf area to store the items close at hand makes it easier to set up for each use. The simple shelf unit shown is fastened together with glue and nails with an air fastener. Cleats on the back of the shelves allow the unit to be anchored easily to the wall.
Band Saw Wall Storage: Storage of band saw blades can consist of simply storing unopened blade packages on a shelf, and hanging open blades on the wall behind the band saw.
Hand Plane Storage: With a fairly large collection of hand planes and other old tools, I wanted to display them in the shop. I built a "shadow-box" shelf made of pine shelving material ripped to 4 inches and assembled with dado joints for added strength. The shelf is anchored to the wall with cleats on the underside of the shelves.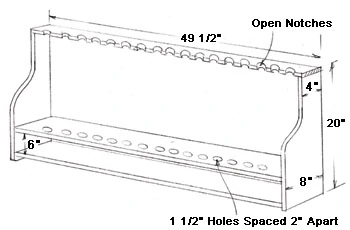 Woodturner's Tool Storage: Without some sort of tool storage for turning tools, they'll be scattered around the bench under the lathe. The rack shown makes it easy to store turning tools, wrenches, face plates and even turning patterns within easy reach. Before assembly, holes are partially drilled in the upper shelf, using a Forstner bit in a drill press. The turning tool handles rest in these holes. The holding notches in the top bracket are made by boring holes completely through a wide strip, then ripping the strip to create open notches.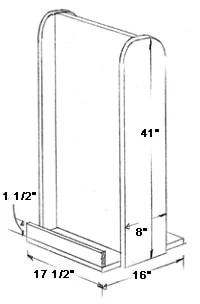 Clamp Rack: If you do any amount of gluing and clamping, you'll appreciate a clamp rack. Mine is made of scrap MDF and it holds a large assortment of clamps within easy reach. It can also be fitted with casters and rolled out of the way for storage.
Cordless Charging Station: Cordless power tools have become increasingly popular and it's not uncommon for even a basic DIY'er to have several chargers. A charging station with plenty of outlets keeps chargers safely stored and batteries ready to use.
Screwdriver and Wrench Storage: Pegboard or other purchased hanging racks can be used for screwdrivers and wrenches, but a simple method is to drive finish nails or screws partly into wood cleats to hold wrenches and other items. The cleats are then fastened to the wall studs. Painting the cleats the same color as the wall adds a finishing touch. You can also make small shelves of one-by material, fastening them to the walls with a cleat on the underside. This provides storage for tape measurers, and if holes are bored in them, an excellent screwdriver storage shelf.
Screw, Nail and Small Parts Storage: I discovered food jars for screw and nail storage years ago. Screwing the lids to the underside of a shelf provided hanging storage. Then came plastic jars, in particular peanut butter jars, the perfect size. I no longer fasten the lids in place, because it was a hassle to screw the jars up to the lids. A small shelf built into an otherwise unusable space next to a garage door provides plenty of screw, nail and small parts storage.
Sheet Goods Storage: The hardest part of lumber storage is storing sheet goods, or pieces of plywood. They're large and usually heavy. The simplest method is leaning them against a wall, if you have the wall space. Tools such as radial arm saws and miter saws can be set out from the wall, leaving storage space behind. An overhead rack can also be used for holding a few sheets in some areas, but be careful of the weight. My dad used a 2-by-4 rack especially designed to hold plywood sheets in his cabinet shop, because he continually used a large number of sheets.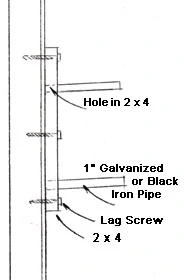 Lumber Storage: Storing lumber can be done in several ways, depending on the types of lumber you store. Framing lumber is best stacked squarely on a garage floor. Long pieces of lumber for furniture and cabinet making must be well supported to prevent warping and twisting. A basic 2-by-4 storage rack solves the problem. It does take some effort in getting pieces out of this type of rack, but the wood is well supported. One alternative is to create a pipe-wood rack. Short pieces of plumbing pipe are inserted into holes drilled at an angle into 2-by-4's. The 2-by-4's are then fastened to the wall studs. Wood turners and craftsmen who use small or short pieces will find lumber bins the best solution.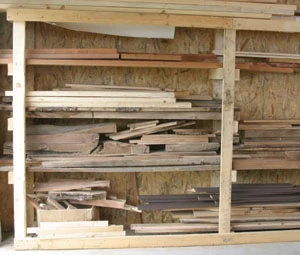 Shop organization is an ongoing project. You'll never finish, but each project or organization chore will help your productivity and make working in your shop more fun and easy.