From backyard kitchens to outdoor entertainment centers, more homeowners are designing some really cool exterior living spaces 
The trend toward creating outdoor living environments is catching on like a pile of Match Light briquettes. Patio and deck construction is in high demand, and the barbecue industry is hotter than ever. Demand is driven in large part by homeowners who plan to grill year-round in an outdoor retreat that rivals the traditional living room. Homeowners continue to remodel backyard patios and build exterior kitchens that make lounging in the fresh air a more enjoyable experience than ever.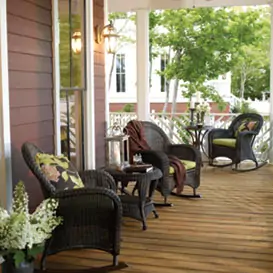 Outdoor rooms are rapidly becoming an extension of the family quarters. According to the HPBA, the transition to the exterior living space is now being designed with wider doorways and large windows to tie the two environments together. Outdoor furniture now features fabrics that coordinate from inside to outside, mixing and matching solid colors and earth tones with a variety of textures and patterns.
Outdoor great rooms are a great way to upgrade homes without having to move. Builders are now including outdoor rooms in new home plans, as opposed to an optional interior room.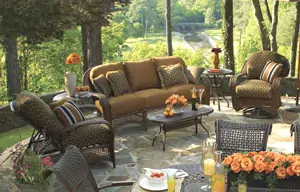 "By definition, an outdoor room is simply an outdoor area that homeowners can use for relaxing, cooking and entertaining," says best-selling garden and cookbook author, Katherine Whiteside, who I met at the HPBA Expo in Atlanta, Georgia. "By adding some furniture and propane appliances to an existing patio, garden or deck, you have the beginnings of a great outdoor room," says Whiteside.
On with the Retreat
Creating an outdoor great room doesn't have to be a sudden, huge out-of-pocket expense. You can build your backyard retreat in a modular fashion, adding amenities as your budget allows. The first step is examining your property for functionality. Note the sun's location at different times during the day, and organize your patio layout according your preferred exposure to shade and sunlight. Most people prefer areas with nice views of water, woods or a garden. And keep wind and drainage in mind. Proximity to the house is another concern. You want to minimize long journeys to the restroom, the fridge, etc.
Include in your plan all the specifics regarding utilities. If your outdoor room requires a water supply, gas lines or electricity, then consider how those functions will tie into the house. And equip all outdoor outlets with a GFCI device (ground-fault circuit interruption).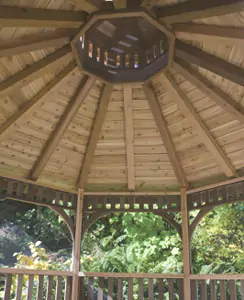 Also, don't overlook the beauty of Mother Nature. Creating a living space near trees or streams can add a rustic ambience and invite birds and small animals to hang out with you and your guests. Always consider room for future expansion. You may opt to install a water garden or koi pond in the future, and you should plan ahead to allow room. Pergolas, gazebos, arbors and trellises are some other appealing structures you may consider in your overall design. Map out your plan on graph paper to make sure you leave adequate space for expansion. You may eventually want to add a music system, overhead fan, infrared heater or even a flat-screen television.
As far as what amenities to include, begin with seating arrangements. Build your own from treated lumber, cedar, or saw logs for a rustic appeal. Or, there are hundreds of patio sets to choose from, which range from a couple hundred dollars to several thousand. Patio furniture ranges in design from a basic picnic table to elaborate table-and-chair sets with cutting edge décor and modern amenities, such as a solar-powered patio umbrella with LED lights at night that run on power absorbed during the day.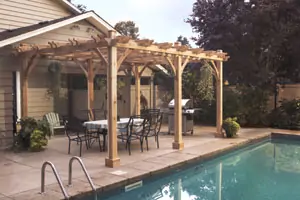 The next step in planning is to determine your support surface. A patio is ideal because it has plenty of strength and stability to carry the weight of virtually any structure or appliance you choose to add. Choose the natural look of stone flooring, the classic look of concrete pavers or even a decorative concrete surface. Whether you choose a rigid mortared patio or one with a flexible base of crushed rock or sand, creating a patio also makes a great do-it-yourself project for the handy homeowner.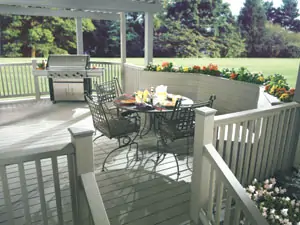 Another option is decking, where you can choose from treated lumber, western red cedar, cypress, redwood, and even exotic species, like ipe and tigerwood. You also have the option of low-maintenance composite decking, as well as aluminum and even stone-decking systems. However, it should be noted that decks have only enough strength and stability to support the most basic of appliances. In other words, a deck will support a grill, but if you plan to include counters, hearths or other heavy items, then a deck will likely require additional structural support to accommodate them.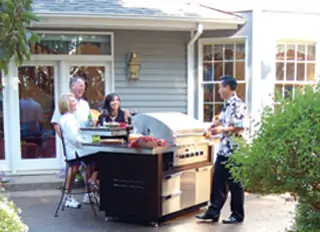 Fire is Cool
The most popular outdoor amenity is a grill, the center of the backyard's culinary and social activities. Whether you're partial to burgers and hotdogs or gourmet roasts, backyard barbecues are what makes summer so special. You get all the food and fun of a tailgate party without having to tolerate the traffic. According to the Propane Eductaion and Research Council, almost two-thirds (63 percent) of parents say barbecuing or grilling outdoors is the most enjoyable way for their family to eat dinner during the summer months. Less than half (28 percent) as many say the same about sitting down for a home-cooked meal.
Makes and models of grills range from inexpensive portable charcoal burners to elaborate propane-fueled setups with griddles and skillets and accessory refrigerators. Available features include attachable sushi bars, portable woks and advanced control tools, such as the grill-surface temperature indicating when to flip and serve the food.
Another high-demand item is a heat source, which helps ensure your new backyard lounge will get the most usage throughout year. Portable space heaters are an easy-to-store option. Some contemporary space heaters are configured as towers with a mushroom design to direct heat downward to tables and chairs. Other heaters double as bistro tables or lamps to blend décor with functionality. For a more rustic appeal, choose from easy-to-tote fire pits, chimineas or cast-iron stoves to beautiful stucco or river rock gas-fired hearths. Let's face it, a blazing full stone hearth serving as the focal point of your backyard is sure to make your neighbors crazy jealous.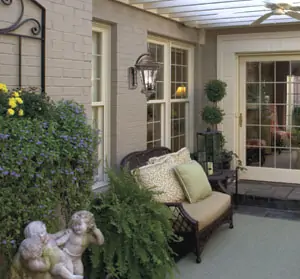 And don't overlook the importance of adequate lighting. Hearths and fire pits provide a warm outdoorsy glow, but a couple of French lanterns can offer a more elegant and romantic setting. You can add candles and string lights, or keep pathways lit with low-voltage landscape lighting.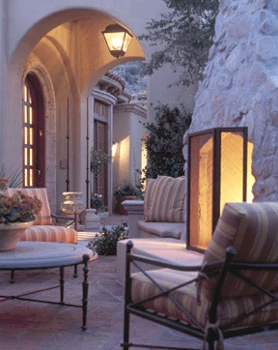 The Green Outdoors
In an era of heightened environmental consciousness, it's only natural that homeowners who spend more time outdoors want to keep those outdoors clean and healthy. When 60 million people hit the barbecue at once—like they do on Fourth of July—the environmental impacts can add up quickly. You have options when heating and grilling. On one hand, wood-burning stoves and charcoal barbecue grills use an easily renewable source of fuel: trees. On the other hand, wood-burners emit carbon into the atmosphere, which contributes to poorer air quality. But on the third hand, many people simply find the smoky taste of charcoal barbecuing just too delicious to resist (count me guilty as charged). If you do use charcoal, look for lump brands, which contain less coal dust or other additives that are used as binders in briquettes. Besides, lump charcoal burns better and results in better tasting food than the cheap stuff.
For a "greener" approach to air quality, propane and electric hearths and grills contribute less carbon directly to the environment. Additionally, some residences may be restricted from open-flame grilling, either by code or by homeowner associations, in which case a powerful electric grill will be a smart, "green" option. And as far as gas, the U.S. Department of Energy estimates propane fireplaces cost 30 to 60 percent less per hour to operate than wood-burning fireplaces. Of course, this assumes you aren't chopping your own wood.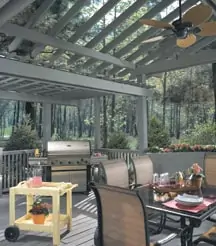 But as far as cooking efficiency, propane wins the race. Propane offers instant gas flames with no wait time for burners to heat up. Gas cooking offers greater control with precise temperature and even heat distribution. In fact, according to the American Gas Association, 97 percent of professional chefs prefer cooking with gas.
So, whether you're creating a backyard kitchen, a gathering place for family and friends, or a quiet place to read and write, the design options are endless. An outdoor room is a fun and rewarding project where you can start small and gradually embellish as your budget allows. So think big, plan ahead and have fun out there.
 
 Build Your Own Cooking Island
You can save thousands of dollars in labor on your outdoor great room by building it yourself. From basic deck construction to hand-laid paver patios, outdoor rooms make great DIY additions that can be broken into a series of weekend projects. Begin as simply as building a picnic table, or dive head-first into an elaborate outdoor kitchen addition.
Even high-end stone cooking islands are not beyond the realm of the serious DIY'er when the right tools, materials and instructions are at hand. For example, MAPEI offers a variety of mortars and adhesives to construct a Jerusalem stone-veneered island (1) with a granite tile countertop (2). For installing the wall tile you'll need the company's Granirapid product, which is a fast-setting, flexible, polymer-modified mortar system (A). For the countertop, begin with fiberglass mesh and Mapelastic 315 (B), which serves as a flexible cement-based waterproofer. Follow that with the Kerabond mortar system (C) to adhere the tile. Then fill the joints with MAPEI's Opticolor grout (D) for a stain-free, easy-to-clean food prep surface. For more information, visit, www.mapei.com.