A recent survey of consumers in the United States, China, Germany and France found that more than 65 percent of Europeans prefer products made in their home countries. However, more than 80% of those surveyed in the U.S. and 61 percent in China said they would pay a premium for American-made goods over products made in China.
Why is that? The survey revealed that quality was the primary influencing factor. Eighty-five percent of consumers in the U.S. and 82 percent in China believe American-made products are higher in quality.
If that is not reason enough to buy American-made products, consider this: Every American product bought helps to pay the salary of an American worker. And, if each consumer spent just $64 on American-made goods this year, it would help create more than 200,000 new domestic jobs.
Buying American-made products just makes good sense. And with American-made products, buyers can feel good about purchasing something that was made by American workers. In a competitive world economy, production costs and price matter, but for many American companies, quality matters just as much, if not more. Channellock Inc. is one of those companies. A family- owned and -operated plier and hand tool manufacturer, Channellock Inc. manufactures many of its products, including the iconic Channellock® tongue-and-groove plier, in Meadville, Pennsylvania.
"By manufacturing our pliers in Meadville, we're able to fully control the quality of every plier we produce—from design to production to inspection and even to shipping," said Jon DeArment, president and C.O.O. of Channellock Inc. "In addition to the high-quality product Channellock customers receive, American manufacturing also employs workers and supports families from local communities, and that's something we are very proud of and believe our customers appreciate as well."
Channellock pliers and tools can be found in hardware stores, retailers, toolboxes and workshops around the world. But before their tools can get into the hands of professionals and serious DIY'ers, they have to be forged, shaped, polished and fitted with their famous Channellock Blue® grips.
To begin, every Channellock plier starts as a billet of high-carbon, North American 1080 steel. With thousands of pounds of force, their massive air-powered, computer-controlled die forgers precisely hammer the heated steel into component parts. Excess material is then removed on a trim press.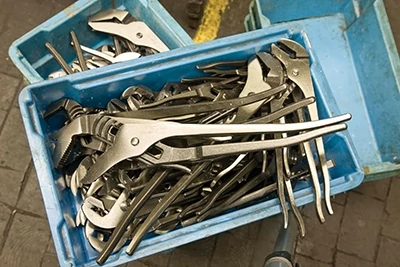 From the forge, each tool element is precisely ground, drilled, counter-bored, channeled, broached and polished to exact specifications. At almost every step along the way, there are skilled steel craftsmen inspecting every component to ensure each part is tested to ensure exceptional strength. Since steel is an unpredictable material, the process includes precautions to make sure the tools are heated properly because heating steel too much can make it hard and brittle, while not heating it enough causes it to remain relatively "soft" and easily fatigued. The unique heat treating processes used by Channellock ensures a very controlled, uniform tempering that makes the steel strong enough to withstand great force, but flexible enough to resist breakage under load conditions.
The next step is to use proprietary laser hardening techniques that make it possible to achieve the unique characteristics featured in the pliers. The laser hardening allows the jaws and teeth of the pliers to be incredibly durable, while the handles maintain flexibility for excellent control.
After laser hardening, the tongue and groove and slip joint products receive Channellock PermaLock® fasteners, which eliminate the problems associated with traditional nut and bolt fastener failures. Associates check and adjust each fastener to ensure that every plier works smoothly. In the final step in the manufacturing process the tools are cleaned and given a rust-inhibitive coating.
Then, it's time for a dip in the large pool of Channellock Blue coating that forms the famous grips.
Making quality American-made tools is not easy. Each step of the process involves precision and quality checks by American workers who take great pride in what they do.
Buying American-made products, especially tools, is a great way to support the economy and to ensure that the product is quality that will last.