Trim-A-Slab
Are open expansion joints in your driveway growing weeds, or even getting dangerous? Are you tired of spraying chemicals, or find that the caulk-like materials are too messy to apply, and they just don't look nice? The alternative to the traditional cure-in-place sealants is a new method of expansion joint repair using elastomeric seals. Trim-A-Slab is a flexible, rubber-like material that is easy to press into concrete expansion joints. It fills joint gaps fully with a rounded "crown" that will make your driveway, sidewalks or patio look great, and be much easier to clean. Under the crown is a pair of anchoring beams that seal out weeds and water, eliminating open spaces that can cause trips and falls. Trim-A-Slab also helps maintain the integrity of your slab by preventing the soil beneath from being washed out by weather or pressure washing. Made in the USA, Trim-A-Slab can be trimmed with a PVC cutter, or even pruning shears, and is also removable and replaceable.

It can be used to cover extension cords for holiday decorations without posing a trip hazard. Available in gray, black or walnut, in straight lengths or coils up to 50 feet in length, Trim-A-Slab sizes correspond to typical expansion joint spaces; 1/2, 3/4, 1 and 1-3/8 inch. Visit www.trim-a-slab.com.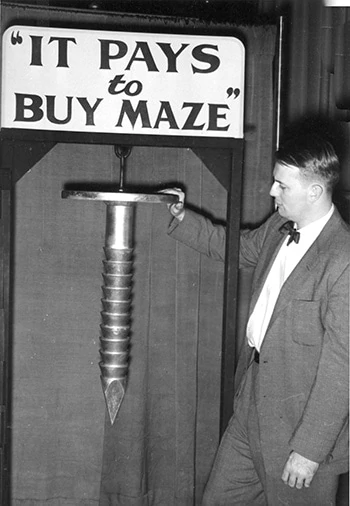 Maze Nails Celebrates 170 Years in Business
H. Maze is celebrating its 170th year of doing business as a nail manufacturer and retail lumberyard. In operation since 1848, Maze Company continues to be the largest manufacturer of specialty nails supplying U.S. and Canadian customers many millions of pounds of nails annually. The 5th and 6th generations of the founder, Samuel Maze, work at the manufacturing facility so there is a lot of heritage, tradition and pride in the company. All Maze Nails are 100-percent Made in the USA in Peru, Illinois. The Maze lumber operation is still thriving too–and is the oldest lumberyard in the state of Illinois. Maze Nails offers a full line of specialty nails in bulk for hand driving and in collated sticks and coils for popular pneumatic nailers. The company's exclusive StormGuard Double Hot-Dipped Galvanized coating provides ultimate corrosion-resistance. A full line of stainless steel nails is also available. Maze also provides nails for decking and trim, fiber cement, cedar and redwood sidings, fencing and many types of roofing. Maze eco-friendly nails are made from over 90-percent recycled re-melted steel to support sustainable building. Visit www.mazenails.com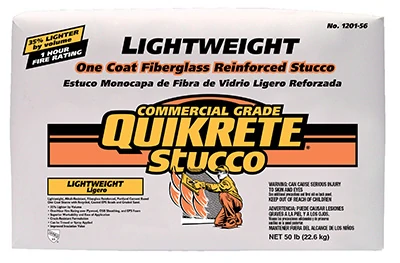 Quikrete Lightweight Fiberglass Reinforced Stucco
Quikrete Lightweight Fiberglass Reinforced Stucco (FRS) is 35 percent lighter than traditional pre-blended stuccos, making it easier and faster to transport, stage, mix, pump, place and finish. In addition, Quikrete Lightweight FRS is one-hour fire rated and contributes to U.S. Green Building Council LEED credits. Working with lighter bags decreases fatigue, increases speed and prevents mistakes. Quikrete Lightweight FRS is a Portland cement-based plaster blended with recycled, coated Expanded Polystyrene (EPS) beads, uniformly graded sand, and alkali-resistant glass fibers. With unmatched durability, flexibility, workability, coverage area and ease-of-application, Quikrete Lightweight FRS is available in 50-pound bags and 1,950-pound bulk bags. It can be troweled or spray-applied on traditional three coat scratch, brown and finish systems from 3/8 inch to 7/8 inch as well as one coat systems. One 50-pound bag yields the equivalent coverage area of a traditional 80-pound bag of pre-blended stucco. Visit www.quikrete.com.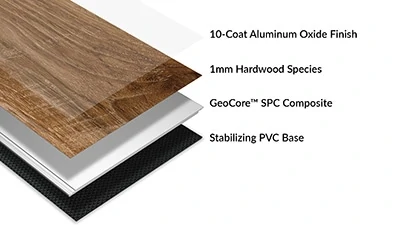 GeoWood Flooring
Cali Bamboo has launched GeoWood, an engineered hardwood that combines real timber layered over GeoCore—Cali's stabilizing limestone composite foundation. A "rock solid" hardwood flooring with exceptional AquaDefy water resistance, GeoWood Flooring comes at a lower price point than solid wood planks. The full GeoWood collection will include real oak, hickory, maple, walnut, and bamboo. The beauty layer atop each plank is up to 1.2mm thick and features sustainably farmed woods and lumber from Lacey Act Compliant managed forests. The limestone composite core fortifies each GeoWood plank and resists indentation from high heels, pet claws, and furniture. Its composition translates to 50 percent better dimensional stability, meaning less expansion and contraction, and as little as 24 hours of acclimation required before laying down planks. AquaDefy technology ensures diehard moisture protection, making GeoWood perfect for bathrooms, kitchens, and below-grade spaces like basements. Shielded by a 10-coat scratch resistant finish, GeoWood planks are ideal for spaces with heavy traffic. The flooring is backed by a 50-year residential warranty and a 15-year commercial warranty—double the industry standard. The lightweight, easy-to-cut planks feature a click-lock system for easy installation, and the flooring can be floated or glued down over any type of even subfloor. Visit www.CaliBamboo.com.