Ridgid's new variable-speed belt sander has a sturdy feel, an multi-position front grip, a trigger lock and a speed-adjustment knob that are easy to reach.
Sanding is messy but necessary work. Just about any project that involves wood requires sanding, like it or not. For big jobs, like refinishing floors, you'll need to rent a large walk-behind drum and disc sander. But for smaller around-the-house jobs, as well as contracted labor, an investment in sanding equipment is a sound one. From large power sanders to handheld sponge-backed sanding sponges, sanders are a line of tools required for everything from removing paint to buffing a smooth, glassy finish on a piece of fine furniture.
Belt Power
For the most aggressive material removal, the most productive tool is a powered portable belt sander. This tool will quickly smooth down and level a surface, as well as remove paint or glue lines. As with any power tool, more power produces more work and faster cutting. The bigger the sander, the meaner the bite. Amps can range from 5 to 11 in handheld models. The speed of the belt can range from 700 to more than 1,500 feet per minute, and belt speed also factors into cutting power. Portable sanders usually offer belt sizes running from 3-by-18- to 4-by-24 inches.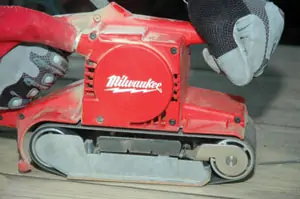 Shown is Milwaukee's Model 5936, solidly representing the larger end of the belt sander category.
The large 4-inch wide and 3-by-24 models may be the best selection for sanding large, flat surfaces. However, the downside of the size of the saw lies in its weight and maneuverability. Large single-speed sanders can also prove too aggressive for certain applications. The big boys can really take away a lot of material to the point that the user can bugger up a project that requires a more delicate touch. All belt sanders are unidirectional; if you work them from side to side you'll get some ugly across-grain cuts.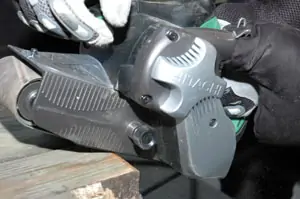 Variable-speed gives the user greater control of the sanding, as shown withthe new Hitachi SB8V2 being used to round off some step edges.
To that end, variable speed is one feature to consider on a belt sander. This feature may add to the cost, but it affords more control of the sanding action. Both Ridgid models (models 2740 and 2720) we tested, feature a handy speed-control dial, as did the Hitachi SB8V2. We used these tools to round off the nose of stair treads on a deck. Variable speed made this chore easy, while the full-force of a larger single-speed sander may have resulted in deeper and uneven cuts.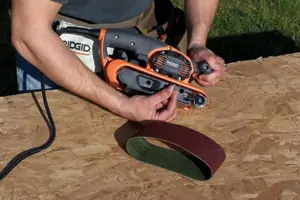 Look for a sander that both tracks well and has an easy belt-change device.
Another feature to consider regarding belt sanders is the ability to flush-sand right up against the edge of an obstruction. Flush-sanding reduces the chore of hand-sanding against corners.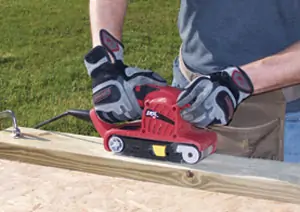 Skil offers the new 3×18 7500 belt sander for do-it-yourselfers.
Also, look for an easy-to-change belt system. Ideally you'll get a nice balance between easy changing and consistent belt tracking. For example, the professional-grade 4-by-24-inch Milwaukee proved to be a solidly built and highly aggressive sander. However, the Milwaukee's belt-change lever was very difficult to open. The "up" side is that the Milwaukee's belt stayed in line during cutting. On the other end of the spectrum, Skil offers the consumer-grade 3-by-18 model 7500, and the belt is super-simple to change thanks to an easy side lever. However, during our test the Skil belt moved a little too easily, and too much side-to-side motion caused the belt to track off the platen and wheels. You'll have to weigh such an annoyance against the tool's price and anticipated usage. For example, the Skil may not track as well as the professional-grade tools, but it also costs roughly 1/4 or less the price of the larger construction-grade models. I wouldn't put up with that wayward belt action on a daily basis, but if you only occasionally use the sander then that's another story.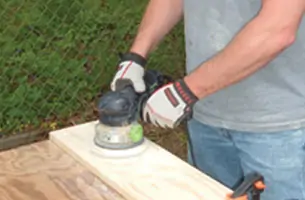 Random orbital sanders use sanding discs with an oscillating action to remove material in preparation of finishing.
Random Orbital
After you've knocked down the old surface with your belt sander, it's time to move along to the finishing stages. Random orbital sanders use sanding discs with an oscillating action to remove material with less aggression than belt sanders but more than straight-line sanders. Random-orbits are a great intermediate sander for removing any belt-sander marks and preparing the surface for finish. Use these sanders with progressively finer grits of abrasiveness. The abrasive discs may be held to the sander by adhesive or with hook-and-loop. Choose from sanders with either a palm-grip or pistol-style handle, whichever you find more comfortable.
Some orbital sanders feature variable sanding motion. For example, over the past two or three years our staff has relied largely on Festool's 6-inch Rotex RO150 multipurpose sander. It features a dual-action switch—random orbital for fine sanding, and gear-driven rotary orbital motion for rough material removal. Just turn a knob to switch between modes, adjusting the lateral action of the pad. This lets the RO150 handle all phases of a sanding job, from rough material removal to sanding a smooth, paint-ready finish. It's a tool for the serious woodworker, and it hooks up to Festool's mini dust-extraction vacuums for nearly dustless sanding. Plus, the dust extractor doubles as a powerful shop vac for tidying the work area.
Festool and Metabo both make a nice 6-incher, and I've used them extensively with no problems at all. However, my only gripe about those two sanders lies with the availability of the sanding discs. You might find that 6-inch hook-and-loop discs can be hard to come by. Five-inch sanders are the most popular size sanders, especially for homeowners. You can pop into any home-improvement store and procure some 5-inch discs, whereas I have to order my 6-inchers online.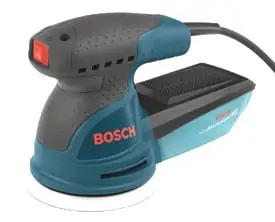 The new Bosch 5-inch random orbital sanders feature a newly optimized combination of pad orbit and rotation to deliver an ultra-smooth finish.
Bosch offers two new 5-inch random orbits, the 2.2-amp ROS20VS and the ROS10. The newly optimized combination of pad orbit and rotation delivers a well-blended, ultra-smooth finish. Bosch's integral pad dampening system is designed to reduce the most common complaint of random orbit sander users—swirl marks on the workpiece. The pliable microcellular backing pad ensures a smooth finish on either flat or contoured surfaces. I also like the Bosch sanders' carrying case, which includes a disc holder with plastic nodes that protrude through the disc's dust-extraction holes. It's a simple feature, but it makes it easy to line up the sanding disc with the holes on the sander.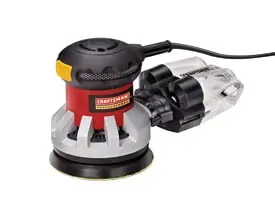 Craftsman's new 2.7-amp Professional 5-inch random orbit sander includes an innovative vibraion-reduction system.
Craftsman's new 2.7-amp Professional Vibrafree 5-inch random orbit sander comes with a vibration-reduction system. I wouldn't go so far as to call it "vibration free," but we tested this unit side by side with a couple of competitor models, and its reduction in shake and shimmy was undeniable. Vibration isn't usually the first thing on the user's mind when firing up a sander, but it becomes increasingly aggravating and adds to fatigue, the more the tool is used.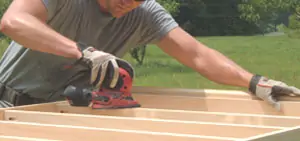 Finish sanders are available in several varieties, some featuring a pointed nose for sanding tight corners.
Finish Sanding
Finishing sanders usually operate with a straight-line or vibrating action. They may be large half-sheet sanders, or the smaller quarter-sheet sanders. Typical finish sanders have the ability to accept virtually any type of sandpaper, just cut to size if necessary and clamp on the abrasive sheet. Some smaller "palm" finish sanders feature dust-extraction holes and require hook-and-loop sanding pads. Many sanders are square, while others feature a pointed nose for accessing tight corners and hard-to-reach areas.
For intricate woodworking you should also check store shelves for an interesting selection of specialty sanders. For example, Sears/Craftsman's variable-speed 3D Sander operates similarly to an electric shaver; three separate 1-1/2-inch sanding discs move and pivot independently to conform to both convex and concave surfaces.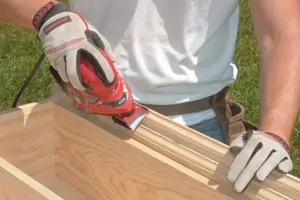 Skil's Octo finish sander features eight different attachments for snading various shapes and profiles.
Another is Skil's new Octo sander, because you can fit this little gadget with eight different sanding profiles, allowing you to access tight corners, flat faces and numerous shapes and profiles. This comes in handy when trying to smooth out various corners and rounded profiles.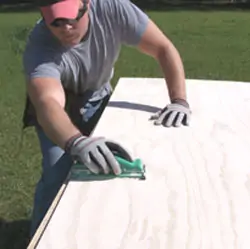 Hand sanding is the last step to smooth the wood before applying a wood finish. 
Although Finishing sanders do a good job of removing the tiny swirl marks left by random orbital sanders, I always prefer to finish off with a good hand-sanding with a very fine abrasive (180- to 220-grit). Use the sandpaper on a rubber or other soft-backed sander, sanding in the direction of the grain. Hand sanding simply affords you better control of the finishing touches. Once sanded, clean away any dust with a tack cloth or vacuum before applying a finish.
Stationary Sanders
Serious woodworkers should consider stationary or "bench" sanders. This tool group of sanders consists of disc, belt and drum sanders, with disc and belt sanders often combined into one tool. Stationary models are ideal for furniture and cabinetry construction.
They can be used to shape and smooth convex or concave surfaces like butcher-block countertop edges, cabriole legs, scroll work and other contoured items.

Rikon's Model 50-120 is a stationary 6-by-48-inch belt sander with a 10-inch disc sander, and the belt tilts 90 degrees.
For example, the new Model 50-120 from Rikon is a 6-by-48-inch belt sander with a 10-inch disc sander. It includes a tilting cast iron work table, a miter gauge, quick-release belt tension, as well as a belt that tilts 90 degrees for all sorts of sanding angles.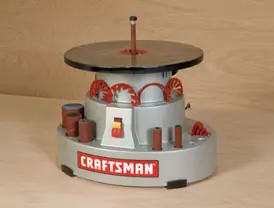 Craftsman's new Oscillating Spindle Sander makes the job of snading curves and contours easier and less time consuming. 
Another new bench model from Craftsman is the Oscillating Spindle Sander that makes the job of sanding curves and contours easier and less time consuming. It's a great little tool for sanding contours, arcs, curves and other irregular shapes faster than traditional hand sanding. The 18-inch diameter cast iron work table supports heavy, large work pieces. With 1/4-horsepower direct drive induction motor, the spindle rotates at 1,725 RPM with a stroke length of 1-in. (30 strokes per minute) to prevent chatter and burn marks on the wood.  
Dust Collection
Some sort of dust-collection device, be it a cartridge or cloth bag, is usually a standard feature on today's sanders. Comparing one to another, you may consider one brand's system to perform somewhat better than another brand—but I'm on the fence. From my experience, none of the on-tool dust collectors do a really great job. You should always expect some fallout as well as the ensuing cleanup job. However, if you spend a lot of time sanding or handling working indoors, you're best bet is to invest in a dedicated vacuum dust-collection system that attaches to your sander's dust port via a vacuum hose. This of course means your sander should come equipped with a dust port. The vacuum-based dust-collection systems are the closest thing you'll find to a dust-free sanding operation.
And there are tons of dust-collection devices, from small portable models to larger, stationary models. But that's a story for another Tool School.
Quick Wood Repair Tip

Because some woods such as pine are so easy to scratch, it's best to avoid belt sanders or any sander set to high speed, because they can get away from you and damage the wood. In the event that you dent or scratch the wood, you can dampen and heat the area to raise the wood grain to make a repair. To do this, use a very small brush to apply a small amount of water to the scratch or dent. Then use a hot laundry iron covered with a soft cloth to heat the area, raising the wood grain. Then sand as usual.