Ever heard of "alternating tread stairs"? Until yesterday, I had not. They aren't exactly common in the United States, probably due to the fact that they don't meet the strict code requirements that most municipalities impose on stair construction. Whether or not the design of these stairs meets code in your area is determined by the local officials. (In some rural areas of my home state of Alabama, the only code official is the septic tank inspector.) Nevertheless, I thought this was a cool take on stair design, which significantly economizes space, and thought it would interest readers of EHT.
According to Wikipedia, alternating treads "are designed such that they alternate between treads for each foot: one step is wide on the left side; the next step is wide on the right side. There is insufficient space on the narrow portion of the step for the other foot to stand, hence the person must always use the correct foot on the correct step."
The slope of the alternating treads can be as high as 65 degrees, whereas standard stairs are almost always less than 45 degrees and occupy much more space. And, unlike a ladder, which is the only other alternative that will fit in such a narrow space, the alternating stairs allow people to walk up and down facing forward, as opposed to backward.
It turns out that our friends at Arke Stairs even sell a kit for constructing a set. Here's a photo of the Arke Karina staircase kit after assembly: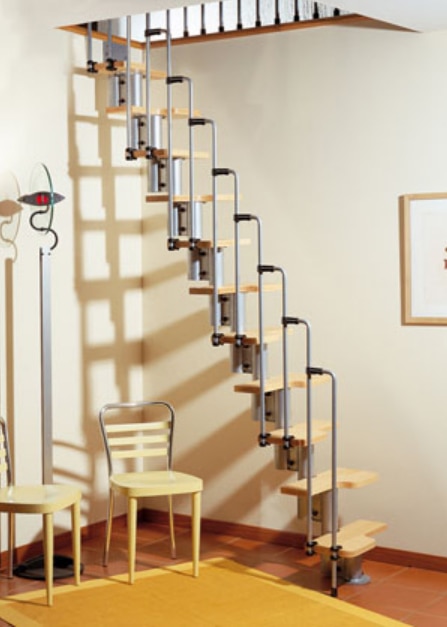 The graphic below, courtesy of Arke Stairs, illustrates how the overlapping, alternating treads grant full stair access from one level to another in a much smaller horizontal footprint than a standard staircase: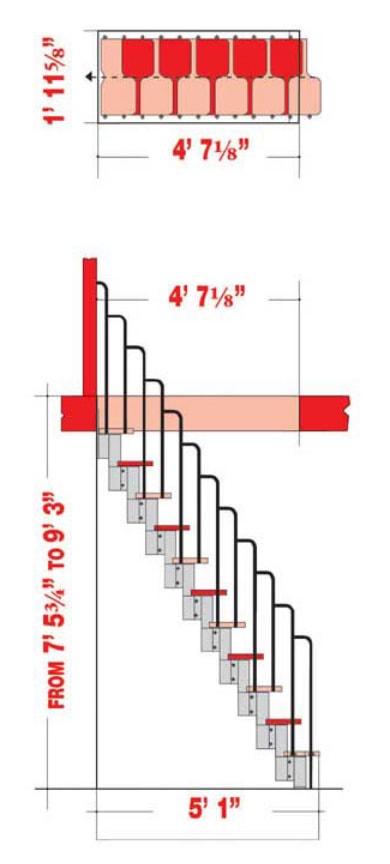 Alternating stairs can also be custom-built by an experienced carpenter. Check out this blog post at Bottleworld.net about a homeowner who utilized a set of carpenter-built alternating stairs to save space in his "tiny house project".
— M. Weber