Working in my father's custom cabinet and furniture shop as a youngster, I stood and sanded for hours. I hated sanding then and I hate it now. Sanding is, however, a necessary evil for woodworkers, homeowners, do-it-yourselfers and auto finishers. The basic styles of sanders haven't changed much from 40 years ago. The quality, durability and safety features, however, have greatly improved. Sanders are available in both bench and portable models. Basic portable sanders include: belt, random orbital, 1/4-sheet (palm) finishing, and 1/2-sheet finishing. Specialty sanders are also available these days, including oscillating spindle sanders and profile or detail sanders. Air sanders are available for auto finishing, fiberglass and other sanding chores. Bench sanders include disc and belt, surface, drum and drum spindle. Drums are also available for use in portable electric drills and drill presses.
Belt Sanders
Portable belt sanders are made for fast removal of stock. They will quickly smooth down and level a surface, remove paint or glue lines. Belt sanders are available in several sizes, determined by the belt size. Sanders for most home and shop use run from 3-by-18- to 4-by-24-inch models. As with any power tool, more power translates into more work, more amps and faster cutting. Amps can range from 5 to 11 in home shop models. The speed of the belt also determines the amount of cutting power and this can range from 700 to more than 1,400 feet per minute. Variable speed is also a feature, although it can add to the cost. Some models feature a dial for speed control, others offer a finger control.
The DeWalt heavy-duty 3-by-21-inch variable-speed sander allows you to use a dial to optimize belt speed for specific applications. It features a three-wheel design with extremely low center of gravity and features the longest, 3-by-21-inch platen available. Most belt sanders come with a dust-collection bag or a dust-collection system that directs dust away from the user.
The new Dragster from Black & Decker has a radical new low-profile, front-end design that allows you to sand closer to vertical surfaces, such as baseboards, under cabinets or deck rails. The slim front-design also allows you to sand between spindles or narrow spaces. A retractable locking hood on the front lifts to expose the top of the belt for sanding in confined areas.
Bosch offers a unique compact belt sander kit with a 1 1/2-inch wide sanding belt and a double-sided platen that sands flush on either face.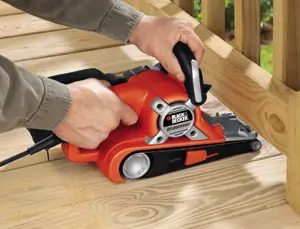 Black & Decker Dragster
The Milwaukee 4-by-24-inch sander features a 10-amp motor and has a capacity of 1,400 square feet per minute for fast material removal. The rubber-coated rear pulley provides full traction under heavy pressure. This big sander also has full belt traction under heavy pressure.
Random Orbit Sanders
Once the surface has been leveled with a belt sander, the next sander to use might be a random orbit model. Random orbit sanders utilize an oscillating action that removes swirl marks. With the same grit sandpaper in each, straight-line sanders are not quite as aggressive. You may wish to start with a random-orbit to remove any belt-sander marks and then move to the straight-line sanders for further smoothing. Random-orbit may be a palm or grip design and the sanding pads may be held by adhesive or hook and loop.
The new 5-inch Jug Handle random orbit sander from Black & Decker is ergonomically designed with five gripping areas for optimal versatility, comfort and control. Many conventional random orbit sanders repeat the same orbital sanding motion. The Jug Handle sander incorporates two simultaneous motions. As the sanding pad spins in circles, another mechanism causes the pad to also move in an elliptical orbit. These two motions overlap to produce an ultra-smooth, scratch-free surface.
Festool's Rotex RO150 is a solidly built 6-inch multipurpose sander. It gives you the choice of two sanding motions — random orbital for fine sanding, and gear-driven rotary orbital motion for rough material removal. Just turn a knob to switch between modes, which adjust the lateral action of the pad. The dual-mode sanding and interchangeable pads and abrasive sheets means the RO150 can handle all phases of a sanding job, from rough material removal to sanding a high-gloss finish. It's a tool for the serious woodworker, and it hooks up to Festool's mini dust-extraction vacuums for near dustless sanding. Plus, the dust extractor doubles as a powerful shop vac for tidying the work area.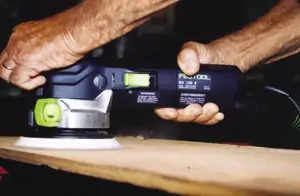 Festool RO150
Another double-duty tool, Metabo's SX E 450 Duo features a sturdy die-cast aluminum bearing housing and dust-sealed ball bearings for long tool life. This 6-inch, 7-volt, variable-speed sander features two orbital settings: 1/8-inch orbit for fine sanding; 1/4-inch orbit for coarse sanding. This professional-grade model features a comfortable front handle and a handy dust-collection bag.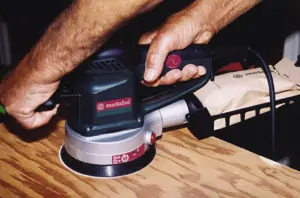 Metabo SX E 450 Duo
Ridgid's 5-inch RS2600 random orbit sander features electronic speed control that maintains a constant speed, at whatever setting you choose. Highlights include a compact, ergonomic design, a handy, molded plastic storage case and a 12-foot cord. It comes with a hook-and-loop sanding pad, as well as an exchangeable pad for use with adhesive-backed media.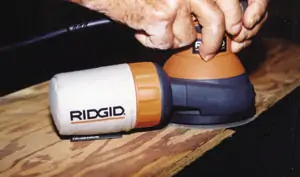 Ridgid R2600
The Ryobi Corner Cat random orbit, compact finishing sander is ideal for flush sanding. It runs at 12,000 orbits per minute and has a hook-and-loop sandpaper system.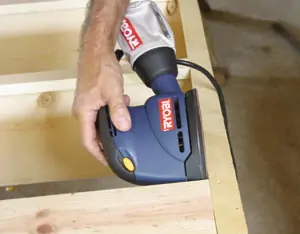 Ryobi Corner Cat
The DeWalt heavy-duty 5-inch random orbit has a controlled finishing system that maintains pad speed and minimizes gouging during start up. Like the Festool model, it has a shop-vacuum adapter for maximum dust collection.
Finishing Sanders
Finishing sanders normally utilize a straight-line or vibrating action. They may be large, half-sheet sanders, or small "palm" sanders. The finishing sander has the ability to accept virtually any type of sandpaper, as well as the ability to get into corners.
Hitachi's new SV12SG 1/4-sheet finishing sander features a palm-grip design that gives the user complete control. Its soft elastomer-covered body provides a comfortable grip while reducing vibration. A powerful 200-watt, 1.7-amp motor provides an impressive 14,000 orbits per minute. The tool boasts a compact lightweight design and a highly efficient dust collector.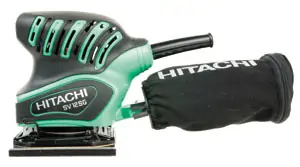 Hitachi SV12SG
The new Bosch 1297D comes with a lot of new innovations in this style sander. It features SheetLoc, a fast and easy paper-attachment system that pulls regular sandpaper flat and tight for efficient, uniform sanding and longer paper life. The SheetLoc system eliminates the need to fold or bend the paper. It provides the benefits of "stick-on" adhesive paper but with less cost. The dust-collection system is the award-winning Microfilter dust canister. With through-pad dust collection, the canister provides up to 75-percent collection efficiency.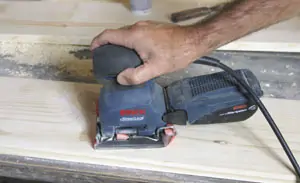 Bosch 1297D
If you have a lot of final sanding to do, the Milwaukee 1/2-sheet sander has 12,000 orbits per minute for fast material removal and is built for continuous production sanding.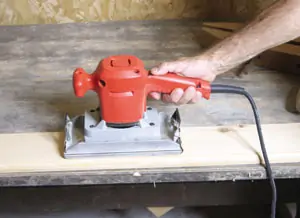 Milwaukee 1/2-sheet sander
Specialty Sanders
A number of specialty sanders have evolved in the past few years. One style is the profile or detail sander. These come with a number of rubber profiles that are fitted with sandpaper and then into the sander. This allows sanding down in grooves, sanding angles and other areas.
The Porter-Cable variable speed kit comes with 9 sanding profiles with single and offset profile mounting attachments, holed hook-and-loop pad and abrasive paper to get you started.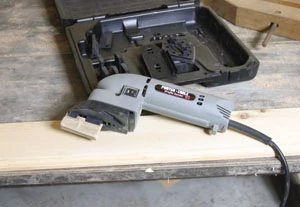 Porter-Cable variable speed model
The Dremel Contour Sander kit is variable speed and allows you to reach into 90-degree corners and between thin slats. It also comes with a wide variety of contour shapes.
One of the more unusual portable sanders is the portable oscillating spindle sander. This style utilizes an oscillating spindle or drum and is great for sanding larger objects, such as countertops, sink openings, architectural woodwork and for scribing custom cabinets in place. The Porter-Cable model has variable speed control, allowing rotation from 2,400 to 3,600 rpm, and comes with an edge guide that allows accurate, pre-set removal of material for edge-smoothing operations. It also mounts in a Porter-Cable router table to create a fixed "drum" style sander.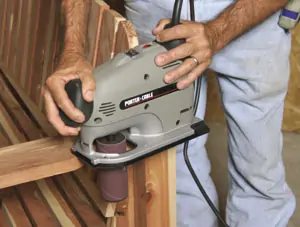 Porter-Cable Drum Sander
The Craftsman 3-D sander is unique in that it consists of three separate sanding discs that can conform to either convex or concave surfaces. The variable speed discs operate independently from 800 to 2,600 rpm.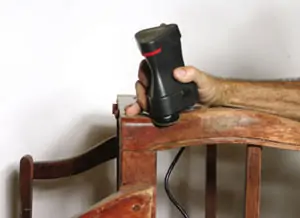 Craftsman 3-D sander
Bench Sanders
Bench sanders consist of disc, belt and drum sanders. Quite often disc and belt sanders are combined into one tool. These are ideal tools for furniture and cabinetry construction. They can be used to shape and smooth convex or concave surfaces, such as cabriole legs, scroll work and other non-straight items.
Craftsman has redesigned its belt and disc sanders with a European look with sleek, but functional styling. Two models include a 4-by-36-inch belt/8-inch disc and 6-by-48-inch belt/9-inch disc sander. Both models have sturdy cast-iron bases to lessen vibration, a center-mounted on/off paddle switch accessible from either side of the machine, vertical and horizontal belt sanding adjustments, and for the first time an integrated dust-collection system. To keep airborne dust to a minimum, the collection system automatically feeds sawdust directly into a 30-micron bag that includes a zipper for fast and easy disposal. The sanders also feature a universal, cast-iron table that tilts 45 degrees and can be repositioned to support belt or disc-sanding operations.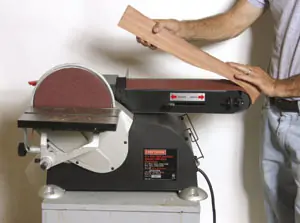 The new Craftsman 4 x 48-inch belt/9-inch disc sander
Narrow belt sanders, featuring 1-inch-wide belts, are also available. These are great for sanding in band-sawn or scroll-sawn projects. Many come in combination with a disc sander. Porter-Cable has a 1-inch belt/8-inch disc sander that will handle a variety of materials from plastics to metal to wood. Disc sanders without belts are also available and Porter-Cable offers an excellent 12-inch model. Oscillating spindle sanders are another style of bench-top sander. They are compact and make fast work of sanding curved edges. Drums are available for use in drill presses and these can also be used for fast sanding and shaping holes and other curved surfaces.
If you have a lot of surfacing to do, such as sanding stock for bookcases, shelves, table tops, furniture projects, baseboard and interior trim, the new Craftsman 18-inch drum sander is a good choice. It sands work pieces up to 36 inches wide and 5 inches thick and has a maximum removal rate of 1/64-inch per pass. It also incorporates an integrated dust-collection system to safely exhaust dust into a 30-micron half bag. The "half bag" dust-collection system feeds sawdust directly into a heavy-duty plastic waste bag or a 30-gallon garbage bag for quick cleanups.
Today's sanders can make even the most boring, unliked woodworking chore easier and safer.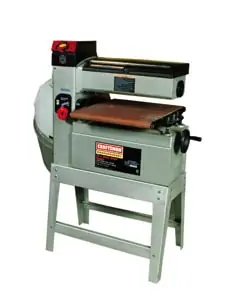 Craftsman 18-inch drum sander