Power, Versatility and Low Maintenance
Although they require connection to a hose and air compressor, pneumatic tools offer some significant advantages over electric tools. One of the biggest benefits is that air tools don't have their own motor. This makes the tools lighter, more compact and easier to handle—with less moving parts to malfunction. For this reason, air tools are known for their long-lasting value. With electric tools, you have lots of small motors that can wear out. With air tools, you have a single powerful motor to run them all, so air tools can perform for years without failure.
Versatility is another advantage. Whether you're building a shed, applying knockdown texture to a wall or fixing your car, you can easily interchange a variety tools with a single compressor, including a ratchet wrench, paint sprayer, finish nailer, impact wrench and many more. The right air compressor can run tools that tackle everything from woodworking and metalworking to painting and mechanical work, whether you need to power a framing nailer or a sand blaster.
Assessing Compressor Power
The most popular air compressors among DIY'ers and pros on the move are portable units that can run a wide range of tools. These mid-size units can be toted to the jobsite while still providing ample power. A portable air compressor is a great homeowner tool that can inflate tires, operate an airbrush kit and power short-burst tools like nailers and staplers.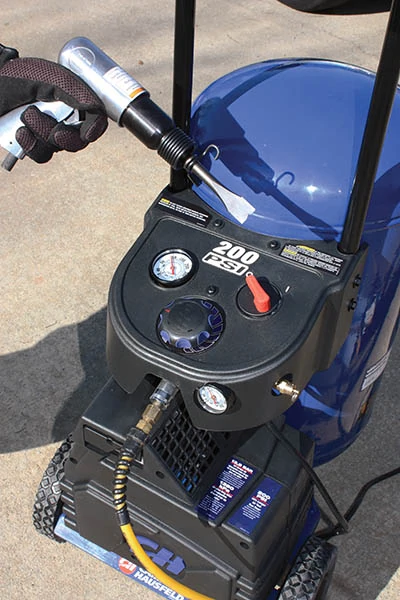 Inflation of tires and other objects is the most basic task of an air compressor, and even the smallest units will accomplish the job (eventually). The real question becomes: What else will it do?
When choosing an air compressor, many people assume the higher the horsepower rating, the more powerful the compressor. Horsepower, however, can be misleading. Like two race cars with the same horsepower rating, one of the cars can still go faster. There are many other factors influencing how well the machine will perform other than horsepower.
Furthermore, manufacturers provide different variations of horsepower. Some compressor manufacturers rate their products by peak horsepower. Peak horsepower is the maximum output a motor can produce while the motor has the start windings engaged, which can be as much as 7 times the running horsepower. Under normal operating conditions, the start windings are only engaged for a fraction of a second, so using peak horsepower as a comparison rating can be misleading since the motor only achieves this horsepower during startup.
Another misleading rating is a compressor's air pressure or PSI (pounds per square inch) rating. Most air tools require 90 PSI to operate, and most air compressors produce at least 90 PSI, meaning that virtually any compressor intended for pneumatic tools will achieve the necessary air-pressure output. Although higher PSI can impact run time, it doesn't improve tool performance.
The most important rating for an air compressor is the SCFM (Standard cubic feet per minute) output. This input rating also indicates the air flow that the tool requires to operate properly. To determine the size of compressor you need, first consider the tools you will use. The tool with the highest SCFM rating will be your guideline for choosing a compressor. For best results, purchase a compressor with an output of 1.5 times that rating. For example, if you want to use an impact wrench that requires 5.0 SCFM, you would want to purchase a compressor that puts out 7.5 SCFM. If you anticipate using multiple tools simultaneously, add the SCFM requirements for all tools that will be used at one time, and multiply the sum by 1.5 when choosing a compressor.
Tank Size
The next factor to consider when selecting a compressor is tank size. Sizes are usually listed in gallons. The size of a tank is important because it determines how long tools can run before the compressor pump cycles back on. If you will be using air tools that require a high volume of air for continuous use, such as operating a pneumatic sander, then you need a larger tank. If you only intend to use the tool for intermittent use, your compressor can have a smaller tank size. For intermittent use, you can save money by choosing a unit with a smaller pump/motor (the most expensive part of the unit) and a larger tank. A large enough tank with a pump that exceeds the SCFM requirement of your tools will allow the compressor time to cool between cycles.
Keep in mind that tools requiring only quick bursts of air, like brad and finish nailers, deplete the tank much more slowly. For these tasks, tank sizes between 2-6 gallons are sufficient.
Tank design is also something to consider, because what you own, you must store. Some units feature twin tanks, giving the compressor a box-like shape. Some tanks are round and flat, called a "pancake" design. Some tanks are designed horizontally, while others stand vertically to occupy less floor space.
More to Consider
Another consideration when choosing a compressor: Maintenance. Oil-free compressors have sealed bearings and require less maintenance than oil-lubricated compressors. Oil-free compressors usually have enough power for homeowner applications. Most heavy-duty, professional-grade compressors are oil-lubricated, but these compressors require regular oil changes.
When selecting a portable compressor, consider factors such as the unit's weight and whether or not it has wheels and an ergonomic handle. When it comes to the compressor's weight, material matters. For example, some portable compressors feature an aluminum tank that makes the machine lighter and easier to move around than with a steel tank.
And don't forget to look for easy-to-read gauges and easy-access controls. The number of hose outlets is important if you want simultaneous tool usage. Additional features include air-cooling systems, thermal overload switches that automatically shut off the motor if it overheats, and roll cages, which protect the compressor from being battered on the job site.
New Air Tools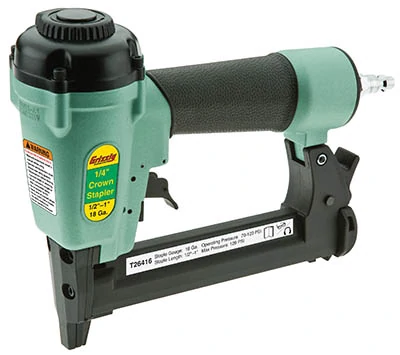 Grizzly T26416 Crown Stapler
This 18-Gauge Crown Stapler is perfect for vinyl floor underlayment, carpet installation and upholstery work. The T26416 features an adjustable depth-control knob and a 360-deg. exhaust port to minimize work-site dust dispersion. This reliable all-around stapler features a rubberized handgrip for comfortable use and a safety trigger. It shoots 1/2- to 1-in., 18-gauge, 1/4-in. crown staples with a quick-loading magazine. The kit includes an oil bottle and hex wrenches. Visit www.grizzly.com.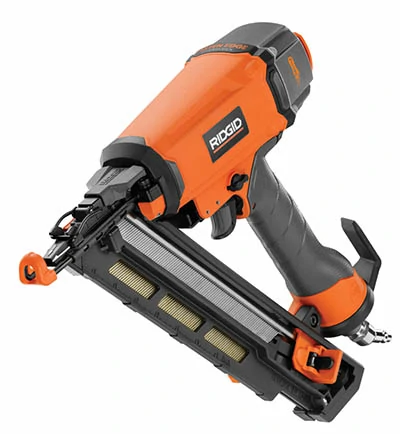 Ridgid R250AFE 2-1/2″ Angled Finish Nailer
The Ridgid 15-Gauge 2-1/2-in. Angled Finish Nailer now boasts Hex Grip over molding, oil-less internal components, ACCU-Drive tip design and No-Mar Pads. The new nailer drives 2-1/2-in. finish nails into solid oak. The rear-loading magazine has a bypass pusher for quick two-step reloading, and the angled design allows access in tight spots. The package includes the R250AFE Finish Nailer, heavy-duty contractor bag, 1000 nails, eye protection, 2 wrenches, 2 no-mar pads (on tool), hex wrenches and an operator's manual. Visit www.ridgid.com.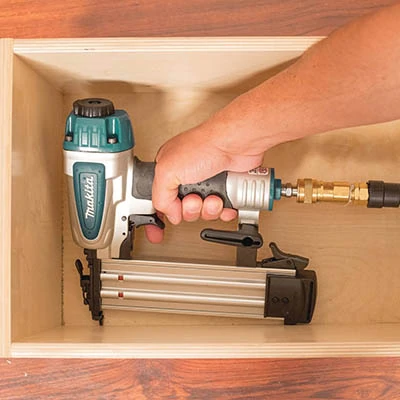 Makita AF505N 2" Brad Nailer
The Makita AF505N features a durable and compact design with ease-of-use features, including a narrow nose that makes it ideal for a wide variety of finish applications. The AF505N can operate from 60 to 115 PSI, and drives a range of 18-gauge brad nails from 5/8 to 2 inches long. The magazine capacity holds up to 100 nails, with a quick-release cam-lock to open the nail guide to easily clear jammed nails. The cast-and-machined nose piece is engineered for precise contact with the workpiece, with a non-marring rubber nose engineered to protect the work surface. A convenient "tool-less" depth adjustment dial can be set for a wide variety of finish applications, and the multi-directional exhaust port rotates 360 degrees to direct air away from the user. Visit www.makitatools.com.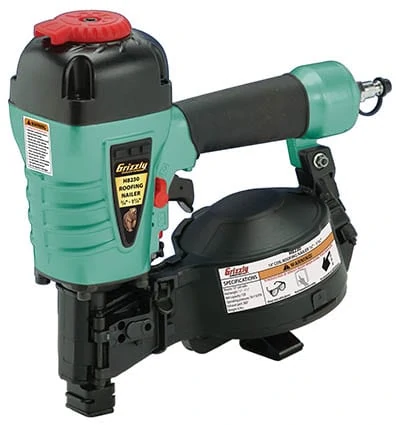 Grizzly H8230 Coil Roofing Nailer
The H8230 Coil Roofing Nailer from Grizzly shoots 15-deg. coil nails 3/4 to 1-3/4 inch long.
It features 120 nail capacity and 360-deg. exhaust port. The H8230 weigh 6 lbs., has 70-110 PSI operating pressure and comes in a kit that includes the Coil Roofing Nailer, 1/4-in. NPT quick connect fitting, Allen wrenches, goggles, lubricating oil and carrying case. Visit www.grizzly.com.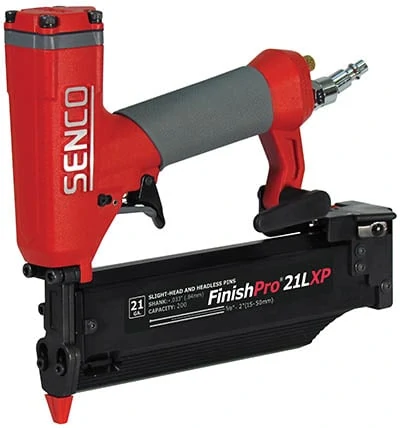 Senco FinishPro 21LXP Nailer
Senco has introduced a perfect solution for users looking for something in between the common 18-gauge and 23-gauge fasteners available today. The FinishPro 21LXP is a slight/medium head 21-gauge pinner that delivers the holding power of a brad nail while leaving a much smaller indent that requires little to no filling. Often, 18-gauge brad nails require filling and sanding on trim. With the ability to use headless or slight/medium head fasteners, the 21LXP offers holding power without sacrificing finish quality. Weighing only 2.7 lbs., and measuring less than 9-in. high and 8-in. long, this ultra-lightweight and compact tool can easily fit into tight spaces. With its ultra-narrow nose and non-marring pad, the 21LXP also delivers clean and exacting fastener placement. Visit www.senco.com.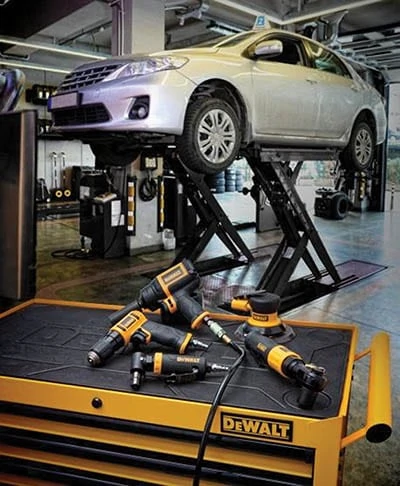 Dewalt Industrial Air Tools
Dewalt announces a new line of air tools for professionals in automotive markets. The new air tools are engineered to meet high-end professional performance standards demanded by hardworking industrial tradesmen. The new Dewalt line includes a 1/2-in. Heavy Duty Impact Wrench, 3/8-in. Air Ratchet, 3/8-in. Reversible Drill, Angle Die Grinder and Palm Sander. The tools are designed with unique features for easy operation and control, to deliver premium performance. Visit www.dewalt.com.