By Matt Weber
Drills and drivers make up the baseline of must-have DIY tools. If you don't have one, you're probably not getting much work done.
Browse the aisles of your local hardware store and you'll see the evolution of drills and powered drivers, and for years the design trend has been a focus on achieving more work with a smaller, lighter tool. As far as cordless tools, you'll find that the old standard 14.4-volt tools are going the way of eight-track tapes, in favor of a spread between 12- and 18-volt tools. Although 18-volt tools still serve the role of knocking out tough drilling applications in heavy lumber, metal and even concrete, the smaller 12-volt variety are easier to control, easier to maneuver and more easily access the cramped nooks and crannies that exist around every home and jobsite.
The 12-volt category is experiencing unprecedented growth, thanks to manufacturers optimizing the use of lithium-ion battery technology. Lithium-ion batteries weigh less and outperform their NiCad counterparts. These batteries last longer and feature a greater number of recharges. They are rechargeable in as little as 30 minutes, plus, lithium-ion batteries deliver full power right up to the point that they run out of juice, eliminating the bogged down performance associated with a depleting NiCad battery.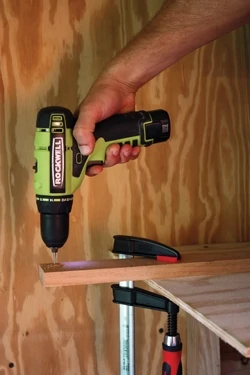 To further complicate your buying decision, some drill/drivers are now available as 16- and 20-volt tools. Rockwell's new 16V MaxLithium tools are compact, lightweight and feature short head stocks. "The new 16V line is more powerful than our 12V models and don't have the bulk associated with some 18- and 20-volt tools," says Jeanne White, Rockwell senior product manager. "They are fully-loaded and highly maneuverable to get in and out of tight quarters quickly and efficiently."
Batteries
Major tool manufacturers, from Bosch and Milwaukee to Ridgid and Dewalt, each have a full line of lithium-ion powered tools in both 12- and 18-volt series. However, even within the field of the newer lithium-ion batteries, battery advancements roll out almost every year as engineers learn how to squeeze more power and efficiency out of the technology.
For example, Milwaukee Electric Tool entered the ring of lithium-ion tools several years ago and has made great strides in battery technology ever since. The company's new Red Lithium technology offers considerable more performance compared to standard lithium-ion batteries. According to Milwaukee, the new batteries offer up to 40 percent more run time, 20 percent more power and 50 percent more recharges. When you consider the high cost of replacement batteries, this is not just a performance advantage, but an economical one, too. The Milwaukee Red Lithium batteries feature the RedLink digital power management system for temperature and overload-current control plus cell-voltage monitoring that prevents burn-up.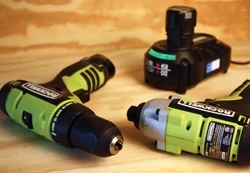 Milwaukee's new batteries, along with battery systems from Hitachi, Bosch and other heavy hitters, also feature a battery fuel gauge. This handy amenity provides a lighted display that indicates how much power is left in the battery before requiring a charge. This helps you to plan your work accordingly and reduces surprise outages during operation.
Brushless Motor Technology
A power tool's electronic brushes often require replacement after the tool sees a lot of wear. However, major tool manufacturers are moving toward brushless motors that not only eliminate the maintenance headache of brushes but also offer remarkable performance advantages over the older motors.
Instead of wearable brushes, tool manufacturers engineer more steel and copper into the brushless motors for longer life as a result of reduced friction, less heat buildup and higher efficiency. Brushless motors can deliver significantly more power and run time.
The EHT staff has been testing Hitachi's powerful WH18DBDL 18-volt impact driver with brushless motor (lead photo). This slick, compact tool has a comfortable grip and delivers 55 percent more run time per charge than the company's conventional brushed DC motor. You can also adjust the tool to drive small screws by 3 devices: a variable speed switch, selective 4-stage to limit no-load speed, and selective striking mode (single or continuous).
Look for brushless motor technology in new professional-grade drills, drill/drivers, impact drivers and hammer-drills.
Tool Types
Drill/Drivers. EHT readers are surely familiar with the basic drill/driver combo. These toolbox staples serve double-duty as they bore holes as a drill and drive fasteners like a screwdriver. The tool's size and power indicates the degree of trade-off you can expect between the two applications. The smaller tools typically don't offer as much muscle for tough drilling tasks, but the larger tools are tougher to control for light-duty fastening.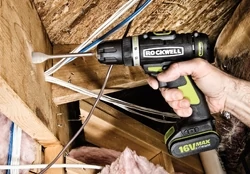 Dedicated Drivers. Whereas a dedicated electric driver is not a tool for boring holes, these tools offer greater control when sinking fasteners. A dedicated driver accomplishes delicate fastening tasks with more focus and less cam-out or slippage. These are the preferred tools for assembly work.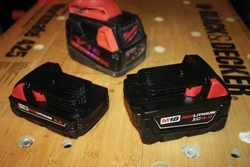 The EHT staff has recently been working with the new Skil 360 Quick-Select, a dedicated driver with an innovative new twist. It features an integrated 12-bit cylinder featuring the most commonly used tips for a wide range of fastening tasks. This eliminates the need to carry a case of bits (which are always difficult for our crew to keep up with), and makes change-up quick and easy. Just spin the chamber like a revolver and click out your bit, stiletto style. This super-compact lithium-ion tool has a built-in battery that holds a charge up to 18 months.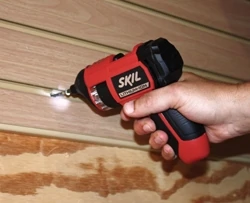 Impact Drivers
Many pros and DIY'ers have already joined the fun of owning an impact driver. If you haven't used one yet, you're missing out. Unlike conventional powered screwdrivers, an impact driver uses an internal anvil to deliver much higher rotational torque than conventional drill/drivers.  When the power needed to drive the fastener exceeds the torque of the tool's rotational force, a drive gear with two matching lugs strikes the anvil to nudge the bit along. You'll hear a loud tapping from the tool when the striking engages. The impact action drives fasteners very quickly, and little pressure is needed on the head of the tool—just enough to keep it in the screwhead slots. This grants greater control and helps prevent the bit from jerking out of the fastener. Impact drivers are excellent tools where speed and user fatigue are an issue. These tools are measured by impacts per minute (IPM), and an 18-volt unit can deliver as much as 1,500 lbs. of torque.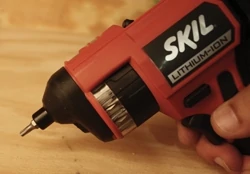 Although impact drivers have become hugely popular, the striking action of the tools can be tough on bits. Most hex-shank screwdriving bits are compatible with impact drivers, but Irwin now offers the Impact Performance Series fastener drive bits that are specifically engineered for maximum durability with impact drivers. The bits are forged rather than milled, so they fit fasteners more precisely, which reduces stripping and increases the life of the bit itself. According to Irwin, the new bits have three times longer life than traditional insert bits. Manufactured with heavy-duty, cold-forged, high-grade steel, they withstand high torque output while the black oxide finish resists corrosion.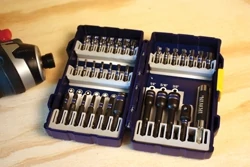 Hammer Drill Options
Heavy-duty construction workers use rotary hammers for major concrete and masonry work, but a hammer-drill option on a combo drill/driver is a handy tool to have when you need to hit the hard stuff. The hammer-drill function available on some drill/drivers utilizes a cam-action hammering mechanism, in which two sets of toothed gears interact with each other to hammer while rotating the drill bit. The hammering action helps break up the masonry or stone so it can be removed by the drill bit's flutes. A hammer-drill is the go-to tool when you need to drill pilot holes for concrete screws and bore access for pipe or wires.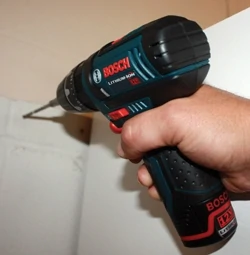 The most compact, powerful hammer-drill/driver in its class is the new Bosch PS130 12V Max. At 7.3 inches long, 7.1 inches tall and weighing only 2.3 lbs., the PS130 offers exceptional balance and control for working in confined spaces. The PS130 features a two-speed gearbox that lets you quickly choose between high-torque (0 – 350 RPM) or high-speed (0 – 1,300 RPM) operation for screwdriving and drilling applications. Plus, it provides 265 inch-pounds of max torque and generates up to 19,500 beats per minute (BPM) for drilling in masonry. It's not a tool intended for daily heavy-duty concrete work, but for electricians, HVAC professionals and window installers who occasionally need to drill into stone or masonry, the PS130 is a great stand-by.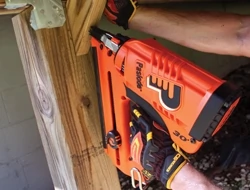 Nail Drivers
The trusty hammer will always be with us, but talk to any professional framer and you'll hear about the wonders of a nail gun. Even better: a cordless nail gun. Paslode's cordless battery-powered/gas-fired framing guns are highly sought after by contractors and discriminating DIY'ers alike. Simply put, these tools can sink a nail in an instant, exactly where you want it to go, and do so without the hindrance of a hose and air compressor. A cordless framing nailer will bring speed and efficiency to any rough framing project, and can allow work at off-site locations where power supplies are  not available.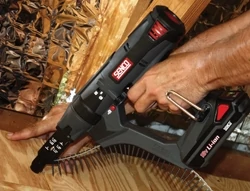 Similarly, cordless finish nailers bring the same performance and convenience to trim carpentry, woodworking and cabinet construction. Paslode's cordless 16-gauge angled finish nailer has a new lithium-ion battery that provides 50 percent more run time than a NiCad battery (driving up to 6,000 nails per charge). It comes with a 1-hour Rapid Charger, plus a quick two-minute charge can provide the juice for 200 shots—usually enough to complete those "almost finished" jobs at the end of the day.
For more information on the latest drills, drivers, nailers and more, check out the Extreme How-To website www.extremehowto.com.