Explore the Versatility of the RotoZip Spiral Saw
From drywall and carpentry work to flooring and HVAC, very few tools offer the versatility of a RotoZip. Originally designed to make drywall cut-outs an easy chore, the RotoZip spiral saw has not only made that task easy to master but has evolved into a multi-application tool for a vast array of construction projects. The unique cutting technology uses thin cylindrical bits, similar to drill bits, but with the ability to make lateral cuts along the shank. Equipped with the right bit, the tool can cut through virtually any building material up to 1 inch thick.
The RotoZip's compact and lightweight design allows users to work in tight spaces, make sink cut-outs in laminate, cut outlet openings in plywood, trim ceramic tile, cut holes in cement board, cut locations for floor registers, and much, much more.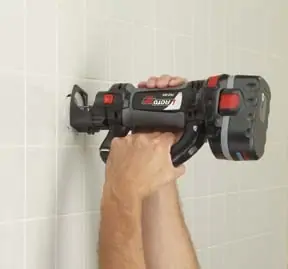 Attachments
The ZipMate Right Angle Attachment allows you to use wheels for cutting an even wider variety of materials. The Dry Diamond Cut-Off Wheel will cut through materials as hard as ceramic floor tile, stone or slate. The Metal Cut-Off Wheel will go through steel, iron and aluminum. The Masonry Cut-Off Wheel cuts brick, cement, concrete, sandstone and more.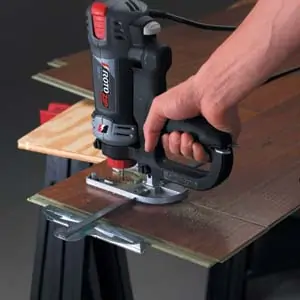 The easy-to-grip Jigsaw Handle Attachment allows you to precisely control the cutting action, transforming the RotoZip into a 360-degree jigsaw. It works great with the Straight Edge Guide for straight cuts.
The Straight Edge Guide is just what it sounds like. Adjustable and easy to attach, this attachment allows you to make straight cuts up to 8-1/2 inch deep from the edge of material. It attaches directly to the Jigsaw Handle and Plunge Router attachments.
The PR2 Plunge Router Attachment is designed for routing, edging and carving applications. It features 1/8-inch incremental depth stops, a self-locking plunge mechanism and a powder-coated metal base plate.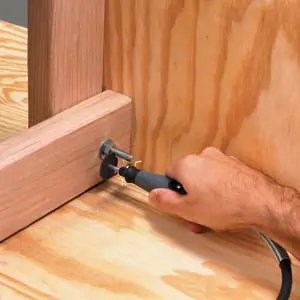 The Flex Shaft Attachment is an ergonomically designed hand piece that provides a comfortable pen-style grip for simple maneuvering of the cutting head. It has a lightweight, flexible cable that's great for getting into tight areas.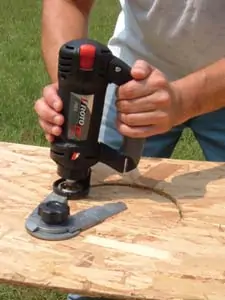 The Circle Guide 2 is the ideal accessory for installing recessed lighting in ceiling tile. Just dial in your preferred diameter, lock it in place, and the CRCT2 will cut a perfect hole from 1 to 20 inches.
For the once-grueling chore of restoring old grout, the angled Grout Removal Attachment has a removable base ideal for corner grout and grout lines 1/16 inch or wider. It can be used on walls, floors and corners. Steel guide pins allow you to center the bit to protect tile while you remove grout up to 1/2 inch deep.
Accessories
In addition to the tool attachments, a wide range of accessories enhance the versatility of the RotoZip. Among them are Zip Bits designed to cut everything from drywall and wood to cement board and ceramic tile. Also available are 4-inch sanding discs in 36-, 50- and 120-grit versions. There is also a variety of router bits to choose from, including a roundover, roundnose, straight cutter, point cutter and laminate trimmer.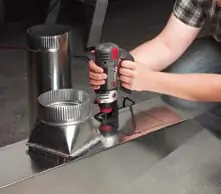 The latest addition to the RotoZip family of accessories is the new line of XBits, featuring a new drywall bit five times more durable than its predecessor. Each new 5/32-inch XBit is designed to cut twice as fast and last at least twice as long as the standard competitor bits. Aside from the drywall bit, XBits are designated as Multipurpose, Laminate Floor, Underlayment, Metal Cutting, Tilecut and Tracing. The patented Tracing XBit's tip design will not cut into the object behind the surface being cut. It uses the frame of the work piece as the template for the cut—great for removing wallboard without cutting through the studs. The Tracing XBit also allows for plunging directly into the work piece, which makes the start of cut much easier.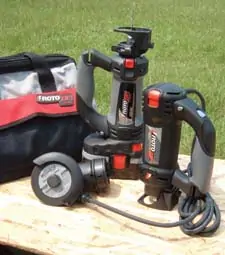 The Extreme How-To staff has been a fan of the RotoZip spiral saw for years, and they continue to unveil new attachments and accessories for the tool all the time. Add one to your tool collection, and you'll be using it every time you turn around.