Scheduled for this May in Las Vegas, Nevada, the 2017 National Hardware Show is the prime place for face-to-face networking between manufacturing companies and home-improvement retail outlets who are seeking new products. It's also a great opportunity to catch a sneak peek of the cool tools and gadgets soon to stock the shelves of your favorite hardware store. In case you can't make it to Vegas this year, we hope you enjoy this preview of hot items to be exhibited at the show.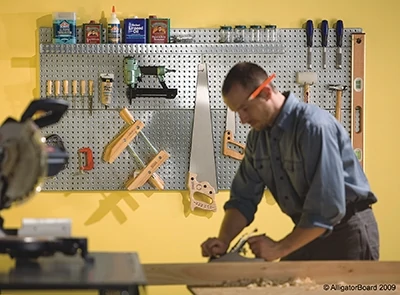 AlligatorBoard
Syr-Tech manufactures AlligatorBoard metal pegboard to the highest standards from heavy-duty, 20-gauge steel in the company's Glendale Heights, Illinois headquarters. AlligatorBoard is stronger and more durable than ordinary pegboard and comes in 16-, 32- and 48-in. long by 16-in. wide panels, and 3-in. wide strips and shelves. Backed by a 5-year limited warranty, AlligatorBoard is compatible with standard pegboard hardware and quickly and efficiently organizes garages, workshops and more. AlligatorBoard won't rust and is magnetic, featuring special, strength-reinforcing dimpled holes that will hold up to 90 lbs. when mounted on studs. With built-in 5/8-in. flanges, it's designed to install easily on any wall using the included mounting hardware. AlligatorBoard is available in several finishes: galvanized steel, eight powder-coated steel colors, 300-series stainless steel, 400-series stainless steel (attractive shine), and polished Diamond Plate aluminum tread plate. Specialty pegboard packages include the FinishLine black and white checkerboard and American Flag kits. Also, check out the new Wall on Wheels (W.O.W.) carts—mobile versions of AlligatorBoard designed to eliminate the need to carry parts and tools back and forth between storage area and workspace. Visit booth 8133 or alligatorboard.com.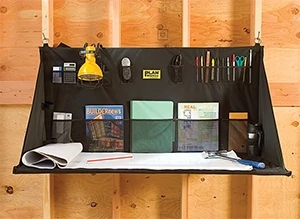 Plan Station
The Plan Station is a portable hanging desk that provides an instant and efficient place to work like a pro, whether you're building on site, in your workshop, home office, or anywhere you need portable workspace. Made of lightweight yet durable nylon, the PlanStation is easy to set up with two heavy-duty hanging rings placed 48 inches apart. Simply install two sheets of 24×48×5/8-in. plywood into two pockets, hang it on a wall, open it up, and you have an instant workspace large enough to accommodate a set of blueprints and complete with a variety of storage compartments, and even a drink holder. The Plan Station quickly folds up and out of the way for easy storage. When closed it is the size of an artist's portfolio and is easy to transport with the padded handle. Visit booth IS332 or planstation.biz.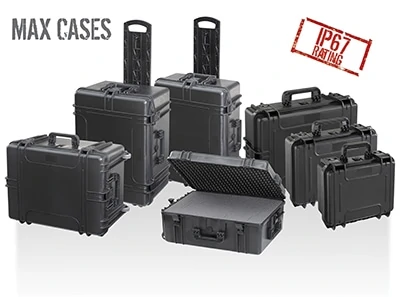 Max Cases
Max Cases from Plastica Panora are IP67 certified tough, durable and reliable. They may be used in a variety of applications including photography, scuba diving, hunting, fishing, tactical, and manufacturing. These cases offer superior protection from elements, water, dust and impacts. Choose from a wide range of sizes and configurations. See the full lineup of cases at www.plasticapanaro.com or visit booth 8058.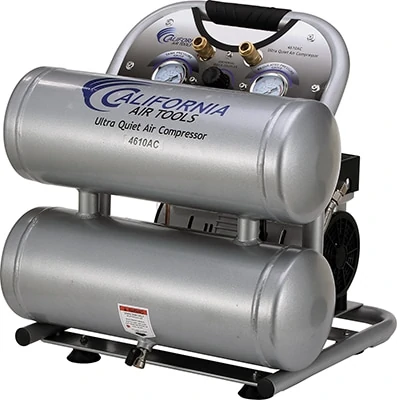 California Air Tools
The California Air Tools Ultra Quiet & Oil-Free Air Compressors are engineered with the latest technology to provide high quality, reliability and longevity. The oil-free dual piston pump system allows the air compressor to work more efficiently, creating less noise and less wear for a longer pump life. The compressors range from 1/2 to 4 horsepower with air tanks from 1 to 60 gallons. The California Air Tools is one of the only manufacturers with lightweight (rust-free) aluminum air-tank models for easy transporting. Visit booth 7639 or www.californiaairtools.com.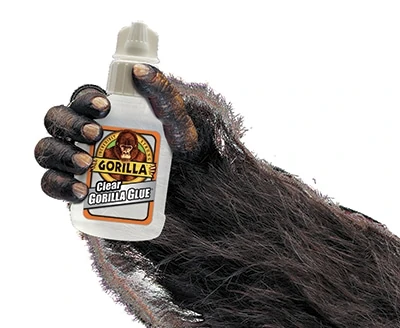 Clear Gorilla Glue
Visit the Gorilla Glue booth this year to learn about the newest additions. You'll (have to look really hard to) see the new crystal Clear Gorilla Glue that boasts equal strength, simplicity and versatility to original Gorilla Glue without the foaming expansion. You can also try the new Gorilla Silicone Sealant cartridges. You'll confidently tackle your door, window, kitchen and bath projects with one product. The all-purpose sealant family is 100-percent waterproof, mold/mildew resistant, and shrink and crack proof. Visit booth 4715 or gorillatough.com.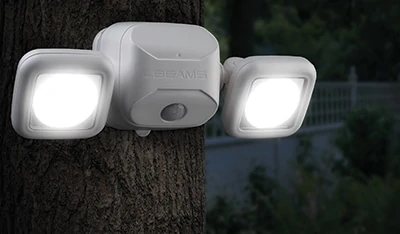 Mr Beams Wireless Lighting
Wireless lighting leader Mr Beams offers several new products with higher lumen outputs, bold designs and even easier wireless installation and operation. The High Performance Security Light, available in both a NetBright version and standard version, provides 500 lumens of battery-powered light with two adjustable heads and easy installation anywhere in less than five minutes. The NetBright model contains NetBright technology that allows the lights to communicate with each other, so when one light detects motion, all others on the network activate. At 300 lumens, the UltraBright Ceiling Light is the brightest indoor light in the lineup with a modern design and soft diffuser that provides a wider coverage area ideal for large closets, showers, hallways and sheds.
The MB360XT Next Generation Spotlight features a lumen and design upgrade from the previous model with brighter, bolder outdoor lighting that provides 200 lumens and with a reflective face to create a 50 percent wider coverage area. Other 2016 Mr Beams product launches include two additions to the night light family: the Amber Stick Anywhere Light, which emits a soft amber light that has been shown to be less disruptive to sleep than traditional white night lights; and Stand Anywhere Light, a no-installation light that adds safety around the home. Mr Beams also launched the Slim Safety Light, a unique lighting solution for above doorways and other cramped areas. All lights contain motion activation, auto shut-off and a light sensor to help prolong battery life. Visit booth 2111 or mrbeams.com.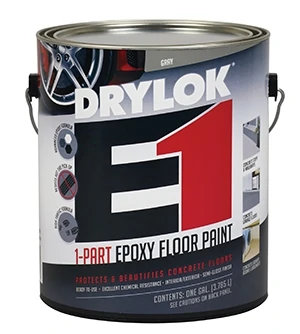 DryLok E1 Epoxy Concrete Floor Paint
From repair to beautification of all kinds of masonry, there is a DryLok solution. DryLok E1 one-part Epoxy Concrete Floor Paint is an alternative beautification product replacing messy 2-part components. Pop the lid off DryLok E1 and start applying with a brush or roller to achieve a showroom finish for both industrial and residential use. DryLok E1 is tintable to 12 colors, and ready-mix colors are available in two popular grays. The surface resists hot tire pickup, chemicals, oil, grease and gasoline stains, and the product is easy to maintain, store and touchup and cleanup. Visit booth 5921 or ugl.com.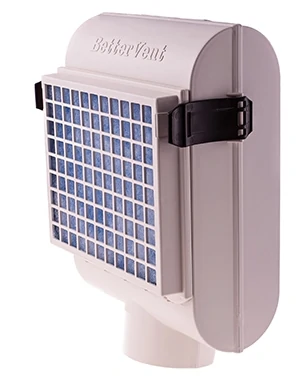 BetterVent
The BetterVent is a new kind of indoor dryer vent that's in a class all its own. Made in the USA by ADR Products, BetterVent's patented double filter design does not use water, is easy to clean and maintain, and filters the dryer exhaust free of lint dust. It protects indoor air quality and saves energy. The BetterVent is easy to install, and because it is located close to the dryer, the shorter transition duct line will also shorten most drying times. The patented "Safety Exhaust Flap" alerts the user of the need to change the filter, which can be vacuumed to extend its usable lifetime. Replacement filters are available in packages of six. Visit booth IS306 or adr-products.com.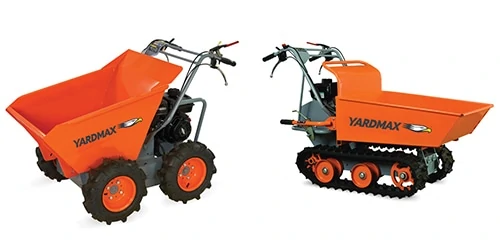 YardMax Power Products
YardMax is setting a new standard for high-quality outdoor power equipment. New to the product line are the power wheelbarrow and trackbarrows—designed to make easy work out of the biggest jobs. The YardMax Power Wheelbarrow offers self-propelled, all-wheel drive and provides optimal handling for stability across uneven, muddy and wet ground. Operators can navigate safely to move and dump up to 660 lbs. of material using the two-position enabled controls. Additional features include zero-turn radius, multi-speed heavy-duty transmission (3 forward speeds plus reverse), and a one-handed release to easily dump loads. The directional AG tires provide traction across uneven terrain, and the unit is evenly balanced to maximize control and prevent tipping. The YardMax lineup family includes a 660 lb. capacity Power Trackbarrow for all-terrain traction and stability.
It features Gas Shock Assist in either hopper or flatbed style.
Also available is the 1,100 lb. capacity Power Trackbarrow with Hydraulic Assist. For a hands-on experience, visit booth 12563 or go to www.yardmax.com to learn more.

BugBand
BugBand is the popular natural insect repellent chosen by outdoors people to protect them from blood-feeding, biting insects. Successfully scientifically tested |to repel against the Zika-carrying mosquito species, Bugband is also extremely effective at repelling ticks, flies, gnats, no-see-ums and fleas. The active ingredient, Geraniol, is derived from geranium plants which have been used for thousands of years to deter insects. Made in America, BugBand does not contain DEET or any other synthetic pesticides.
It is safe for the whole family including children and pets. Plus, there's no scent transfer to bait if you're a fisherman, nor does it melt monofilament fishing line or other surface materials. BugBand products have been dermatologically tested and approved to be hypoallergenic. Visit booth 10530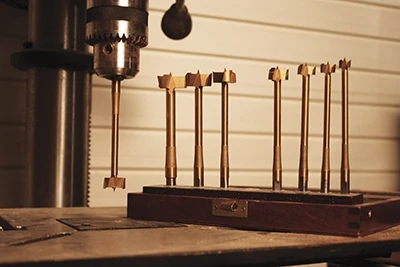 TG Tools Kik Forstner Bits
Forstner bits are the best choice for drilling precise, flat-bottomed holes in wood. The radial cutting edges shear wood fibers at the edge and bottom of the hole, creating a smooth bore with an exact diameter. The Kik Forstner bits from TG Tools actually have nine cutting edges, which permit cutting curved paths, channels, routing and milling in wood and plastics. They can cut on the edge of a block of wood to create channels, and can also be used to create overlapping holes. The Kik bits also come in a nice, dovetailed wooden box to protect the cutting edges. Visit booth 7552 or mytgtools.com.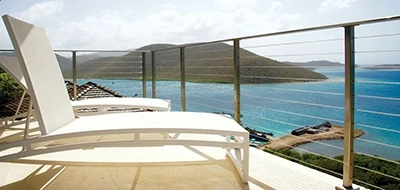 Clearview Railing
With the innovative component-based design and all stainless steel construction, Clearview custom-made, prefabricated railing systems from AGS Stainless eliminate the need for any on-site welding or cutting of posts and railings. AGS' design department generates CAD (computer-aided design) documents for each railing project to ensure precise, project-specific fabrication. Each Clearview railing system is made to order to the highest quality standards, and delivered to you ready to be installed with a few simple hand tools. Stainless steel components are available in either high-quality grade A304 or marine grade A316, and the infill options are: stainless steel cable, stainless steel horizontal bar or tempered glass panel. For more information, visit booth 491 or www.AGSstainless.com.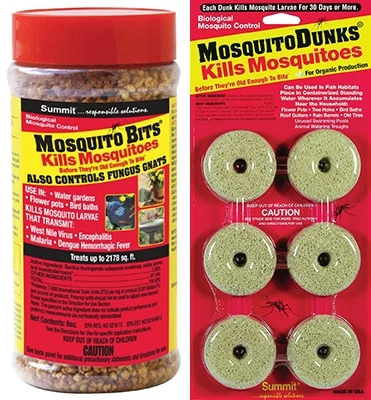 Mosquito Dunks and Mosquito Bits
The key to preventing mosquito-borne diseases such as West Nile virus, Zika virus and Chikungunya is controlling mosquito breeding grounds. Mosquito Dunks are the top selling biological mosquito control because they kill mosquitoes before they're old enough to bite. The active ingredient is BTI, a natural bacterium that kills mosquito larvae but is harmless to people, pets, fish, plants and wildlife. When a donut-shaped Mosquito Dunk is placed in standing water, the BTI will kill mosquito larvae for up to 30 days. Just float biodegradable Mosquito Dunks in ponds, birdbaths, rainbarrels, fountains, and any standing water. In places where small amounts of water collect, such as potted plant saucers and tree holes, use a granular form of BTI called Mosquito Bits, which can kill mosquito larvae in swampy areas where water cannot be drained. Mosquito Bits are also approved for fungus gnat control in potted plants. Visit booth 11110 or www.summitresponsiblesolutions.com.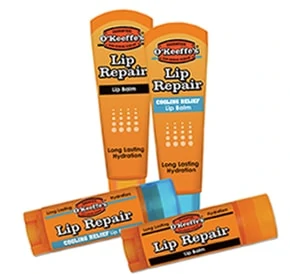 O'Keeffe's Lip Repair and Skin Repair
Anyone who knows O'Keeffe's will tell you that the company's Guaranteed Hardworking Skincare products provide relief for the most severe cases of dry skin. The newest product, Lip Repair and Skin Repair, sets apart from the competition with its longevity and protective hydration. Lip Repair, O'Keeffe's most requested item, is clinically proven to provide instant relief and all day moisture in just one use. It absorbs quickly to soften and smooth dry lips. With unrivaled clinical data, Skin Repair offers break-through 48-hour dry skin relief to repair extremely dry, itchy skin. This longevity gives users the ability to skip lotion application for a day and not notice a setback in the moisture levels of their skin. Visit booth 4716 or www.okeeffescompany.com.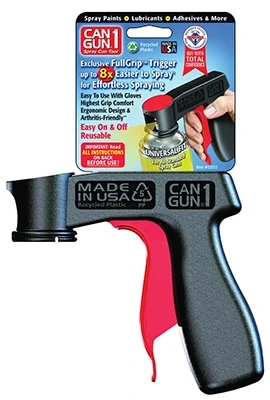 CanGun1
SafeWorld Int'l. offers the CanGun1 premium spray can tool that features the world's first FullGrip trigger with a 3:1 leverage advantage. The CanGun1 makes spraying the contents of virtually all standard spray cans of paint, lubricant, adhesives, etc. considerably easier, while providing professional results every time. The patented pistol-grip accessory easily snaps onto standard aerosol spray cans, transforming them into pro-style spray guns with unprecedented control for hours of effortless, pain-free spraying. The exclusive ergonomist-tested and arthritis-friendly design also makes it suitable for use while wearing gloves. The reusable CanGun1 is made in the USA with 80-percent recycled non-toxic plastic and recyclable packaging. Visit www.cangun1.com or booth 4909.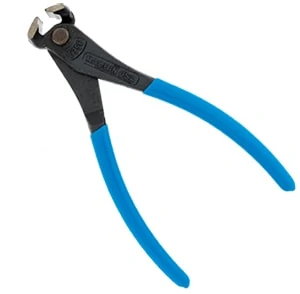 Channellock E SerieS End Cutters
Channellock adds a new series of end cutters to its famous E Series line of Made-in-the-USA pliers. The E Series line of tools is designed with precision and space limitations in mind. The legendary XLT Xtreme Leverage Technology means less force is required to cut, and the traditional Channellock Blue comfort grips mean the tools will be easy to handle on any job. The new end cutters are laser heat-treated to ensure superior cutting, and the precision-machined knife and anvil style ensure a long-lasting cutting edge life. They are also made using high-carbon steel and a rust-preventive coating for superior performance on the job. The new line of End Cutters includes: E358 8″ High Leverage End Cutting Plier; the E357 7.5″ High Leverage End Cutting Plier; and the E356 6.25″ High Leverage End Cutting Plier. Visit booth 7226  or www.channellock.com.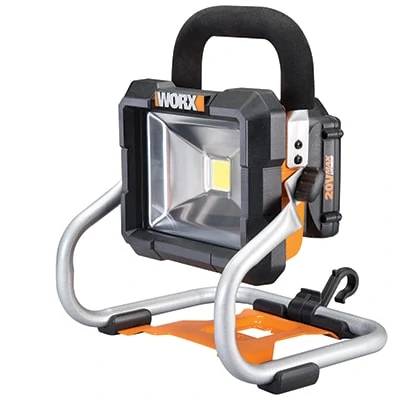 Worx 20V Lithium-ion LED Worksite Light
The new Worx 20V Lithium-ion LED Worksite Light is part of Worx Power Share program and functions with any Worx 20V battery. The portable LED work light generates 1500 lumens, which is the equivalent of a 100 watt light bulb. A big advantage of an LED light is that it burns cooler than halogen, incandescent, compact fluorescent lights (CFL) and xenon bulbs. In fact, LED lights are considered the most energy efficient, while generating less than half the heat of halogen and incandescent bulbs and up to 20 percent less heat than CFL bulbs. LED bulbs last longer than other light sources, too. The cord free, go-anywhere Worx 20V Lithium-ion Worksite Light weighs only 5.6 lbs. with battery. A built-in hook can be used to hang the light, the frame incorporates a comfortable foam grip, and the high-performance, tempered-glass LED frame rotates north to south 360 degrees. When using a Worx 1.5 Ah battery, run time is approximately 90 minutes; and with the Worx new 4.0 Ah battery, the light will operate up to four hours continuously. Visit booth 7806 or worx.com.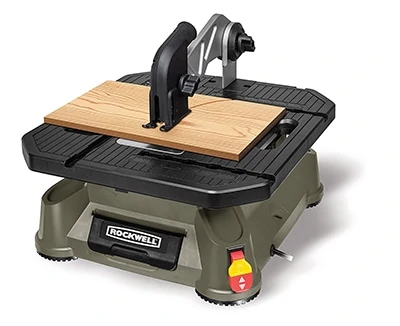 Rockwell BladeRunner X2
The Rockwell BladeRunner X2 is one unique portable benchtop saw. It can cut nearly everything in its path including wood, PVC, plastic, aluminum and other non-ferrous metals plus ceramic tile by using standard T-shank jigsaw blades. It takes the place of a hand saw, hack saw and miter box by making quick and accurate rips, scrolls, crosscuts, inside cuts and miter cuts. BladeRunner X2 is ideal for home workshops, garage-based shops and basements. Make easy miter saw cuts in wood for molding and trim, picture frames or sign making. Make intricate inside cuts where precision counts. Cut ceramic tile for kitchen back splashes or insets for bathroom/shower tile work. Visit Rockwell.com or booth N 115.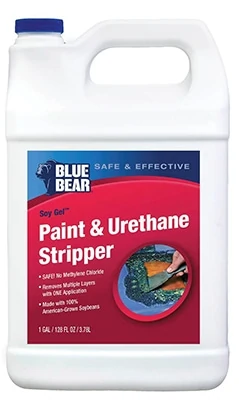 Blue Bear Strippers & Cleaners
Franmar will exhibit the Blue Bear product line at this year's National Hardware Show. Creating effective solutions that are safe for the user and the environment has driven Franmar for more than 30 years. Stripping paint can be a labor-intensive project, especially when there are multiple layers of coatings. Blue Bear Paint & Urethane Stripper simplifies the task, removing multiple layers of coatings with a single application. Remove paint from intricate millwork without sanding or dipping the project into hazardous chemicals. Just apply the Paint & Urethane Stripper and let it do the work for you. The Blue Bear line also extends beyond just paint removal, featuring products to clean and degrease a surface prior to recoating, mastic and adhesive removers, along with building cleaners, brush and spray gun cleaners, as well as saw blade and drill bit cleaners. Visit franmar.com or watch a demonstration at booth 5031.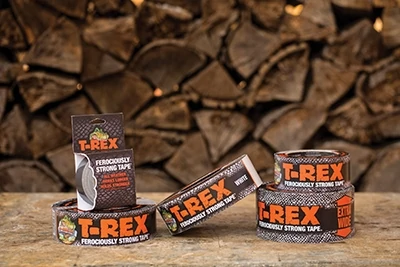 T-Rex Tape
T-Rex Tape from ShurTech Brands, LLC is specially designed for all-weather protection to work longer and hold stronger than other utility tapes. Whether it's simple, around-the-house fixes, or extreme industrial repairs on a work site, there's no project too big or too small for this hard-hitting tape. The double-thick, super-aggressive adhesive allows the tape to offer superior hold on more surfaces than other ordinary tape—including rougher and dirtier surfaces in a wide range of temperatures and humidity levels.
T-Rex Tape is also made with UV resistant materials that give the tape its famed holding power, inside or outside. For more information on this Ferociously Strong Tape, visit booth 5615 or trextape.com.