Industry insights, product trends, and new technologies—you'll find it all May 6-8 at the 2014 National Hardware Show held at the Las Vegas Convention Center. The NHS is an enormous trade show where companies such as General Tools and Black+Decker unveil the new products that will soon stock the aisles of your local hardware store. The EHT staff attends every year to check out more than 250,000 hardware, DIY and lawn/garden products collected in one place. Here's a preview of what will be exhibited at the convention.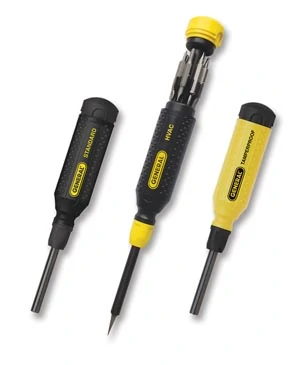 General's Multi-Pro Screwdrivers
General's new "Made in America" Multi-Pro Screwdrivers— the 15-in-1 Standard Driver, 15-in-1 Tamperproof Driver, and 14-in-1 HVAC Driver—offer several exceptional features. The retractable in-handle cartridge with built-in bit clips makes storing, selecting and changing bits quick and easy while saving toolbox space and reducing the risk of lost parts. The Palm Saver Cap remains stationary while turning the driver handle to provide comfort, prevent blisters and enable one-handed use. The EZ-Guide Collar delivers greater control by maintaining alignment between the screwdriver and the fastener. An alloy steel shaft and engineered nylon/ABS handle make these tools nearly impossible to break. And the 1/4-in. shaft opening also serves as a hex driver. The Standard Driver (8140) is loaded with seven double-ended professional quality bits, providing the 14 most popular standard bits. The Tamperproof Driver (8141) contains seven double-ended tamperproof bits, including the most popular security bits—spanners, hex pins and torx pins. The HVAC Driver (8142) is loaded with six double-ended bits and one single-ended bit, including Shrader Valve Stem and Square Awl Reamer bits, to fit most HVACR applications. General's Multi-Pro Screwdriver line will be available for purchase concurrently with the National Hardware Show in May 2014. Visit generaltools.com or NHS booth 6240.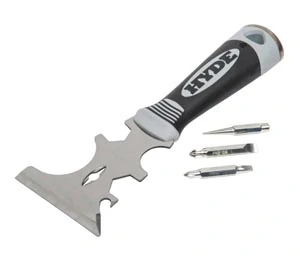 17-in-1 Painter's Tool
Carrying tools—or worse yet, struggling to find tools on a work site—can really slow things down. Eliminate the hassle with the new Hyde 17-in-1 Painter's Tool. Made from durable .075-in. thick carbon steel, the new tool combines a high-quality, lightweight design with a tool that can (1) scrape paint, (2) spread compound, (3) open cracks in plaster, (4) pull nails, (5) set nails, (6) open cans, (7) open bottles, (8) clean regular rollers and (9) clean mini rollers. The 10th and 11th applications are the 3/4-in. and 11/16-in. wrenches you need to connect your whip hose to both your spray gun and your main airless hose. The remaining six applications are securely stored in the tool's handle: Four different screwdriver bits securely fitted in the Hammer Head end and a tool that can be used as either a scribe or a nail set. This rugged multi-tool has an overmold handle with a thumb stop for safety and a stainless steel blade that resists rusting and is guaranteed forever. Visit hydetools.com or NHS booth 5915.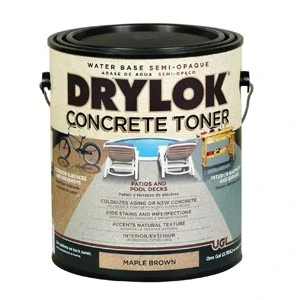 DryLok Concrete Toner & DryLok Masonry Waterproofer
UGL will unveil two new products at the 2014 National Hardware Show. The company's DryLok Concrete Toner is designed as a concrete tone coat to even out discolorations, stains and blotches with ease. Concrete Toner will penetrate at an even ratio, eliminating uneven color. It enhances faded concrete with a little color without hiding the concrete texture or stamping. The second product, DryLok Clear Masonry Waterproofer, is the ideal choice for new and existing construction. Clear Masonry Waterproofer can also be applied on floors, an application that traditional waterproofers were unable to accomplish. This patent-pending product can be used interior/exterior, above or below grade. Stop by the UGL booth 5921 or visit drylok.com.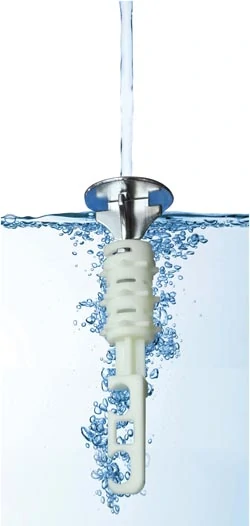 Smart Sink Stopper
Smart Sink Stopper is an easy DIY replacement drain trap that eliminates the hassle of slow running drains. This three-part device includes a cap, a trap and a Clearzyme tablet to offer an affordable solution to sink drains that clog easily. This recyclable hair trap eliminates time-consuming mess without hazardous chemicals, and prevents items from being lost down the drain. Visit  booth 2248.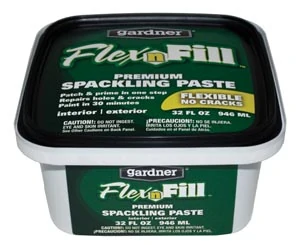 Gardner Flex-N-Fill
Gardner Flex-N-Fill is a premium, all-purpose patching compound with a built-in primer. Tough enough for use inside or outside, Flex-N-Fill fills holes, cracks and indentions in drywall, wood, plaster and masonry surfaces. This premium spackling paste can be sanded and stays flexible to prevent cracks. And Flex-N-Fill's high strength polymer formula has better adhesion and paintability than traditional spackling compounds. Paintable in 30 minutes and mold and mildew resistant, Flex-N-Fill is available in 8- and 32-oz. square containers for easy access and use. Visit Gardner-Gibson at booth 5212 or online at www.gardner-gibson.com.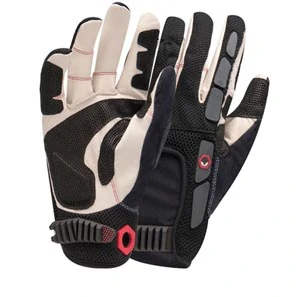 StoneBreaker Work Gloves
StoneBreaker is manufacturer and distributor of premium work gloves designed to deliver the best fit of any glove on the market without sacrificing protection or appearance. After consulting contractors, mechanics, landscapers and trades professionals, the company designed a work glove that combines the highest quality goat skin with back-of-hand synthetics to maximize fit and breathability for superior comfort and protection. Visit booth 7357 or stone-breaker.com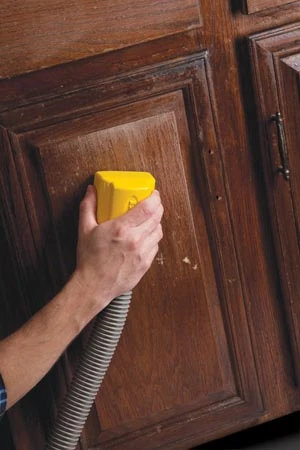 Dust-Free Sponge Sander
Even the smallest sanding jobs can create a big mess. Keep your floor, household items and lungs free of dust with the help of the new Hyde Dust-Free Sponge Sander. The new sander cuts down on cleanup time by eliminating up to 95 percent of the dust caused by sanding, making it ideal for projects such as refinishing cabinet and molding, restoring furniture and patching drywall. The sander has a small profile, easy-to-grip sanding head for use on flat surfaces, edges and corners. It can be used to sand any wood, drywall or metal surface.
In place of sandpaper, the sanding sponges are both washable and replaceable. The Dust-Free Sponge Sander kit includes a lightweight hand sander with two medium-grit sanding sponges and a vacuum hose that will fit any standard shop-type or industrial vacuum. Visit www.hydetools.com or booth 5915.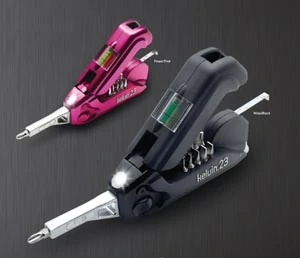 Kelvin.23 Multi-Tool
Hanging pictures, putting up shelving, assembling flat packed furniture—these are the types of jobs that homeowners face most often. The Kelvin.23 is a single tool to fix hundreds of jobs and it is compact enough to fit in the palm of your hand. The tool packs 23 of the most commonly used tools and features into a compact and stylish urban design. Its cast aluminum body and rubber handle are ergonomically integrated to act tough and feel good. The Kelvin.23 includes a SnapAction screwdriver with 16 accessory bits, alloy magnet, LED flashlight, bubble level, 6-ft. tape measure and a hammering surface. Stop by booth NEW25 or visit kelvintools.com.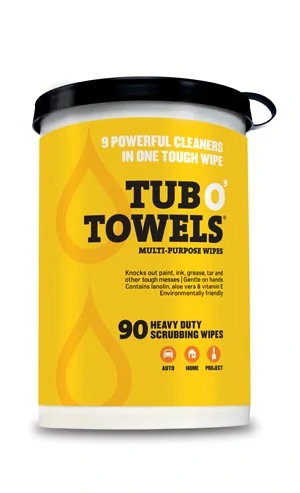 Tub O'Towels
Tub O'Towels is billed as the "World's Toughest Wipes" and are quickly becoming one of the most common cleanup tools found in garages, households and jobsites. Each extra-large Tub O'Towels scrubbing wipe includes nine powerful cleaning ingredients, durable fiber-weave technology and twice the cleaning surface of comparable wipes. Originally created for contractors who encounter nearly impossible jobsite messes, Tub O'Towels feature a thicker, towel-like construction that is 100-percent solution-soaked to quickly and easily clean messes from paint, permanent marker, grease, scum and other tough soils.
The unique citrus formula also includes lanolin, aloe vera and vitamin E, leaving hands clean and soft. Tub O'Towels are available in several convenient package sizes: 10-by-12-in. wipes in a convenient 90-count re-sealable canister; 10-by-12-in. individually wrapped wipes; and a 40-count re-sealable portable container (7-by-8-in. towels). Visit www.tubotowels.com or booth 4831 (inside) or TG300 (outside).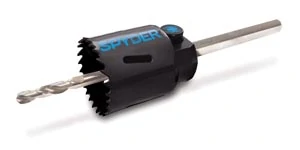 Rapid Core Eject Hole Saw Kits
Spyder Products will be introducing their new Rapid Core Eject Hole Saw Kits. The company's bi-metal HSS hole saws have a variable tooth pitch for fast and clean cut-outs, and the TCT (Tungsten Carbide) hole saws cut five times faster than traditional hole saws and last nearly twice as long. Both sets of hole saws are equipped with Spyder's Rapid Switch and Rapid Core Ejection features. Users need only press a button to quickly swap out hole saws. Removing the core has never been easier; simply press the button and move the blade back to remove the plug. Furthermore, by clicking and pulling the hole saw backward, the pilot bit is extended, allowing users to cut on an angle. Don't worry if the first cut was too small. Spyder's system allows the smaller hole saw to act as a guide while a larger diameter saw will make the right cut. Visit spyderproducts.com or booth 5510.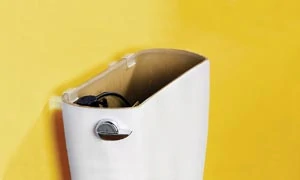 Secure-A-Tank
Designed to prevent leaks and damage caused by the gap between the toilet tank and wall, Secure-A-Tank is a fully adjustable brace which secures the toilet to prevent take movement. Without the support of the wall, any pressure against the tank produces significant strain on the bolts that connect the tank to the bowl. Over time the stress can crack the tank or deform the gaskets that keep water from leaking through the bolt holes. Secure-A-Tank can be cut to size so that it fits the gap to enhance stability and support.  The extension and clip pieces are quick to assemble, and the brace is easy to install on the back edge of the tank. The lid fits over the clips and hides the already clear Secure-A-Tank braces. Visit secureatank.com or booth 2149.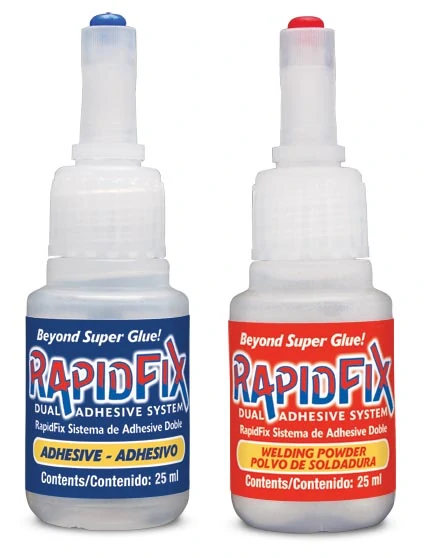 RapidFix Dual Adhesive System
RapidFix Dual Adhesive System incorporates an Instant Adhesive and Welding Powder that can instantly repair almost anything. The RapidFix professional-grade adhesive instantly bonds most materials, including rubber, glass, china, metal and most plastics. When combined with the RapidFix welding powder it can be used to repair all types of cracks, holes, splits and gaps. It can be instantly drilled, sanded, filed and painted. Bond and fill copper, steel, aluminum, brass, cast or pot metals, ceramic, glass, fiberglass, plastic or wood. RapidFix can also produce strong weld seams to support the repair, just like solder or welded joints. Plus, the adhesive product is guaranteed to not dry out in the bottle, unlike other super glues. The dual system combines both applications into one product. Other bonding products like epoxy-based adhesives require a cure time from 5 minutes to 24 hours, while body filler or putty can take approximately 30 minutes or longer to set. RapidFix can be used for both bonding materials or filling materials and it works instantly. Learn more at www.rapid-fix.com or booth 4710.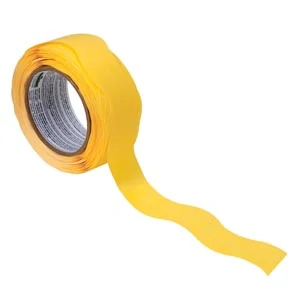 FrogTape Shape Tape
More than ever, consumers are longing to personalize their homes with DIY projects, especially ones that include painting—the most popular home project of all. To help bring those design ideas to life and simplify the process FrogTape is introducing Shape Tape, the brand's first painter's tape cut into unique patterns that allows you to quickly and easily transform your home with paint. "Wallpaper and borders can be expensive and limited in design options, while stencil designs can show paint bleed and imperfections," says Scott Sommers, director of marketing – DIY tapes, ShurTech Brands, LLC. "With Shape Tape, it's easy to create the all-over painted patterns and designs consumers are looking for with the crisp, finished appearance of using a premium painter's tape." Available in three on-trend patterns: Wave, Chevron and Scallop, new Shape Tape makes it simple to achieve unique, repetitive decorative painting styles.  Each roll of tape features a pre-cut repeating pattern, meaning homeowners simply need to unroll, apply and get painting to create their desired look.
Like FrogTape, Shape Tape is treated with patented PaintBlock Technology which forms a micro-barrier that instantly seals the edges of the tape, creating crisp lines and preventing paint bleed. Visit frogtape.com or stop by booth 5615.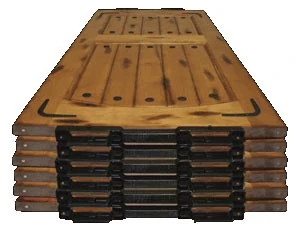 Super Stackers Door Finishing System
The Super Stackers Door Finishing System is designed to cut the time and space required to prep, paint, stain and/or clear coat any standard or bi-fold door, while providing a professionally finished product every time. With the Super Stacker system you will never need wall space to lean your doors against or use extra space in your shop where you could be working on other projects. You don't have to paint or stain one side of a door and wait for it to dry before finishing the other side. You will never have to mask hinges and paint or stain doors in place, risking runs, dings, timely touchups and simply a poorly finished product. Up to 16 painted doors can be stored or transported flat in a 4-by-7-ft. area, taking up only 28 sq. ft. of your valuable shop space. Visit doorfinishing.com or booth 5428.

Wagner Painting Innovations
Wagner has launched three new innovative painting tools this season, the FLEXiO 890 and FLEXiO 690 sprayers and the SMART SideKick roller. The FLEXiO family of sprayers is the only line of indoor/outdoor sprayers that deliver unmatched power and control for all painting projects. The FLEXiO 890 and FLEXiO 690 sprayers allow you to paint longer and with more precision because the weight of the turbine is on the floor but the controls are in your hand. This allows you to paint interior walls and fine finishing projects quickly, achieving a quality finish with an exceptional level of control. Wagner's New SMART SideKick multi-room powered roller provides continuous painting and fits any size container. The SMART Sidekick is driven by a peristaltic pump that draws paint directly from a 1- or 5-gallon container. This feeds paint to the roller cover and achieves fast, even coverage. The SideKick is the latest in a growing line of SMART powered rollers from Wagner. Visit Wagner at booth 5421 or online at www.wagnerspraytech.com.
Homax Pro Grade Popcorn Ceiling Texture
Achieve a professional match to ceiling texture four times faster than the traditional method, and get four times the coverage of traditional aerosols. New Homax Pro Grade Popcorn Ceiling Texture delivers an Invisible Repair for residential and commercial popcorn ceiling repair projects. The advanced formula replicates popcorn texture aggregates found in homes, apartment buildings, hospitals and other structures. Homax Pro Grade Popcorn Ceiling Texture can be used for popcorn ceiling repair projects, fixture removal repair, or to complete punch lists or patches. The Homax product container has a patented ergonomic grip designed for comfort and more controlled application. It is also easier to feather into existing popcorn ceiling texture and covers up to 8 square feet. Texture is ready to paint (if desired) in 24 hours. After use, simply turn the integrated safety lock to store and reuse any leftover texture from job-to-job. Visit homaxproducts.com or booth 5424.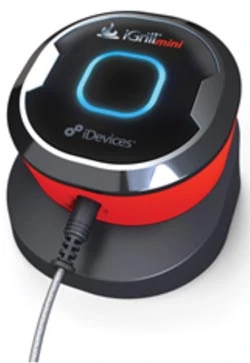 iGRILLmini
iDevices releases an ultra compact, high performance version of the company's iGrill, the iGrillmini, a Bluetooth Smart meat thermometer. The iGrillmini boasts a slew of new performance features, including Bluetooth Smart technology for highly efficient food monitoring, a proximity sensor for low energy consumption and an unmatched 150-hour battery life. About a quarter the size of the original iGrill and sporting a more rugged exterior with a smart LED indicating the doneness of food, the iGrillmini is the only ultra compact temperature-monitoring tool using Bluetooth Smart technology on the market. The iGrillmini includes a free iOS app for iPhone 4S and newer and iPad 3 and newer devices (within a 150-ft. range). The Android iGrillmini app will be released in 2014. The iGrillmini's Bluetooth Smart technology eliminates the user's need to manually pair their smartphone or tablet.
A powerful magnet allows for sturdy and convenient mounting with two viewing positions. Visit booth 12074.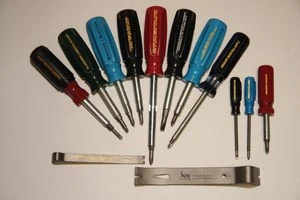 Enderes Tools
Enderes Tools is now known as Northbridge Tool, LLC. While the name of the company has changed the Enderes Tool name, which is stamped on every struck hand tool, and the associated quality never will. Steven Overgaard, owner of Vasco Inc., a family-owned machine shop, metalworking and fabrication facility, had a 30-year relationship with Enderes Tool, repairing and rebuilding the company's manufacturing equipment. When the Enderes fell into difficult financial trouble, Overgaard purchased all assets of Enderes Tool and hired most of the former employees. Enderes Tools reopened in November 2012 and is again running at full speed and expanding daily. The company now has plans to move into a new facility, doubling the size of the current operation. Enderes Tools are American made by American workers, and the company offers a full replacement guarantee if one ever fails its designed function. Learn more at www.enderes.com or stop by NHS booth 8562.
Side Note
Black+Decker Returns to National Hardware Show
The National Hardware Show is where Black+Decker will introduce the iconic brand's new identity to tens of thousands of industry professionals.
"The Black+Decker brand extends beyond product features and product innovation," says Frank DeSantis, director of brand marketing. "It is about being honest, intuitive, involved and thoughtful. Everything we do will be focused on giving people the products, the knowhow and the support to get their job done."
Celebrating its 69th year, The National Hardware Show welcomes Black+Decker back to the show floor as an exhibitor. "Black+Decker's presence will enhance the show for many of our buyers, attracting new buyers and industry professionals who will come to see what the new look and feel will mean for them," says Richard Russo, vice president National Hardware Show.
The 2014 National Hardware Show promises to be bigger and better than ever with enhanced product categories, exciting special events and limitless networking opportunities. So far, the convention has more than 98 percent of its available floor space sold as exhibitors from across all categories are lining up to participate in the industry's biggest event.
Registration is now open for the show. Visit www.nationalhardwareshow.com and stop by Black+Decker's 1,000 sq. ft. exhibition booth 7261.