New streamlined ceiling finishing system for hotel and motel bathrooms, laundry rooms, food assembly lines, and other spaces where aesthetics, minimal maintenance, low life cycle costs, and quick access overhead are target goals.
Norfolk, NE, September 8, 2014 – Zip-UP Ceiling®is a low life-cycle-cost alternative to drywall or suspended acoustic ceilings, especially in damp and wet locations such as hotel and motel bathrooms, commercial kitchens, laundry rooms, and basements. The waterproof, mold resistant PVC ceiling paneling system, engineered to fit together quickly with only a few tools, carries a Class A fire rating. When evaluated against gypsum board and other comparable installations, the system offers reduced installation and life cycle costs.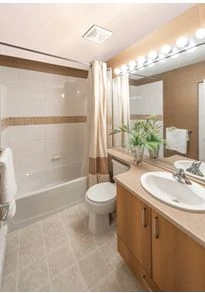 Zip-UP Ceiling does not stain and holds up very well under daily exposure to high humidity and moisture from hot, steamy showers, continuing to look terrific over time. The flat, grid-free non-corrugated low maintenance ceiling "unzips" for easy overhead access to wiring and plumbing or for dry-out should there be a water leak from above. Utilizing just 2″ of headroom, Zip-UP Ceiling can be installed against an existing unsightly or damaged ceiling without the hassle of removing it.
Zip-UP Ceiling is also an excellent installation outdoors, coast to coast. It meets every Florida standard for static and cyclic load tests of hurricane strength winds, the most stringent in the U.S. and creates a water tight water barrier, making it an excellent choice for finishing the underside of entryway awnings and covered walkways.
Zip-UP Ceiling System features just five main components, including a main rail, foot-wide panels that are the visible surface of the system, and an optional hurricane rail that supports the main rail when the system is installed on exterior soffits over covered walkways or other outdoor space. The main rails and panels are available in white and beige in smooth and serrated finishes.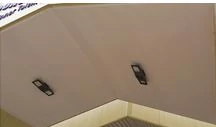 Testing for wind pressure, under both static load and cyclic load, was performed in accord with the requirements of the Florida Building Code (High Velocity Hurricane Zone). The Static Load Test (TAS 202) is performed, in several ascending stages, under test conditions that eventually meet negative 110 psf design pressure for a prescribed length of time. The Cyclic Load Test (TAS 203) tests under various alternating positive/negative pressures for 631 cycles.
The manufacturer warrants that the system is free from defects, materials and workmanship for 25 years from the date of purchase and that the components will continue to zip together for that time.
Zip-Up Ceiling is a division of MP Global Products, Norfolk, NE, a manufacturer of building products for the flooring and construction industry. www.quietwalk.com, 888-379-9695.