Get a grip on the latest clamp innovations.
You can never have too many clamps. Clamps are tools used by both professionals and DIY'ers for practically any job, from woodwork to metalwork to general building and remodeling. There are dozens of clamp styles and each has a specific application, although they're all designed to hold a work piece securely while you cut it, fasten it or glue another piece to it. To go into the details of each style of clamp would require a book rather than a magazine article, but this story will highlight some of the latest innovations in clamps for the hobbyist and pro alike.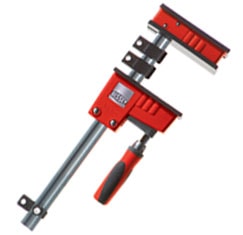 K Body Revo
For major woodworking products, such as building furniture or cabinetry, a few square-jawed woodworking clamps can play a crucial role in assembling the case, shelving and partition walls. One of the market leaders is Bessey Tools latest version of the K Body clamp. It features large guided jaws with flat faces for a firm, flush grip. These clamps are ideally suited for clamping components at right angles without twisting or tilting. The jaws are glue-resistant and clad in polyamide for a soft touch against the workpiece.
Bessey's latest version, the redesigned K Body Revo, offers 30 percent more clamping surface and 25 percent more clamping force. The enhanced design of this big, beefy clamp has a new end-rail clip, rail protection and several accessories. The larger replaceable handle is made of a two-component composite with a soft plastic insert for comfort while working. The replaceable rail-protection pieces elevate the workpiece from the rail to avoid glue buildup. Plus, the tail-piece can easily be removed and reversed on the sliding arm for use as a spreader. Available with openings from 12 to 98 inches, the K Body Revo offers 1,500 pounds of nominal clamping pressure. Visit www.besseytools.com.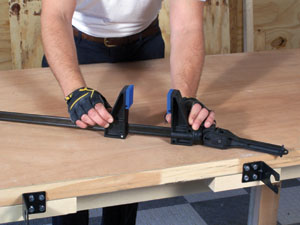 VersaClamp Clamping Center
The VersaClamp from Penn United is two clamps in one: a vise clamp and a bar clamp. As a bar clamp, the VersaClamp's jaws are held parallel by a sturdy steel bar. The replaceable jaw pads are molded with a thermoplastic rubber for a soft grip against the work. To operate it, simply position the work piece between the jaws and slide the free jaw against the work piece. Then, at the fixed jaw on the other end, just engage the handle until the cam locks.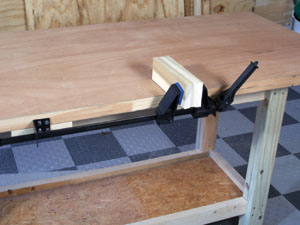 You can make the change from bar clamp to vise mode in seconds. As a functional vise clamp, the VersaClamp is held in place by two small mounting brackets that install along the edge of your workbench. Use the quick-release cam to secure the VersaClamp onto the mounting brackets. The mounting brackets also allow the clamp to rotate 110 degrees, so you can easily adjust the angle to suit the work at hand—great for hard-to-clamp items when traditional clamps won't work. The VersaClamp has a wide 20-inch jaw opening and generates more than 400 pounds of clamping pressure. Visit www.versa-clamp.com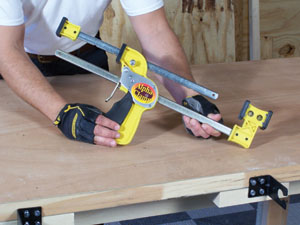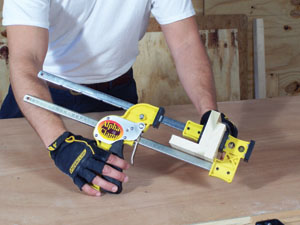 The Alpha-Clamp
The Alpha-Clamp has a unique design that utilizes two parallel bars, unlike the single bar of conventional clamps. Both bars are adjustable, removable and reversible. Assemble the Alpha-Clamp to meet your project's specific needs. Use it to clamp, spread or jack—or even use it as a hoist. It has an adjustable throat depth up to 12 inches, giving it C-clamp capabilities for holding L-shaped work pieces. The Alpha-Clamp has a spreading or jacking range of 33 inches for jobs such as installing a double-hung window. It can also be configured for offset jacking or spreading.
Additional features of the Alpha-Clamp include integrated vertical and horizontal level bubbles, an 18-inch standard ruler, a 44-millimeter metric ruler, soft-touch jaw pads and four internal brakes. The Alpha-Clamp is made in the USA and comes with a limited liftetime warranty from Lowell Thomas Tool, Inc.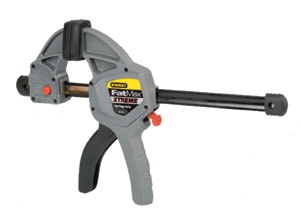 FatMax Xtreme Auto Trigger Clamp
A solid, general-use shop clamp comes from Stanley in the form of the FatMax Xtreme Auto Trigger Clamp. This is the fastest trigger clamp on the market, saving lots of time and hassle. The patented spring-loaded closure mechanism snaps the clamp tightly closed with the touch of a button. The release button also makes it easy to quickly spread the clamp open—so easy that you can operate it with one hand. You can also pump the trigger to tighten the clamp incrementally when adjusting the final clamping force.
Stanley's FatMax Xtreme Auto Clamp features removable jaw pads and oversized jaw faces. Available in 6- and 12-inch jaw capacity, it delivers 450 pounds of maximum clamping force and easily converts to a spreader. Visit www.stanleytools.com.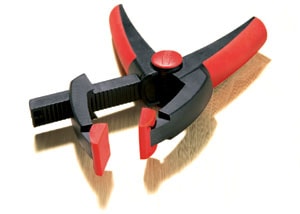 VarioClippix
The VarioClippix from Bessey Tools is a new variation on the standard spring clamp. Conventional spring clamps are often sold in sets that include matching pairs of various sizes. Although these clamps are useful and versatile, the problem is that they take up a lot of storage space and can be difficult to organize. However, with the VarioClippix the infinitely adjustable jaws open up to 4 inches, meaning this single clamp can do the work of four different sized spring clamps. The variable jaw openings also allow the user to better control clamping pressures, so wider settings can be used for less pressure to protect delicate work surfaces. Plus, the clamps' handles stay at a constant setting and constant hand pressure, so the VarioClippix is always comfortable to use. Visit www.besseytools.com.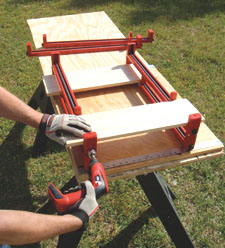 R&R Stackable Clamps
Here's another smart clamp design: Stackable bar clamps from R&R Clamp. Many woodworking chores, such as constructing cabinet doors or edge-gluing stock, require a lot of table space. The new R&R Panel Clamping System is designed to maximize the use of work space by allowing the user to stack the work. The system we tested included six specially designed 24-inch bar clamps, top and bottom alignment bars, rubber jaw pads and a socket driver. The jaws of the clamp travel on a threaded rod, which allows you to pop the socket on a power drill for fast, simple clamp adjustment. Use the bottom two clamps to secure your work, and then stack two more clamps on top to clamp another project in the same footprint of space. You can stack as many as three sets of clamps, and then add the top alignment bar to stabilize the work. The clamps are available in 1-, 2-, 3- and 4-foot lengths. Visit www.rrclamp.com.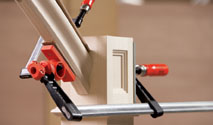 ES Irregular Angle Clamp
For all sorts of difficult-to-clamp situations, Bessey Tools offers the ES Irregular Angle Clamp System. This unique ball-and-socket system applies direct pressure on nearly any irregular angle from 15 to 180 degrees. The ES Set includes two pressure caps and two clamping blocks with anti-slip, non-marring inlaid pads to protect work surfaces. Offering superior versatility, the ES provides a solution for clamping challenging projects such as hand rails, banisters and furniture. Visit www.besseytools.com.