The Changing Face of the Modern Wood-burning Appliance
Wood-burning stoves and hearths possess an old-fashioned charm that warms a home comfortably and naturally from an easily renewable fuel source. The quaint orange glow, the pleasant aroma and the snap, crackle, pop of burning embers make a wood stove a favorite zone heating source for traditional homes as well as contemporary living spaces. In addition to the sough-after ambience, wood stoves produce a low-cost heat at a time when money seems tight from coast to coast.
Modern wood stoves are state-of-the-art appliances designed to produce a toasty, penetrating warmth while producing almost no smoke. In fact, wood stoves and fireplaces sold in the U.S. require certification by the U.S Environmental Protection Agency (EPA) to ensure they produce much less smoke compared to those manufactured in the 1970s and 80s. They burn wood efficiently with minimal tending, produce very little ash and require less firewood than the stoves of years ago. Construction is durable and air-tight, allowing clearances from interior walls that sometimes require as little as 6 inches.
Style is another driving factor in today's stand-alone stove designs. Gone are the days of the bulky pot belly with a monstrous black pipe. Modern stoves are made from steel, cast-iron or soapstone in a variety of colors and fashioned to complement the interior living space. The vent pipe is typically sleek, thoughtfully integrated and colored to match the stove.
Whether you need lots of heat for your home or simply prefer a decorative fire, you'll find a range of stoves to meet your needs with product descriptions for low, medium or high heat output. You can compare the square footage that an appliance will heat with the size of your home. Many wood stoves have the capacity to heat an entire house (providing the house has good internal air flow), but they can also serve as secondary zone heaters to comfortably warm the areas of a home that get the most use.
In December 2010, the Residential Energy Efficiency Tax Credit was amended and extended for another year. If you purchase a new energy-efficient wood stove, you may qualify for a Federal tax credit, which provides $300 for the purchase of a qualified biomass-burning stove between January 1, 2011 and December 31, 2011. Any wood- or pellet-burning stove that meets the 75-percent efficiency rating qualifies.
Options at a Glance
When selecting a new wood stove, educate yourself on the ins and outs of the various units. To help parse the different features, costs and installation issues, the Hearth, Patio & Barbecue Association provides a checklist to help demystify the selection process.
Familiarize yourself with the two types of low-emission wood-burning technologies—catalytic and non-catalytic—which refer to the method used to reduce particulate matter. Additionally, there are three types of available heat generation: radiant, convection, or a combination of the two.
Wood stoves vary greatly in size, which relates to the heat they can produce. The key to selecting size is to determine the heat level required for a specific area of the house.
The stove must be located a certain distance away from combustible materials such as drapes and upholstery. The required distance varies from stove to stove but will impact where you're able to install the stove. Installation also needs to accommodate a tile or brick hearth pad beneath the stove.
Wood stoves can be vented through the house wall to the outside, but the primary venting choice is through the ceiling with high-tech piping, or through an existing chimney. For more detailed information on venting, visit www.hpba.org.
Most of today's wood appliances feature amenities such as self-cleaning glass, hidden hinges and reversible flues. Other accessory options include fans, wall heat shields and gold-plated accents. Shop around to see what's available.
Modern wood stoves come in multiple styles and colors. Some choices include the type of base (leg versus pedestal) and varying finishes, such as porcelain and tile.
Do you have the skill set to install the unit yourself, or will you contract a professional installer? Does the addition of a stove require a permit in your area? What does your homeowner's insurance allow? What specific installation issues are posed by your home's construction, such as your roof pitch? A specialty retailer can help you address these questions.
Although wood appliances are user-friendly, they do require routine maintenance, such as ash removal and replacement of gaskets and seals. HPBA recommends an annual stove inspection by a National Fireplace Institute-certified technician, as well as chimney inspection by a professional chimney sweep.
Whether you purchase your fuel or harvest your own, the best choice is seasoned fire-wood that has been split and dried for more than six months. It should be stored outdoors, under cover, in an area with good air circulation.
The cost of the unit is only part of the cost of owning a wood-burning appliance. Other costs to consider: the chimney, installation/delivery, annual fuel costs and annual maintenance. So, what's hot on the market? Keep reading…
Yukon Multi-Fuel and Wood Furnaces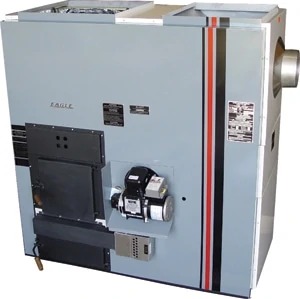 A Yukon multi-fuel warm air furnace can heat your entire home to your desired temperature, whether you are burning gas, oil, electric or wood/coal. And, regardless of which fuel you are using, the Yukon furnace operates at UL-Listed high efficiency. If you have your own wood supply, the cost of heating your home becomes almost nothing. And, if you leave for a day, week or more, there's no problem. The furnace switches from wood to whatever your backup fuel is, all automatically. Air conditioning, a humidifier, or an electronic or filtered air cleaner is easy to add. Yukon multi-fuel furnaces and the company's Jack line of add-on wood furnaces are UL Listed, plus C-UL Listed for sale in Canada.
Magnum Stoves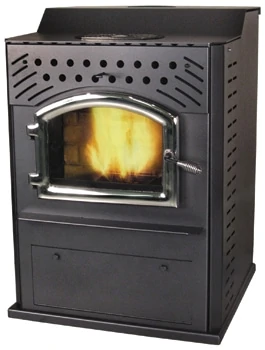 Magnum and Country Flame brand stoves from American Energy Systems, Inc. offer a choice of modern cabinet designs that boast a European look or traditional Eastern styling. The large ceramic glass viewing area brings the fire to life while having a peaceful and calming effect. An advanced easy-to-use electronic control center allows the choice of multiple heat ranges, thermostatic operation and optional auto ignition. All automated combustion models can be installed using battery backup, wind power and even solar power sources. Magnum and Country Flame appliances are flex-fuel capable, which allows users to burn fuels that are available in their area, providing an ecological and economic choice for home heating. Visit www.magnumheat.com.
Camano Wood Stove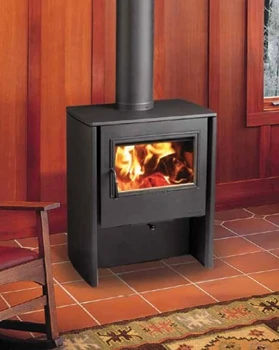 The Camano freestanding wood stove by Avalon features sleek, clean lines that lend itself to a wide range of architectural styles. The design features gentle radius-edges and a single cast-iron door that accentuates the clean design. It features a 1.6 cubic foot firebox that takes an 18-in. log and has a 6-in. flue opening. This unit will heat up to 1,400 square feet, utilizing both radiant and 5-sided convection heat, and the large stove top makes a great cooking surface during power outages. Visit www.avalonfirestyles.com.
SIDE NOTE
Heat-resistant Stove Paint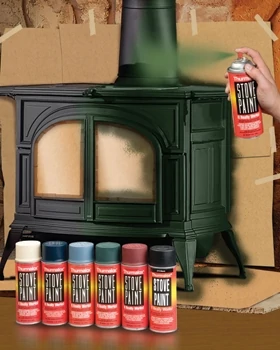 Dampney Thurmalox Stove Paints are especially formulated for finishing wood, coal, pellet and gas stoves, stovepipes, screens, grates and hearth accessories. Featuring 22 decorator colors that can match virtually any room décor, these silicone-based, heat-resistant paints withstand up to 1,200 degrees F without blistering, peeling or flaking, and won't burn off. Providing a flat, scratch-resistant finish, the stove paints are offered in fast drying 12-oz. aerosol cans, one-pint brushable black, as well as quarts and 5-gallon containers—even 30- and 55-gallon drums for commercial use. For outdoor applications on hibachis and barbecue grills, Thurmalox 245 Zinc Primer will provide maximum protection against rust and corrosion. Visit www.dampney.com.