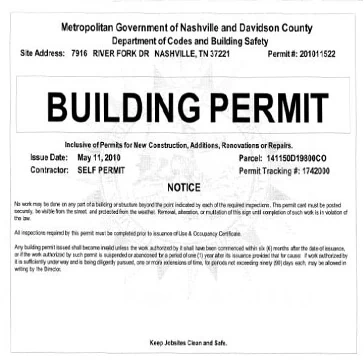 The summer season is considered the busiest time for home improvement projects, and the National Association of the Remodeling Industry (NARI) is reminding homeowners to understand rules regarding building permits before embarking on common remodeling projects.
Although building codes vary from state to state, a permit is generally required for remodeling projects that involve changes to the building's existing footprint, electrical system or plumbing. Adding new windows to existing walls usually requires a permit. You're likely to need a permit for any project that goes beyond a simple repair or aesthetic upgrade, such as:
adding supporting walls or taking down load-bearing walls,

an in-ground concrete pool or a porch/deck,

replacing the roof,

backyard shed or

concrete sidewalks, driveways and slabs
"There are two major reasons why a homeowner needs a permit on projects," says Michael Harris, president of BRY-JO Roofing & Remodeling, in Richardson, Texas, whose company won a National CotY 2014 Award in the Residential Addition Under $100,000 category. "The first is because when a permit is filed, city officials will inspect the work completed at different stages to insure the work complies with current safety and health building codes. The second, and most significant reason, is it protects the homeowner's investment they are making to improve the property.
For instance, during a master bathroom addition completed by prior owners 10 years before—without proper permits—BRY-JO discovered plumbing, electrical and framing that was non-compliant and even dangerous, including the removal of two load-bearing beams, which was causing the second-floor room above the bathroom to start pulling away from the home.
To support the second story, engineered beams were installed in the bathroom and on the exterior wall.  The city required two concrete piers below the slab foundation to support the slab. All the electrical and plumbing had to be pulled out and rerun.
"Uncovering this information early on, we were able to incorporate as much detail as possible in our estimate and advise the homeowners we would likely uncover some additional surprises." Harris says.
When work is done to refresh an existing structure, however, a permit is usually not necessary. For example, updating the appearance of the existing kitchen cabinet doors with laminate layering does not require a permit. Other remodeling updates such as flooring/ceiling coverings, painting/papering, tiling or carpeting and interior wall decorations can usually be done without a building permit.  However, even if a permit isn't required, certain projects may require licensed professionals for structural, electrical and plumbing work. If unsure, homeowners can check with their local city or county government office.
Permits need to be obtained before the project gets underway. If city officials spot a project without proper permits, work could be stopped until they are obtained, leaving you without a functioning kitchen or bathroom for weeks and a hefty fine.
If you are using a professional contractor, it's recommended to have them pull the necessary permits. City officials are likely to have a long list of questions that contractors are best qualified to answer.
"While it may be tempting to forego the permit, a remodel or addition done without one can be a problem if the homeowner decides to sell or refinance," says attorney Patrick Noaker, from Noaker Law firm, a member in the NARI Minnesota chapter.
If the appraiser's total of the square footage of the home differs from county records, it triggers a search for a permit. If not found, the bank may decline to issue a loan on the home. In today's housing market, illegal construction is a risk for the lender. A fire insurance carrier, for example, may refuse to honor a claim.
"If there is a wiring problem that causes the home to burn to the ground, the homeowner's insurance company could refuse to cover the loss," Noaker says.
For more information about permits and remodeling, visit www.nari.org to find a remodeler in your area.