What's the best way to mount a TV onto a brick wall?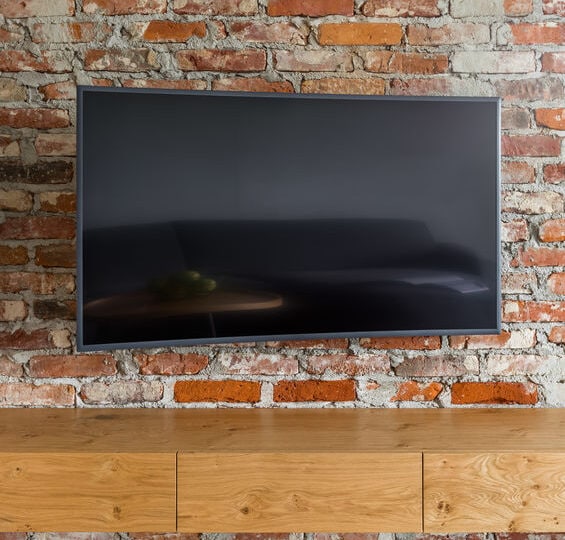 Q: What's the best way to mount a TV onto a brick wall?
A: To hang a TV on a brick or cement wall, we recommend using sleeve or wedge anchors and a metal TV mount. You will also need a hammer-drill and a masonry bit to drill pilot holes for the anchors. TV mounting products are available in a variety of shapes, sizes and designs, but generally require mounting a bracket onto the wall, and then mounting the TV to the bracket. Some larger systems have a separate bracket that mounts to the TV and then attaches to the wall bracket. Have an assistant  help determine the best mounting location and then level the wall-mount on the wall. Adjust its position so the predrilled screw holes in the mounting plate are located over the mortar joints in the brick wall (rather than over the brick face, which is more brittle). Use at least four fastener locations in a rectangular pattern on the wall bracket. Mark the holes, remove the wall-mount, and use the hammer-drill to bore pilot holes the same diameter as your anchors (plus 1/4-in. deeper than their length). For brick, we recommend 1/4- or 3/8-in. sleeve anchors 3 inches long. Reposition the wall-mount. Make sure the washers are  in place and the nuts are sitting flush on the ends of the sleeve anchors, then tap the sleeves into the holes. Use a wrench to tighten down the nuts to secure the wall mount to the wall (usually 2-3 full rotations). Then, screw the TV (or TV bracket) to the wall-mount, according to your kit's instructions.
---