(guest post courtesy Atlas Roofing)
How Do Architectural Shingles Compare to Traditional Flat Shingles?
For consumers building a new home or replacing the roof on an existing one, the selection of a roofing shingle is the most important part of the process. After all, the shingles installed today should protect and enhance a home for years to come. Architectural shingles are a sound choice for many homeowners; this type of shingle is high performance, beautiful, and fits into most budgets.
Architectural shingles, made of asphalt materials, are named for their distinctive appearance. Asphalt shingles generally are available in two types: 3-tab shingles, which are also referred to as traditional or flat shingles, and architectural shingles, which are often called dimensional or laminate shingles. Three-tab shingles feature a flat surface and are supplied in individual rectangular pieces made to look like they are divided into three squares—hence the "3-tab'"name. They are a standard choice for basic residential roofing shingle needs, generally because of price.
Architectural shingles have a varied surface thickness, giving them a distinctively textural or multi-dimensional "raised" appearance that traditional 3-tab shingles lack. The raised areas vary; when the shingles are fitted together on a roof's deck, a non-uniform look is created. Once installed, the roof's surface has a look of depth and dimension.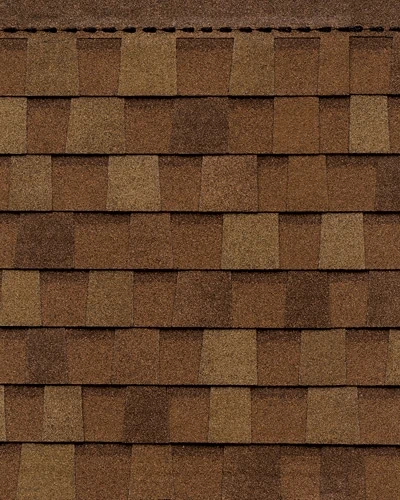 Increase Your Roof's Durability and Lifespan
The raised surface of an architectural shingle provides a unique and attractive look, which also improves the shingle's performance. They are constructed with a heavier base mat that consists of multiple layers of material. This makes them thicker, stronger, and more wind resistant. For these reasons, architectural shingles typically feature longer warranties than 3-tab shingles.
Good Looks that Perform and Protect
Not only are they a more attractive option to regular 3-tab shingles, architectural shingles offer another valuable benefit. These multi-dimensional shingles protect your roof system from damage caused by wind, hail, rain, snow and flying debris. Homeowners who live in an area prone to extreme weather should consider the superior protection of architectural shingles.
An Investment in Your Home
Roofing shingles are not created equal. Homeowners have many options to choose from in terms of price, style, color and performance. Consider that "You get what you pay for."
 Learn more at www.atlasroofing.com.