Stain or seal in half the time™
Minneapolis, Minn. – June 11, 2012 – Wagner SprayTech  Corp. today introduced the new DeckJet® deck finishing tool that features an innovative sponge pad and brush system, PowerTrigger and mess free filling to ensure an even, consistent coating in a fraction of the time.
The patented pad and brush system is designed to apply deck coatings in one pass, allowing for a smooth, uniform finish.  The pad easily fills surface cracks and grooves better than a roller tool – even on rough or uneven boards – while the brushes coat in between boards, delivering faster results.  Using a ratcheting PowerTrigger, the DeckJet® controls on-demand flow, allowing users to optimize their deck coating materials. Because the DeckJet® pad covers standard deckboards in only one pass, it leaves behind no seams and prevents premature peeling and chipping.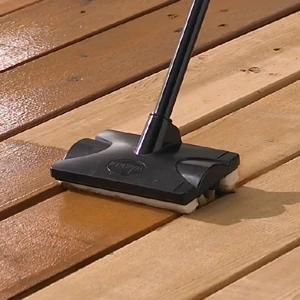 "Decks are a great space for entertaining or relaxing with friends and family. But maintenance is critical if you intend on enjoying your deck for years to come," said Arti Lyde, Product Director for Wagner SprayTech.  "DeckJet® is an easy-to-use, do-it-yourself tool to quickly achieve professional deck finishing, extending the life and look of your deck."

Not only does the DeckJet® offer easy application, it also affords easy clean up.  The pad and brushes are quickly removed and simple to clean.  They can also be replaced for future projects. Featuring a mess free filling process to minimize drips and spills, the DeckJet® can stain up to 70 sq. ft. on just one fill, reducing the number of trips back to the paint can.
Product Information
DeckJet:
•           Stain pad with in-between board brushes
•           22 fl. oz. applicator
•           Mess free filling
•           Stain up to 70 sq. ft. in one fill
•           Smooth, on-demand flow with PowerTrigger
•           Latex and oil-based stain/sealer compatible
Deck Jet Accessories:
•           Replacement Pad and Brush Kit
•           Mounting Plate with pad and brushes
•           Roller Arm Assembly with 9" x 3/8" nap roller
To purchase the DeckJet® by Wagner, visit amazon.com.  Check out wagnerspraytech.com to learn more about other Wagner products.
About Wagner SprayTech
Wagner SprayTech Corporation is a wholly-owned subsidiary of Wagner Holding, Inc. Manufacturing started in 1973 and today the company has full research and development, engineering, manufacturing, and distribution capabilities. Wagner develops and markets a wide array of painting and decorating products used in home improvement, commercial painting and industrial fine finishing.  Wagner products are designed to make it easier for the end user to prepare surfaces, apply paints and other coatings, or clean up after painting. Wagner is strongly committed to maintaining a leadership position through innovative marketing, high technology engineering, and quality manufacturing. For more information, visit wagnerspraytech.com, youtube.com/WagnerPainting or follow @WagnerSprayTech on Twitter.
 ###