By Editorial Staff
Alot of serious DIY'ers have a second home at their home—that being the garage or workshop. What superficially appears to be a cluttered shelter for tools and materials is, to some, a solitary retreat from a noisy household, to others, a mad scientists' laboratory for germinating projects yet to come. Whether a skilled carpenter or a part-time tinkerer, a home-improvement enthusiast's garage or workshop is often considered sacred ground, deserving at least as much attention to design as the kitchen and great room. Here's a look at a few garage amenities to consider when outfitting your home headquarters.
The Wall as Storage Space
A couple of nails in the wall serving as storage hooks are par for the course in virtually any garage or workshop. A few dozen nails is another story, and while no one will be giving your workspace the "white glove test," some degree of organization will pay off not only in garage décor, but also when searching for that lone, misplaced tool.
The traditional upgrade from the scattered-nail approach has been pegboards made from pressboard panels, but the material has a tendency to warp, swell, crack or fray when it absorbs moisture. In response, Wall Control, has developed an all-steel pegboard panel that utilizes a secure hook and shelving system. The strength of steel combined with a formed flange around the perimeter make Wall Control's metal pegboard panels more than 10 times stronger than conventional pegboard. More strength equals more storage. The durable steel panels are available in a variety of powder-coated colors, along with a variety of hooks, brackets, shelves and accessories (www.wallcontrol.com).
Tool Chests to Build On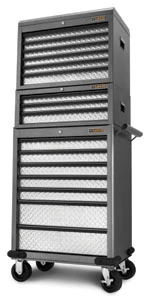 Storage and organization are key to an efficient workspace. When choosing a tool storage system, consider your size and mobility requirements. Although an enormous 72-inch tool chest might be the envy of your neighbors, a fully stocked tool box can weigh well over a thousand pounds and encroach on a great deal of precious space. Is your work space at a premium? If so, bigger may not be better. Will the tool chest be mobile or stationary? Because the larger the chest, the more difficult it is to move, casters or not.
Gladiator GarageWorks now offers a line of stackable tool storage chests, each sold separately so you can add to the system as your storage requirements expand. The Premier series of stackable chests includes the 7-Drawer Roll-Away, a 3-Drawer Intermediate Chest, and a 6-Drawer Tool Chest. Each tool chest features heavy-duty, welded steel construction, sleek recessed handles, steel ball-bearing slides, cushioned drawers and a combined weight capacity of 1,000 pounds. The 7-Drawer Roll-Away makes a strong, mobile base with its rugged, reversible casters and reversible side-push handle.
To expand the system, stack on the 3-Drawer Intermediate Chest, which is compact, modular and ideal for frequently used items. Then top it off with the 6-Drawer Tool Chest, which has ample room for large and small hand tools that are easily misplaced, plus it has a divided top till for even smaller items.
Available in Classic and Premier stylings, both versions will be sold as three-piece stackable units available for purchase separately. Additionally, Gladiator will soon introduce Wide Tool Chests for more tool storage options, which will be available in a 41-inch two-piece stack or a 52-inch two-piece stack (https://www.gladiatorgarageworks.com/).
Overhead Storage Racks
Simply put, overhead storage racks make the most economical use of your living area by utilizing space that would otherwise go unused. Easily installed by a DIY'er, some quality overhead storage racks can hold up to 600 pounds and be customized to fit any garage.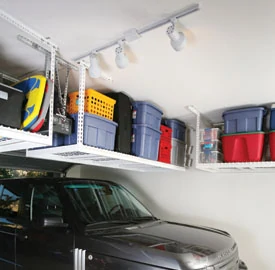 One popular system, called SafeRacks, is solidly constructed of 14-gauge industrial steel horizontal supports with a c-channel design with wire mesh decking on top. To maximize the amount of weight that can be held when attached to the ceiling of your garage, each vertical support in the SafeRacks system is attached to at least two ceiling supports. The dual connection design helps to displace the amount of weight bearing on any single joist for additional strength. SafeRacks is available in sizes ranging from 2-by-2 feet to 8-by-4 feet. The system comes with powder-coated finish and limited lifetime warranty (www.saferacks.com).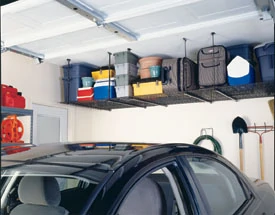 Another overhead storage system comes from Hyloft, which offers both ceiling and wall storage units available in various colors, sizes and finishes. Hyloft's flagship 45-by-45-inch ceiling storage unit is made of strong, durable steel and adjusts in height from 16 to 28 inches. It offers storage space of more than 30 cubic feet and holds up to 250 pounds. Each unit is easy to install and includes all necessary hardware to attach to finished or unfinished ceilings, and multiple units easily connect to maximize storage capacity. Hyloft also offers a 36-by-36 version of the overhead unit, as well as two wall storage units and a variety of accessories, including racks, baskets and hooks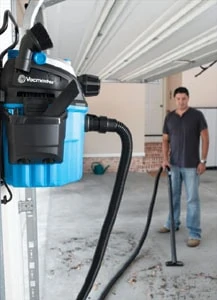 Keeping it Clean
From dirt tracked inside from the garden to sawdust from cutting wood stock, garages and workshops attract dirt and debris like two-sided tape. For the messiest spills, shop vacuums can suck up liquid or dry material. Also, shop vacuums are generally more powerful, and can suck up larger diameter items than a normal vacuum can. A vacuum system for garage and shop cleanup is crucial, but you don't have to buy the largest, most expensive system to get your money's worth. Vacs come in 1 gallon to 55 gallon sizes, but most DIY'ers can get away with a compact 6-gallon, 3-horsepower version to keep size down and storage requirements to a minimum. Professional contractors may require a more powerful vacuum motor and larger tank capacity. Serious woodworkers may opt for a more sophisticated dust-extraction vacuum system that attaches a hose to power tools to vacuum dust right where it is produced.
One new vacuum option for the DIY'er is the Vacmaster Wall Mount unit. One of the most outstanding features of the Wall Mount Vac is a remote control on/off switch that gives you control of the vac at your finger tips, saving time and footsteps when using it for cleanup. Ideal for use in the garage, shop or basement, the vac also easily detaches from the wall for portable use. Equipped with a powerful 5-peak horsepower Dual Turbo Industrial motor, it provides excellent suction and quiet operation. With 21 feet of hose and a 20-foot power cord, the Vacmaster Wall Mount Vac can access messes anywhere inside and outside the home. Plus, it converts into a powerful blower, perfect for clearing debris from the garage, patio or driveway (www.vacmaster.com).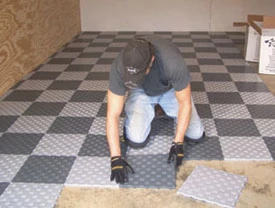 Snap-Together Floor Tile
To add some much needed décor to a lifeless concrete slab floor, snap-together tile systems are available in a wide array of colors and styles. To install the garage floor, just snap a few square layout lines on the floor to guide the installation and then simply place the tiles side by side, interlocking the pegs under one tile with the loops on the edge of the other. Installation couldn't be much simpler, and by mixing and matching colors the installer can invent customized decorative patterns. A quality snap-together floor system creates an attractive, non-slip, solid surface that is durable and easy to clean.
The EHT staff covered the floor of our workshop with SwissTrax brand flooring with a diamond-tread pattern, called DiamondTrax. We installed a checkerboard pattern with alternating colors of light gray and slate gray. The DiamondTrax flooring refuses to chip break no matter how many tools or heavy materials we drop on it, and it provides a softer, more back-friendly floor than hard slab concrete.
The SwissTrax company offers a variety of garage tiles available in up to 14 colors. The company's most popular seller is Ribtrax, which has an open profile that allows water to drain through the tiles, keeping walkways dry and safe (www.swisstrax.com).
Another popular modular flooring company, Snap Lock Industries, manufactures several lines of purpose-built flooring, including RaceDeck garage floor tile, made in the USA of a high-impact copolymer. RaceDeck is engineered to handle extreme vehicle rolling load capacities and resist oil, grease, petroleum products, antifreeze and most household chemicals. Snap Lock also manufactures SnapSports Courts & Surfaces, DuraGrid Matting & Decking, and SnapLock Portable Dance & Event Flooring.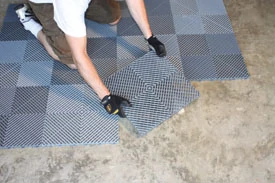 For the toughest, commercial-grade garage applications, Snap Lock offers the new REVolution garage flooring. "The REVolution system is without a doubt the tough-est full-suspension modular flooring system in the industry," says Jorgen Moller, CEO of SnapLock Industries. REVolution has multiple patents and patent pending features, from the innovative PowerLock interlocking system to the Superstructure that supports massive rolling loads. To learn more, visit www.racedeck.com.
Side Note

Easy-To-build Workbench
Here's a simple weekend project: My workshop needed a sturdy, flat work surface that I could access from all sides without a wall in my way, so I built the rock-solid workbench pictured here. This beefy bench is constructed from 2-by-6's, 2-by-4's and 2-by-2's. I first ripped the rounded edges off the lumber, so each 2-by-4 measured 3 inches, and each 2-by-6 measured 5 inches. Then I assembled the bench according to the diagram shown, sizing the height for a 6-foot tall person to work comfortably, but you can adjust the height of your bench accordingly. I used 2-1/2-inch No. 8 wood screws when nailing through 2-by lumber into the face of another 2-by board. However, I used 3-inch screws when nailing through 2-by lumber and into the edge of a board.
You have the option of making the legs from 4-by-4 lumber and notching them as necessary. However, I made them from 2-by-4's, spacing the blocks to accept the table top and lower shelf. The bottom shelf is supported by 2-by-2's attached to the inside of the lower box frame. Make the bottom shelf by cutting your sheet material of choice to fit flush into the lower frame, and fasten to the 2-by-2's with 1-5/8-inch wood screws.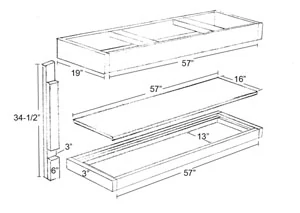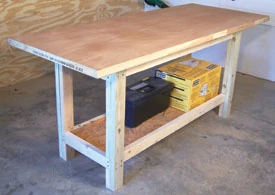 The sturdy top is nothing more than a solid-core door from Lowe's, centered on the table frame and screwed to the 2-by-4 brackets from beneath. You can also construct the table from doubled sheets of plywood or even build a butcher-block top—you've got plenty of options to customize this table in any way that better suits you.