By Sarah Green Carmichael
Photos By Ben Carmichael Photography
If you've redone a bathroom lately—or even taken a peek inside a home design magazine or coffee table book—you know that one thing many desirable modern bathrooms have are frameless glass showers.
When we were redoing our upstairs bathroom, we knew we wanted to upgrade from an old tub-and-shower-curtain configuration to a walk-in all-glass shower. Given how beautiful and popular these showers are now, we knew it would add significant value to our home. Like adding a chef-quality stove or a walk-in closet, a gorgeous frameless shower door is an instant upgrade and a smart investment.
Easier to Clean
I was also done with the mess and fuss of shower curtains. Just flat-out done. In my younger, singler days, it didn't feel like such a big deal to keep the bathroom clean. Every now and then I'd just wipe down a few surfaces, run the toilet brush around the bowl, and be done.
But now that there are two of us using the shower—and one of us is a pretty hairy man (hint: it's not me)—there's a lot more involved. I dreaded having to take the shower curtain and liner down, wash them, dry them, and rehang them. (The only thing more cringe-inducing was accidentally touching the grody side of a shower curtain that had gone too long without a wash. I mean, I'm naked in there! I'm vulnerable!)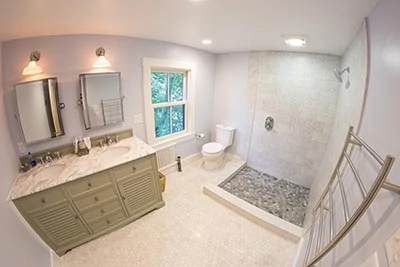 Cleaning our new glass shower door is a snap in comparison. I've heard some people complain that glass showers are hard to keep clean, and indeed, in a previous house with a different brand of shower glass, we did have a shower that hadn't been well-cared for and was covered in hard-to-remove soap scum. But this hasn't been my experience at all with our new Basco shower door. It came pre-treated with AcuaGlideXP, a coating that protects the finish of the glass and makes it resistant to soap scum and water marks. (It comes with a 10-year warranty.) Once a week, I just spritz the glass with the company's Maintain spray and rub it dry with a micro-fiber cloth.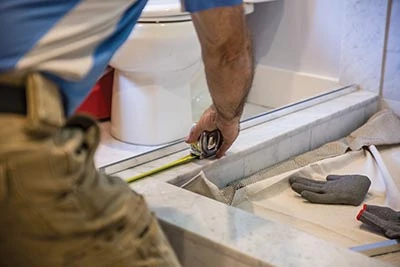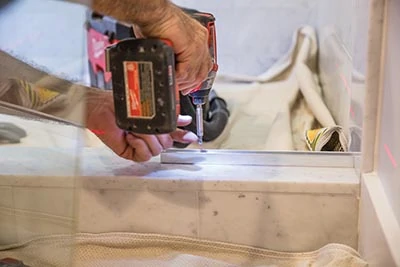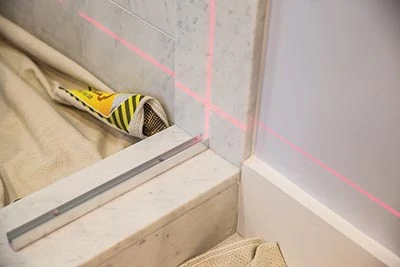 Makes a Small Room Feel Bigger
I also knew that an all-glass shower would help our bathroom feel bright and airy. Old houses contain a lot of mysteries, and one of the mysteries of our 1860 New England home was that the upstairs bathroom had been divided into two small rooms, making the space feel very cramped and dark. Resolving this involved a ton of work, time and expense—pushing one wall back, and tearing out another wall, moving a washer-dryer unit to the basement, and so on. Rebuilding an enclosed shower would have just undone all the work we'd done to open up the space.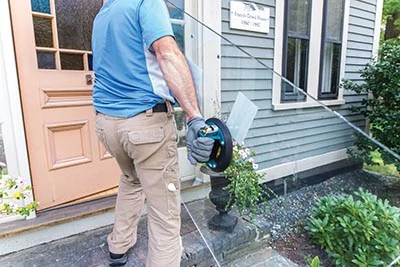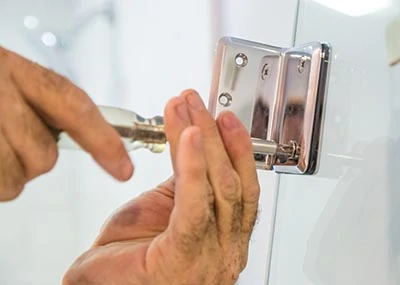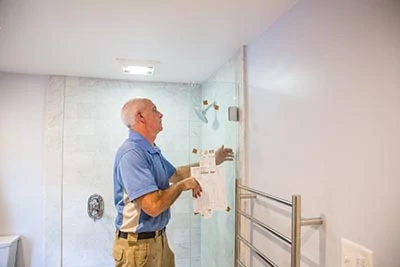 An all-glass shower enclosure was the perfect solution—a popular upgrade that would be easy to keep clean and leave the space feeling, well, spacious. To maximize this open feeling, we chose to go with clear glass, but Basco does offer an array of textured glass options if clear glass would leave you feeling too exposed.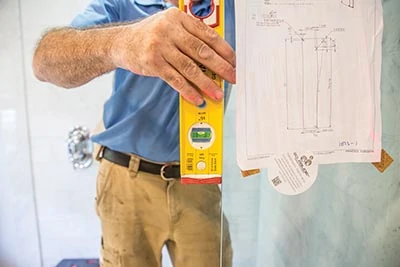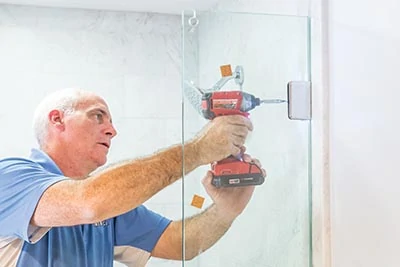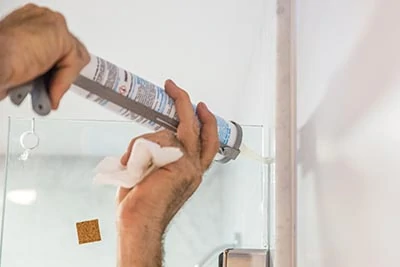 The frameless glass of the Thinline collection does the trick of keeping the room feeling sunny and open. There's more glass (and thus more light) and less metal. I love how now, when I wake up in the morning, I have natural light streaming into the shower. It's almost as good as a cup of coffee for waking up faster.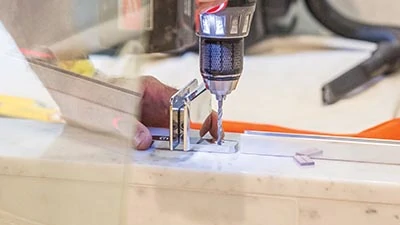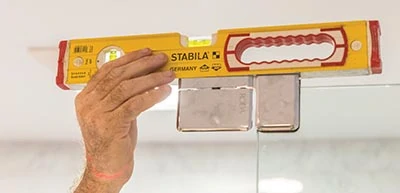 A Spa-Like Feeling at Home
The shower door we installed is, as Goldilocks once said, "just right." The 3/16-in. glass feels thick and solid for a luxurious, spa-like experience. It sounds a little silly to say that, but when we show off our new bathroom to friends and relatives—yes, we've become those people—more than one has blurted out, "Oh my God, it's like a spa!" I don't think they're just trying to be nice.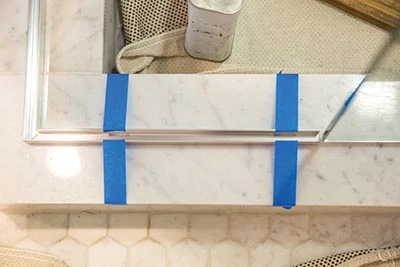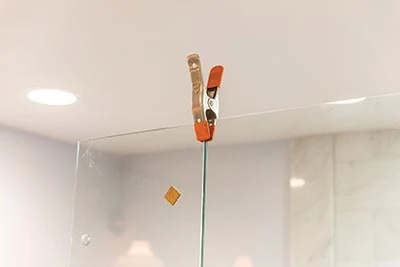 The heavy hinges glide super-smoothly, giving the door a high-quality feeling. We went with a chrome finish for the hardware, to match the chrome of our American Standard plumbing fixtures, but Basco also offers a wide variety of other hardware finishes, including oil-rubbed bronze and brushed nickel.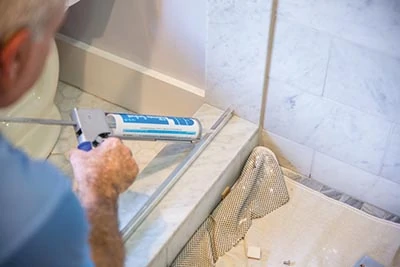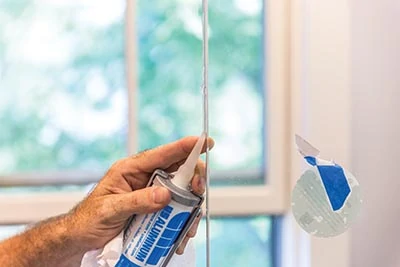 The installation team did such a nice job that the door hangs perfectly. It will easily swing open and shut, and is so well balanced that it will stay wherever we put it, partially open or partially closed. This prevents any surprise door-hitting-you-on-the-way-out moments. (I liked the modernity of the swinging door, but Basco also offers more traditional sliding-door options if that is your preference.)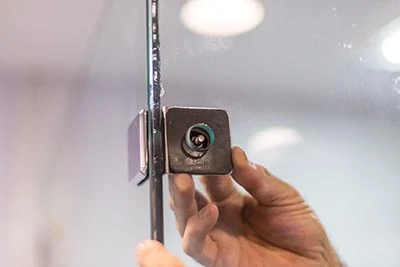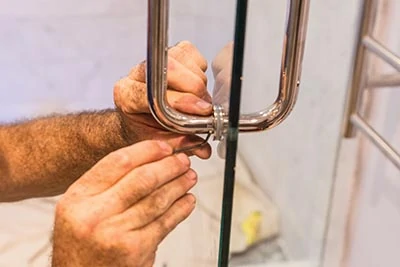 I love our new bathroom, and I hope we won't be moving any-time soon. But I also like knowing that the upgrades we chose have added long-term value to our home.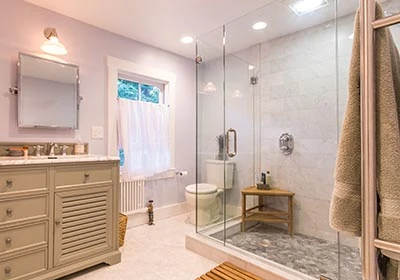 Side Note
5 Tips for Selecting a Glass Shower Door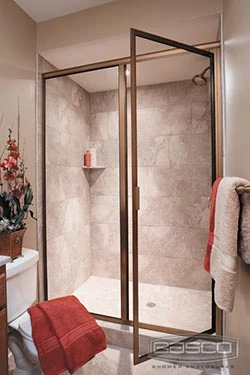 Shower enclosures come in a variety of sizes and can be customized to fit your space. Most manufacturers offer a Measuring Guide that shows how to measure your application for their specific product line.
Door options for glass showers include both swing and sliding enclosures. Consider the space limitations of the bathroom before selecting a door that swings outward.
Glass options are available as well, including the 1/4" thick glass with polished edges, as well as 5/16″, 3/8″ and 1/2″ heavy glass in a variety of patterns and styles. Privacy glass patterns are also an option, available in obscure, rain, fluted, silk and other patterns that limit visibility.
Know your terms. "Frameless" showers will have minimal amount of framing around the door and panels for support. "Semi frameless" may have framing around the entire opening but not around the actual door panel itself. This will vary from model to model. All shower doors require a minimal amount of framing or hardware to ensure support.
Frame finishes also come in several options. Homeowners and interior designers usually select the shower door finish to match faucets or fixtures.