Tuck your washer and dryer behind Johnson's 138FB Sliding Bypass Door Hardware. Now you can create a sleek alternative to your laundry room without sacrificing necessary space.
It's the Easy Way to Make Closet Doors Open/Close Smoothly, Effortlessly 
With the increase in work from home and students switching to e-learning, home life can become stressful as you struggle to find space for everything.  Why not swap out traditional swinging doors for simple and stylish sliding bypass doors?
Bypass doors are the perfect option for closets, where space and organization are often the biggest priorities. By switching to bypass doors, you are able to open up your space and increase flexibility in furniture arrangements. This makes a home more comfortable and spacious, even with the extra traffic.
It's easy to do with Johnson's 138F and 138FB Sliding Bypass Door Hardware. You can use the hardware with virtually any metal or wood door,
1 ⅜ " thick, up to 36" wide, and weighing up to 200 lbs.  With available Soft-Close hardware, you can easily open and close the doors softly and quietly, without worry of slamming or pinching fingers.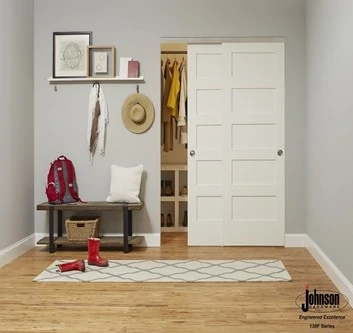 Open up a mudroom or foyer closet with Johnson's 138F Sliding Bypass Door Hardware. Sliding bypass doors are the perfect fit for stylishly concealing all of your shoes and jackets.The aluminum track features a built-in fascia which offers a warm decorative detail to the room. Choose anodized bronze (138FB) or natural mill finish (138F)  fascia). This hardware can be installed by a handyman in less than an hour.
Johnson's patented "tricycle" hangers with 1" diameter wheels ride smoothly and quietly on convex shaped rails with single point contact. The hangers also feature a quick disconnect clip system allowing for easy mounting or dismount of door panels.
Worried about the track length not fitting a narrow doorway or opening? The tracks can be cut down to fit any size doorway without interfering with the functionality. The jump-proof aluminum box track is available in lengths up to 196".  Ideal for 2-door or 4-door applications.
Made in the USA, Johnson Hardware has been producing high quality sliding, folding and pocket door hardware for residential
and light commercial applications since 1958. Celebrating 60 years of precision engineering, the Company protects the health and safety of its employees and surrounding communities and ecosystems. It uses natural resources including raw materials, energy and water as efficiently as possible.
For more information, visit www.johnsonhardware.com, or call 800-837-5664. Follow the company on Twitter: @JohnsonHrdware, Instagram: johnsonhardware, Pinterest: https://www.pinterest.com/johnsonhardware, and Facebook