Do you cringe when you walk into your kitchen because it looks old and outdated? Does the potential cost scare you from even considering this improvement, especially during this time of economic uncertainty?  Well, get ready to plan your next dinner party because there are quite a few things you can do to breathe fresh life into your kitchen for a lot less than you would think!  Additionally, there are new tools on the market that can help you improve the look and feel of your kitchen more quickly and at a fraction of the cost.
The typical kitchen remodeling, which averages about $27,000, usually includes replacing countertops, cabinets and appliances. But, you can change the entire look and feel of your kitchen by refinishing the walls, cabinetry and appliances or just adding some flair with new hardware and crown molding.
Let's look at a few ways you can quickly update them while saving big money.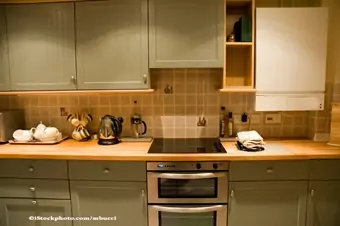 Refinish Cabinets for Big Savings and a Great New Look
By far, one of the biggest expenses you'll face will be replacing the kitchen cabinets. They could easily account for half of the total cost of remodeling a kitchen. Repainting or faux finishing (pictured to right) the cabinets and updating the hardware will save you a great deal of money and provide your kitchen with that "new" feel.  Even something as simple as changing the cabinet knobs or pulls will enhance your kitchen's look with a great new style.
Refinishing the cabinets saves money and it is a worthwhile investment of your time. This project can involve stripping, sanding, and/or priming, as well as adding fresh coat of paint. The results are well worth the investment in time.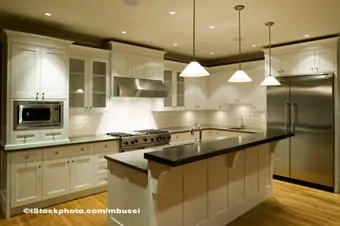 There are new tools on the market that can help you paint the cabinets faster as well as save money by helping you use the paint more efficiently. For example, by using Painter's Pyramids® (www.painterspyramid.com), you can paint all sides of the cabinet doors and drawers in half the time without having to wait for the first side to dry. This saves you time on the stripping and priming, as well as, the painting.
Another new tool on the market, The Hyde® Paint Miser (www.hydetools.com), lets you maximize your paint purchase. It claims to give you seven percent more from every paint can as the tool enables you to wipe up the sides and bottom of the can, scoop up paint inside of the room and scrape the paint rollers clean.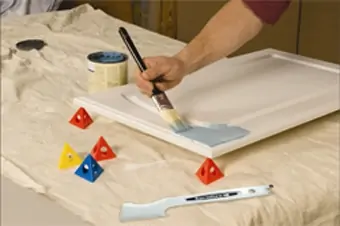 Beautiful Stainless Steel Appliances for a Fraction of the Cost
New appliances are very expensive. However, there are great ways to update their look to Stainless without replacing them!
Stainless steel is the rage for appliances these days and there are two new options for turning your existing appliances stainless. The first option is Liquid Stainless Steel paint (www.liquidstainlesssteel.com) where you can literally paint steel onto your appliances. According to its website, you can repaint your refrigerator, stove and microwave for $140. The Painter's Pyramid and PaintMiser can help with these tasks as well.
Your second choice is using an adhesive backed peel and stick film. Softmetal looks like stainless steel once applied. The durable PVC surface cleans easily, is scratch resistant and stays in place under extreme temperatures.  It is applied with a razor knife and a squeegy. The manufacturer claims that, "one large roll can redo up to three appliances, making them stainless steel in less than an hour!"
Fresh Paint and Crown Molding Changes Entire Feel of Your Kitchen
In addition to repainting the cabinets or painting stainless steel onto your appliances, you can repaint the walls of the kitchen and add crown molding. The right color can help create the look you want to go with your "new" cabinets and appliances. For example, painting with light colors can make the room feel more spacious and cooler. On the other hand, strong oranges, reds and darker colors can make a room appear smaller, for a warmer, cozier effect. It is important to choose colors that will accent and complement your home.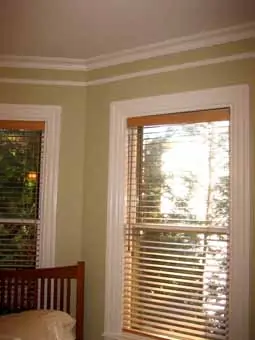 If you are considering crown molding for your kitchen, there are ways to add it economically. If you purchase the molding (contractor packs at Home Depot are a great deal) and paint it yourself prior to installation, you can save a lot of time and mess. The Painter's Pyramid is again a great time saving tool to use when painting the crown molding. If the challenge of cutting and installing crown molding seems daunting, there are many skilled carpenters who can do the job well and will price it very reasonably in the current economy.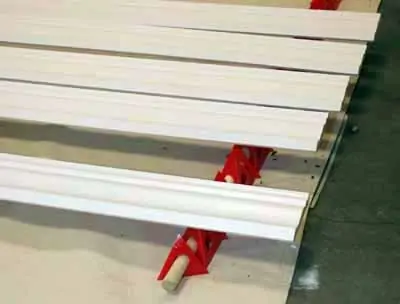 The Hyde® Corner Ease roller can help you save time and money if you want to repaint the walls of your kitchen. The Corner Ease helps you tackle corners and tight grooves, generally the slowest part of painting walls. All of the painting jobs in the kitchen can benefit from the cost savings the Paint Miser provides as well.
Few things add new life to a room as dramatically as fresh paint. Paint, combined with the tricks of not having to fully replace your appliances and cabinets, new hardware, and utilizing some of the new tools on the market to save you money and time, can help you achieve the kitchen of your dreams for a lot less. Make the kitchen the heart of your home once more.