Check out these amazing new roofs from our friends at DaVinci Roofscapes. 
Black Oak Perfect Match for Missouri Homeowner
Village of Loch Lloyd, Missouri-
Decisions. Decisions. When Sheri Stamper recently purchased a new home she faced numerous remodeling decisions — including the search for a new roof. Fortunately, this decision was an easy one. She went with a composite roofing product she knew and trusted: DaVinci Roofscapes.
"I installed DaVinci's composite roofing tiles on a previous home," says Stamper. "I did research prior to selecting both roofs. The DaVinci product wins out for quality, performance and style."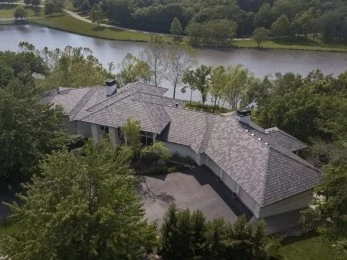 Ron Berg Studio
For her new home, Stamper was pleased to learn that DaVinci now offers the Black Oak color in the new Nature Crafted Collection. "I like this color offering," says Stamper. "It has a natural look along with good texture and dimension.
"My goal was not to install a wood shake look, but rather a natural look with colors from nature. The darker tone of the Black Oak roofing appears natural, with not such a harsh appearance. I believe it will be one of the best-selling colors for the company in the future."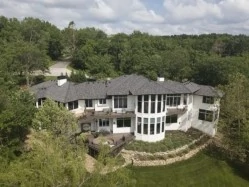 Ron Berg Studio
Insurance Companies Refuse to Insure Real Wood Shake Roofs
Los Altos Hills, California- 
Residents of Palo Alto and Los Altos Hills take wildfire concerns very seriously. So do the insurance companies that cover homeowners in this tinder-box geographical area of California. That's why David and Ann Crockett had to replace their real wood roof — because their insurance company was going to drop them.
"We live in a high wild fire area," says Crockett, a resident of Los Altos Hills. "Our insurance company refused to renew our homeowners insurance because we had thick wood cedar shake shingles on our home. That's when we went searching for an alternative product and found fire-resistant, Class A DaVinci Roofscapes."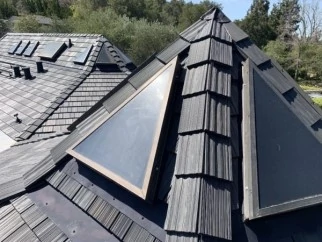 Crockett liked the look of wood shake shingles on his unique hexangle form home. Constructed in 1967, each room is a hexagon. The main house has two bedrooms, a den, living room, kitchen and two bathrooms. There's also a basement under the living room with a workout room, media room and breakfast sitting area. Attached is a secondary hexagon structure with two additional bedrooms and a bath.
"This distinctive structure looks best with shake shingles on the roof," says Crockett. "I did extensive research for a wood shake 'look alike' before selecting the DaVinci Multi-Width Shake product in Black Oak. We were impressed with the fire-resistancy of the composite shakes plus the aesthetic look."
Home Transformed with Nature Crafted Roof
Bartlett, Illinois-
Ugly. Worn-out. Dismal. Those are the "kind" descriptions of an Illinois home whose real cedar shakes were way past their prime. Now, with the replacement of DaVinci Multi-Width Shake composite shakes on the roof, there's a whole new set of words to describe this home: refreshed, transformed and breathtaking.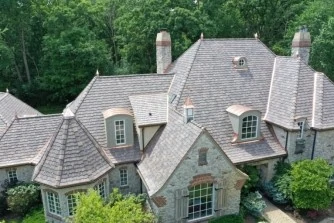 "We started out by inspecting for hail damage," says Patric Strisovsky, owner of All Roofs, Inc. in Franklin Park, Ill. "We got the homeowner approved through their insurance company for a new roof. The old cedar shake roof was just too worn out and damaged by hail to last another year.
"The homeowners were thrilled with the style and Aged Cedar coloring. And, like many of our clients, they were truly overjoyed that the product is hail resistant. With a Lifetime Limited Warranty, this means the DaVinci roof should look just as good in 30 or 50 years as it does today."
Composite Slate Roof Tops Expansive Home
Wentzville, Missouri-
Every year or two a roofer gets a one-of-a-kind project. A special home re-roofing job that truly stays with them. A project so unique that only composite roofing will perfectly accent the home. That's the type of project Jessie Gillam had in the summer of 2018.
"The overall architecture of this home and the design of the roof made this project dynamic," says Gillam with University Roofing & Construction out of St. Louis, Missouri. "There are 65 different facets on this roof. Plus there are three distinctly different turrets. This is truly a once-in-a-lifetime type of project."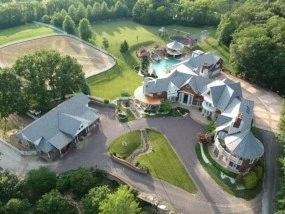 Located in Wentzville, Missouri, this property has it all. Swimming pool with a unique two-story pavilion. Expansive children's play area with a mini Ferris wheel. A horse barn and training yard. After 17 years and many hail storms, the shingles on their structures were done.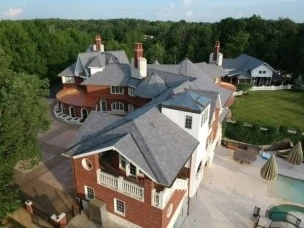 "When I brought the DaVinci Roofscapes Multi-Width Slate composite roofing for the homeowner to see, he was fascinated," says Gillam. "The authentic look of the product in the European color blend plus the technological specifications sold him."
California Dreaming: Composite Slate Roof Tops Custom Home
Montecito, California-
Imported limestone fireplaces and a showpiece fountain. Custom-designed light fixtures. Spa-like bathrooms and lavish walk-in closets. This is what a dream home is all about. And, for this stunning single-level Mediterranean French Country custom home in southern California, there's also a dream roof: a DaVinci Multi-Width Slate roof in Castle Gray.
"We like the many features and benefits this Cool Roof brings to the home," says Juan Arteaga with Becker Studios Inc. "A Cool Roof can help reflect sunlight and heat away from a home, which helps to significantly lower attic temperatures. As a result, the Department of Energy's ENERGY STAR® program estimates that air conditioning costs can be reduced by as much as 10 to 15 percent for a homeowner."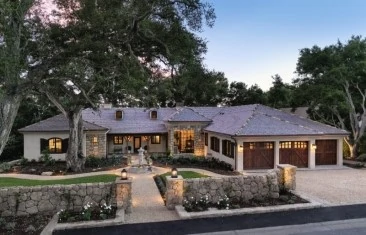 Photo by MK Group: www.marshakotlyar.com
Composite slate and shake roofing tiles are rated independently by the Cool Roof Rating Council (CRRC). The ENERGY STAR rated composite roofing products from DaVinci are Title 24 compliant for installation in California.
"Additionally, this DaVinci composite slate roof resists fire, which is so important in our area with the constant concern for wildfires," says Arteaga. "A spark can land on this roof and it simply won't spread. That brings tremendous peace-of-mind to homeowners and a potential break on their homeowner's insurance." 
Another Hail Headache Ends with Composite Slate Roofing
Wichita, Kansas-
From the air, the roof on Stan Brannan's home looks larger than the covering over a superstore or an oversized circus tent. The massive size of the roof made the selection of his new composite slate roof extremely important for the Kansas homeowner.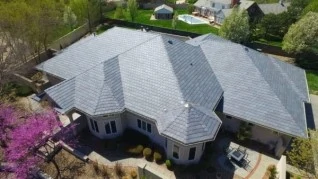 "I searched for a roof that would help protect my home from the serious weather conditions we experience in Wichita," says Brannan. "Equally vital was finding a roof that adds to the curb appeal and overall look of our home."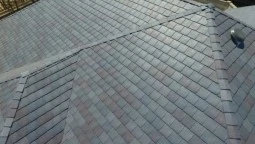 Once the insurance claim was approved, Brannan met with Rhoden Roofing. Brett Worrell, project coordinator for the company, recommended DaVinci composite slate roofing for the Brannan home.
"We install between 25 and 30 DaVinci Roofscapes composite roofs each year," says Worrell. "For this home, I recommended the Bellaforté Slate product in a European Blend because it has a similar profile to the previous concrete tile roof on the Brannan home. It lays in a uniform pattern and enhances the overall look of the house."