Once your yard wakes up from the winter, you'll have a lot of outdoor work on your hands. Here are some new tools to help shape up your landscape for the growing season.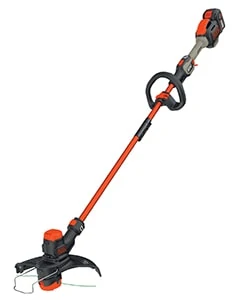 Black & Decker 60V MAX EasyFeed String Trimmer
For cordless power and control, the new 60V MAX trimmer/edger offers two-speed operation that lets you balance more power or longer runtime as needed. Easily and reliably feed the dual 0.080-in. trimmer line with the push of a button. Height and handle are adjustable, and it flips to an edger in seconds. Perform clean, fast cuts with the Power Drive high-torque transmission to give you cutting power at the string. Visit www.blackanddecker.com.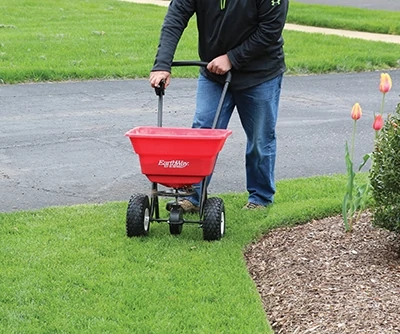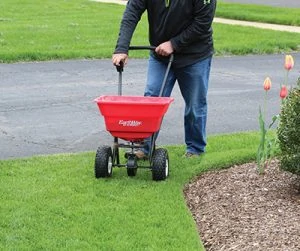 EarthWay SideSpred-Control
The EarthWay SideSpred-Control is a new innovation that eliminates the need to use a side deflector, which can adversely affect your application rate to prevent material from being spread into flowerbeds, on sidewalks, or driveways. The SideSpred-Control stops the material before it comes out of the hopper and maintains the correct application rate while it is activated, giving you excellent results in seeding or spreading while controlling the spread pattern on the left side of the spreader. The SideSpred-Control is an EarthWay exclusive. Visit earthway.com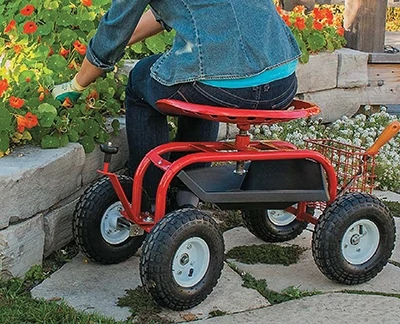 Steerable Rolling Seat with Tool Tray
If you've ever had to crouch for long periods in the garden, you'll appreciate the value of a rolling seat. This one has the added convenience of steering to maneuver around the garden. The comfortable metal tractor-style seat is adjustable from 17 to 20 inches high and swivels 360 degrees, so you can position your body comfortably while working. The rolling base, constructed of 1-in. diameter powder-coated steel tubing, has four wide pneumatic tires that move easily through soil without sinking. The seat includes an under-seat poly tool tray and a rear storage basket to keep supplies and tools handy.
In addition to planting, maintenance and harvesting, this rolling seat is useful for low-to-the-ground chores such as washing cars and painting. Visit www.leevalley.com.

Ryobi 18V ONE+ Reciprocating Saw
The New and Improved Ryobi 18V ONE+ Reciprocating Saw is delivers more power than the previous P514 unit as well as a 1-1/8-in. stroke length for more material removal per cut. This saw features an Anti-Vibe handle that reduces user fatigue during prolonged use.
The adjustable, pivoting shoe allows depth-of-cut control and more efficient use of blade. The saw delivers 0-2,900 strokes per minute no-load speed for smooth/fast cutting, and a variable speed trigger offers easy starts and cut control.
The tool-less open lock blade clamps for quick one-handed blade changes. Covered by a 3-year warranty, the new P516 works with any 18V ONE+ battery (sold separately) and is a part of the ONE+ System of over 50 tools that all work with the same 18V battery platform. Visit www.ryobitools.com.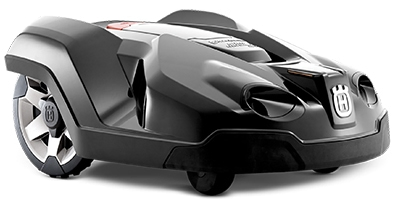 Husqvarna Automower
With Husqvarna's robotic lawn mower, the grass gets mowed automatically, around the clock, and without your supervision. The grass cuttings are small enough that you won't need to rake the clippings, adding fertilization back to the soil. The Husqvarna Automower is able to maintain 1/2 acre lawns in any weather, with rough terrain and slopes up to 35 percent. When the mower meets an obstacle it stops and redirects itself. It also knows when it needs to be charged. With the convenient setting control panel, your robot mower allows you to set it and forget it. You can place the charging station practically anywhere on the lawn. When power is needed, the mower finds its way back to the charging station. The robotic mower is also equipped with an attentive anti-theft system and built-in safety measures. The blade system provides for efficient operation and extremely low energy consumption, allowing the robotic mower to operate at a fraction of the cost of traditional lawnmowers. Three models are currently available. Visit www.husqvarna.com.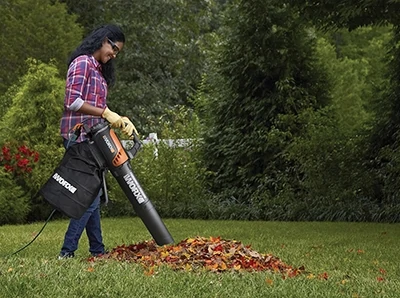 Worx TurbineFusion
The Worx TurbineFusion Blower/Mulcher/Bagger has a two-stage metal impeller system that breaks leaves and yard debris into fine mulch. Its 24-to-1 mulch ratio means if your neighbor was packing leaves by hand, he/she would fill 24 bags to just one with TurbineFusion. With powerful turbine jet engine technology and a patented all-in-one tube system, it blows, vacuums and mulches leaves and debris quickly and easily. Quickly convert this lightweight leaf blower to a yard vacuum by attaching the included leaf collection bag. With air speeds up to 60 mph and an air volume up to 525 cfm, the TurbineFusion is the quickest way to clear your lawn from leaves and debris. Visit worx.com.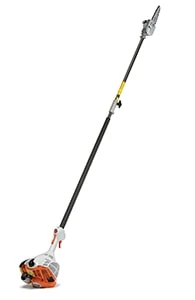 Stihl HT 56 C-E Pole Pruner
Don't let overgrown branches loom over your property. Prune them with the redesigned Stihl HT 56 C-E pole pruner. It features a lightweight gearbox that enhances maneuverability and user comfort. It also features an inside (left-hand) guide bar and saw chain mounting system, providing a better view of cutting. Starting is nearly effortless thanks to Stihl Easy2Start technology—just give it a light pull and hear the engine come to life. The pruner also includes a unique, two-piece shaft design for easy storage and transport. Visit stihlusa.com.

WORX Hydroshot Powered Water Nozzle
When it comes to washing the car, truck or SUV; hosing down the deck or patio; watering flowers and shrubs; or rinsing dusty patio furniture, the new WORX Hydroshot Powered Water Nozzle is up to the task and more. Powered by a 20V MaxLithium 2.0 Ah battery, this compact, lightweight (3.7 lbs.), cordless, powered water nozzle connects with a standard .625-in. fitting garden hose or can draw water from remote sources such as a bucket, pool or lake. Pick up your favorite garden hose and nozzle combination and multiply the water's force four times. The pump-driven, dual-system control nozzle features two operating settings: watering and power cleaning. It delivers water pressure ratings of 58 to 94 psi (watering) and 200 to 320 psi for power cleaning. Hydoshot's built-in pump is designed to help save water by only pumping out roughly 1/2 gallon-per-minute. Rotate the multi-head nozzle to adjust spray patterns from 0º, 15º, 25º 40º or shower. Choose gentle shower; then rotate the head for targeted high-powered rinsing. Select the wider spray pattern to remove dirt or pollen from windows or rinse a boat's hull between normal wash cycles. Hydroshot also features a universal quick-connect end to accept other aftermarket pressure washer accessories. Visit worx.com.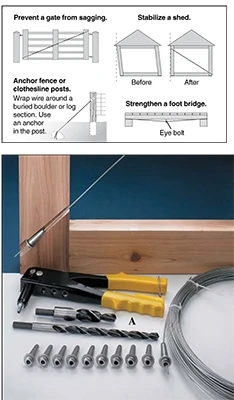 Wire Tensioning Kit
This system can be used to tension wire fences, anchor fence posts, stabilize garden sheds, strengthen foot bridges, prevent wooden gates from sagging or cross-brace the legs of a workbench, as just a few examples. The kit includes 10 aluminum-bodied anchors with spring-loaded hardened steel jaws, 150 feet of 14-gauge high-tension steel wire (HTSW), a tensioning device, and two drill bits: a 27/64×9-in. twist drill for through boring and a 5-in. piloted counterbore for seating the anchors below the wood surface. The tensioning device is made specifically for 14-gauge HTSW, but the anchors are compatible with 12-1/2 gauge HTSW as well and will withstand up to 1600 lbs. when used in the anchor. The 14-gauge HTSW will withstand up to 800 lbs. when used in the anchor. Unlike unhardened wire, HTSW is elastic in use and does not deform. Visit www.leevalley.com.
Side Note One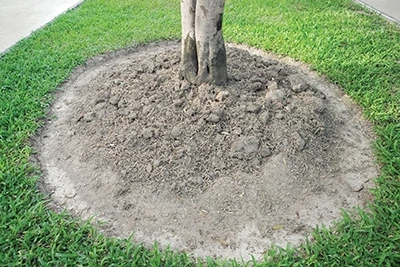 Tips for Tree-Planting Success
From small fruit-bearing species to really big ones with branches big enough for a treehouse, trees can add a lot to a home's landscape. Keep these professional pointers in mind when adding a new one.
Selection—When adding a tree to your yard, do a little research to select a type that is well suited to the home's landscape and the area where you live. Some trees provide more shade while others offer quick growth, a different color or more fragrance. Some trees are also best suited for certain soil conditions, a wet or dry climate, or warmer temperature ranges.
Location—Most trees thrive in full sunlight, but many need shade. Plant the tree away from visible obstructions like power lines and underground hazards like pipes and wires. To reduce home maintenance, locate it far enough away from your home, garage or shed where it doesn't cast a permanent shade that leads to mildewed siding. Remove surrounding weeds and other plants that compete for nutrients and may prevent your tree from growing straight and tall. Allow plenty of space for the tree to grow for the next 10 to 30 years.
Planting—The spring growing season is an ideal time to plant a tree. The planting hole should be four to five times the width of the root ball. The tree should extend up from the ground roughly half an inch higher than the soil around it to shed water away from the trunk to prevent rot. Cover the planting hole with 1-3 inches of hardwood chips or leaf mulch but keep it 2-3 inches away from the trunk. The tree will need plenty of water the first few years as the roots get established.
Side Note Two
Tree-Pruning Tips
Pruning is one of the least understood disciplines in arboriculture for a variety of reasons. It is important to realize that even accurate pruning may have some negative impacts. Pruning may be necessary, but it still inflicts a wound to a tree's armor. Even so, the results of a proper cut are usually far better than one never placed.
The first step in effective pruning is proper tree identification. Once the tree's genus is determined, knowledge about hardiness, growth response, best time of year to prune and more can be considered.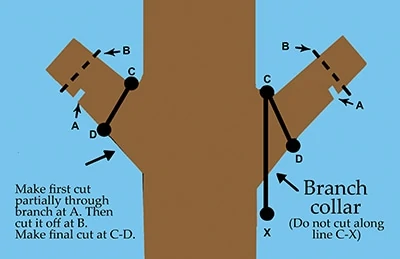 The most common reasons for pruning are: to increase personal safety, aesthetics, improve tree vitality, maintain size, clear objects, improve fruit/blossom production, raise the crown and reduce liability. The purpose, along with other factors, will determine the type and size of cuts needed.
The boundary that separates a tree trunk from a branch is known as the branch collar. The collar seals the pruning cut. If the collar is compromised by an improper cut or other wound, there is an increased chance of decay. Therefore, pruning cuts should be made as close to the collar as possible without harming it.
The angle at which a live limb is cut will also affect a tree's ability to seal. An improper cut will leave a dead, angular nub or "dog's ear" protruding from the trunk. Dog's ears may prevent sealing, which again increases the chance of harm to the tree. A best practice is to make the finishing cut as close to the branch collar as possible without damaging it.
The most common practice in pruning is to remove dead, diseased and dying limbs.
Other than removing dead-wood, removing conflicting limbs may be the most beneficial to a tree's survival. However, thinning cuts can damage some species of trees in certain environments. Removing too many interior limbs in a mature hardwood may stress the tree and result in a "lion's tailing" effect, where all of the interior foliage is stripped, leaving foliage only at the ends of the limbs. Another variable to consider is exposure to the sun. If a tree loses a large limb on the south side, late-day sun can raise the temperature of the fluids beneath a tree's surface, resulting in "sunscald" with cracking bark. In short, a live limb shouldn't be removed without careful consideration.
For more information on pruning techniques, refer to the American National Standards Institute's (ANSI)A300 Pruning Standards. Or contact the International Society of Arboriculture (ISA) at 217-355-9411 (www.isa-arbor.com) or Tree Care Industry Association (TCIA) at 603-314-5380 for additional resources.
Source: Mark Chisholm on behalf of STIHL Inc.