What's the most versatile tool in your shop? An air compressor and mating air tools can do an amazing amount of work around your home and shop. Regardless of whether your chores include woodworking, metalworking, mechanical jobs or even simple home chores, a compressor is the tool. Many chores can also be done at a lower cost than with comparable electric tools. The initial cost of the air tool is lower, and the average life-span is longer. 
Choosing an Air Compressor
Air compressors are available in a wide range of sizes, with different air delivery ratings, horsepower and in single- and two-stage models. Single-stage models are the most common choice for home shop needs. It's extremely important to match the air compressor to the tool being used. Most air compressors feature an air-delivery rating. This signifies a specific model's output power. To ensure proper performance from your air tools, use only those tools with air requirement ratings less than the delivery rate of your compressor. Campbell Hausfeld models are available in Standard Duty, Serious Duty and Extreme Duty. The Standard Duty line is designed for occasional use in the home, garage or workshop. Serious Duty is designed for more frequent use on the farm, automotive garage or work site. Extreme Duty is for commercial work.
Air compressors are also available in different sizes. Again, first choose the usage. Small portable compressors, including "pancake" styles, can run small tools around the house. Those with 2 horsepower can handle many small jobs. Tank styles ranging from 5 to 6 horsepower can be used for almost any extreme how-to homeowner chore. The 6-horsepower models are about the limit in power for 120-volt, homeowner operation and are available with horizontal or vertical tanks. The new Campbell Hausfeld, 5.5-peak horsepower 22- and 26-gallon compressors are the only models on the market that can be stored and operated in either a horizontal or vertical position. "The 'vertizontal' design provides do-it-yourselfers with a great deal of versatility," said Brad Miller, Product Manager. "Users can choose compressor position based on preference or space allocation."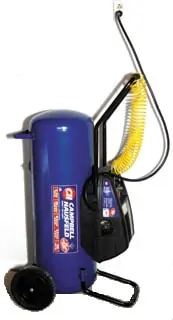 Available in a wide range of sizes and types, oilless compressors offering around 6 horsepower are well suited for homeowner chores. The Campbell Hausfeld "Vertizontal" can be stored and operated horizontally or vertically.
Accessories and Tools
With just one compressor you can run an amazing variety of power tools. And even if used only for occasional homeowner repair chores, you'll get the job done more quickly and less expensively with air tools. Some manufacturers offer more than 70 air tools.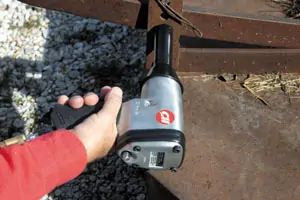 Individual tools can include everything from impact wrenches to metalworking sanders and cutters.
Household Chores
Of course, air compressors can be used for simple chores, such as inflating anything from tires to basketballs, beach toys or air mattresses. With a blowgun, dust and debris can be blown off sanded furniture and cabinetry. A blowgun can also be used to clean out motors and other dirty problems.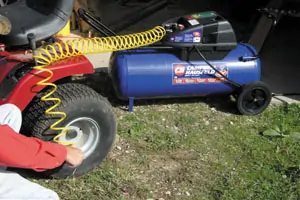 Woodworking
Regardless of whether building a house, custom furniture, a cabinet or a birdhouse, there's an air-nailing system to match the job. Hitachi, Porter Cable, Paslode and Campbell Hausfeld offer a wide variety of air nailers. On the smaller end of the spectrum, these tools begin with tiny 1/4-inch crown staplers for finish carpentry and crafts. These are a great choice when assembling drawers or craft projects such as bird and doll houses. Moving up to the next size is a 1 1/4-inch brad nailer. A primary use is installation of interior house trim, including baseboards. Brad nailers are also available in 2-inch sizes and are used in cabinet and furniture construction as well. Finish nailers are available in both 2 and 2 1/2-inch sizes. These are also used in cabinetry and interior trim work. Next up in size are the 3 1/2-inch clipped-head framing nailers. These are used for house framing, sheathing, making trusses and for decking. Coil roofing nailers are used for asphalt and fiberglass roofing shingles, re-roofing and sheathing. One of the more unusual nailers is the air palm hammer. This uses bulk nails and allows you to drive individual nails in tight areas for decks, fencing and house framing such as joist hangers.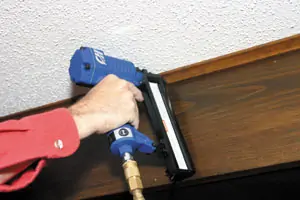 A wide variety of air nailers can be used for almost any woodworking chore. The brad nailer shown is perfect for interior trim work.
When choosing an air nailer, a rubber comfort grip adds to the ease and comfort of use. Models with lightweight aluminum housings also add to the ease of use. A side-loading magazine is easiest to load. Triggers may be sequential or single-cycle/contact trip, depending on the use. Dual-mode triggers allow you to easily switch between the two nailing modes. A sequential mode is designed for speedy operation with sheeting and other ready-to-nail materials. The single-cycle mode gives you better control and more accurate fastener placement when you have little margin for error. Nailers with adjustable exhaust ports allow you to control the direction of the exhaust. Manufacturers often sell these tools in kit form, which also includes the necessary accessories and a carrying case.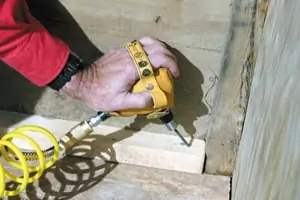 Palm nailers can be used with bulk nails for driving into decks, fencing or hard-to-reach spots in framing.
Mechanical and Metalworking
A full line of impact wrenches is available, ranging from a 1/4-inch drive screwdriver kit to 1-inch models with 1,100 foot-pounds of torque. A 1/2-inch, 250-foot-pound impact wrench is adequate for most home workshop chores. A tool with 380 foot-pounds will do heavy-duty work for automotive and farm chores. Lighter chores can be done with an air ratchet. These range from 18 to 90 foot-pounds of torque. The smaller models will handle small engines, with the larger units capable of most tractor and heavy machinery chores.
Other metalworking tools include die grinders, angle grinders, metal-cutting tools, reciprocating saws, metal shears, air hammers, air-powered drills and a wide line-up of air sanders. Many of these are available in kit form, complete with the basic tools and accessories.
Painting
Paints and clear finishes are quickly and easily applied with the appropriate spray guns. These include the economical, basic pressure-feed, general-use guns as well as models that change from pressure-feed to siphon-feed. Guns are also available with gravity-feed for use with today's advanced automotive coatings. They provide optimal atomization and particle size. High-volume, low-pressure guns operate at a lower air-capacity pressure than conventional spray guns, and result in a reduction of paint consumption by up to 30 percent and reduce sprayback and overspray.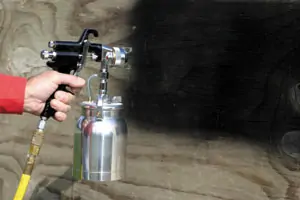 Of course, you may need to use a sandblaster to first remove the old finish. A wide range of these is also available, ranging from small models that draw the abrasive from a bucket to those with 120-pound capacity.
Even the dreaded homeowner chore of caulking can be made easier with an air caulk gun. And, artists, taxidermists and crafters will find many uses for a small portable compressor and airbrush set.   
Operation
Air compressors and their accessory tools create a high-pressure pumping system. It is ex-tremely important to read the manufacturer's operator manual and carefully follow all safety and operation rules. Always wear safety glasses and hearing protection when using the units. Moisture condenses in the unit, and it's extremely important to drain the tank after each day's use. If left in the tank, the moisture can cause rust to weaken the tank. Check the compressor frequently for any visible problems. Make sure the pressure safety-valve ring is properly operating.
Regardless of whether the chores are for the homeowner, contractor or mechanic, whether they're tiny or extreme, there's a compressor and tool to do the job.
Product Spotlight
Hitachi Power Tools offers a selection of air compressors and high-quality pneumatic fastening tools for contractors and extreme DIY'ers. The fastener lineup includes framing nailers, brad nailers, crown staplers and roofing nailers, including the Plasti-Tacker Plus specialty nailer for roofing and siding applications. Hitachi's air compressors range from 1 1/2 to 5 1/2 horsepower. The company's EC12 2-horsepower model effectively provides air pressure sufficient to support any pneumatic air-nailer. For higher-capacity tools, Hitachi's EC25E is a gas-powered air compressor that boasts a Honda engine and can deliver 9 cubic feet per minute of air at 100 pounds per square inch.