Timeless woodgrain carriage house styles. Colorful attention-grabbing contemporary accents. Statement-making designs with eye-catching appeal. Experts at Haas Door recommend that homeowners open themselves—and their garage doors—up to the potential for endless possibilities of enhancing the curb appeal of their homes.
"The garage door is a focal point of many home exteriors so it's important to use it to create curb appeal on a house," says Jeffrey Nofziger, president of Haas Door from Wauseon, Ohio. "Selecting the right garage door for a home is more than just picking a durable entryway. The garage door should be an extension of the home's style and personality."
According to the 2018 Cost vs Value Study by Remodeling magazine, a garage door replacement offers the #1 highest return on investment for a homeowner of a midrange priced home. At a projected 98% cost recouped, a new garage door almost always pays for itself when selling a house.
"The garage door is probably the most used entryway in the home," says Nofziger. "Doesn't it deserve to be a welcoming entry that adds to the overall style of the home?"  He recommends the following tips for selecting a garage door that can enhance a home exterior and add valuable curb appeal to a house:
Tip #1 – Step back.
Before selecting a garage door stand by the street and look at your home overall. Now, think about the style of the home exterior, the colors on the house and the textures. Determine what kind of garage door—smooth or woodgrain—and what color or texture would best complement your home's overall exterior.
Tip #2 – Light or no light?
Decide if you'd like a solid garage door or one with windows to allow light into your garage. If you choose windows, look at the style of windows on the front side of your home (including the grids) and look for a garage door with similar window styles. For example, if your home has lots of small window panes, then look for garage door windows with grids that replicate the look of smaller panes of glass.
Tip #3 – Be practical.
Select a garage door that can handle weather conditions for your geographic area. For instance, a 5000 Series door can stand up to Mother Nature, even in Florida conditions, with its corrosion-resistant aluminum, thick insulation and weather-resistant paint finish.
Tip #4 – Stand out … or stand back?
Decide if you want your garage to be a stand-out focal point when looking at your house or if you want it to blend in with your home's style. There's no wrong answer. Oftentimes a stand-out door, like one in an elegant Craftsman style with a wood grained finish, can add visual dimension and appeal to a home exterior. Or, a door in a painted bronze color can stand out beautifully against a stone veneer home facade.
Tip #5 – Think of the future.
A garage door selection is one that should last many years for your home. So, look below the beauty of the surface to choose a low-maintenance door that has a strong warranty and will give you years of beauty with minimal upkeep.
Side Note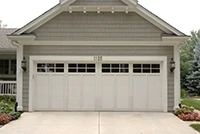 Visualize your New Door Digitally
To assist homeowners to envision how different types of garage doors can add to the overall curb appeal of a home, Haas Door offers a free design tool called HaasCreate. In just a few steps, the online visualizer tool, located at www.haascreate.com, allows you to upload a photo of a home and outline the existing garage area. An app for the iPad, which doesn't require an internet connection to use, is also available for free at the Apple store.
HaasCreate helps to instantly create a new garage door with different styles, options and colors at your fingertips. For those people without an existing picture of their home, they can choose from sample home images. Personal product selections—including a garage door style, color, windows, overlay colors, trim colors, handles and accessories—allow the user to customize a garage door that enhances the home exterior. Visit www.HaasDoor.com.