As outdoor living has grown in popularity, the look of American backyards has been forever changed by decks—our favorite, most frustrating to maintain, outdoor-wooden structures. There are over thirty million decks in the United States made predominantly of pressure-treated pine, cedar or redwood, and they require the application of a stain finish to provide maximum protection against the harmful effects of the elements while accentuating the natural beauty of the wood. Selecting a product specifically designed for deck protection, combined with proper product application and a few maintenance steps, will put an end to horizontal deck hassles.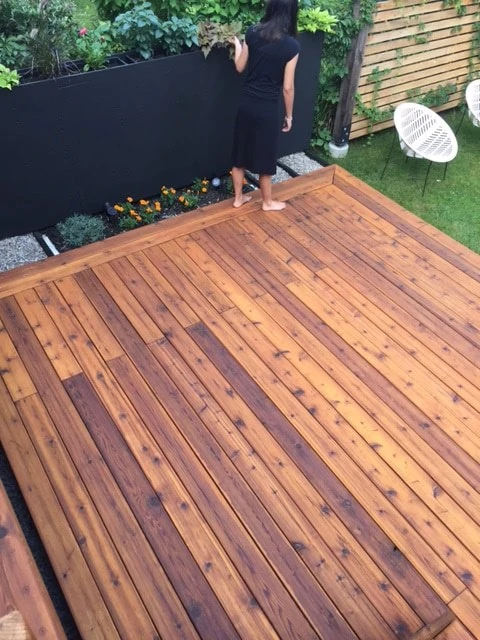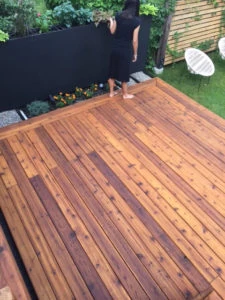 For more information on wood stain applications, visit Armstrong Clark.
1.      Surface Preparation
·         Clean the surface – Cleaning is the most important step in deck maintenance.  Some decks need to be stripped of old finishes with a stripping product like a Wood Stripper, while other decks need to have dirt removed using a bleach-based solution such as a Wood Cleaner. Decking stains do not adhere well to dirt or algae so the cleaning process is vital to complete deck maintenance. Ask yourself, "Would you wax a car without washing it?"
To clean a deck, spray the substrate with the appropriate cleaning solution using a hand pump sprayer.Allow it to sit for 15-20 minutes and then rinse with a garden hose or a power-washer.A stiff brush can also help remove tough stains. Cabot also recommends their Wood Brightener for surfaces that are discolored by tannin bleed or nailhead rust stains. A deck should be stained only after it has been cleaned and permitted to dry for 3-5 days.New wood should be allowed to dry 2-3 weeks to bring the moisture content down to an acceptable level before it is coated. Your local paint or hardware store will have a moisture meter, which is worth the inexpensive investment.Under 15% is best for staining!
2.

     

Choosing the Right Product
There are several things to consider when choosing a decking stain. Some homeowners prefer to show off the natural color and grain of their wood decks while others wish to add color. Many people don't realize that sunlight can do as much damage as rain and snow and protecting a wooden deck with a product containing ultra violet blockers helps minimize the destructive UV rays of the sun. A rule of thumb is that the less color (pigmentation) in the stain, the less UV protection. There are basically three categories of decking stains:
·         Clears:
–        Waterproofing: Waterproofs and seals surfaces keeping water and dirt out while maintaining the natural look of the wood. Also helps avoid scuffing and increases washability. Reapplication every 6 months to 1 year.
–        Translucents: Translucents contain transoxide pigmentation, which provide additional UV protection while showing off the natural wood grain. Great for premium softwoods like redwood, cedar and pine. Also excellent on pressure-treated wood.  Reapplication every one to two years.  A high-performance timber oil is available from Cabot for hardwoods.
Decking Stain: Penetrates the wood with earth-toned colors offering more UV protection and richer coloring choices than clears. Reapplication every 2-4 years.
Solid Color Acrylic or Solid Color Oil-Based Decking Stain: Heavily pigmented offering maximum color choices and protection from UV light. Reapplication every 2-3 years.
Because of their horizontal structure, decks are susceptible to harsh weather conditions, including ultraviolet light, infrared energy (heat) and standing moisture in the form of rain, dew, frost, ice or snow. The abuse a deck surface takes from foot traffic, barbecues, and food and drink spills can create additional problems. Therefore, it is essential to choose a product designed specifically for decks. The major cost of most deck finishing projects is in the labor, therefore, the use of a high-quality, premium-performance finish is ultimately the most cost effective, to the contractor as well as the do-it-yourselfer.
3.

     

Application
How Many Coats-Follow directions closely.  Some products, clears and semi-solid, require only one coat, but solid colors may require priming or multiple coats.
Temperature – The best time to apply a stain is May through October in most regions of the US and Canada. Again, pay close attention to directions on the label.

 

Temperatures (too hot or too cold) greatly affect application.

 

In the summer months, apply coatings in the morning or late afternoon to avoid direct sunlight, which can cause stains to dry too quickly and compromise penetration and adhesion.

 

Also make sure that rain is not in the forecast for a minimum of 24 hours. Watch for temperatures dropping below 50 degrees Fahrenheit.

 

Read each label for particular temperature recommendations per product.
Brush – Use a good quality brush (natural for oil, synthetic for water) to ensure that the stain is worked into the wood.

 

Brush 3-4 boards at a time, from one end of the board to the other in smooth strokes to avoid lap marks.