Synthetic Roofing provides a beautiful and durable replacement alternative.
Gaping holes and messy leaks are two obvious signs that a roof needs to be replaced. But, sometimes the signs are less obvious. According to experts at DaVinci Roofscapes, there are some "insider tips" for knowing when it's time to replace your roof.
If your roof is approaching the end of its life cycle—which is usually 20 to 25 years for asphalt shingles—it's time to think about a new roof. However, a calendar shouldn't be the only way you determine if it's time to replace your roof.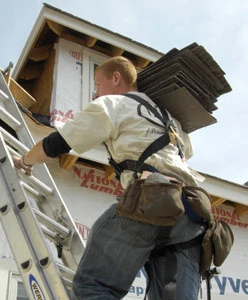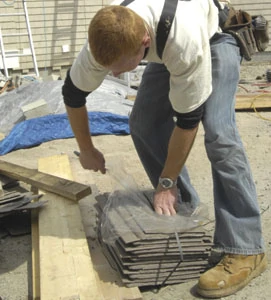 You will want to seriously start thinking about replacing your roof with a synthetic roof when …
• Your neighbors have new roofs and you want to maintain the value of your home.
• Your neighbors have not added a new roof and you want to increase the resale value of your home.
• Your geographic area has seen an increase in severe weather conditions, (including hail or tornados) that require a stronger roofing material to handle the dramatic weather changes.
• Your existing roof is functional, but has staining that detracts from the look of your home.
• You want to switch to a low-maintenance roof that has a 50-year warranty.
• You don't want to worry about wood rot caused by wood shakes and termites.
• Excessive snow in your area has caused substantial damage to your roof.
Too often homeowners wait until their roofs are old and worn out before considering an upgrade. Certainly curling, splitting and missing shingles are all warning signs that a roof needs to be replaced. However, with the changing weather patterns in our country combined with the need for homeowners to add value to their properties, consumers should be vigilant about looking for signs of wear along with upgrading their roofs.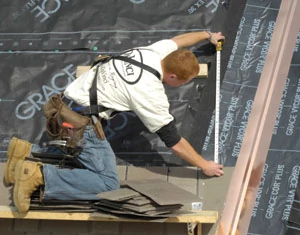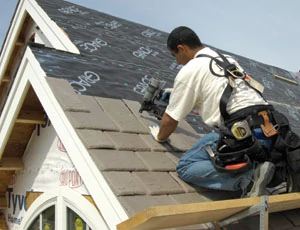 When researching new roof options, homeowners seriously consider low-maintenance synthetic roof systems. Roofing tiles made from 100 percent pure virgin resins have consistency throughout each tile. For DaVinci products, state-of-the-art UV stabilizers are embedded throughout the polymer to create a durable synthetic roofing tile which resists mold, algae, fungus and insects, with virtually no curling, fading and cracking so they're headache-free.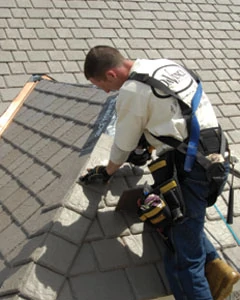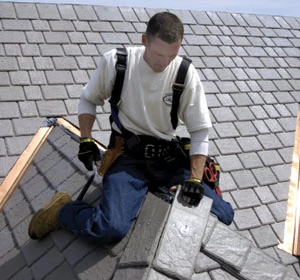 DaVinci Slate may be cut with a utility knife or with a circular saw. Carbide tooth blades are recommended for maximum blade life.Ease of installation is another welcome advantage of synthetic roofing. DaVinci roofing tiles install faster than natural slate. Written and video installation instructions are provided so roofing installers should need no additional training to install DaVinci products. For more information call 1-800-328-4624 or visit www.davinciroofscapes.com.
The Pros and cons of Different Roofing Materials
Three-tab asphalt shingles are relatively easy to install, inexpensive and look good on ordinary homes. However, they can be a poor environmental choice because they go to a landfill after 20 years, they perform only moderately well, and they don't add any special design appeal to a home.
Real wood shingles or shakes look good on some styles of homes and are moderately priced, however they have little or no resistance to fire or impact unless specially treated. They also attract insects, have relatively poor long-term performance and are generally considered a poor use of our natural resources.
Real slate shingles also provide a good look on some styles of homes and can be considered very long-lasting when installed properly. However, they are very expensive and extremely heavy. During installation you can have a significant amount of waste from cracking and breaking of slate tiles.
Metal roofs are perfect for some very specific home designs. They have a unique look to them, are lightweight and snow can easily slide off of them. Watch out when it rains or hails, though … these roofs are noisy on the inside of the home during storms.
Synthetic roofing tiles provide a high-performance option for homeowners. The tiles come in a variety of styles, including slate and shake, are lightweight and have long-term durability. These tiles are moderately priced and a good environmental choice. While the look complements many home styles, synthetic roofing tiles are moderately priced, so they're not affordable for everyone.