Many years ago I converted a porch into a sun-room for my parents. The room gets more use than others and has become a family room where everyone gathers to watch TV, talk or to just enjoy the view afforded by the walls of windows.  In recent years, mom's small dogs have slept there. And truth be told, they sometimes did more than sleep there, which soiled the carpets.  Mom's 80th birthday is in 10 days, so for that special occasion I am tearing out the carpets and installing porcelain tiles that won't hold odors in case of pet accidents.
If you are thinking about tiling a larger room, then by doing the work yourself you can certainly save quite a bit of money.  I noticed the local home improvement store was charging around $5 a square foot for installation.  The Sunroom is 240 square feet, so I save about a $1000 by doing the work myself.  Costs for the project are broken down with, $600 for 18×18″ porcelain tiles, grout and Mapei3 for large tiles, $200, $200 for Durock and HardieBacker boards used as the substrate, $50 for various tools I needed.  I borrowed editor Matt Weber's Tile saw, but these can be rented.  Lowe's carried the materials I needed and had the specific tile color mom wanted, so I purchased my supplies there also.
Some considerations you may not have thought of when choosing tile, are tile size, color, and what use the room will receive where the tiles will be installed.  The first option is tile size. Larger tiles mean you cover more square footage with each tile. The trade-off is, larger tiles require special thinset mortars which may not be compatible with uncoupling material.  So if you are using Schluter Ditra, or similar product, check the requirements before purchasing.  I had planned on using the Schluter product, but I would have needed to downsize to 12×12″ tiles in order to use a thinset that was compatible with product.  Color selection on this job was different from any of the bathroom tiling jobs I have done.  This is a sun-room and is lit by natural light.  The tile appears differently installed than it does in the showroom.  Room use was the entire reason for this job. I wanted a tile size that required less grout, and I wanted smaller grout joints. Grout joints stain, porcelain finishes don't. Less grout equals less maintenance.
After moving furniture, sofas, couches and a large TV, we began the process of removing the old stained carpet.  One of the best tools I found for this task was an ArtilleryBar for demolition. The Artillery  Bar is 36 inches long with a cant on its lower end for increased leverage. I was already using it to remove quarter round molding and tried it on the glued down carpet and it was a lifesaver. Removing the carpet took minutes instead of hours. Dad really must have found a good sale on glue because he used it liberally and it did not want to release its hold after many years of use.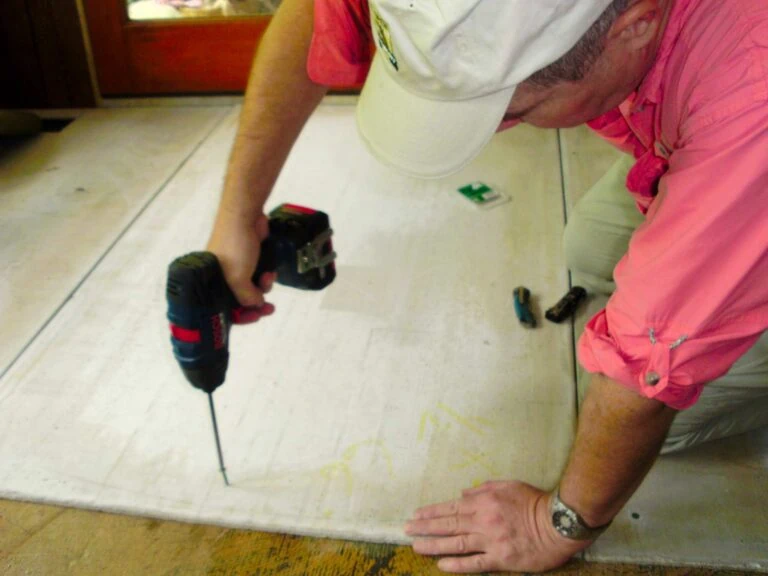 Once the carpet was removed and the floor had been swept and vacuumed, I began to lay the Durock and HardieBacker boards.  I like the Hardie product better. The Hardie board makes dust when I screw it in. The Durock product had chunks of concrete that created an additional clean up step that had to be done before patching the screw holes and taping the joints.  Get in the habit of keeping your backer board clean and free from debris. Any foreign matter on its surface will create problems when you begin to lay your tile. Install screws so that the head does not protrude above the surface of the backer board.  Screw placement for flooring should be through the plywood underlayment and into the floor joist if possible.  Be careful to avoid placing screws too close to the edge of the material as the backer-board may crumble.  Hardiebacker has handy marks embossed on its surface to serve as guides for this step.  For cutting the backer board I use an inexpensive 4.5 inch inch tilesaw. I use the wet setting to keep the dust down. Once the substrate of backerboard has been installed you are ready to begin laying out your tile pattern. This next step requires its own post.  How Do I Determine Where to Start Laying My Tile Pattern?